After powering to pole position for the Japanese Grand Prix, Max Verstappen is a win and a point away from being crowned 2022 Formula 1 World Champion, at Suzuka on Sunday, but the Red Bull driver says an (imminent) second title is not on his mind.
Whatever the case, Verstappen got part one of a mega-party planned for the 2022 Japanese Grand Prix at Suzuka, home of Honda whose engines power Red Bull and AlphaTauri cars, by doing the business in qualifying.
However, it was touch and go on all fronts, first that stonking lap was a mere 0.010s up on second next Charles Leclerc in the Ferrari and second – after his on-track Q3 incident with McLaren's Lando Norris – after which the FIA Stewards gave him two penalty points on his license but no grid drop.
Thus his 18th F1 pole position start stands, Verstappen starts this very important race from top spot and is well set to claim his second successive F1 drivers' title, needing a win and a point for fastest lap to wrap it up with four races remaining thereafter.
Speaking in parc ferme, in the wake of his fifth pole position of the season (Leclerc has 11) Verstappen said: "It was pretty incredible to drive here again, especially in qualifying. When you're on low fuel these cars really come alive in the first sector.
"I lost a part of a duct in my final lap so, for me, that's why I couldn't really improve. Nevertheless, the first lap was good enough."
Verstappen: Some say it's going to be dry, some say it's going to be raining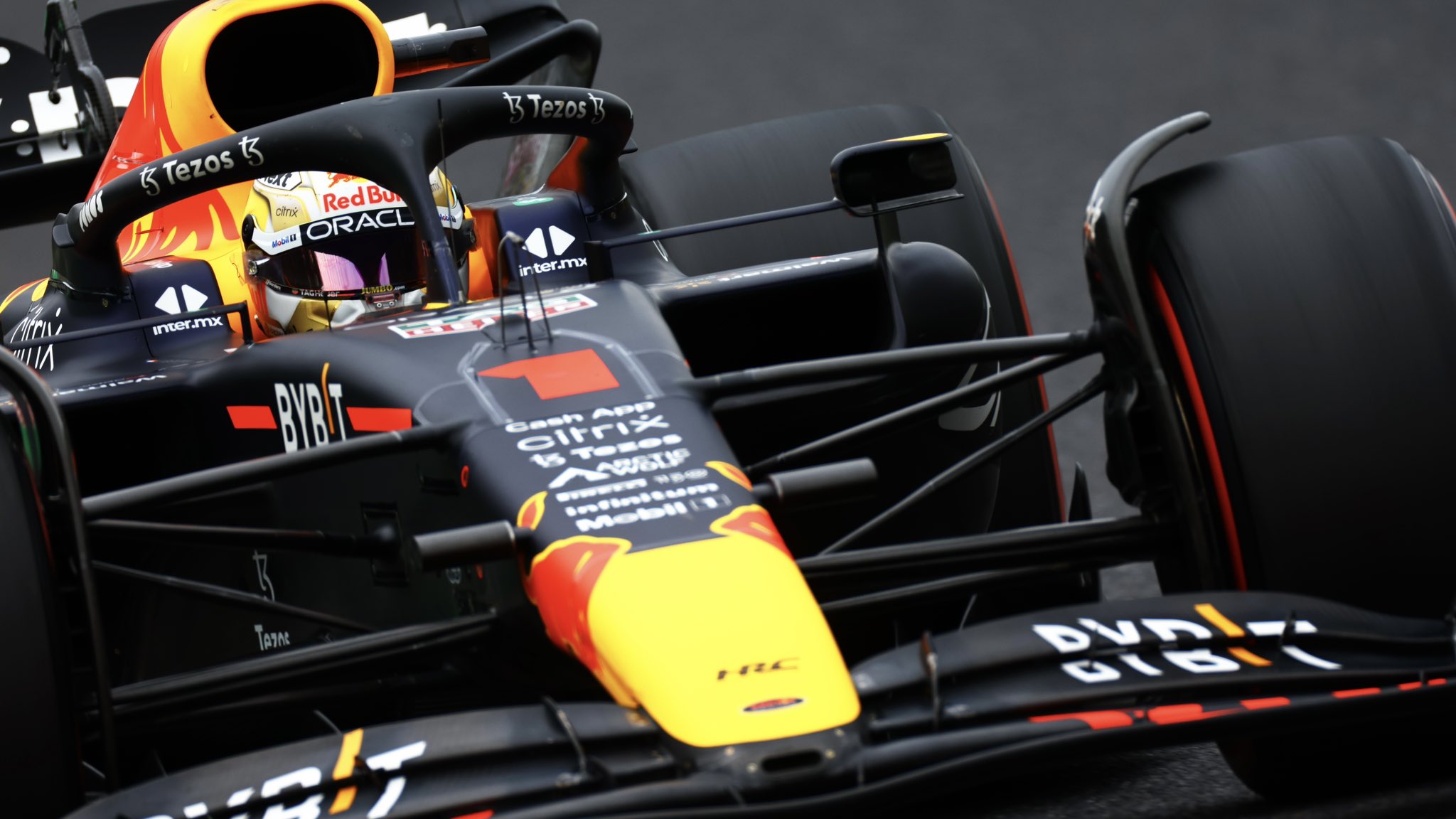 Regarding the Norris incident, Verstappen explained:  "I was just driving quite slow, and I wanted to accelerate but my tyres were quite cold, so then I had a big moment. Then of course Lando was trying to pass me at the same time so he had to avoid me a little bit, but luckily nothing happened."
No matter what the forecasts predict, they tend to get it wrong and the rule of thumb for veteran F1 followers for Suzuka is, expect rain even when none is forecast. And when it is, expect it too!
With an eye on the weather, with rain predicted to start dropping around start time, Verstappen said: "It will be interesting first of all to see the weather. Some say it's going to be dry, some say it's going to be raining. We just need to see what happens with that. I'm quite confident that we have a good race car so let's see what we can do.
"I'm not thinking about the championship still, I'm just taking it day by day. The most important thing is that we have a competitive car, and we had that today in qualifying. We still need that perfect race," which is a win plus fastest lap for Verstappen.
Perez: If I'm able to get a Ferrari at the start it would be good
After his heroics in Singapore last Sunday, in the sister car, today Sergio Perez was again unable to match his teammate in qualifying, the Mexican was 0.405s down on his Verstappen and will start fourth.
Perez summed up his Saturday in the red Bull team report: "It wasn't a great day for me in qualifying but we will try everything we possibly can for tomorrow. It doesn't change my life much if I am third or fourth, the most important thing is that we have a strong race car and we are able to progress through the field.
"I have to push to be in contention and I have to be in the mix. I believe I can be strong in the race, so I am massively looking forward to it. I think it's too early to predict the weather because it can change so rapidly here, the rain could come at any moment in the race or it might hit earlier.
"I think strategy will play a role tomorrow and if I am able to get a Ferrari at the start it would be good. You have to be quick around here and the degradation is pretty high so I think it will come down to who has the better pace," predicted Perez.
Horner: I don't think Max was trying to block him
Red Bull team principal Christian Horner gave the team's perspective on the afternoon: "It was a very close qualifying; Ferrari has been quick all season so we were not expecting them to be any different here. However, it was a big lap from Max and to secure pole here ahead of what looks like varying conditions tomorrow is hugely important.
"Sergio starts on the second row and always seems to race better than he qualifies, so we are looking forward to seeing what is to come from him tomorrow. The variable conditions could play into his hands and I think he will be in the mix, two Ferraris in a Red Bull sandwich!"
Touching on the Norris-Verstappen incident, Horner said: "We are happy with the stewards findings. I don't think Max was trying to block him, I just think he wasn't expecting someone to come up behind like that and certainly not again when Lando did it on the final run! I don't think there was any malice to it though, on either side.
"Plenty of racing to do tomorrow and we are looking forward to an action-packed day here at Suzuka," added Horner, whose team are closing in on the 2022 F1 constructors title, one they have not won since 2013, the days of Sebastian Vettel and Mark Webber.
The full set ➕ a spare 😄 Five @PirelliSport tyres for @Max33Verstappen in 2022 🛞 pic.twitter.com/2ZgWH5IH3B

— Oracle Red Bull Racing (@redbullracing) October 8, 2022