Max Verstappen won an action-packed 2023 Las Vegas Grand Prix, he 'owned' the famous Strip despite what was thrown at him on the night in which the solo Ferrari of Charles Leclerc was the star of a great race and Sergio Perez delivered a strong recovery drive.
There was a naughty move at the start that sent pole winner Charles Leclerc's Ferrari almost to Reno! That cost Verstappen a five-second penalty which only served to fire up the triple F1 World Champion for yet another victory, perhaps one of his toughest this season but in the end he made it look as easy as he tends to do.
Credit to Leclerc after losing the lead contentiously, he kept his head down and even retook the lead from Verstappen before the first pitstops. And thereafter kept the Bulls honest, and that final plunge to snatch P2 from Perez was top-class racing by the Ferrari driver in fine form tonight.
But the night belonged to the Champ who was in a far better mood after the race than he had been all weekend, Verstappen said of his 18th victory of the 2023 F1 season: "It was a tough one. I tried to go for it at the start. We (himself and Leclerc) both braked quite late and I just ran out of grip, so we ended up a bit wide.
"The stewards gave me a penalty for that and it put us on the back foot. I had to pass quite a few cars and there was the Safety Car, so at that point, there was a lot going on.
"Then we went flat out. I had to pass a few cars to get into the battle with them. The DRS around here was very powerful. Even when you would take the lead, if the guy behind stays in the DRS, he would still have the opportunity to come back to you, so it created a lot of good racing today. Definitely a lot of fun."
Verstappen: Great crowd. I hope everyone enjoyed it.
"We definitely did, so already excited to come back here next year and hopefully try to do something similar," concluded Verstappen who is now a 53-time Grand Prix winner, already tied with Sebastian Vettel.
From P11, Perez delivered a Baku/Jeddah-style performance as he powered through the field after an early stop to replace his front wing which was damaged during a first-lap melee. From last at one point, he led at another but the Mexican was unable to stave off the last lap move and had to settle for third.
Leclerc spent much of the night in a Red Bull sandwich and when it seemed they were heading for a one-two, the Ferrari lunged with a slick last-corner move to swipe P2, his reward in the David vs Goliath battle we saw tonight between him and the dominant World Champs.
Speaking after a great duel, Leclerc reported: "What a race! I enjoyed it so much. I'm of course disappointed to only finish second, but that's the best we could do. At the start Max on the inside lost a little bit of the grip and brought me onto the outside [of the track] but we had good pace, we passed him back, and we were really strong overall. So that was a really good race.
Leclerc: We got a bit unlucky with the Safety Car.
"We didn't pit because we didn't know what the others would do," revealed Leclerc. "We went for track position and keeping that first place. That was difficult with the older tyres towards the end but second place with a lot of fights, honestly, I enjoyed it."
"I really enjoyed it – and we needed it. The weekend didn't start the way it had to start but I am so happy it ended that way. It's such an incredible sport and I today is no better race than for the first race in Vegas. The energy around the city is incredible and I at least really enjoyed today," concluded Leclerc, ahead of his 29th podium in F1.
In the other Ferrari, Carlos Sainz was a victim of a cruel rule that cost him P2 on the starting grid and dropped him ten spots. An early incident did not help his cause. But from P18 he worked his way up the order. The safety car did hurt his cause, but the Spaniard recovered to sixth.
Ferrari are now within four points of Mercedes in the 2023 F1 Constructors' World Championship with the final round remaining in Abu Dhabi next Sunday. The score is Merc on 392 points with the Reds on 388.
Perez, P3 in Las Vegas today means he finishes second in the 2023 F1 World Championship, behind Red Bull teammate Verstappen and thus seals a one-two in the final standings for his team for the first time in their history.
The Mexican reflected on his race before the podium ceremony: "It started really difficult with a lot of damage initially. We broke the front wing, so we basically went all the way to the back of the grid. Progressively, we were picking off cars one by one and things were going well. We had really strong place on that first stint, so we got ourselves back in contention.
"With the Safety Car, it brought us back into the race. I overtook Charles but I couldn't overtake him pull away from him. I was carrying a bit too much wing on my car, so my straight-line speed was a little bit down."
Perez: I wasn't expecting him…
"Then Max came and he passed us both. It was difficult out there with gusts of wind that we had. I ended up locking a few times but luckily I kept it on track. In the end with Charles, I wasn't expecting him. He was 0.7 behind but in the braking zone he was there, so good job to him and Max," added Perez after scoring his 35th GP podium finish.
The battle for the lead and top three spots stole the show on the night, as it should.
But there were others in the race! Next best was Alpine's Esteban Ocon who had one of his best races of the season, and his second-best result of 2023 for him on a night of slick moves by the Frenchman. Teammate Gasly ended P11 after running strongly earlier on in the race.
Lance Stroll is salvaging a below-par season with a stronger run as the season ends. His second fifth place in a row for the Aston Martin driver, whose teammate Fernando Alonso finished ninth, recovering from a Lap 1 spin, contact and a pitstop.
Behind their PU customers (Aston Martin) were the Mercedes duo of Lewis Hamilton and George Russell. The pair in several battles during the course of the race but had to settle for P7 and P8 respectively, 20 seconds down on the leaders.
Russell received a five-second penalty for what looked like a racing incident with Verstappen. But the Englishman defied the odds thrust at him to finish where he did. He ran fourth at one point, but the stars did not align for him. Ditto his Merc teammate Hamilton.
Mercedes have a job on their hands to deny Ferrari the runner-up spot in the 2023 F1 WCC standings at next weekend's season finale in Yas Marina Circuit.
Norris crashed early
The final point went to Oscar Piastri on a challenging weekend for McLaren. The Australian rookie was again impressive in the mix with some big hitters, running fourth for a while.
In the sister car, teammate Lando Norris crashed heavily early in the race, which promoted a Safety Car to clear debris. He was not hurt but taken to the medical centre for a check-up. In the end, a weekend to forget for the resurgent team.
It was announced after the race that Norris was given the all clear following his visit to the hospital.
Some good news, team. 🧡

Following further precautionary checks, Lando has been discharged from University Medical Center. 💪#LasVegasGP 🇺🇸 pic.twitter.com/QGZmZ5Iycb

— McLaren (@McLarenF1) November 19, 2023
It was also a disappointing night for Williams whose cars started from Row 3 but spent the evening going backwards. Alex Albon finished 12th, with local hero Logan Sargeant 16th.
Arguably Williams' final chance to score a decent points haul in 2023 has gone un-exploited.
Report in progress…
Las Vegas Grand Prix Result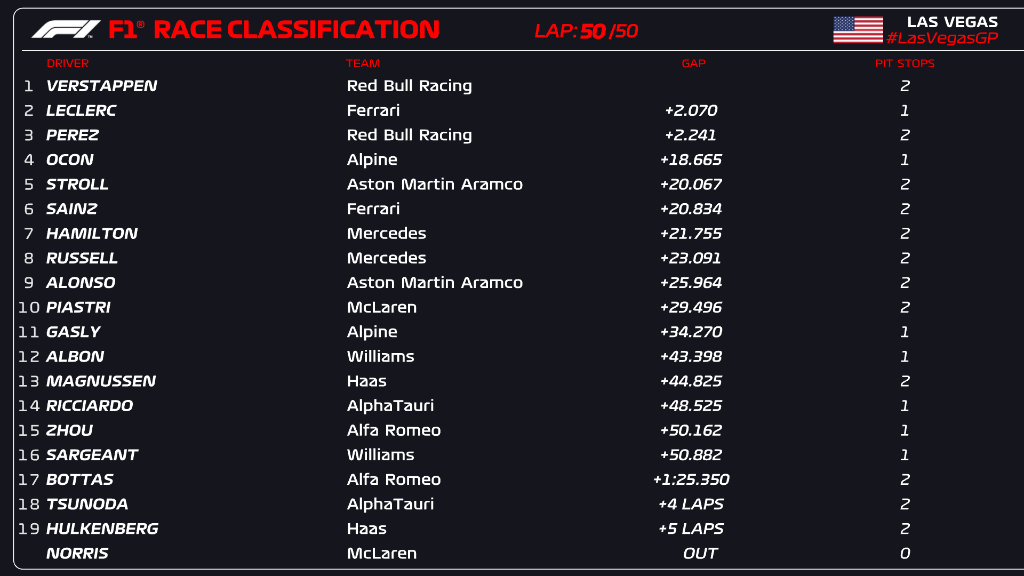 How the Las Vegas Grand Prix unfolded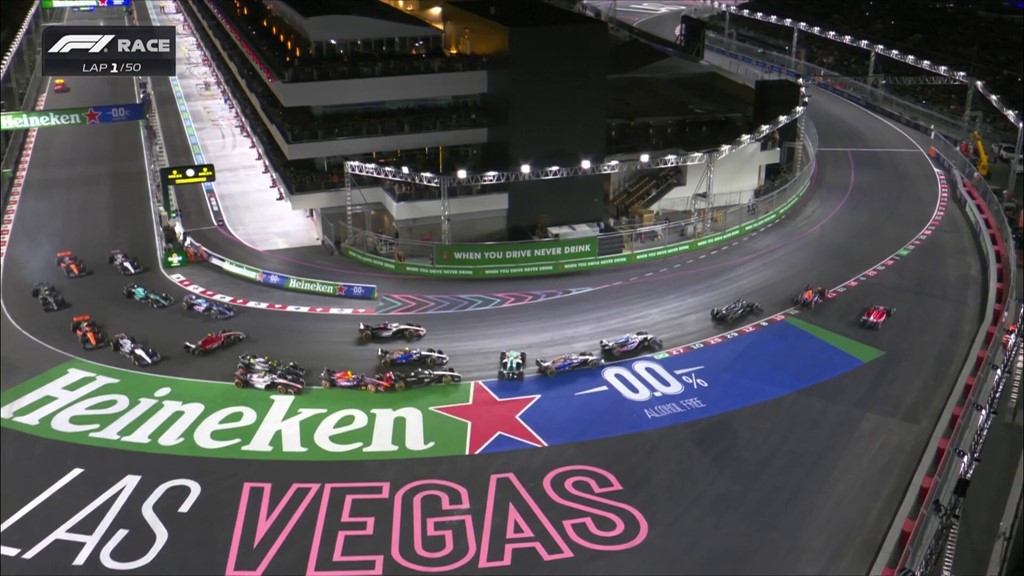 Verstappen forced Leclerc ultrawide into Turn 1, to take the lead as the lights switch off to start the race. The Red Bull then just powered ahead.
But behind there was an incident, which triggered a VRC, with Perez, Bottas and Alonso diving into the pits for repairs. The Alpine started the melee when it spun by itself.
Leclerc was aggrieved and wanted P1 back, the stewards duly investigated, then soon afterwards, Norris prangs on Lap 3, to trigger a Safety Car.
Sky Sports pundit Martin Brundle: "Lando lost the back end of the car very early doors. The car nearly took out his team-mate. It started way up the track when the car just snapped sideways. A total passenger in that. All he has done is drive into the corner and start to apply the brakes."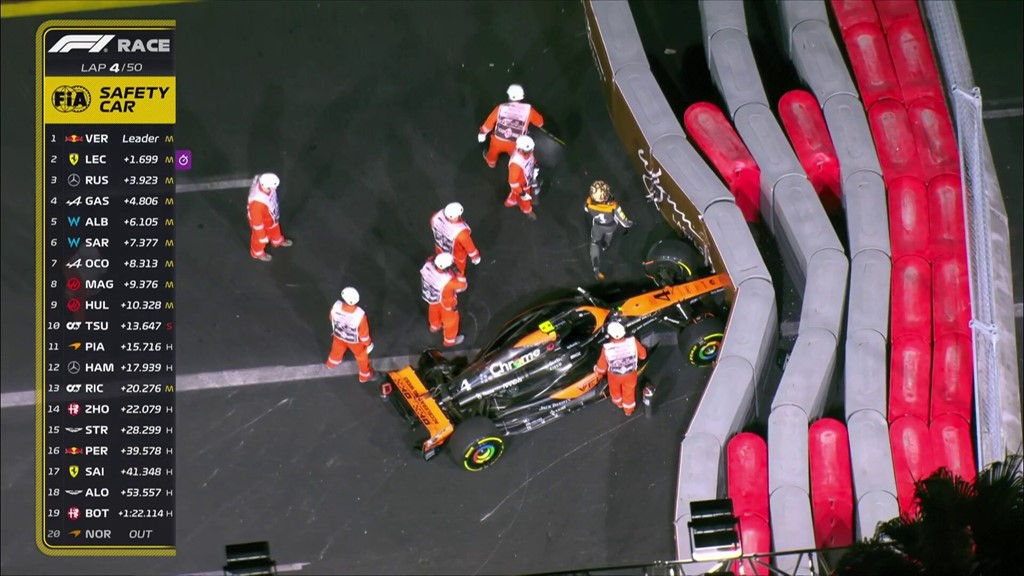 On Lap 5, Verstappen gets a five-second penalty while leading by 2.5s and retorts when hearing it from his engineer: "Send them my regards!"
Top 6 restart on Lap 3: VER-LEC-RUS-GAS-ALB-SAR-OCO-MAG-NUL-STR
When the SC ends, Verstappen again on it and nearly two seconds by the end of the started lap.
Lap 11 Tsunoda pits. At the front Leclerc has Verstappen pegged at 2.0s and closing. Verstappen responds with the fastest lap on Lap 12.
Ocon on a charge gets by Sargeant on Lap 14, to take P6. Big battles across the field. Piastri and Hamilton get by the Williams shortly later.
Alonso goes fastest as he trails Sainz down in 13th. Russell pits on Lap 16. Leclerc takes the lead as Verstappen pits from P2, serving his five-second penalty. A flurry of stops begins. Hamilton slams Piastri and suffers a puncture, the McLaren is also affected. The Mercedes driver reported "the car not stopping."
Verstappen emerges from the pits P9 behind Russell. Leclerc leads by 14.0s from Perez having a strong run despite the early damage.
Top 10 on Lap 20: LEC-PER-OCO-STR-SAI-ALO-RUS-ZHO-VER-GAS
A lap later Verstappen moves into P8.  The RBR has work to do.  Leclerc is 30.0s up the road and pushing. When he pits on Lap 22. Now the Top 16 all on Pirelli Hards. Verstappen starts and sets fastest lap from P7.
Perez is now the leader 8-seconds behind Stroll in P2, followed by Leclerc and Sainz not far behind. Piastri sets fastest lap on lap 23.
Verstappen in P6 is four seconds behind Leclerc in P3, 1.7s behind Stroll. Russell gets past Sainz, as Verstappen follows in his slipstream as the Merc and RBR get by the slower Ferrari.
Verstappen and Russell touch into P12 as the RBR muscles ahead with debris flying off the cars upon contact. Leclerc in P2 chasing leader Perez the gap 11.0s. Prompting a safety car. Perez pits and triggers a slew of stops, Leclerc stays out and now leads.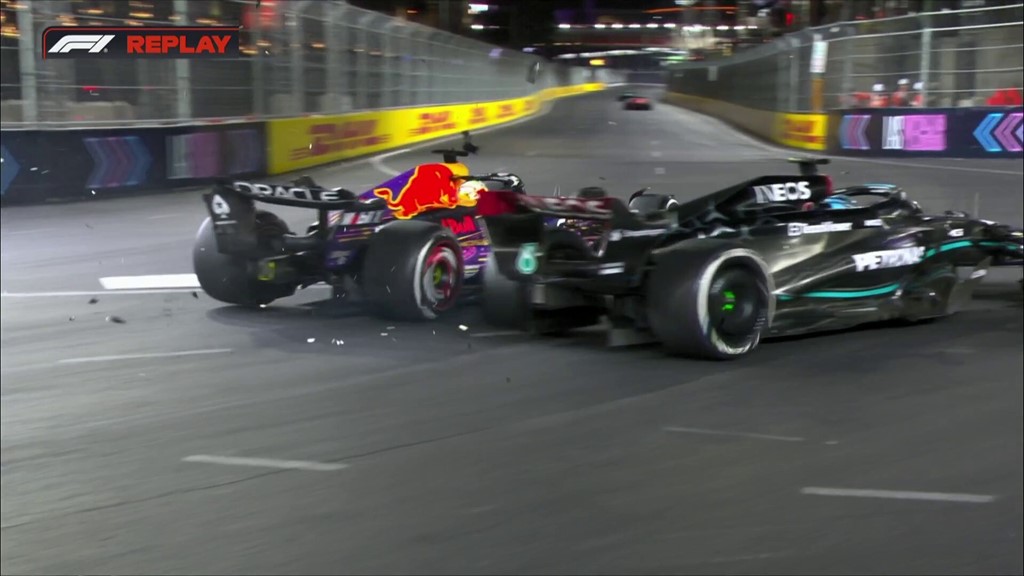 After the orderly chaos in the pitlane, on Lap 28 the Top 10 order is: LEC-PER-GAS-PIA-VER-OCO-STR-ALB-RUS-SAI.
Russell gets the penalty for the collision with Verstappen. On the restart, Perez attacks Leclerc, as the field jostles for position. On Lap 30 Piastri was up to P3, followed by Gasly, Verstappen and Ocon – the Alpines shining on the night.
At the front Perez is pressing Leclerc for P1, ditto Verstappen all over the back of Gasly for P4. On Lap 32 the Wolrd Champ gets past and now within 3.0s of the lead.
Perez pounced on lap 22, to take the lead from the Ferrari, the Mexican having a stellar evening, finally! The Red Bulls now flying, with Verstappen harassing Piastri but easing into P3. Great battle between the Alpine boys, Ocon getting past Gasly to take P5 in a sweet move on his teammate.
Leclerc in an RBR sandwich still stalking Perez, with Verstappen a second and a bit in their wake. Piastri 1.5 seconds adrift in P4, followed by the Alpines.
At the front, Leclerc was not finished, and ambushed Perez with a committed move to take the lead on P36. Game on! With Verstappen now all over the back of his teammate and gets by into P2, and starts chasing the leader less than a second up the road. The top three all within DRS.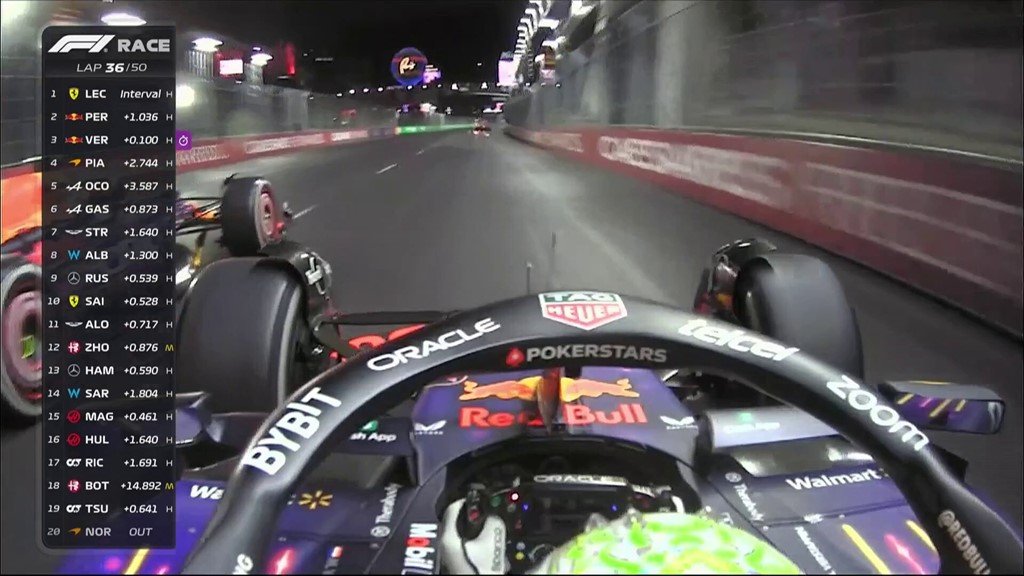 Lead battle is on, Verstappen attacks and takes the lead on Lap 37. The top three within a second at this stage. Leclerc again in a RBR sandwich. Piastri in P4 catching the top three action from 3.0s, with Ocon a further 3.0s adrift. behind. The World Champ sets fastest lap to consolidate his lead but Leclerc hangs in there.
In the minor points places, Albon in P8 being attacked by Russell, with the train of Sainz, Alonso and Hamilton also in the mix. Soon the trio are past the Williams.
Top 10 on Lap 40: VER-LEC-PER-PIA-OCO-GAS-STR-RUS-SAI-ALO
Verstappen leads by a second and is told by his engineer Lambiase to break the tow to Leclerc in P2 with Perez in the Ferrari DRS. Stroll in P7 has the Alpines in his sights.
Alonso and Hamilton battling for P10 further down the grid.
On Lap 43, Leclerc locks up, allowing Perez through in Turn 1. Red Bull one-two on lap 44. Verstappen leads by 3.0s. At the same time Piastri pits from p4. Ocon is now P4, followed by Stroll, Russell and Sainz. A couple of laps later Alonso and Hamilton get by Gasly, who drops to P10.
Russell gets past Stroll for P5 on Lap 48.
Verstappen leading by 2.5 seconds, with Perez under severe attack from Leclerc who snatches P2 on the last lap.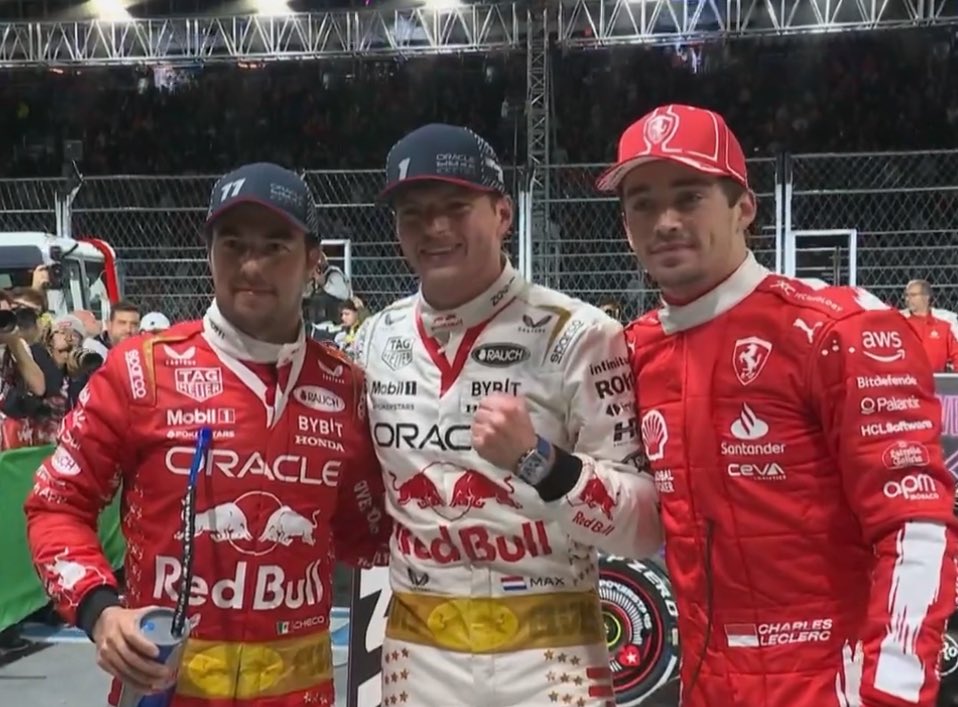 ---
2023 Las Vegas Grand Prix Preview
The 2023 Las Vegas Grand Prix jackpot is up for grabs, and from the evidence of an enthralling Qualifying it will be a two-man race for the top step of the podium tonight. Max Verstappen versus Charles Leclerc.
[The race report will follow this preview when the Las Vegas Grand Prix ends. Please refresh the page for the latest updated version. Enjoy!]
One would've given Ferrari a better chance had the FIA stewards not covered themselves with poo once again, deeming a faulty drain cover – which they failed to uncover when signing off the track as safe to race – that broke Carlos Sainz's car worthy of a ten-place grid penalty.
If ever there was a time to bend a rule (and even fine the FIA for incompetence!) it was on that one as Sainz and Ferrari had no control over the stubborn cover that caused all the fuss.
So Verstappen got a P2 freebee as a result of the silly decision, and with it a lot more difficult task for the Reds to stop him. And if he finds the start launch he found twice in Sao Paulo two Sundays ago, Max will cruise to the Las Vegas jackpot tonight.
It's hard to put faith in a team that Ferrari is these days, one that underdelivers so often. Will they get two cars on the grid one wonders in the wake of recent mishaps? One thing is clear; they have a very fast car and if the stars align they could well deny Max. But it's a lengthy ask.
Hard to see anyone other than Max or Charles winning the Las Vegas GP
Their respective teammates are way down in Mayhem City which happens below the top ten. Sainz through no fault of his own, Sergio Perez because he is simply not good enough in Qualifying, or at least can't keep it close to his teammate.
Put it this way, if Max was in Checo's place for the race, he would probably still win. The Mexican won't but anything less than a podium, with THAT car, will be a fail.
Beyond the front row lads, one can't see others who will challenge for GP victory today unless fate decides otherwise. Which can happen…
Behind the top two, George Russell will fancy being an annoyance but the Mercedes is so suspect and confusing on all fronts, it will be a case of let's see what happens. Ditto Pierre Gasly who did a fine job for a P3 start but the Alpine is also untrustworthy for the long haul that is the race.
Williams know they have an ultra-fast car that does not turn very well and could frustrate the attack from the back. A challenging night awaits Alex Albon and rookie teammate Logan Sargeant, doing the locals proud and setting himself for a career-saving drive.
Many drivers qualified out of place which should make things interesting
Veterans Valtteri Bottas in the Alfa Romeo and Haas driver Kevin Magnussen are both destined for freefall down the order from Row 4 if recent races are anything to go by.
This means plenty of overtaking action to be expected as out-of-position Lewis Hamilton looks to make amends with the quirky Merc, sharing Row 5 with fellow veteran Fernando Alonso in the Aston Martin who will quite easily dispatch those ahead and make a play for P3, one expects.
Behind this there is Perez who can only move up even if he drives the RB19 with one hand;-) and Sainz who will be sore for his demotion after a stellar Qualy and looking to avenge his misfortune.
Other sideshows to watch at the third running of a Grand Prix in Las Vegas:
McLaren where art thou? Race pace better on a grid with many out-of-place cars could be interesting for Lando and Oscar.
Is Daniel starting to 'own' Yuki at AlphaTauri?
How many Safety Car stints will happen on the night? Red flag/s?
Who bins it first?
Las Vegas Grand Prix Facts & Stats by Reuters
Round 21 of the 22-round championship FIA Formula 1 World Championship
Lap distance: 6.201km. Total distance: 310.050km (50 laps)
No previous race on this circuit
Start time: 0600GMT Sunday/2200 local Saturday
Las Vegas has previously held two championship races, in 1981 and 1982 as the Caesars Palace Grand Prix. Both were season-enders and title-deciders.
Australian Alan Jones won in 1981 with Williams and Italian Michele Alboreto in 1982 with Tyrrell.
The new 6.2km track is the second longest on the current calendar and includes the famed Strip and central landmarks. Mercedes say their simulations suggest top speeds will be second only to Monza.
The race is the third this year in the United States, but the first night race there.
It will be the first time since South Africa in 1985 that a grand prix has been held on a Saturday.
Qualifying starts at midnight on Friday, making it the first grand prix since Japan 2019 where pole is decided on the same day as the race. The start will be the latest in F1 history.
The new Las Vegas circuit will be the 12th to host a U.S. round of the championship and 79th in F1 history.
Milestones
Sergio Perez can seal second place overall for Red Bull, which would be the first time the team have finished a season with their drivers first and second.
Verstappen can take a record-extending 18th win of the season and record 20th podium.
Red Bull are chasing a record 20th win of the season, one more than Mercedes managed in 2016.
McLaren's Lando Norris can take an unwanted record of 14 top-three finishes without a win.
Wins, Pole Positions, Podiums & Fastest Laps
Verstappen has won 17 of 20 races and has 52 wins from 182 starts, putting him fourth on the all-time list. One more win will put him joint third with Sebastian Vettel.
Red Bull have won 19 races, with Ferrari's Carlos Sainz winning in Singapore. Red Bull have also had a team record six one-two finishes in 2023.
Hamilton has a record 103 victories from 330 starts but has not won since Saudi Arabia in December 2021. Aston Martin's Fernando Alonso has 32 wins, most recently in Spain in 2013 with Ferrari, from a record 375 starts.
Hamilton has a record 104 poles.
Red Bull have been on pole 13 times this season.
Ferrari's Charles Leclerc took the top slot in Azerbaijan, Belgium, Austin and Mexico.
Hamilton in Hungary and Sainz in Italy and Singapore.
Verstappen has 11 poles for 2023.
Six teams and 11 drivers have made a podium appearance this season: Red Bull, Alpine, Aston Martin, McLaren, Mercedes and Ferrari.
Verstappen has been off the podium only once since Brazil last November.
Verstappen holds the record for most podiums in a season — 19 this year.
Nine different drivers have taken fastest laps this season – Alonso, Alfa Romeo's Guanyu Zhou, Verstappen (8), Perez (2), Hamilton (4), Russell, McLaren's Oscar Piastri and Lando Norris and AlphaTauri's Yuki Tsunoda.
Red Bull and Verstappen have won both championships already, Verstappen his third and Red Bull their sixth.
Verstappen leads teammate Sergio Perez by 266 points and is set to end the season with a record margin.