Max Verstappen again revealed his dislike for pop-up street circuits, saying so after Qualifying for the 2023 Las Vegas Grand Prix, but will make the most of every opportunity that comes his way in the race on Sunday.
Nevertheless, the Red Bull driver secured a front-row start for Sunday's race while teammate Sergio Perez endured another miserable session.
That Red Bull's triple Formula 1 World Champ is no fan of Las Vegas, and what it represents to F1, is well known. Now he has added street-based circuits to his list of dislikes and said so in Parc Ferme after Qualy: "I'm not a massive fan of street circuits, I prefer the high-speed tracks where you can really push the car to the limit."
Whatever the case Verstappen shadowed the dominant Ferrari duo during a tense session on the Strip Circuit. Although he was beaten by both on the night session the Dutch ace will start from P2 beside pole winner Charles Leclerc, as Carlos Sainz drops down from P2 due to a ten-place grid drop.
Despite the three-tenths gap to Leclerc, Verstappen and Red Bull will fancy their chances even if they don't get an early lead. Why? Because that has been the story of the season. Max can win from anywhere. And if his two starts in Sao Paulo are anything to go by, Ferrari have more to worry about than RBR.
Reflecting on his Qualifying session in Parc Ferme, Verstappen said: "It's quite cold out there, it's quite slippery and of course, being on a street circuit as well you try and get as close as you can to the walls but that's not always very straightforward.
"It felt good yesterday, I would have liked a bit more pace but tomorrow is going to be a tough one, first one here you don't know if there are going to be any safety cars, it's a very long straight, a lot of racing will happen there and I hope we are good on the tyres," added the World Champ
Max: The race will be all about keeping the tyres alive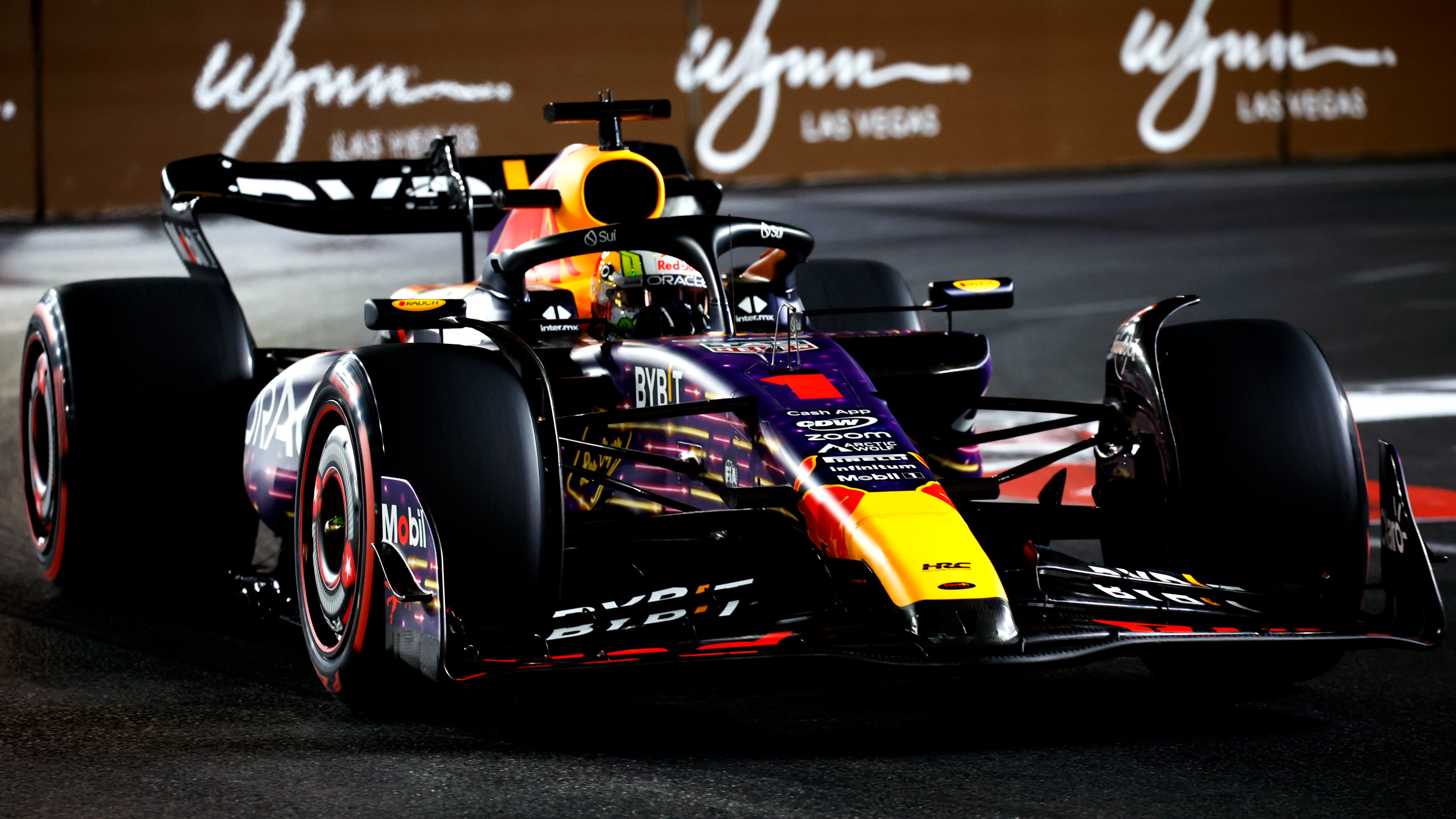 Later in the Red Bull team report from Las Vegas Qualifying, Verstappen added: "I think we maximised what we could today. So far this weekend we've been lacking pace with the one-lap performance but the long runs looked good yesterday. Starting second will be interesting, the lead-up to turn one isn't too bad but we definitely need a good start.
"The race will be all about keeping the tyres alive, there will be a lot of graining. I'll ease myself into it and if I see an opportunity I will go for it," concluded Verstappen who, along with his Red Bull team, long ago wrapped this year's F1 Word Championship titles.
To "ease" himself in expect a blitz off the line, as P1 into Turn 1 will be handy and thereafter, if recent performances are anything to go by, he could turn the LVGP into yet another cruise to the top step of the podium, this time to win a remarkable 18th Grand Prix this season and add to his 52 F1 victories.
Red Bull F1 team boss Christian Horner summed up in the team report: "First qualifying here in Vegas and it was one, as expected, that continually evolved. It was slippery out there and that affected performance.
"Max struggled with grip. It was not the usual qualifying for him that we are used to seeing. The grid penalty to Carlos puts him on the front row though and this is a track that so far doesn't look like it is too testing for the drivers, it is one you can overtake on so it should be an exciting race," predicted Horner.
In the sister Red Bull, veteran Perez's season of woe continued as for a ninth time this season failed to make Q3 in Qualifying driving the RB19 which has scored 19 wins this season and 13 P1 starts for its drivers. Read more about Checo's plight here>>>