Charles Leclerc took pole position for the 2023 Formula 1 Las Vegas Grand Prix, as Carlos Sainz posted the second fastest time, with Max Verstappen third.
The result was clear from the minute the F1 cars took to the track in Las Vegas, as Leclerc seemed to be in the zone on the Strip, and indeed, the Ferrari ace kept the momentum going and secured his 23rd career pole position.
Sainz did well to bounce back from his FP1 incident, but could not do more than second in the re-built #55 Ferrari, but will have to drop back ten places on the starting grid for the Grand Prix, for taking a new power unit, the first destroyed by the drain cover on Friday.
Verstappen did not manage more than third, and survived a brush with the wall out of Turn 5 in Q3, but no matter how much over the limit he went, he did not have an answer to Leclerc's pace.
The Red Bull ace will start from second on the grid after Sainz's penalty kicks in.
What the top three said
"I'm happy," Leclerc declared after qualifying in parc ferme. "To take the first pole in Las Vegas, it's an incredible event.
"To be starting from pole is great. However, I'm a bit disappointed about my laps in Q3. I didn't do a good enough job but it was enough for P1 and that's all we need.
"Now it's full focus to try and put everything together for the race. Normally, that's where we lack most performance so I hope we can put it all together and win here," the Ferrari ace concluded.
2️⃣3️⃣ POLE POSITIONS!!!

LET'S GOOOOOO @Charles_Leclerc 👏#LasVegasGP 🇺🇸 pic.twitter.com/ebo2pFW5sk

— Scuderia Ferrari (@ScuderiaFerrari) November 18, 2023
Sainz was still dwelling on his unfair penalty, but credited his team for re-building his car, he said after going second fastest: "First of all an outstanding job by the whole team.
"We dominated qualifying together after a tough Friday yesterday. We put together the whole car and to get a front-row lockout is incredible.
"Obviously I would love to be on pole because then I would start 11th instead of 12th but we did the maximum that we could today,
"Still disappointed with yesterday [and the penalty]. Not going to lie, still on a very bad mood and trying not to show it too much. But it is what it is," he lamented.
"[The race] depends how the start goes and the graining on the tyres is. And then how easy it is to overtake," Sainz went on.
"The pace, it clearly looks like we have it this weekend and I would love to be fighting for the win tomorrow with Charles and Max.
"But unfortunately I'm going to be on the comeback mode and a comeback race. Hopefully I can get to the front at some point and battle with them but I think it's going to be tricky," the Spaniard concluded.
As for Verstappen, he commented: "It's quite cold out there, quite slippery. Being on a street circuit you try to get as close as you can to the walls but that's not always very straightforward.
"It was enjoyable out there. I think we maximised today. I think the whole weekend so far we have been lacking a bit of one lap performance and that was quite clear," he pointed out. "I hope tomorrow in the race we are good on the tyres again and can work our way forward."
"It felt good yesterday," the Dutchman said of his race pace. "I would have liked to have a bit more pace today. The points are tomorrow and it's going to be a tough one.
"First one here, there might be Safety Cars and it's a very long straight, so there will be a lot of racing and I hope we are good on the tyres," Verstappen concluded.
Q3: No one could deny Leclerc
Drivers did not waste any time to get out and set their banker laps, as the first run saw Leclerc lead from Sainz and Verstappen by the slightest of margins.
The order after the first runs were: Leclerc, Sainz, Verstappen, Fernando Alonso, George Russell, Pierre Gasly, Kevin Magnussen, Alex Albon, Logan Sargeant, Valtteri Bottas.
For the second runs, Verstappen went for used Soft tyres, saving a set for the race maybe? And while Leclerc could not improve on his first sector, a monstrous second sector meant pole was his, a 1:32.726.
A mighty qualifying session for @Charles_Leclerc 👏#LasVegasGP #F1 @ScuderiaFerrari pic.twitter.com/07VldMQxr6

— Formula 1 (@F1) November 18, 2023
Russell, Mercedes' only representative in Q3, was fourth fastest, 0.386s off the pace and 0.127s ahead of Gasly who was fifth after a decent effort in the Alpine.
Albon was a superb sixth in the Williams, 0.597s away from pole, and 0.190s ahead of his equally impressive teammate Sargeant who was seventh in the sister car.
Bottas was eighth fastest in the Alfa Romeo, ahead of Magnussen in ninth and Alonso in tenth.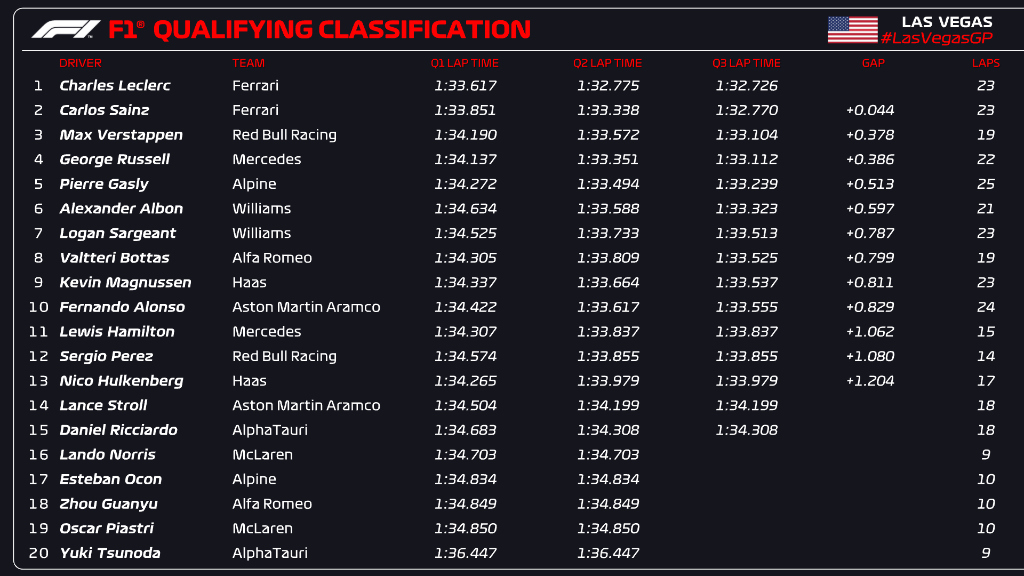 Q2: Red Bull mess up Perez's qualifying, Hamilton also out
The drivers didn't waste any time getting out on track once again, only Russell, Hamilton, Bottas, and Verstappen staying behind.
While Ferrari and Red Bull were going for a timed lap after a warm-up lap, Mercedes were doing two warm-up laps before going for a push lap. Different tactics…
Hamilton and Russell go first and second momentarily, then Verstappen takes over the top spot, but does not stay there for long as Leclerc soon claims the top spot over seven tenths faster than the triple F1 Champion. Sainz soon soon takes second place half a second behind his teammate.
Halfway into Q2, the order was: Leclerc, Sainz, Verstappen, Magnussen, Hamilton, Perez, Russell, Alonso, Hulkenberg, and Bottas.
K-Mag is on one in Las Vegas 💪

The Haas driver puts in a good lap and goes to P4 👏#LasVegasGP #F1 pic.twitter.com/zPGSJeHXP3

— Formula 1 (@F1) November 18, 2023
With final runs of Q2 in, Leclerc kept his control over proceedings and was the fastest into Q3 with a 1:32.775, over half a second clear of Sainz in second, and Russell in third.
Hamilton and Perez were the first big names to drop out, 11th and 12th respectively, the Briton failing to improve in his final run when others did.
As for Perez, Red Bull did an uncharacteristic error, and kept him in the pits when other drivers were out improving their times.
Nico Hulkenberg was 13th fastest in the older-spec Haas while Magnussen made it through, and was 0.220s ahead of Lance Stroll in 14th.
Stroll has a five-place grid penalty for overtaking Sainz under double Yellows in practice, and is also under investigation for failing to slow down under Yellow flag in Q1.
Daniel Ricciardo was 15th fastest in the AlphaTauri.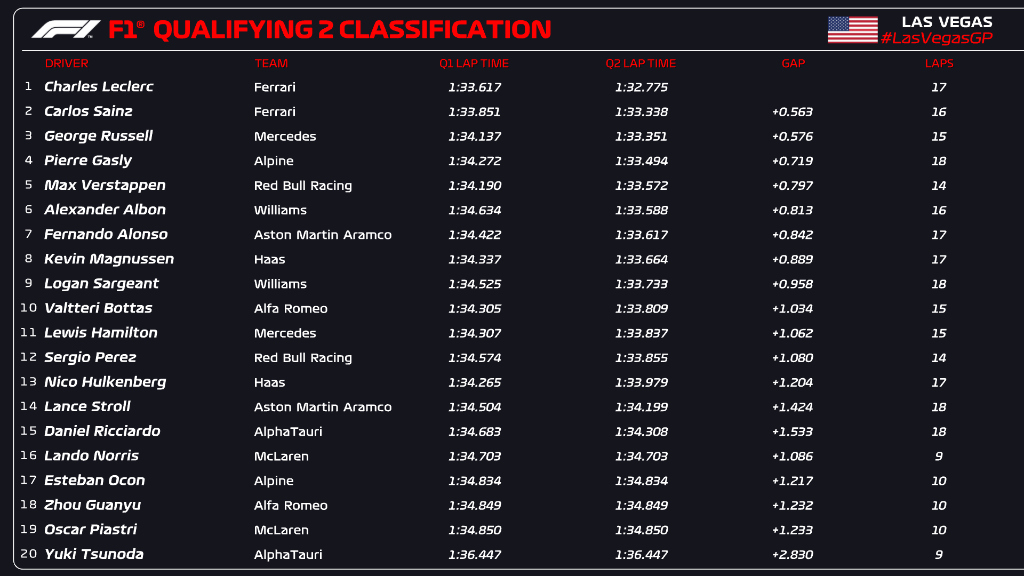 Q1: Both McLarens out!
Qualifying started under clear Las Vegas night skies, with ambient temperatures at 14 degrees Celsius, while track temperature was 16 degrees.
Worth noting the Pirelli asked the teams to increase the pressure of the tyres ahead qualifying. The increase is 0.5psi.
From what we've seen in practice, the best times that can be extracted from the Pirellis will be coming from the second flying laps, not the first. Only then will the tyres be in the best operating window.
Also doing two warm-laps then a timed lap would be a way to tackle qualifying.
The drivers did not waste any time, as 13 of them quickly made their way to the track as Q1 was given the green light.
Let's go qualifying in Las Vegas! 🙌#LasVegasGP #F1 pic.twitter.com/DTPyKf8XQC

— Formula 1 (@F1) November 18, 2023
Leclerc showed his hand early on, posting a fast lap, and then going over seven tenths faster on his second run and 0.118s ahead of Verstappen in second, the latter's time also after a second run.
The drivers kept banging in lap after lap as they chased the best time out of their tyres to make sue they do not get caught out into Q2.
In the end, Leclerc led the top 15 into Q2 with a 1:33,617, 0.234s ahead of Sainz in second, and 0.520s faster than Russell in third.
The first driver to lose out on Q2 was Lando Norris, 16th fastest and losing out by 0.020s to Ricciardo who was 15th fastest.
Esteban Ocon was 17th fastest in the Alpine, 0.131s behind Norris and 0.015s ahead of Zhou Guanyu who was 18th.
Oscar Piastri concluded a disappointing qualifying for McLaren, 19th fastest, Yuki Tsunoda 20th.
There was some chaos in the final moments of Q1 with several drivers tripping over each other as they tried to go for some final runs.
Las Vegas Boulevard traffic troubles 🫣

It was a busy end to the first part of qualifying! 🚦#LasVegasGP #F1 pic.twitter.com/yjhpaklQiu

— Formula 1 (@F1) November 18, 2023
Both Hamilton and Russell, Zhou, and Gasly were under investigation for not sticking to the maximum delta time.
Ocon and Verstappen has an altercation as well while going on their final laps, ruining it for both of them. While Stroll was under investigation for ignoring Yellow flags.