McLaren CEO Zak Brown did not mince his words after Qualifying for the 2023 Las Vegas Grand Prix, in which neither Lando Norris nor Oscar Piastri made it out of Q1 – the pair were P16 and P19 respectively when the session ended.
It was something of a shocker because McLaren had been at the sharp end of proceedings for much of the latter half of this season, but in Las Vegas this weekend they simply have not found the sweetspot in the MCL60. On the night it lacked on all fronts according to its drivers.
American Brown, was not pleased with what he saw on home soil: "I'm very disappointed. I did not imagine that the two cars were out of Q1 The slow-speed corners are not our favourite. Downforce is a struggle in the course of the season. Let's see what happens on Sunday. The race may be a surprise."
Indeed it will be a big surprise, on this weekend's form, to see a McLaren end up on the podium for a tenth time this season. However, in the world's Capital City of chance, the Woking outfit may be dealt a better hand for when it really matters: the Grand Prix.
Reflecting on a well below-par session, Norris said: "It is not a surprise as all drivers are very close. Two tens are five positions. If things come together, we should be ok. We have not done anything wrong. We could have done better. Perez impeded means d will get a penalty in principle."
The Englishman continued in the McLaren team's Qualifying report: "A frustrating end to qualifying. The pace hadn't looked too bad in FP3, but we just didn't put it together in qualifying. The tyres didn't perform quite as we expected, and the graining was pretty bad so perhaps we should have used a second set."
Norris: Plenty of cars are out of position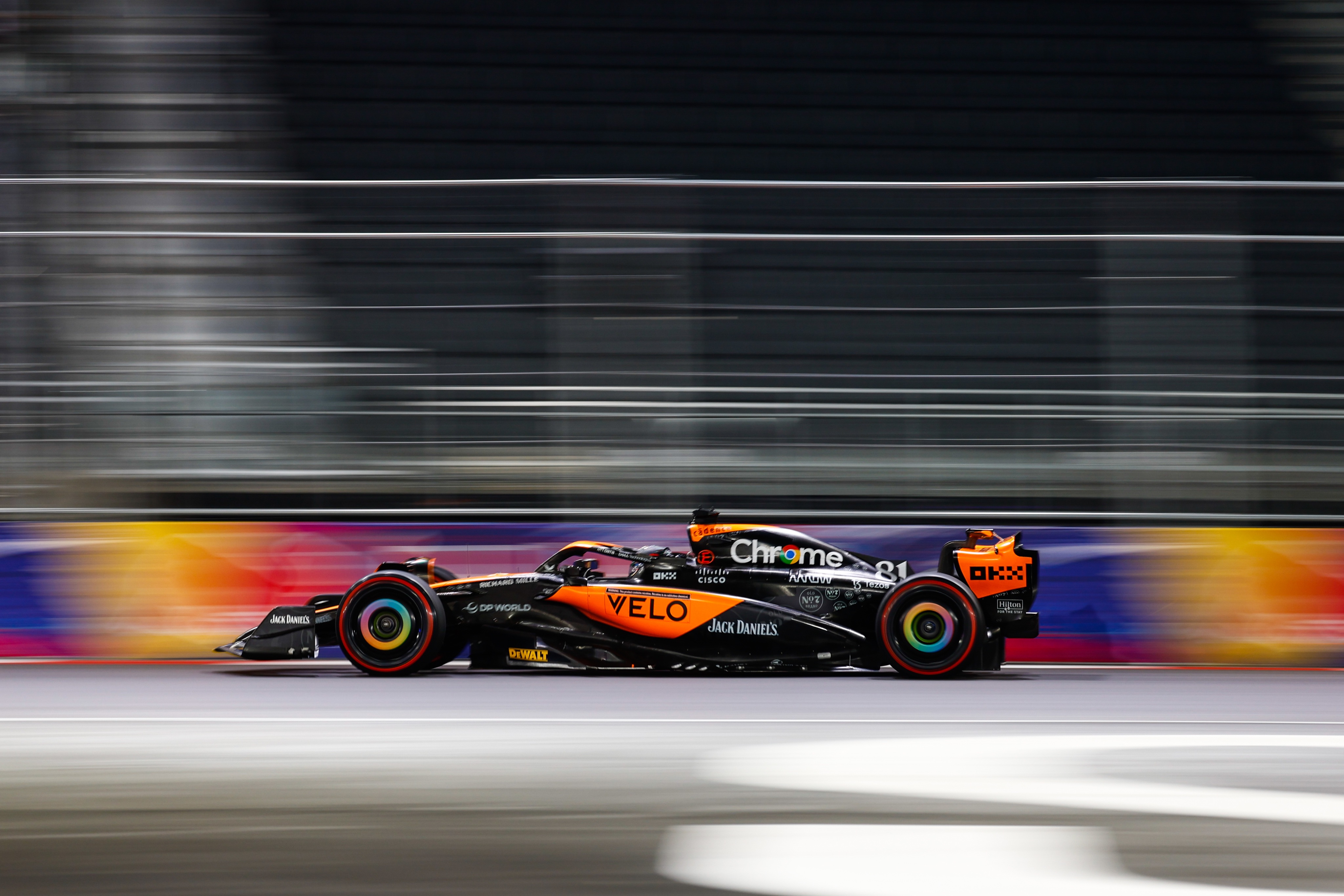 "There are still opportunities for tomorrow, the pace of the car is better than where we've qualified and plenty of cars are out of position. We'll work on our plan tonight and try and move up into the points," concluded Norris, who lines up P16 on the grid for his 102nd F1 start.
Australian rookie Piastri added: "Qualifying obviously didn't go to plan. We'll need to look at the tyre strategy. If other teams used two sets of tyres, I think that explains pretty well why we were at the back. It's a little unexpected after FP3, with how the tyres behaved and how the pace was.
"It had looked promising. It's a shame but there's a lot of long straights here and hopefully, we can make our way back forward [to the race]," reckoned Piastri, who will line up P19 for his 21st Grand Prix.
McLaren F1 team Principal Andrea Stella recapped: "So far, this weekend in Vegas has been a bit of a struggle, both in terms of putting the car in a decent operating performance window.
"Also dealing with the behaviour of the tyres, which are difficult in terms of warm-up but at the same time can also get damaged very easily with graining.
"Despite that, we had enough performance to progress from Q1, but we were not able to because the single set of tyres we were going to use was degrading too rapidly and was not enough to beat cars that used two sets.
"We'll take that on the chin and refocus on preparing for the race. It may be eventful, tyre behaviour will be a major factor, and we'll do our best to recover and score some points," concluded Stella.
McLaren are fourth in the 2023 F1 World Championship standings with two scoring rounds remaining, with no chance of catching Ferrari in P3 but have Aston Martin in P4 trailing them by 21 points. Their drivers Fernando Alonso (P10) and Lance Stroll (P14) will start ahead of Brown's team.