Sir Frank Williams – the longest-serving Team Principal Formula 1 has ever seen – has died at the age of 79.
The family released the following statement:
"It is with great sadness that on behalf of the Williams family, the team can confirm the death of Sir Frank Williams CBE, Founder and Former Team Principal of Williams Racing, at the age of 79.
"After being admitted into hospital on Friday, Sir Frank, passed away peacefully this morning surrounded by his family.
"Today we pay tribute to our much loved and inspirational figurehead. Frank will be sorely missed. We request that all friends and colleagues respect the Williams family's wishes for privacy at this time.
"For those wishing to pay tribute, we ask that donations are made in place of gifts to the Spinal Injuries Association, alternatively we would welcome flowers to be placed at the entrance of the team's headquarters in Grove, Oxfordshire. Details of the memorial service will follow in due course."
Williams team racked up seven F1 drivers' titles and nine constructors' championships
Jost Capito, Willliams Team Principal said: "The Williams Racing team is truly saddened by the passing of our founder Sir Frank Williams. Sir Frank was a legend and icon of our sport. His passing marks the end of an era for our team and for the sport of Formula 1.
"He was one of a kind and a true pioneer. Despite considerable adversity in his life, he led our team to 16 World Championships making us one of the most successful teams in the history of the sport.
"His values including integrity, teamwork and a fierce independence and determination, remain the core ethos of our team and are his legacy, as is the Williams family name under which we proudly race. Our thoughts are with the Williams family at this difficult time."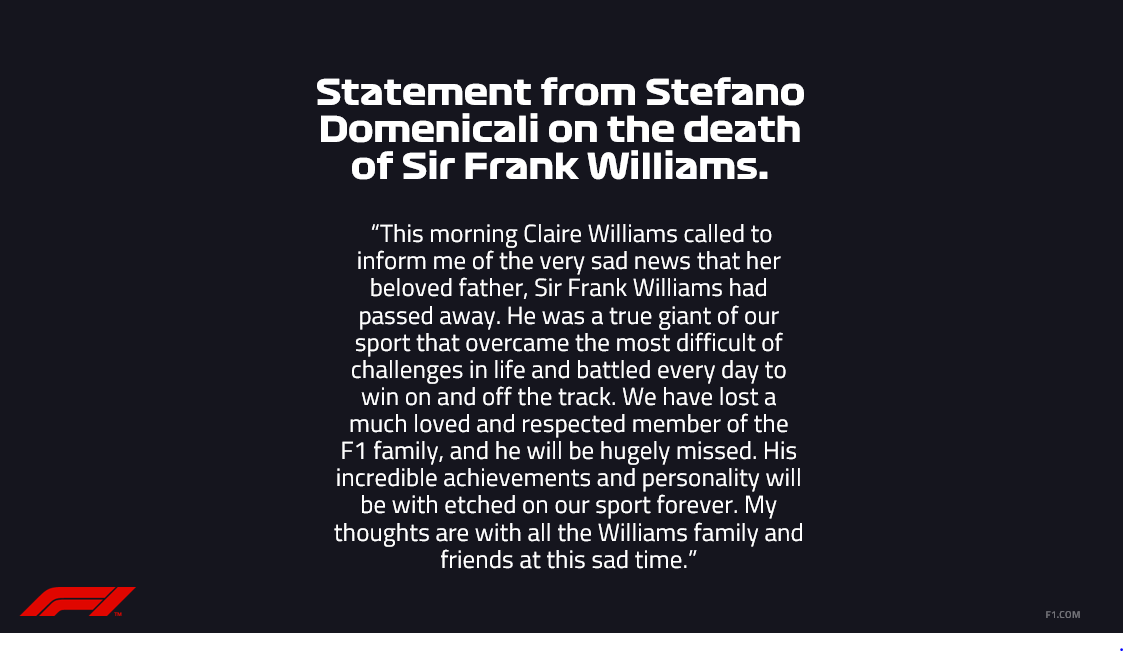 Sir Frank was team principal for 50 years until 2019, having modest success in his early days making it in the sport, but once he teamed up with Patrick Head, the Williams team racked up seven F1` drivers' titles and nine constructors' championships. Ruling F1 for a spell as Mercedes do today.
The Williams family – including daughter Claire who ran the team since 2013 – brought an end to their incredible F1 journey earlier this year, selling to Dorilton Capital.
Sir Frank sustained a spinal cord injury in a car crash in 1986 that kept him wheelchair-bound and spent some time in hospital in 2016 recovering from pneumonia and stopped attending Grand Prix races.
RIP Sir Frank Williams. Such sad news 😔 A huge loss for our sport and our team. It's been an honour to represent your name on the world stage and we will continue to push hard to take the team back up the grid 💙 pic.twitter.com/4UKiU3CzB4

— Nicholas Latifi (@NicholasLatifi) November 28, 2021
— JohnnyCecottoSr.🇻🇪Pa' lante Venezuela…!!! (@johnnycecotto1) November 28, 2021
A kind, funny and determined man that created a huge legacy in our sport. A real sad day for us all, thanks for making me feel truly welcome in the @F1 paddock from day one! My thoughts are with the Williams family & team. R.I.P Sir Frank 💙🙏🏼 pic.twitter.com/91yM0GdJqi

— billywhizz (@BillyMonger) November 28, 2021
We all knew it would happen sooner rather than later… but what tenacity!
Frank Williams, Sir Frank, an example of courage and determination, has passed away.
May he rest in peace.
Photo: Montreal 1985, Frank with his alter ego Patrick Head. pic.twitter.com/pTBPmKkygs

— Paul-Henri Cahier (@F1Photo) November 28, 2021
We have lost a true hero of our sport and an inspiration for so many beyond it. Sir Frank not only created a special F1 legacy but showed the power of human determination to overcome huge adversity. Thoughts with his family and the Williams team. pic.twitter.com/oVD73NkSKu

— Zak Brown (@ZBrownCEO) November 28, 2021
— Valtteri Bottas (@ValtteriBottas) November 28, 2021
Goodbye Sir Frank Williams
What an honor it has been to have shared some conversations with you through the years. #rip #legend https://t.co/yi6SGZBAhv

— Romain Grosjean (@RGrosjean) November 28, 2021
A tribute to Sir Frank Williams.

— McLaren (@McLarenF1) November 28, 2021
A legend has passed. There were not a lot of people who were more inspiring than Frank Williams. His knowledge brought the sport we all love to a higher level. Condolences to everyone and Frank, Rest In Peace. pic.twitter.com/T2ooHOf98H

— Giedo van der Garde (@GvanderGarde) November 28, 2021
A true @F1 and @WilliamsRacing legend and one of the greats.

Rest In Peace.#F1 #Formula1 pic.twitter.com/VTHhu2o4Jd

— Yas Marina Circuit (@ymcofficial) November 28, 2021
It's a sad day for our sport, Frank Williams will always be remembered as one of the heroes and #F1 icons.
My thoughts and prayers are with his family, especially his daughter, Claire Williams. #RIP🙏 pic.twitter.com/vSs7MUIUFO

— Sergio Pérez (@SChecoPerez) November 28, 2021
We're saddened to learn the passing of Sir Frank Williams, a true pioneer of our sport.

We'd like to pass on our condolences to his family, friends and the Williams Racing Team. pic.twitter.com/uo7fMA4Kxq

— Haas F1 Team (@HaasF1Team) November 28, 2021
Following the sad news of the passing of Sir Frank Williams, Laurent Rossi, CEO, Alpine commented:

Today we lost a legend of the sport. The name of Sir Frank Williams will be forever engrained in the history of Formula 1 and an inspiration for us all.

(1/4) pic.twitter.com/58MWQw4Ub7

— Alpine F1 Team (@AlpineF1Team) November 28, 2021
PLEASE FEEL FREE TO PAY YOUR RESPECTS TO AN F1 LEGEND – SIR FRANK WILLIAMS – BELOW: