Lando Norris believes he had the car today for pole position in qualifying for the 2023 Hungarian Grand Prix, the McLaren driver lamenting "too many mistakes" made on his way to third place on the grid for Sunday's race.
It was a super close call, at the very end of a tense and super close qualy session. Less than a tenth was the difference between Lewis Hamilton's pole-winning time in the Mercedes and Norris in third place, with Red Bull's Max Verstappen sandwiched between the two Britons on the timing screens.
McLaren found a magic button of sorts since their last major upgrade, which Norris has put to great use, as has his ever-impressing rookie teammate, Oscar Piastri who delighted with P4.
Speaking in parc ferme after a hot Qualifying at Hungaroring, Norris said: "I'm disappointed. If you're within a tenth of pole it feels like you should be on pole if you put the lap together. I guess with the overall picture I'm happy. The team did a good job with P3 and P4. A good weekend so far.
"As a driver, I'm not the happiest, I feel I made too many mistakes and it cost me. There are always little things… just putting the lap together. It wasn't the cleanest. There's always an element of risk involved in trying to push a bit more. Nothing major. There was definitely a tenth in it. Frustrating. I'm happy. P3 is still a good position, so still a good day."
Norris, who finished second at his home British Grand Prix last time out, is fired up for Sunday: "I'm excited. The race pace [practice] was pretty strong. Just as strong as we were at Silverstone. It's a difficult track to overtake, which is probably why I'm a bit more frustrated than I should be. I'm up there with the good guys and we've got two cars up there, so hopefully we can use them."
McLaren rookie Piastri continued to do everything expected of a young gun in his first season, up against a driver with more experience. Simply stay out of the walls, and keep Norris in the other car honest. Which the 22-year-old Aussie does and did today.
Piastri: It's nice we can still be at the front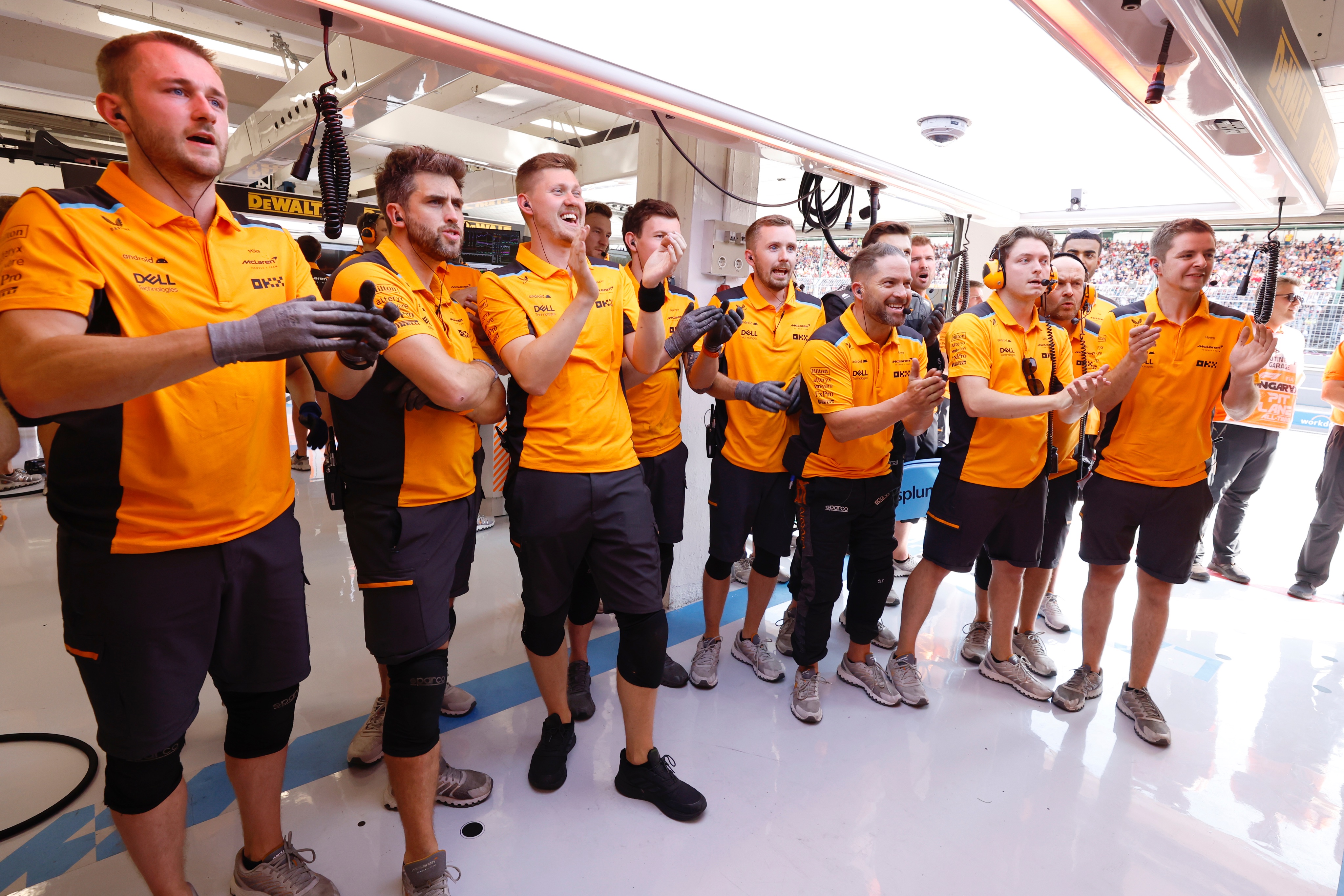 Summing up his afternoon, Piastri said: "We maybe had some reservations we would be towards the front at a very different circuit to Silverstone, different conditions as it's a lot hotter, previously in the season that's been our Achilles heal.
"It's nice we can still be at the front. I felt our lap in Q3 wasn't the best lap I've ever done in the world – which the timing sheets reflect. But it's a nice feeling to have a lap like that and still be fourth."
As for his journey in the top flight so far, today only his 11th Grand Prix qualifying, Piastri said: "I've been quite happy with the whole year. Today the gap is a bit bigger to Lando than I would have liked. It's been encouraging that I've not come out of a weekend thinking: I don't know how he did that, I can't do that. I've always known that while there are mistakes there, I know it's possible.
"It's been about tidying that up and being more consistent which will come with experience. I'm trying to fast-track that as much as I can. It's a lot nicer when you can fight at the front and do all your learning, rather than stay at the back," explained Piastri.
F1 stats show that McLaren lie fifth in the 2023 F1 championship standings after ten rounds; around 100 points shy of Ferrari, Mercedes and Aston Martin battle for second. At Silverstone the Woking outfit scored 30 points towards their 2023 F1 Constructors points tally, only RBR took home more that day.
If sharp end double points scores continue for Norris and Piastri, McLaren is set to rise through the ranks, all because they have a decent car for their lads to strut their impressive stuff. And give credence to Zak Brown's prediction that McLaren would become a force again, under his watch, around now.