Max Verstappen made light work of a brief challenge by McLaren's Lando Norris to power to victory at today's British Grand Prix, Round 10 of the 2023 Formula 1 World Championship, at Silverstone Circuit.
In winning, World Champion Verstappen beat two local heroes who rose to the occasion to claim unlikely spots on the podium. Lando Norris in the resurgent McLaren finished an impressive second while Lewis Hamilton turned P7 and a bad start into P3, against the odds. The next best thing to an outright win by Briton for fans at Silverstone.
When the lights went off, Verstappen lost the lead briefly (three laps) when a fabulously resurgent McLaren team ran him close, Lando Norris in particular was stellar in front of an appreciative home crowd, watching the racing in record numbers at Silverstone.
It was a big win on several fronts for Red Bull, their 11th in a row to match the Senna-Prost-McLaren record that has stood since 1988. It was also Verstappen's eighth of the 2023 F1 season his team's first 'other home' win since Mark Webber's victory in 2012.
Verstappen: Lando was very nice to me
In parc ferme after his 43rd Grand Prix victory, Verstappen said: "We had a terrible start so we need to look into that why it was. Even after that, especially Lando, well both McLarens, were super quick. It took a few laps to pass him but then I could ease out a gap.
"After the Safety Car, on the softest compound round here it was a little bit more tricky for us to keep them alive. Very happy we won again and 11 wins in a row for the team is pretty incredible. But it wasn't straightforward. The [bad start] made it a bit more exciting having to push for it. Lando was very nice to me but he came back at me with the DRS. He did very well today," added Verstappen.
Indeed the story of the weekend was Mclaren's fine showing, and Norris the star of the show with his tenacious drive to second place. Delivering a high-end defensive late drive on Hard tyres, to keep a feisty Lewis Hamilton behind him.
And he did make it two Britons on the podium for the home fans, 400,000 of them that descended on Silverstone this weekend, with the Dutchman on the top step as is becoming the norm in F1.
Norris: I brought the fight to Max for as long as possible
A beaming Norris addressed an appreciative crowd after a famous second place: "Pretty insane. Thanks to the whole team, they have done an amazing job. None of this would be possible without their hard work.
"They put me on hard tyres I don't know why. They are still beginners in something! It was an amazing fight with Lewis, I made a few too many mistakes maybe. I did what I could. I brought the fight to Max for as long as possible. It's a long lonely race when you're in the middle but it's amazing.
"The whole in-lap I was just trying to wave to everyone so thank you to all the British fans out here supporting all of us. We should have had P2, P3. Oscar did an amazing job and he would have been P3 without the Safety Car. The fans are amazing so a big thanks to all of them," exclaimed Norris.
The man he beat to a second place o the day was none less than the eight-time winner on home soil, Hamilton who summed up his post-race sentiments: "I didn't do it, the crowd did it. Silverstone put on an amazing show. I felt the energy, I felt the support which is the reason we got back up here."
Hamilton: Big congratulations to Lando and McLaren.
The Mercedes driver continued: "It was where I first started so to see them back up there looking so strong. That thing was rapid through the high-speed corners. Wow. I couldn't keep up but we had a good little battle on the restart.
"The start wasn't so great for us but the long run on the medium was really great. This is a good positive for us as a team to know we're not that far off, we just need to keep on using and we can catch those guys out front.
"Once Lando went through Turns 14 and 15 he was gone. We had a good little battle, just didn't have the grunt on the straights. I'm really happy. To start seventh and finish third is a mega, mega job," declared Hamilton.
A fine and well-deserved fourth place went to rookie Oscar Piastri, delivering the race of his life to finish after starting third and mixing it with the best of the best. The young Aussie ticked every box on an afternoon packed with boxes for him. What a revelation he is turning out to be. The British GP result a just reward for a driver we will be hearing a lot of in the future.
Mercedes lacked the firepower for Hammer-time
George Russell was fifth after an adventurous race in which he was the only top-ten qualifier to start on Softs. He drove a strong race, going wheel to wheel on more than one occasion. But in the end, like Hamilton up ahead the Merc is lacking firepower. The drivers delivering beyond what the car is probably worth, Lewis in particular with his third place.
The F1 World Champion dream that Sergio Perez once harboured, not long ago, in retrospect was pure folly as the Red Bull drivers challenge crumbled dramatically. Nevertheless, Checo did what he had to do from P15, thanks to another awful qualifying, emerging P6 with the best car on the grid. The same car that won from pole.
Fernando Alonso has a relatively subdued race, Aston Martin is not quite the weapon it was earlier in the season. Nevertheless, the Spanish veteran typically gave it his all to finish a hard-fought seventh place, fending off Alex Albon in the late stages of the race.
The Williams driver shining on the day to take a well-deserved eighth on a very positive day for the once-mightiest team in F1.
The mighty team that should have done better were Ferrari. But the Reds are going through a strange patch of inexplicable bad performances, strange decision making and drivers with their own agendas.
Thus no surprise Charles Leclerc and Carlos Sainz somehow the Reds converted strong P4 and P5 starting positions, into the P9 and P10 when the chequered waved to end their pain. The house of Maranello continues to be the laughing stock of the grid with performances such as this.
2023 British Grand Prix Result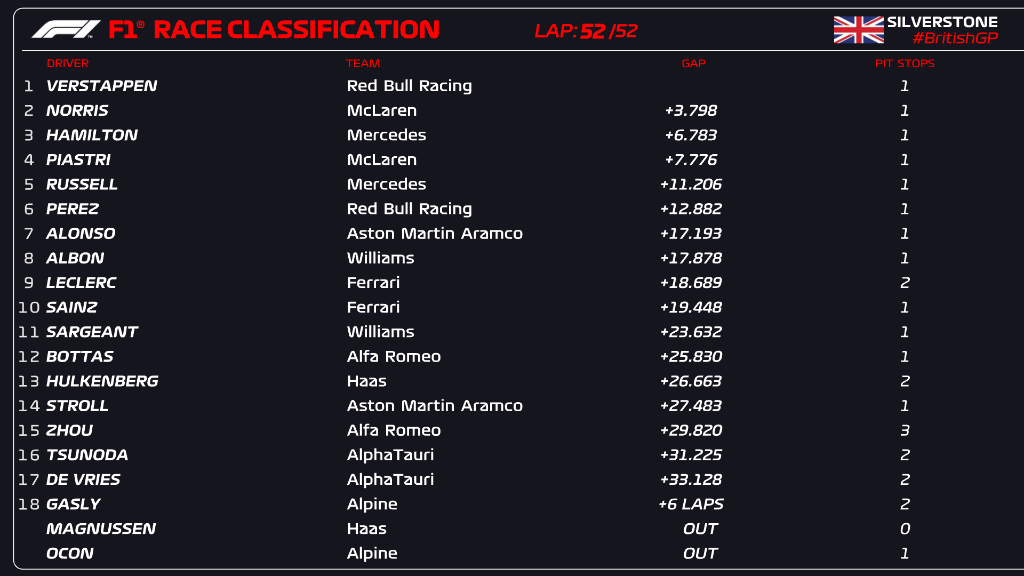 How the 2023 British Grand Prix unfolded
The top ten all line-up on the grid with mediums bar Russell on Soft Pirelli tyres. When the lights went out, Verstppane was tardy off the line compared to both McLaren with Norris nipping into the lead and staying there as Piastri attacked the Red Bull. A second or so separated the top three early on who edged ahead from the rest.
The best of which was Leclerc watching in fourth with Russell up to fifth, getting by Sainz in sixth. The biggest climber in the frenetic, but incident-free, first three laps was Alonso in seventh, stalked by Hamilton with Gasly and Albon rounding up the top ten.
Lap 5, inevitably Verstappen took the lead and again "ruined everything" for McLaren as he swept past at Brooklands, with Norris impressively hanging in there, with Piastri in his mirrors, throughout, the rookie also shining in the McLaren.
Russell was harassing Leclerc who made his Ferrari very, very wide. In the other Merc, Hamilton got by Alonso on lap seven but George remained behind the Ferrari.
From P15, Perez was struggling in the second Red Bull, tagging Magnussen as he made hard work of moving upfield in the best car driving the field. Nevertheless he was P12 when lap ten ticked by. At the same time, Alpine told Ocon to switch off his car in the pitlane. The first DNF of the race.
On Lap 10 the order was VER-NOR-PIA-LEC-RUS-SAI-HAM-ALO-GAS-ALB and pretty much a stalemate. Without much on-track action, eyes drifted heavenwards as rain loomed but hard to tell if it was going to unload over the airfield.
Top seven were much the same as they were at the start, only Russell had moved up a position to the detriment of Sainz on mediums who chose to hold station as he chased the soft-shod Merc.
At the front, Verstappen's lead began to stretch as the McLaren of chasing Norris, the gap 2.4 seconds at this point. Piastri was just under two seconds down from his teammate, with Leclerc nearly four seconds adrift with Russell all over the back of the Ferrari. An enthralling cat-and-mouse contest between the pair.
Perez had his sights on Albon in tenth, the Mexican within DRS on lap 15. A couple of fo laps later he drove by Albon with ease and without defence.
In contrast, Perez's next target, Gasly was the same distance to Alonso but lacked a bit of firepower to get by the Aston Martin, even DRS-enable.
Lap 19, Leclerc the first of the big guns to pit. A good one from the Reds which had their man out fast, and into clear air on Pirelli white-stripe Hards.
On lap 20, it was VER-NOR-PIA-LEC-RUS-SAI-HAM-ALO-GAS-PER with the #1 RBR now four seconds ahead and growing it with every lap. Setting the fastest lap in the process while watching the TV in the process! Noting Leclerc's early pitstop over the radio, the Dutchman sought confirmation if RBR were still on their run plan. Affirmative. Just drive Champ!
The McLarens were still Best of the Rest, unlike the past when they drifted down the order. The MCL60 reloaded is proving to be quite a beast with Norris and Piastri reveling in their good fortune. Russell was five seconds behind them in the works Mercedes, the Englishman making the Softs last remarkably long.
Hards went on to Sainz's car too when he stopped on lap 27. Russell pitted on lap 29 for Mediums, not a great one by his crew. The Englishman got by on Lap 31 with a great move that began into Turn 6 and ended with him taking the spot on the outside of Luffield. Ballsy move!
Lap 30 top ten looked like this thanks to a flurry of pitstops by some and not others VER-NOR-HAM-ALO-GAS-PIA-LEC-RUS. Verstappen was now 8.5 seconds ahead.
Lap 34 Full safety car as Magnussen's Haas stopped with smoke billowing out adnd with it triggering pitstops for the fortuitous who had not done so as yet. A free stop in effect which would rip up the order, and change the face of the race.
At the restart at the end of Lap 38, the top ten looked like this: VER-NOR-HAM-PIA-RUS-ALO-SAI-PER-ALB-LEC. McLaren's lack of sharp-end action, and top-end strategy required at that level, was evident when they bolted Hards on for Norris with Max ahead and Lewis behind on Softs. Notably, Perez was eighth with the best car in the field.
Verstappen was off like a flash, nipping the fastest lap and gapping a couple of seconds within the first flying lap, with Norris dropping struggling with less grip of the Hards and under max-attack from Hamilton. A first challenge was thwarted by the McLaren man.
Lap 40 Hammertime again, but Norris kept ahead. Hards vs Softs. Same, same behind Piastri also on Hards fending off Russell on Mediums. Intriguing stuff, and the McLaren boys really bringing their A-Game despite the double-tyre gaffe by their team. This one was all due to the incredible efforts of their drivers Lando and Oscar.
Alonso in sixth was fending off Sainz, Perez, Albon and Leclerc all within DRS range of one another. On lap 44, it was all changed as the Ferrari went slightly offline which allowed Perez to pounce, Albon seized the opportunity and slipped past, and then Leclerc got by his teammate. A blink of a mistake cost the Ferrari three positions.
On lap 45 Verstappen's lead was up to 3.3 seconds. Norris was still ahead of Hamilton, knowing the longer he could keep ahead of Hamilton on softs, on the Hards the better for him. Perez was on the move, getting by Alonso on lap 47.
---
Our 2023 British Grand Prix Preview
Who woulda thought? Two McLarens P2 and P3 on the grid, only bettered by runaway and Formula 1 World Champion Max Verstappen and thus setting an unfamiliar stage for an almighty Battle for victory at the 74th running of the British Grand Prix today.
[This preview will make way for the British Grand Prix race report, which will be published here after the race or if the race is stopped. Refresh this page for the latest version of this post. Enjoy the race!]
Silverstone packed with the usual enthusiastic crowd was treated to a thrilling action-packed Qualifying on Saturday, with local hero Lando Norris briefly top of the timing sheets, until Verstappen (who else) "ruined everything" for McLaren.
It was a good-humoured moment when a broadly grinning Norris accused Verstappen of ruining things as usual, which brought the house down with Max laughing loudest along with the appreciative crowd.
Adding to McLaren's big moment was the fact that the rookie they fought so hard to snatch from Alpine – Oscar Piastri – did all of what can be expected of a 22–year-old only in his tenth F1 qualifying. The kid is good and keeping Norris honest, as they both raise their game on a race-to-race basis.
Will a McLaren driver win the race? No. Should Lando or Oscar win today? Yes! Why? Because at stake is a record that they own, from the Alain Prost and Ayrton Senna era at Woking. In 1988 the pair won 11 consecutive races. That record will be matched today if Red Bull wins.
And that winner is likely to be Verstappen
Max – who has never won the British Grand Prix – is seeking to make it half a dozen wins in a row and another step to title three. His closest 'challenger' is Red Bull teammate Sergio Perez, starting from P15 after another Qualifying flop by the veteran, whose form has disappeared.
What can the Mexican do from Nowhereland? Second place should be as given with the incredible RB19 no matter where he starts. Let's see.
Whatever the case, Austria was a step forward, and now what we have seen this British Grand Prix weekend appears to be an even bigger one. Verified by the fact that both cars were in the sharp zone.
If ever there was reason for Zak Brown's team to stop this incredible run that Red Bull is on, in particular, Verstappen who is well on course to an easy third F1 Title in a row, it is now as a chunk of their legacy could be matched today, and beaten by RBR next time out. Cutting it short today means the counter resets.
What can Ferrari do from P4 and P5?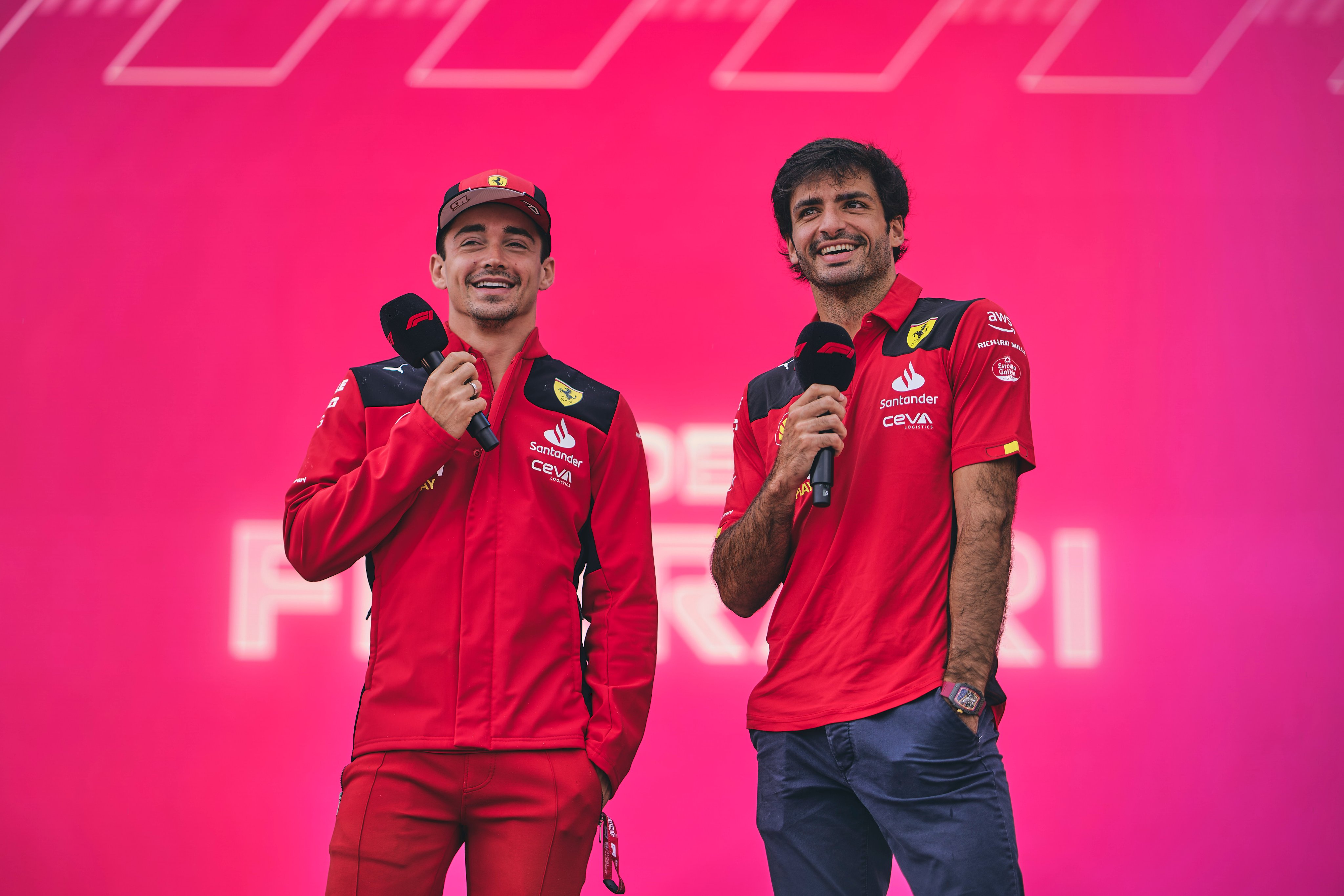 Behind the trio that dominated yesterday's headlines, there is the threat of Ferrari too. Carlos Sainz won the British Grand Prix here last year and has been fast all weekend, but typically Charles Leclerc found a little extra when it mattered in Qualifying and will line up P4, with Sainz P5.
As usual with Ferrari, the question is not can they win this one? But more like can they survive themselves today? Both drivers are capable of winning, the car seems better in race pace mode. Today will tell where they really stand vis-a-vis Red Bull and a McLaren team seriously reloaded, with two young blokes not shy of a scrap.
The underperforming Mercs next up, hoping their race pace will be better than what the W14 had in Qualy, which was not much compared to Max. But the two Brits could find inspiration in front of their home fans. Hamilton is an eight-time winner around the former RAF airfield and can never be written off when a big performance is required to upset the existing form book.
Other British Grand Prix tales to keep an eye on:
What's happening at Aston Martin? Where has the pace gone? Will it be back today?
Alex Albon!
Who bins it first? Yuki? Logan? Nyck? Max? Lewis? Checo?
Not much else to be honest…
[The British Grand Prix race report will be published here after the race or if the race is stopped. Refresh this page for the latest version of this post. Enjoy the race!]
Pirelli F1 Tyre Options for Silverstone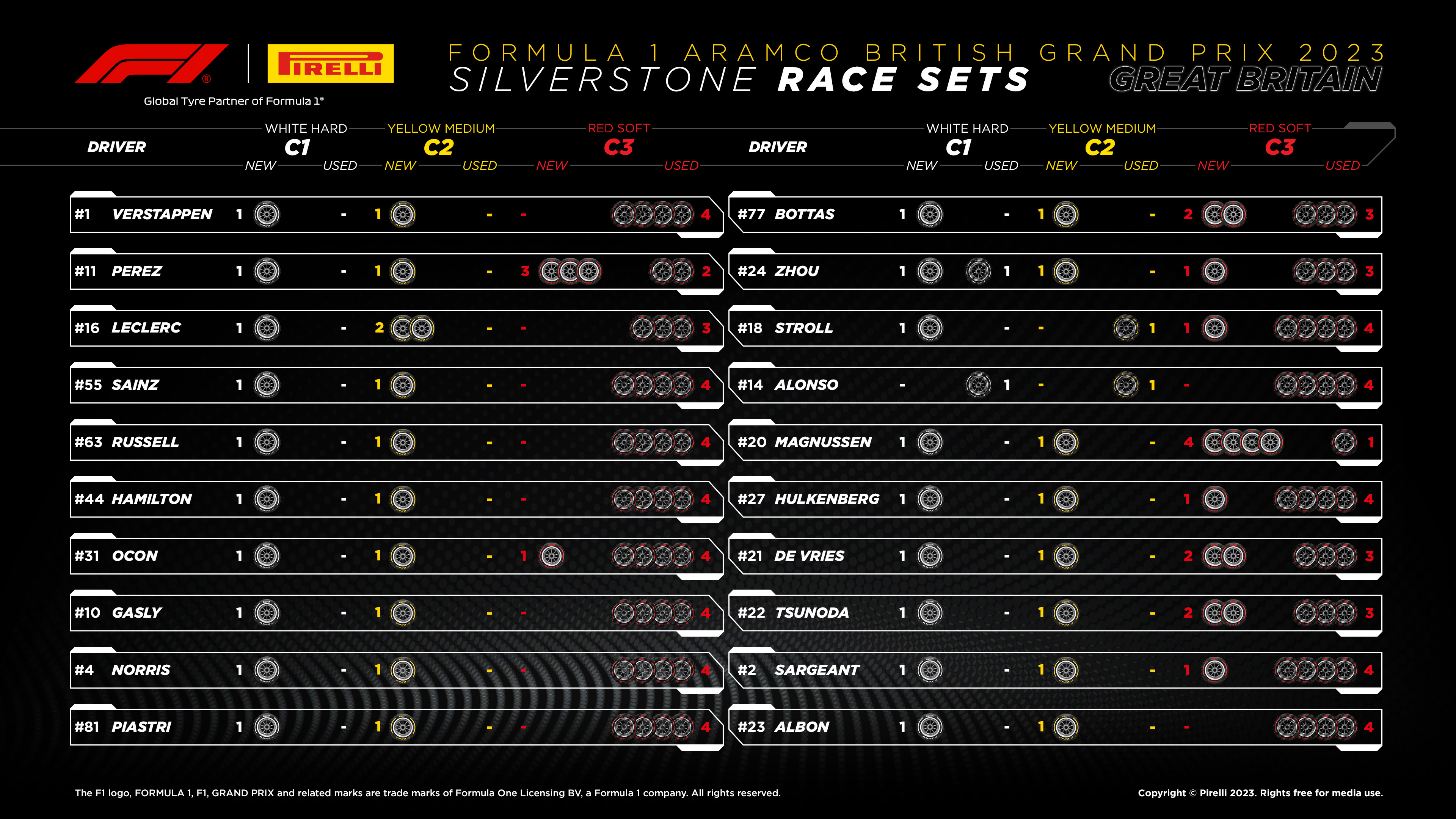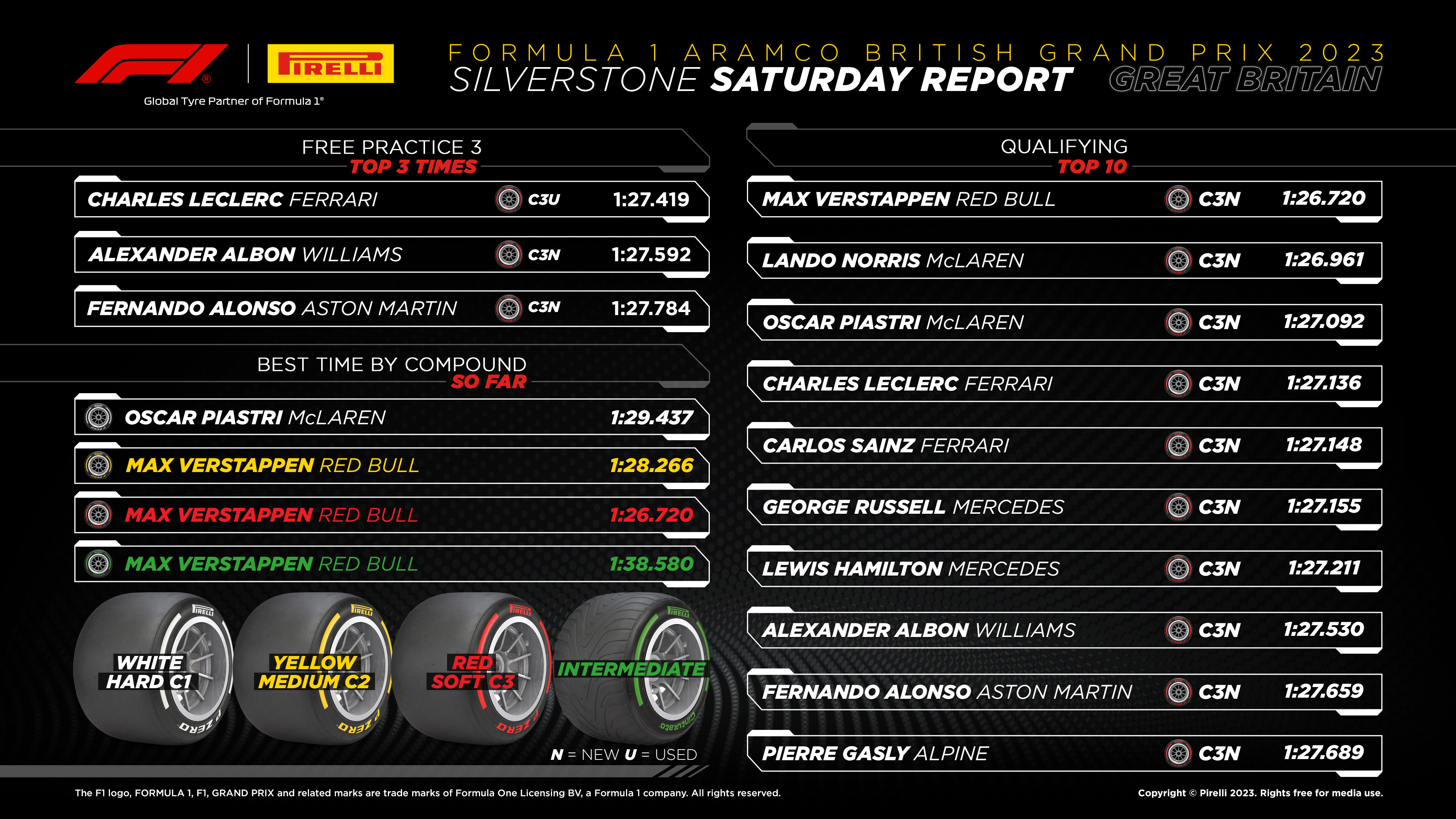 British Grand Prix Stats & Info by Reuters
Race 10 of of the 22-round 2023 Formula 1 World Championship season
Lap distance: 5.891km. Total distance: 306.198km (52 laps)
2022 pole position: Carlos Sainz (Spain) Ferrari one minute 40.983 seconds.
2022 race winner: Sainz
Race lap record: Max Verstappen (Netherlands), Red Bull, 2020: One minute, 27.097 seconds.
Start time: 1400 GMT (1500 local)
Sunday's race will be the 74th British Grand Prix.
Lewis Hamilton has won the British Grand Prix a record eight times.
He shares the F1 record with Michael Schumacher (eight at the French Grand Prix).
He has also been on pole seven times at Silverstone and on the podium 12 times.
No driver has been on the podium more at a home race.
Mercedes have won eight of the last 10 British Grands Prix.
Every winner has started from fourth or higher since 2000.
Three current drivers have won the British Grand Prix at Silverstone:
Hamilton (2008, 2014, 2015, 2016, 2017, 2019, 2020, 2021),
Fernando Alonso (2006, 2011) and Sainz (2022).
Verstappen won the 70th anniversary race at the circuit in 2020,
the first time Silverstone hosted two races in a single season.
The British Grand Prix, with Italy, is one of two ever-present races on the calendar since 1950.
This year's race will be the 57th British GP at Silverstone.
Ferrari have won the British GP 18 times.
2023 F1 Championship Points after Round 9
Wins, Podiums, Pole Position & Fastest Laps
Verstappen now has 42 wins from 172 starts.
One more than the career haul of Brazil's late triple world champion Ayrton Senna.
And is fifth on the all-time list. Alain Prost, with 51, is next in his sights.
Red Bull have won all nine races so far this season (Verstappen seven) and four one-twos.
Hamilton has a record 103 career victories from 319 starts but has not won since Saudi Arabia 2021.
If Ferrari do not win, they will have gone a year since their last success in Austria on July 10, 2022.
Five teams and seven drivers have made podiums in 2023 Red Bull, Alpine, Aston Martin, Mercedes and Ferrari.
Verstappen has yet to finish outside the top two.
Leclerc's second place at Spielberg's Red Bull Ring last Sunday was Ferrari's 800th F1 podium.
Hamilton has a record 103 career poles.
Red Bull have been on pole in eight of the season's races, with Leclerc taking the top slot in Azerbaijan.
Verstappen has six poles for 2023 and the last four in a row.
Fastest laps this season: Guanyu Zhou, Verstappen (4), Perez (2) and George Russell and Hamilton.
British Grand Prix Milestone
Red Bull hunt their 11th win in a row to equal McLaren's record set in 1988 with Senna and Prost.