One Grand Prix victory, 13 podiums, 89 points from 47 starts; those are the statistics of François Cevert's (25 February 1944 – 6 October 1973) short career in Formula 1 but, nevertheless, he is a legend of our sport which departed far too soon.
The bright-blue-eyed "Prince" won his first and only victory at the U.S. Grand Prix in 1971. Two years later, he suffered a fatal accident while qualifying on the very same track.
He was a promising young driver and the protégé of Jackie Stewart. With the Scotsman's anticipated retirement at the end of the 1973 season, Cevert would have been promoted as the number one driver at Tyrell.
Many believed he had the potential to become the first French driver to ever win an F1 title. His death cast a shadow on the sport's history, Stewart's third title win and a number of his fellow drivers' entire career.
Today – 25 February – would have been François Cevert's 79th birthday.
From Parisian Boy to Eager Racing Driver
The young Frenchman was nicknamed "Le Prince". He did not only look like one, he was also born into a wealthy Russian-Jewish family running a jewelry business. François grew up in a castle where he was looked after by an army of servants. His sister's boyfriend, Formula One driver Jean Pierre Beltoise, inspired the young Parisian boy to develop passion for the sport.
Initially, his new "hobby" was fiercely opposed by his family. His parents considered racing to be a lazy sport. Better than nothing, the 16-year-old Cevert began driving scooters around the capital city with his friends.
At school, young François was very much underperforming, to say the least. His philosophy teacher called him "too pretentious and not sufficiently hardworking". In 1963, while doing his National Service, Cevert was stationed in Germany where he became fluent in the language. At the age of 20, with the backing of an older woman he met while vacationing, Cevert enrolled into
a racing school in Magny Cours.
In 1966, he got a full-season sponsoring deal from Volante Shell, which was his entry ticket into Formula 3. This is how François became a part-time professional driver, part-time salesman for his first season in motorsport. Being a driver in lower categories was not a particularly well-paying job in those days.
Even though he had won F3 in 1968 and finished third in F2, Cevert was not considered to be a God given talent prior to his entry into Formula One. Jackie Stewart discovered the young Frenchman while at the Renault Elf Winfield Racing School, and kept his name in mind. As Tyrrell began building their own cars in 1970, Stewart and team owner Ken Tyrrell decided to sign Cevert as a replacement for their other driver, Johnny Servoz-Gavin.
Stewart trusted the French youngster as a driver but putting him in the car was also a 2 in 1 decision. The team got an aspiring driver capable of being moulded, and stronger commitment from the French state-owned fuel company, Elf, as the team's sponsor.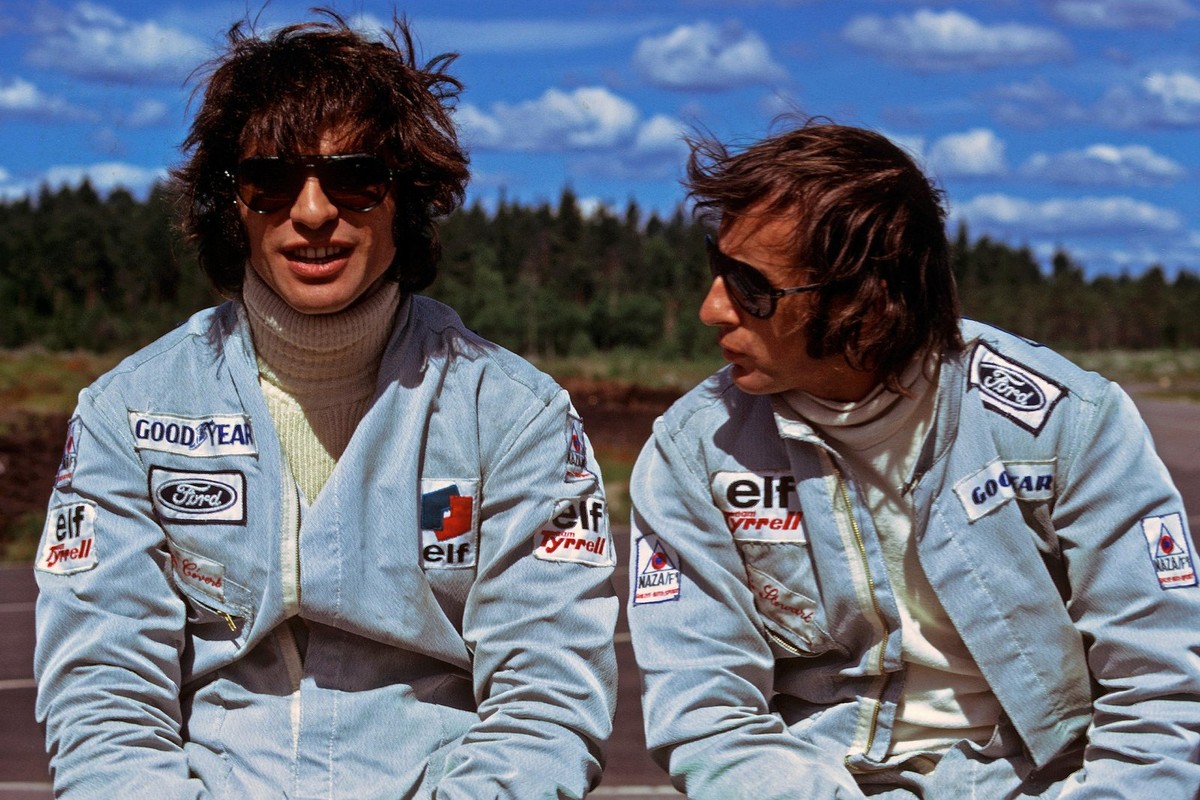 François is widely remembered as a handsome, easy-going, courteous young man who was a fast driver and a virtuoso piano player. His favorite piece to play was Beethoven's Pathétique Sonata.
"He was an incredibly good-looking man," remembered Stewart in 2018. "Incredibly athletic, a very good tennis player, good table tennis player… A charming person with impeccable manners."
The two developed a mentor-pupil relationship and gradually grew into friends. On many occasions, Stewart would be closely followed by Cevert out on track, observing and learning from the accomplished driver.
François was not one of the many racing drivers led by their egos, he was eager to ask questions and knew exactly, but he still had much to learn. His attitude quickly paid off, and "Le Prince" was consistent at scoring points from his first races on.
"I was driving like hell and not thinking enough about what I was doing. Jackie stopped all that and taught me how you must analyze a car, how you must think when you are driving, and the vision you must have. He did all my education… Jackie is still the maestro for me," Cevert said in an interview.
Reportedly, he was hotheaded. Unless Jackie was around. Stewart described Cevert's rookie year by saying: "François was like a sponge. He just wanted to take in everything because he was coming up from Formula 2, he knew he didn't know much and he wasn't that quick to begin with (…)
"At Tyrrell we'd always made a point of sharing everything between both drivers, so he got everything that I had in the way of setup, lines, gear ratios, anything at all. He learned that he had to be smooth, that he couldn't upset the car."
Soon, the Stewart-Cevert duo sharing the podium became a common sight. Even though the Frenchman started from fifth on the grid at the 1971 U.S. Grand Prix, following an action-packed race, he claimed his first and only victory in Formula One.
1973: Tragedy Strikes at Watkins Glen
Cevert was willing to take risks to finish second in 1973's world championship. His ambition was firm, he wanted to end the season ahead of Fittipaldi and Peterson. By the last race of the year, Jackie Stewart had already secured his title victory and was getting ready to race his 100th Grand Prix at Watkins Glen.
Right before the U.S. Grand Prix, the Scotsman and his wife, Helen spent a relaxing holiday with Cevert in Bermuda. "In Bermuda we had a two-bedroom apartment and every night we'd go to the Ocean Reef Club and he would play the piano." – Stewart later remembered.
Perhaps Cevert was too hungry for success, and unfortunately, chased it frantically. On his qualifying lap at The Glen, when François entered the track's fastest Esses section he lost control of his Tyrrell. His car crashed into the barrier in Turn 3, at the speed of approximately 200 km/h. Next, his number 6 Tyrrell flew across the track and blasted into the left-hand side barrier, turning upside down. The crash erupted in a thick fog of debris.
As debris ascended and blocked the track, marshals were desperately waving yellow flags. Drivers following Cevert on track, immediately stopped their cars and ran to the scene. They soon realized there was nothing to be done. The 29-year-old French suffered an unimaginable injury, the barrier parted his head from the rest of his body.
Jody Scheckter was the first driver to reach the wreckage – the South African champion joined Tyrrell a year later. This is how Scheckter recalled the scene: "Half of the car was in the middle of the track, and I jumped out. There was still fires around. I remember the battle was still sparking, and the big thing was to get him out of the car. I went for his safety belt, and then turned around and said to everybody else: Don't come.
Scheckter: Thank Goodness, I do not remember what I saw
"It blanked off my mind," Recalled Scheckter, but the accident had a big effect on me, I realized it was all very real. It was the first death I have been around. Life carried on afterward, everybody behaved the same. I thought, life should not carry on in a way."
Jackie Stewart, who just started a new lap when the accident happened, initially thought that the blue car in the barrier was of Chris Amon. Amon drove the team's third car that race. However, soon after getting out of his own Tyrrell, Stewart realized he had been wrong; Amon was walking towards him.
In the meantime, Stewart's sons followed the session back home on TV believing their father had lost his life. The sports commentator mistakenly reported that the car resting in the barrier belonged to the reigning champion.
Still to this day, Cevert's teammate-mentor-friend says he is affected by the unspeakable accident and struggles with his own remorse. Stewart drove back to the pits when he realized there was no point in staying around.
"To this day, I wish that I'd stayed longer with him. But he was dead. It was a horrendous accident, far beyond anything I think there's ever been in a Formula 1 race. I mean, it was just horrendous. And to this day, I'm still affected by it." The Flying Scot said on Beyond the Grid.
Other drivers and team members had a hard time coping with the accident too. Reportedly, Jacky Ickx came back to the pits in tears. Colin Chapman was in complete disbelief. For months, Fittipaldi contemplated retiring from the sport altogether.
The Immediate Aftermath
In the wake of the tragedy, Stewart withdrew from Sunday's race. The U.S. Grand Prix would have marked his 100th F1 entry. Both the Scotsman and the team stepped down, passing over the Constructor's title to Lotus. The violent crash cemented Steward's decision of retiring at the end of the season – hiss 99th and final Grand Prix.
At that time, the three-time champion was just as enthusiastic about passing his knowledge onto young drivers as about racing itself. Admittedly, his special connection to Cevert pushed him to focus more on life off the track.
A year later, at the 1974 U.S. Grand Prix, the Viennese Helmuth Koinigg, discovered by Helmut Marko, suffered a fatal crash. His accident was identical to that of Cevert. Watkins Glen became a particularly dangerous track for ground effect cars, the vehicles were getting faster and stiffer. Following the tragic accidents of Cevert and Koinigg, changes had to be made. A right-left chicane was added to the track, making Turn 3-4 much slower. This new section was named the "Scheckter Chicane".
In 1981, due to the track's inability to pay its debt to the constructors as well as the quality issues of its tarnish, the Grand Prix got temporarily removed from the race calendar.
"The more I drive, the more I realize that [death] could happen to me; but, in fact, it would take more courage for me to give up racing than it does to go on. I am very attached to life, I am very happy to be alive and really believe that I am one of the happiest men on earth; but I don't think I can give up racing." – François Cevert said in an interview, in 1972.