Max Verstappen delivered the perfect result for Red Bull, winning a drama-packed 2022 United States Grand Prix a day after their darkest hour, on Saturday, the death of their founder and passionate owner Dietrich Mateschitz.
In our preview, we called for Red Bull to do it for Didi, and they did exactly that as Verstappen's fittingly poignant victory seals the 2022 Formula 1 constructors' title. Naturally, the F1 World Champion dedicated the victory to the great motorsport man.
It was Max's second successive victory at Circuit of the Americas and with Sergio Perez in fourth, it means Red Bull are F1 Constructors' Championship for the first time since 2013.
It is their fifth F1 constructors' title since the team entered the pinnacle of the sport in 2005, it was also the occasion of their 90th victory in the top flight.
Verstappen did not dominate as he has in the past, the Dutch ace complaining throughout the race about the wind, but did enough all afternoon to keep an edge over Mercedes man Lewis Hamilton. The seven-time F1 World Champion chased his archrival and took the lead after Red Bull dropped the ball badly during their #1 driver's pitstop, which thereafter meant hunting down and beating Lewis.
In other words, Verstappen had to win the race twice and did so.
Lewis and Max put on a great show 🍿#USGP #F1 pic.twitter.com/QdIVZQ9cE7

— Formula 1 (@F1) October 23, 2022
Speaking in parc ferme after his 33rd Grand Prix, his record-breaking 13th win of the season, Verstappen said: "It was a tough one. It was all looking good but then the pit stop was a bit longer than we would have liked, so I had to fight my way forward again.
"We gave it everything out there today, and of course it's a very difficult weekend for us, so this one is definitely dedicated to Dietrich. We had a big chance to win the constructors' here, and you want to do that in style, and I think we did that today.
"This is a great track for battling. If you pass in one corner, you can come back in the next, and it's really enjoyable to drive here," added the double F1 World Champion.
It was F1 win number 33 for Verstappen, his old race number!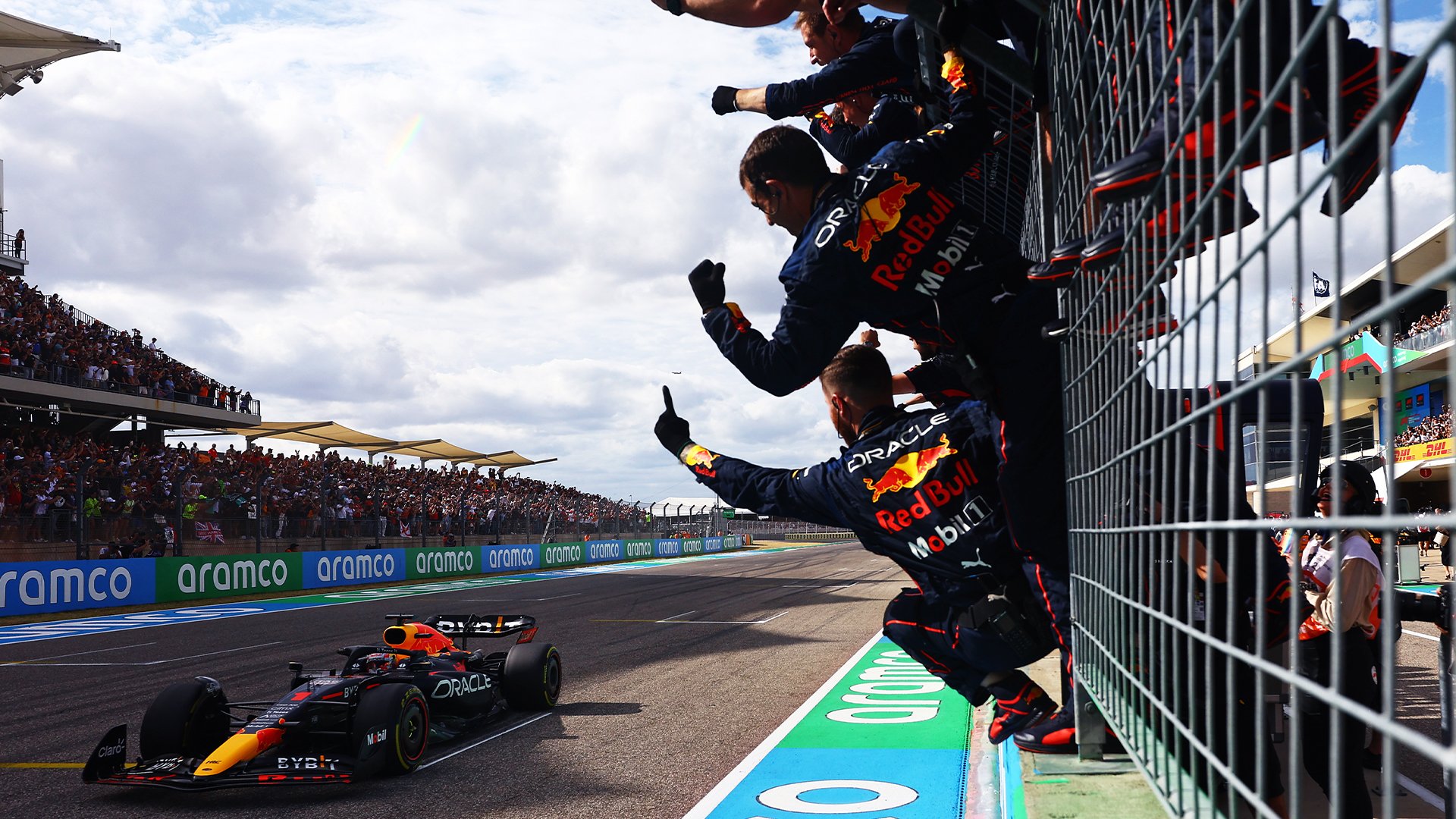 Typically, Hamilton hung in doggedly as he gave it all, helped by two safety car periods, he kept Verstappen honest until the very end, trying to keep in DRS range while reporting Verstappen's track limits 'transgressions' to his team was amusing stuff.
On lap 54, they were both on one more warning for track limits!
It was an intriguing duel. But once the #1 car took the lead with an indefensible move after a couple of front-wing showings, it was game over, The Red Bull ace aced it with the Mercedes superstar in second, but not from lack of trying but rather for lack of top speed in the W13. A victory still eludes Hamilton this season, as he has yet to add to his 103 victories in 2022.
An incredible achievement 💪#USGP @Max33Verstappen pic.twitter.com/4bQWZQl4Rw

— Formula 1 (@F1) October 23, 2022
Hamilton reported in parc ferme after the 56-lap race: "Firstly, I just want to give a huge thank you to the crowd here, we have had such an amazing crowd. Secondly, I want to give a big shout-out to my team. We came here with upgrades and we closed the gap a little bit.
"It was so, so close and I did everything I could to try and stay ahead but they were just a little bit too quick today. Great strategy, great race by red Bull and again my condolences to the team. The car was a handful today and firstly, it felt amazing to be in the lead.
"That is something we have been working so hard on throughout the year and we have had so much hope but it is OK, we will hold on to that, we will keep pushing and we will try and give everything we can in these next 3. It will come to us at some stage," concluded Hamilton.
Bittersweet day for Ferrari with one car out on lap one and the other third
Ferrari's day went sour when Carlos Sainz crashed editing Turn 1 thanks to a punt by the Mercedes of George Russell, but Charles Leclerc saved face for the Reds coming back from engine penalties to take the final podium spot for third place.
Leclerc reported: "I'm satisfied in a way because we started P12, so podium is a good achievement but looking at the race it's obviously a little bit disappointing. We had the pace, but then we had a little bit too much deg towards the end of the race. At the end, P3 starting from P12 is not that bad."
In the other Red Bull, Perez also recovered from his grid penalties to finish fourth, the Mexican was probably compromised by a broken wing, caused by a first lap tag. He and Leclerc had an enthralling battle that the Ferrari driver won during the course of the race.
This means after Austin, with three Grand Prix races remaining, Leclerc lies second in the standings on 367 with Perez on 365.
In the other Mercedes, Russell received a penalty for the punt on Sainz but recovered to finish a lonely fifth. Lando Norris was sixth, the McLaren driver doing a good job after fighting all afternoon for the position.
Stroll and Alonso next year at Aston Martin will be prime time viewing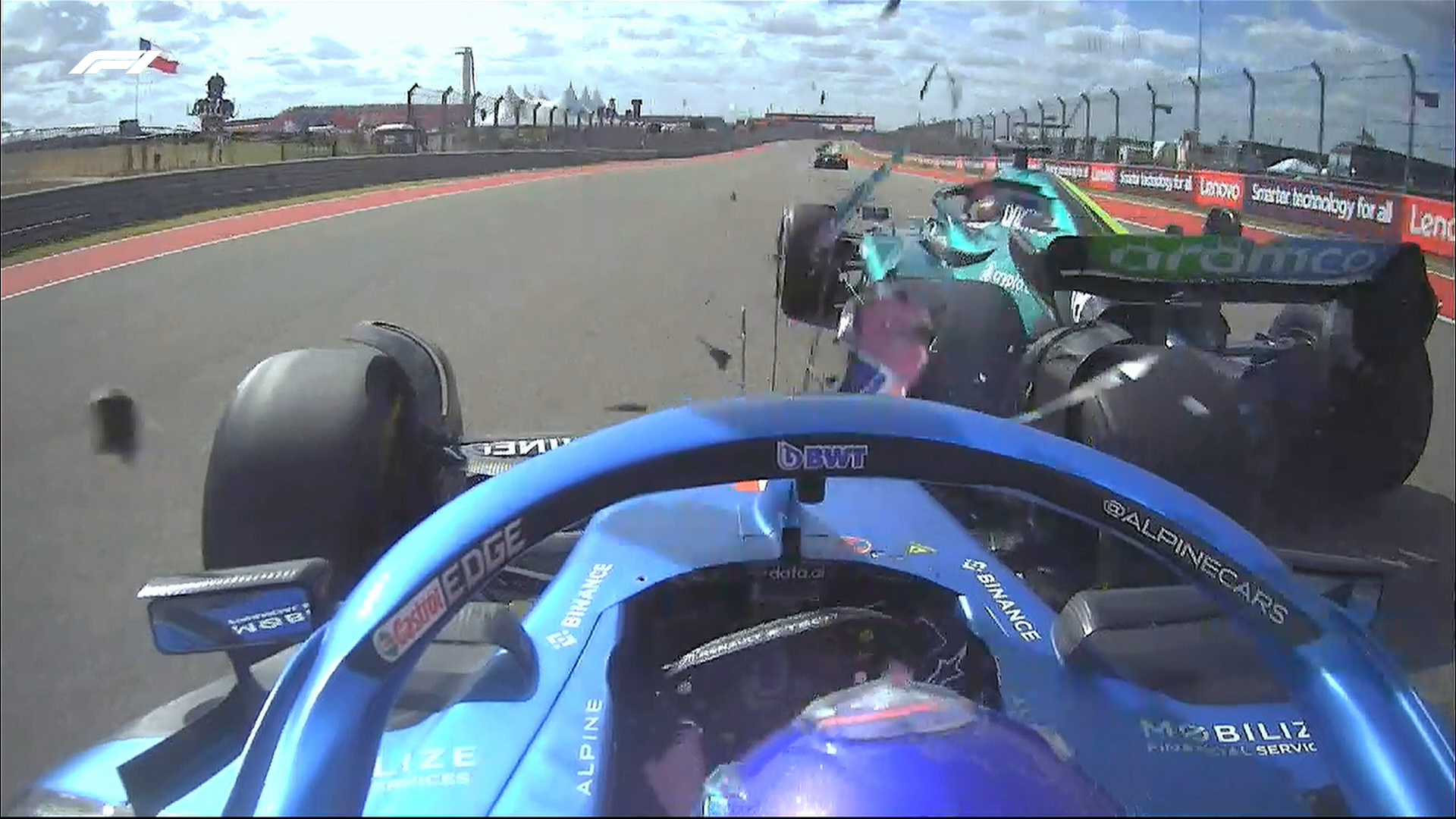 Driver of the Day has to go to Fernando Alonso whose Alpine got airborne when Lance Stroll recklessly swerved into his future teammate, taking himself out when in a good place to score points for Aston Martin. It was the kind of stupid move that will no doubt not have made his father Lawrence unhappy for so many reasons. Think about it…
Unbelievably, Alonso recovered somehow! Winded and out of breath, he drove the bullet-proof Alpine back to the pits, they fixed it and sent the veteran out with dangling mirrors and all, where he then dragged it to seventh!
Sebastian Vettel salvaged some pride for Aston Martin by finishing eighth, but it could have been so much better for the German on his last United States Grand Prix. The four-time World Champion slugged it out with Haas driver Kevin Magnussen on the final lap, the Dane having to settle for ninth.
The final point went to Yuki Tsunoda in the AlphaTauri, the Japanese driver making it three Red Bull cars in the top ten, on a day dominated by the team's founder.
How the race unfolded at Circuit of the Americas
Earlier, a gusty semi-cloudy afternoon greeted F1 in Texas, from the start Verstappen got away from the dirty side, Sainz was the big loser, as they poured into that folded elbow-tight left-hander Turn 1 the pole-starting Ferrari was pirouetting after a tap from the Russell.
The Mercedes driver copping a five seconds penalty for his clumsiness. The #55 Ferrari was broken as they wheeled the Spaniard's car into the pit garage for a lap two DNF.
This promoted Hamilton to second, and Stroll up to third as he jived past the wresting Ferrari and Merc. Russell tucked into third after the shenanigans, followed by Vettel in what started as a great race for Aston Martin.
Perez was up to sixth while the solo Ferrari of Leclerc, in ninth, the pair starting lower than they qualified due to engine penalties.
At the front Verstappen was setting fastest laps as he edged a gap at about half a second faster than the chasing pack.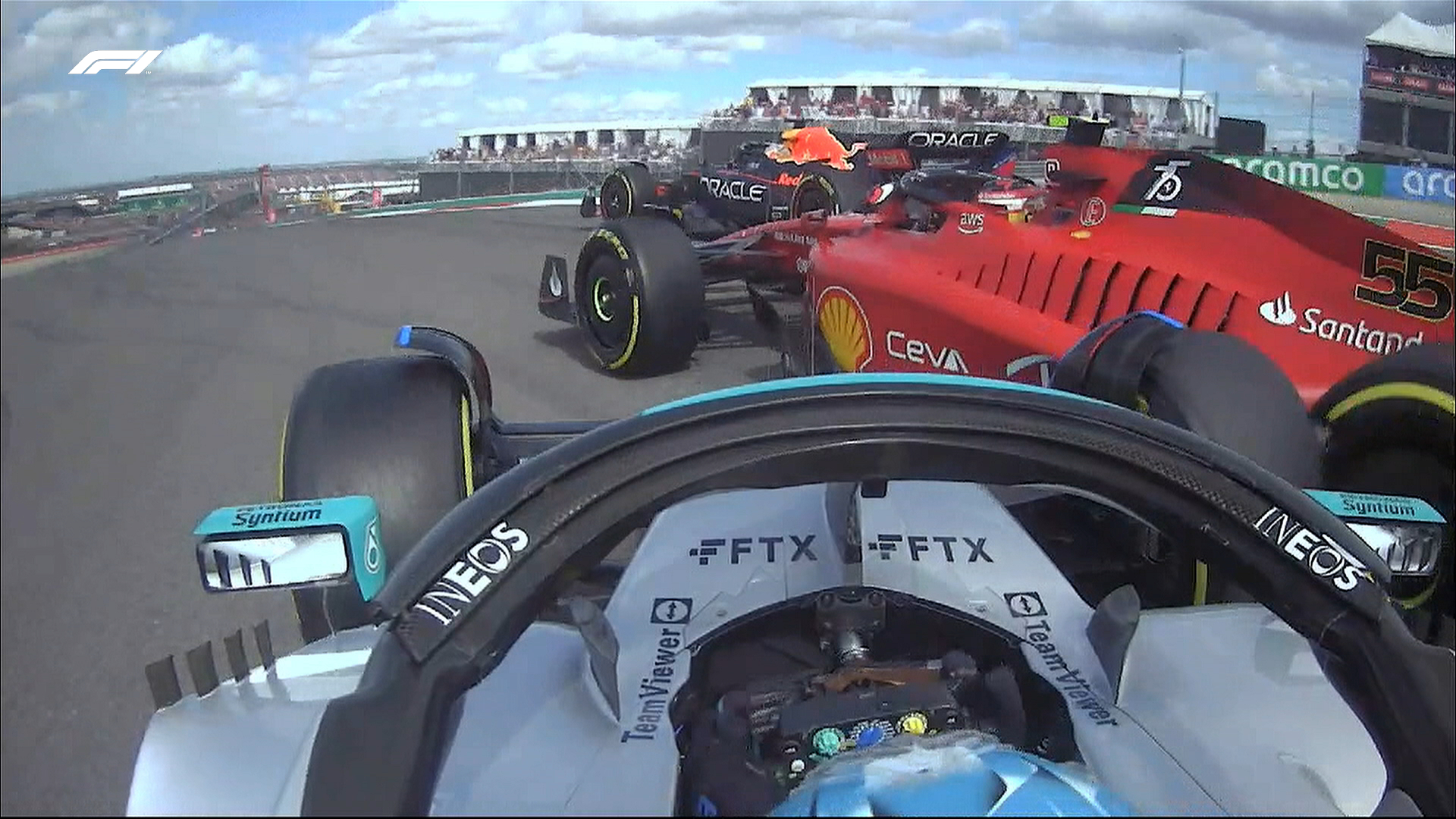 By lap 10, the order was still VER-HAM separated by four seconds at the front, with Russell ahead of Perez in fourth, who was up five places from his starting spot, as Stroll started to drop down the order from third to fifth, ahead of Vettel.
Leclerc was also making good progress, in seventh with Gasly, Norris, and Bottas slugging it out for eighth place.
Alonso was 11th, with back-of-the-grid starter Tsunoda up to 12th.
On lap 11, Bottas brought his Alfa Romeo in for hard Pirelli tyres, triggering a flurry of stops for the drivers nearer the back.
At the front, Hamilton blinked first, far earlier than expected, Merc pulled their man in on lap 13 for hards, he emerged seventh.
At which point Red Bull radioed Verstappen, who complained intermittently about the wind, and was told to push before ducking into the pits for his stop. Russell followed, which put Perez in the late with Max, in second as he peeled out ahead of Stroll. Perfect execution yet again by the Blues and the #1 car.
Perez pitted from the lead a lap later, serviced by his crew in an astonishing 2.1 seconds. Norris also pitted.
Verstappen led again, popping occasional fastest laps, the gap around six seconds over Hamilton in third, with Leclerc, (on Plan-E!!!) still to stop, running second at this stage. It was only lap 16!
On lap 16, Bottas beached his Alfa Romeo losing the back end on a bump. The safety car was deployed, giving Leclerc the wildcard he needed with a gimme pitstop, Vettel also benefitting from the episode.
This set up the salubrious stage for VER vs HAM for the lead, and behind them PER vs LEC, the two targeting runner-up in the 2022 F1 title race; with RUS, VET, STR, GAS ALO and NOR rounding out the top ten.
Verstappen blitzed away at the start but soon there was a huge crash, involving Stroll and Alonso – teammates next year – colliding heavily as the Aston Martin deliberately blocked far too late, causing the Alpine to drive over the back of Stroll's car. Not pleasant at all with some amazing avoidance by the drivers behind.
Astonishingly, an out-of-breath Alonso returned to the pits where his crew repaired the car and sent the veteran back out. Culprit faced a long stroll back to the pits to explain himself not only the FIA but also probably his father too who is forking out a fortune to have Alonso in the team next year.
Being a fly on the wall at Aston Martin with Lawrence in full flow today will be priceless. Another safety car ensued. Ironically, departing Vettel was out there and in sixth, with the AlphaTauri duo large in his mirrors.
For the restart on lap 26, the order was VER-HAM-PER-LEC-RUS-VET-GAS-TSU-NOR-MSC.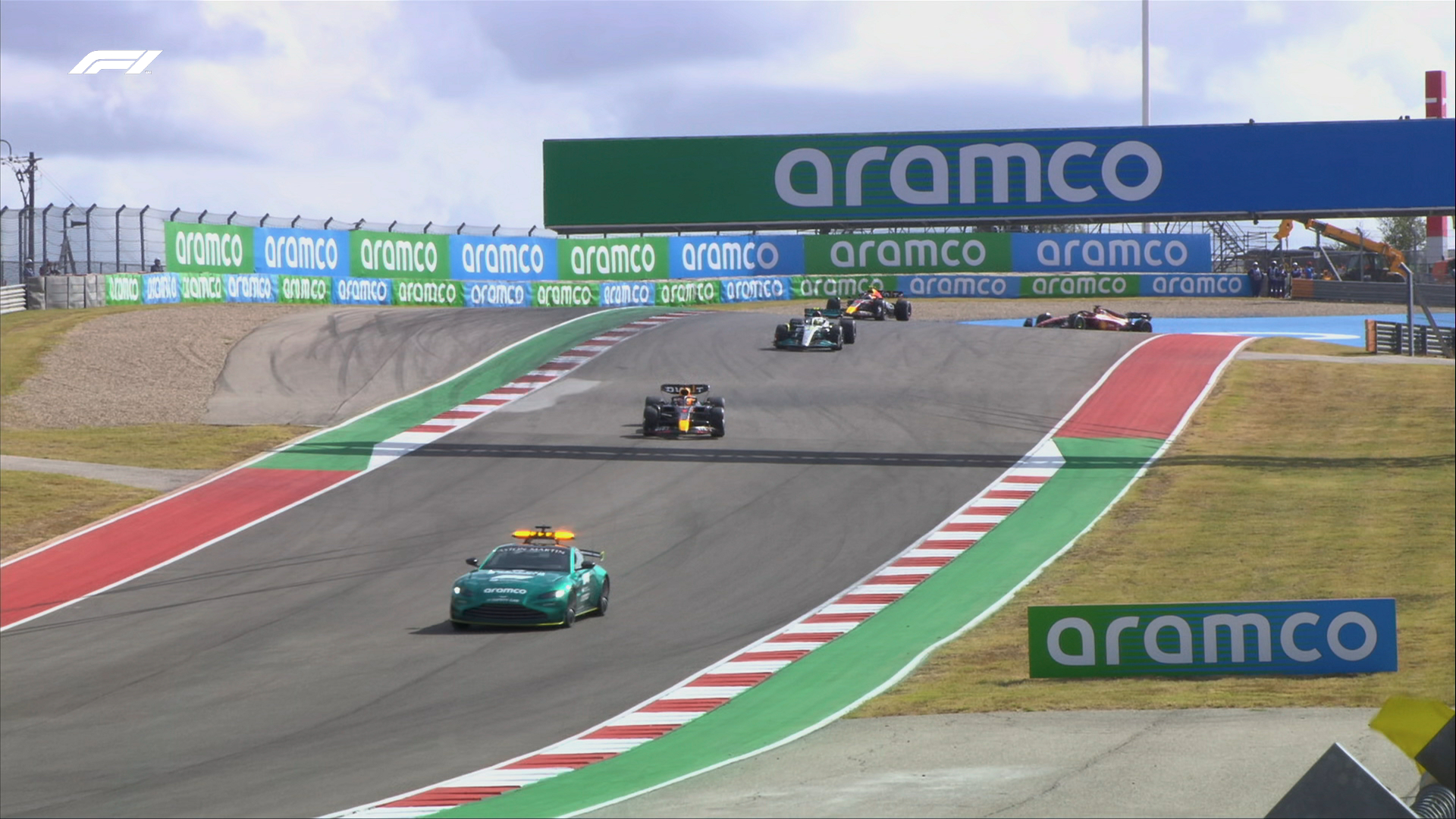 Verstappen blitzed away again setting a succession of fastest laps almost immediately, with Hamilton 1.3s behind after a lap, leading the chasing pack which included Perez and Leclerc, the Ferrari struggling with lack of top speed relative to the Red Bull.
But Leclerc was tenacious, lunged once in Turn 1 and went too wide but pounced a little later, diving on the inside he claimed third; Checo moaned about track limits, but it was a clean and smart move by Charles who started to grow the gap to the Red Bull who was now in Russell's sights.
Verstappen continued to moan about the wind and the starts he was being told to use, at which point Mercedes pulled the trigger on lap 35, pitting Hamilton for hards which in turn triggered a fastest lap by Verstappen who pitted.
The Red Bull crew went all Ferrari, as they fumbled Verstappen on Mediums which gave Hamilton on Hards, in fourth, the 'unofficial' lead as those ahead of him were still to stop. Max peeled out of the pits in fifth place behind Leclerc.
The pair, among the best drivers on the current grid, began another memorable battle, but Verstappen had too much as he got by and started to chase Hamilton three seconds ahead, in second place. Vettel, who had not stopped, led the race; it was lap 40.
Behind the leading trio, Perez and Russell were also engrossed in their own battle.
On lap 41, Hamilton took the lead into Turn 1 getting by Vettel, with Verstappen pumping fastest laps in hot pursuit of the Silver Arrow.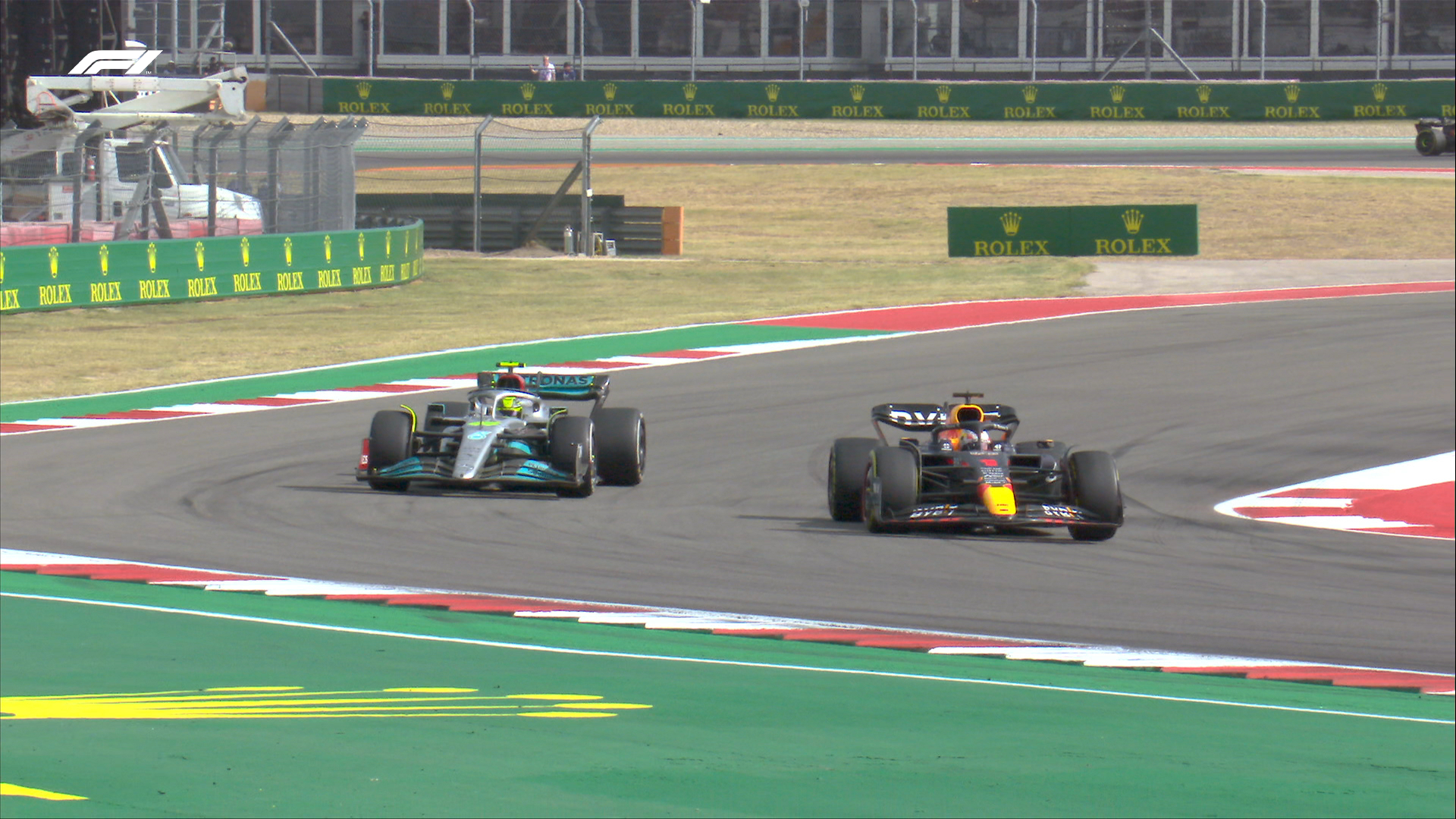 The afternoon took a dive for Vettel who pitted, whereupon the Aston Martin crew made a mess of the German's final United States Grand Prix, a race he won in 2013, he reemerged 13th when a little earlier he was heading for a healthy points haul. It was sad.
In contrast, incredibly, in seventh was Alonso whose Alpine survived a 50-metre 'flight' and a barrier tap to avoid  Stroll's blatant and audacious block earlier in the race.
But the eyes were now all at the front, Verstappen closing rapidly on leader Hamilton. Would the Mediums on the Red Bull last the final eight laps or would the Hards on the Merc have the edge?
On lap 50, Verstappen was in DRS range of the Mercedes, pounced at the end of the back straight to take the lead again after a beautiful spell of wheel-to-wheel racing, but the dozen or so kph top speed deficit the Silver car had to the Blue one made the difference. It was game over.
Leclerc was third, after a neat overtake on Perez gaining him the position, the pair crossing the line less than a second apart, with Russell lonely in fifth with Norris holding off incredible Alonso.
Luckless Vettel recovered to finish eighth after a last-lap slugfest with Magnussen who had to settle for ninth and Tsunoda doing a solid job to claim the final point for tenth.
At the end of a day of high drama in Texas, Max had done it for Didi.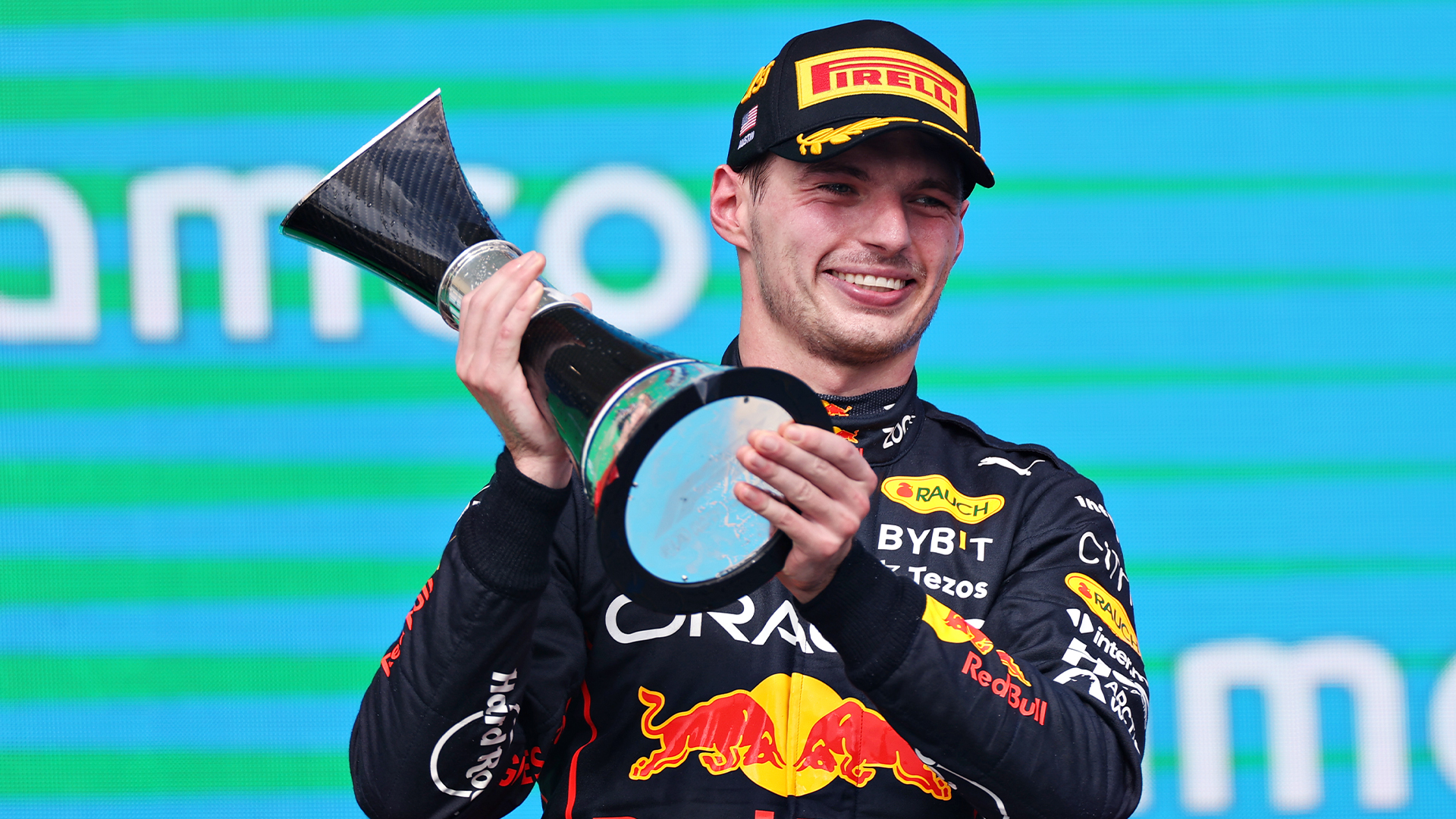 2022 United States Grand Prix Provisional Result