The paradox of modern Formula 1 is that a multi-million dollar car built by armies of top engineers, raced by the best drivers on the planet cannot be driven in the rain because the Pirelli extreme Wet tyres are simply not good enough.
Hence the trepidation to run F1 races in the wet as we saw recently in Singapore, Japan, and Monaco before that; at Suzuka, on Sunday, they tried to start the race when it was clearly too early, perhaps driven by the criticism from Singapore, and look how that turned out to be.
The reality is that few are prepared to talk about the below-par Pirelli extreme wets in particular, perhaps (I have no proof but hazard a guess) shackled by NDAs and confidentiality agreements, team personnel, even team bosses and drivers tend to be very careful if they ever talk about the one-make Pirelli tyres teams are forced to race with.
Coupled with the fact that drivers don't want to call out the sole tyre supplier for one reason or the other, F1 is unable to break from this dilemma; you're damned if you do, damned if you don't race in the rain.
With rain pelting down on the Suzuka grid, Pirelli motorsport boss Mario Isola tried but did not convince that it was weather for Intermediates and not the extreme Wets. We realised why when, forced to run extreme Wets at the restart, within a few laps all drivers had pitted for the Inters, their blue-banded Intermediate cousins were over five seconds per lap faster!
You can't help but feel the Pirelli boss knew the Wets were rubbish as they proved to be in the race…
Fortunately, with his illustrious F1 career coming to an end next month in Abu Dhabi, Sebastian Vettel has not been shy to highlight the problem of the extreme Wet Pirelli tyres, most recently after a rain-soaked Suzuka exposed their failings.
Vettel: Looking at them, the 'extreme wet' looks good but in fact, they're useless
Reflecting on a treacherous 2022 Japanese Grand Prix, Vettel told F1TV: "The main thing about today is that nothing happened in these conditions; we had a tractor on the track that should never have been there.
"In these conditions on the wrong (Intermediate) tyres, which we are forced to put on because the extreme Wet is not good enough and too slow, there is stuff we need to learn and do better next time," ventured Vettel.
But it was not the first time, as in Monaco the four-time F1 World Champion provided insight that takes on new meaning after the Pirelli tyre shambles on Sunday when he revealed: "As soon as you can go on the Intermediate, you do it. The extreme Wet tyres are far too hard for this track and even for Imola [also a wet race], they were too hard.
"In rainy weather, we know that the current cars have a lot of aquaplaning. Pirelli hasn't worked on this subject for years and everyone knows it. So we have to wait until it stops raining to be able to launch a race.
"I remember the days when we could have driven here in the rain, with no problem with this amount of water, but with these tyres it is impossible. Looking at them, the extreme Wet looks good but in fact, they're useless," declared Vettel.
Verstappen: The extremes are just slow and they can't really carry a lot of water away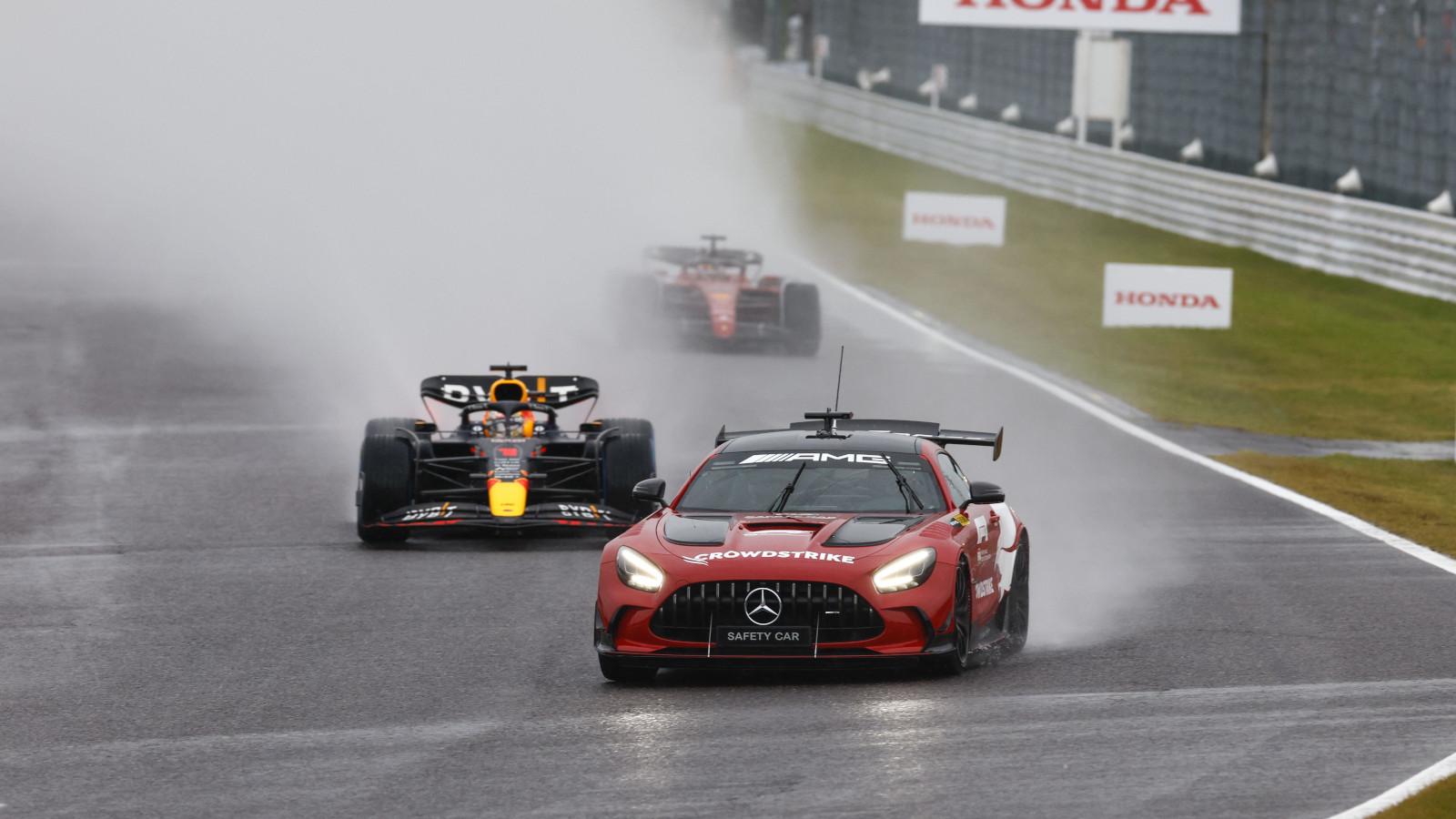 Fresh from winning his second successive F1 Crown, after a hectic race at Suzuka, Red Bull' Max Verstappen also had a crack at Pirelli: "I didn't want to take a dig out of everyone but I think we need better rain tyres."
Coming from Max, criticism that he may have softened by some kind of diplomatic "Never-Diss-Pirelli" secret code of conduct that apparently prevails in the paddock. So we will call it out for him: "Pirelli rain tyres are shit."
Verstappen then added: "If you saw what we could do in the 1990s or the early 2000s, with the amount of water on the track… I'm very happy to have a few test days, you know, and try all different kinds of tyres but we need better rain tyres.
"The extremes are just slow and they can't really carry a lot of water away. That's why everyone always tries to switch very quickly to an intermediate because it's just so much faster per lap, like you could see from one to the other lap, we went from the extreme to the inter today and we immediately went five seconds at least faster and that is just too big.
"And that's why nobody really wants to run that extreme. And when it rained like it did when the red flag came out and you would have put extreme tyres on, I think it would still be really difficult to drive. But then if you compare that to 20 years ago, that would have been perfectly fine.
"So there must be a solution. Like I said, this is not criticism because I'm very happy to help out. We should look into it. Maybe we can just organise more tests days in the wet and work together, to try and find better tyres to at least have an opportunity to really drive in the wet.
"Not always only drive like two laps on an extreme, switch to intermediate and call it a wet race because a wet race is also normally driven with heavy rain," concluded Verstappen.
My take on the Pirelli and their tyres
Okay, the above is news and quotes from two blokes with a combined six F1 world titles between calling out Pirelli, Max doing so as politely as possible and Seb throwing caution to the wind as he heads into the sunset soon. Now my take on the matter of Pirelli, sole suppliers and F1.
There is a school of thought, I included, that does not believe a sole-tyre supplier is good for F1. Yes, it is great for lower categories, but not for the pinnacle of our sport. Pirelli's not-so-subtle 'our-way-or-no-way' attitude has been questioned by this website before upon which, we stopped receiving emails from their media people. So what!
Our song remains the same: one of the biggest problems F1 has is that Pirelli is the sole tyre supplier and thus not driven by the threat of a competitor to develop a decent extreme Wet tyre, they have an indecent one for drivers to use. Which they rather won't.
Not me saying it, but none other than Seb above, repeated here again: "Pirelli hasn't worked on this subject for years and everyone knows it."
For years! Because there is no alternative to the Pirelli Wets, no competitor to beat them with a better tyre, why should they worry? Take it or leave it seems to be the attitude.
Ask around in other motorsport categories how good are Pirelli Wet tyres? Have they ever built a decent wet motorsport tyre? If I write what they say we would be sued. Google it.
If motorsport is supposed to improve the breed, it failed in Pirelli's case because racing against oneself is not sport, let alone motorsport and most certainly not F1, which is supposed to be the test bed of technology and innovation; in the instance of tyres it's closed to other manufacturers and 'owned' by Pirelli who are not making the most of it. Ask Seb, Max, and all the other blokes on the grid.
Time for F1 to consider at least a second tyre manufacturer in this day and age, set a cost cap for the rubber makers and let them prove themselves properly because the Pirelli monopoly is simply bad for the sport and ironically their image.
I for one shan't ever buy a Pirelli product (calendar included) PZero-confidence if you know what I mean, and I know I am not alone simply because of the damage they are doing to F1 by the privilege of exclusivity afforded to them when the sport was run by shady characters.