On a dark and rainy day at Suzuka, the shortened Japanese Grand Prix was won by Max Verstappen which means he is the 2022 Formula 1 World Champion but he did not know himself in the most confusing title-deciding race result ever – and he was not alone!
It was Verstappen's 12th victory of the season, again he was on another level in the wet, the Red Bull RB18 an incredible piece of kit on all tracks and conditions with the Dutchman almost unbeatable in it as he proved yet again, this time at Suzuka. Maximum points awarded means his lead at the top of the F1 standings is now unassailable with four rounds remaining.
After finding out he was the 2022 F1 World Champion, Verstappen said in parc ferme: "It's crazy. Very mixed emotions. Looking back, what a year we've had so far. It's been incredible. It's something I could never have imagined.
"After last year, fighting until the end, and then having such a good car again this year. I'm so thankful to everyone who has been contributing to this success," added the race winner after his 32nd victory in F1.
But it was a very wacky ending to a simple world championship wrap-up, so confusing it took F1TV several minutes to explain the process, half points were not awarded as most expected, but full points due to Article 57 in the rules that apparently no one knew about, Red Bull included.
Horner: We thought we were one point short
Red Bull were also surprised by the announcement their 25-year-old Dutch driver was World Champ again. As were fans, pundits and journos. The regulations state that staggered points only come into effect "if a race is suspended in accordance with Article 57, and cannot be resumed."
Because the race did resume, the FIA awarded full points despite only half the race distance being achieved. As mentioned, very confusing gray area in a crucial chapter of the F1 rules. Clarification is needed to avoid the World Champion not knowing he is World Champion when he crosses the line.
Red Bull team boss Christian Horner said of the confusion: "We thought it wasn't going to be full points awarded. We thought we were one point short. We were looking at pitting him for the fastest lap and so on. Wow, that's beyond all our dreams.
"Max has been truly, truly dominant. That's our 14th victory, a record for us, and the way he has driven since the first race… We came back from some difficulties in the first couple of races, but he and the team have just raised it to another level," added Horner.
Max Emilian Verstappen is the 2022 Formula 1 World Champion!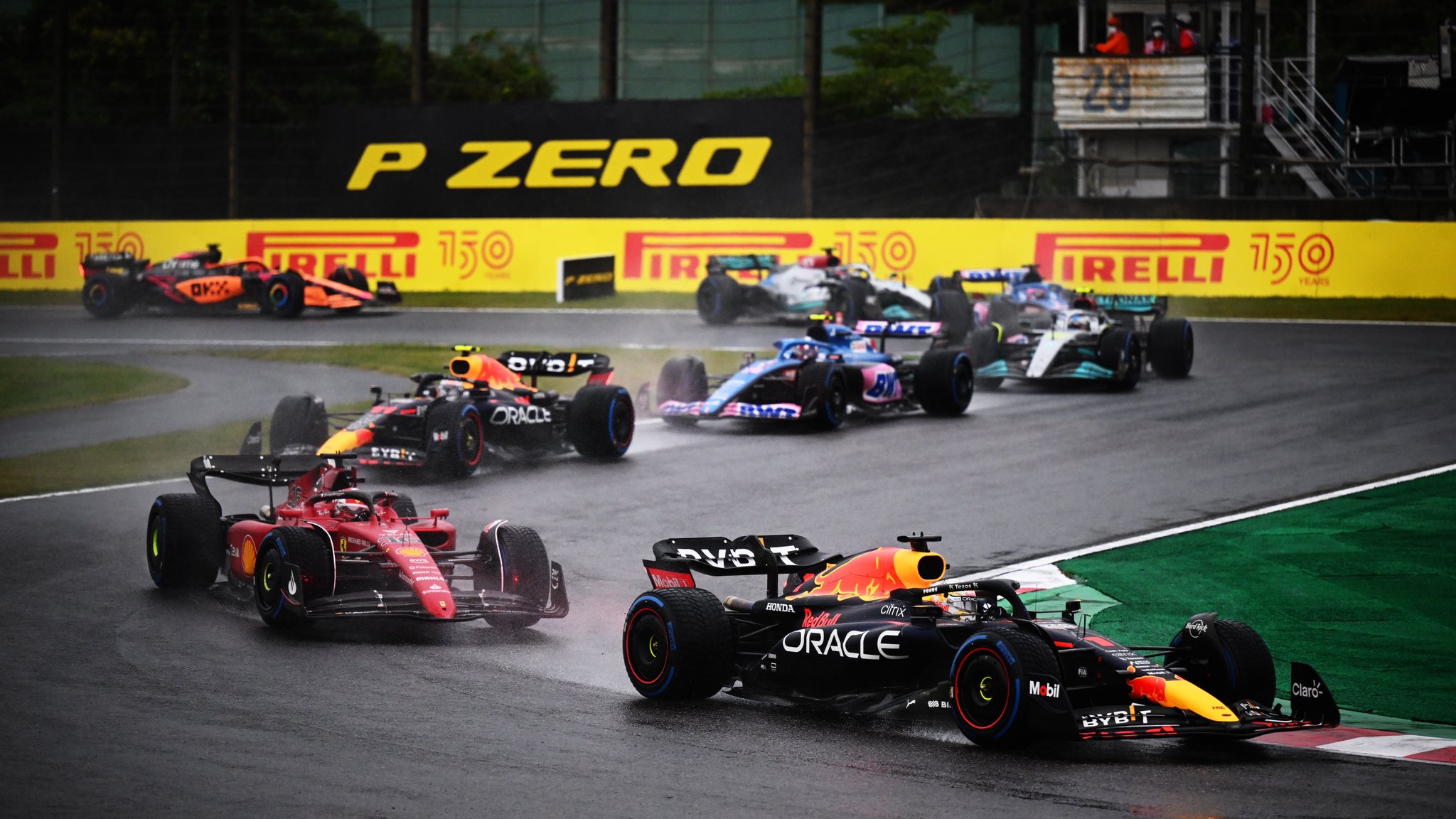 Charles Leclerc crossed the finish line second after a late and enthralling duel with Red Bulls Sergio Perez who stalked him relentlessly, on the final lap charging into the final chicane, the Ferrari went straight to keep track position in defence of Checo's final attack.
Leclerc was penalised five seconds which dropped him to third, making it a splendid one-two for Reed Bull and their partners Honda, whose track was packed to capacity for the occasion and were not disappointed.
Perez was chuffed with his contribution to a great day for Honda and Red Bull, as well as Verstappen:
"It was a bit hectic with Charles. Good racing. We were fighting really hard. I tried to make a move in the end but he want off, which was fair racing. The penalty was fair.
The Mexican also had words for his teammate's achievement: "Great result for him and Honda. Great day for our team. Great day for us."
Leclerc summed up his race in parc ferme: "From lap five, it was all downhill. I really struggled with the tyres but after three-four laps we just destroyed them. Struggled this time.
"Huge congrats to Max on his second championship. Max's title this year was just a matter of time. We expected him to win the title. Now we just use the last few races to become a better team," added the Ferrari driver.
A brave full-house crowd of 200,000 F1 fans gamely endured the miserable conditions
Enthusiastic and knowledgeable, fans were treated to a marathon Grand Prix, nearly two hours delay before racing got underway after a couple of hectic and treacherous laps was deemed not a good idea. They stopped it at that point. More of that later…
The race was set to resume at 14:50 pm local time, but that was further delayed when rain intensified. The 'second' race resumed an hour and twenty minutes after the first start.
With the field on full wets, Verstappen took the lead immediately after the pace car restart with Leclerc in tow as the race was restored, immediately Vettel and Latifi pitted onto Intermediates and emerged, almost into each other, but crucially faster than their rivals.
This triggered a flurry of pit stops as most pitted for the Inters which were five seconds faster than the Pirelli wet tyres that simply do not work for F1. Nevertheless, Schumacher hung in as long as he could but soon from the front dropped down the field as order was restored: VER-LEC-PER-OCO-HAM.
Verstappen revelled in the conditions all-day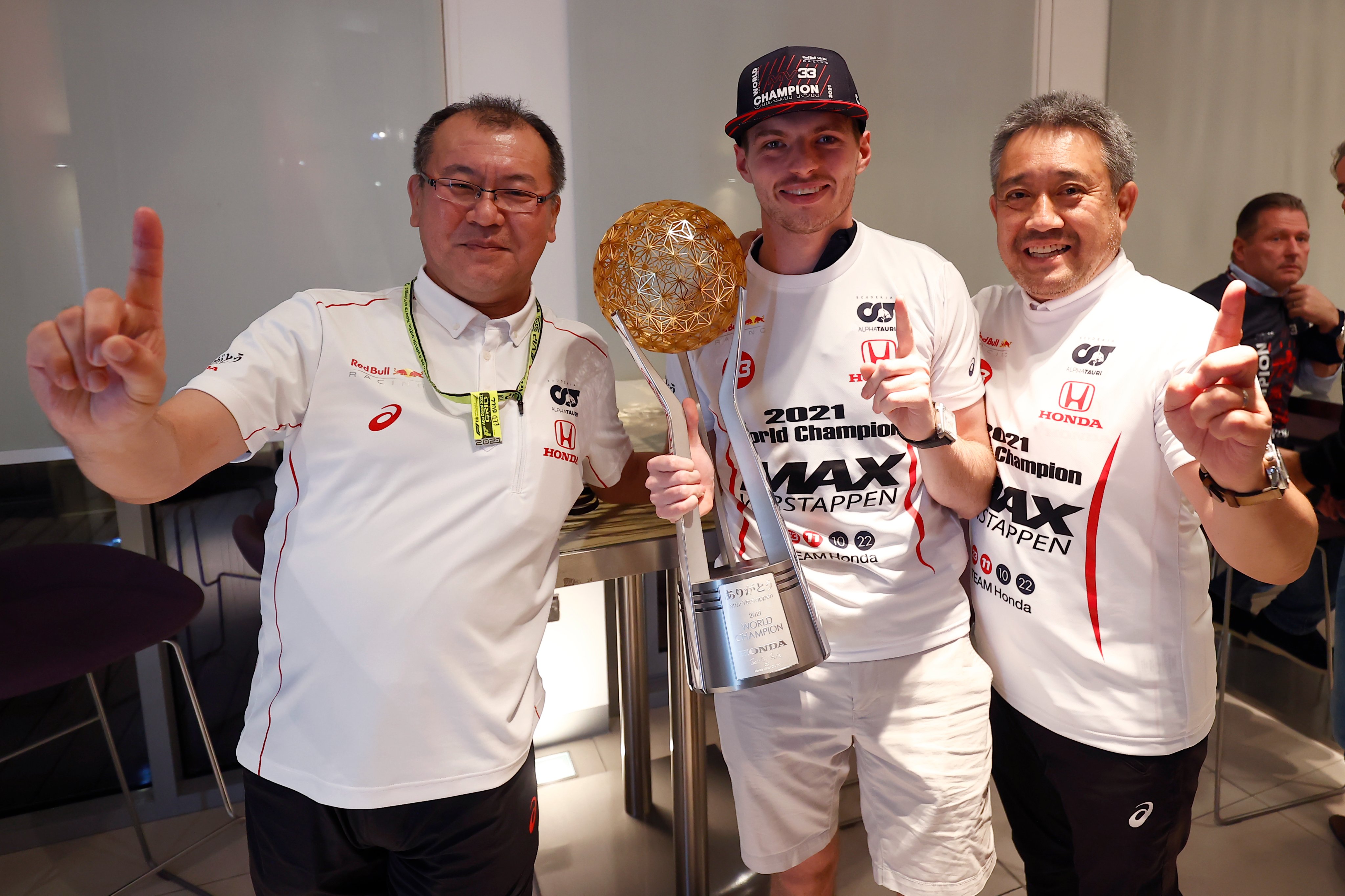 The F1 World Champion built a lead of over ten seconds, despite Leclerc popping occasional fastest laps behind. in their Perez was five seconds behind the Ferrari.
Behind him Ocon and Hamilton were seven or so seconds behind in an intriguing battle for fourth. Vettel, who recovered, from his early excursion thanks to the stoppage, was in fine form in sixth fending off old foe Alonso.
Latifi was making the most of his early stop, up in ninth albeit almost ten seconds behind the world champions up ahead, behind the Williams their former driver, now n the Mercedes, Russell had the Candian in his sights after dispatching Norris with a neat move into the chicane, the McLaren driver rounding out the top ten with 15 minutes to go.
With ten to go, Russell was past Latifi while the Ocon versus Hamilton still raged for fourth place as Alonso pitted promoting all behind.
With Verstappen way ahead, Leclerc fell back into the grips of Perez who started blossoming with the finish line in sight.
With Ferrari struggling on its tyres, the Mexican veteran (fresh from a marvellous win in Singapore last Sunday) had preserved his tyres. A great battle ensued as Leclerc slithered in defence, as Perez bided his time.
At the chicane, Leclerc cut the track and went straight when the pressure got too much, Perez nearly through but didn't, and immediately he reported the incident over the radio. The Stewards noted it and dished out a five seconds penalty which cost him second place.
Behind the top three, some big names engaged in big battles
Lewis Hamilton and Esteban Ocon fought all race long for fourth place. The pair offered prime entertainment as they duelled fairly and without major incident, both drivers having the most fun on the day.
Ocon fended Hamilton's feisty attacks with good defence to take fourth with Hamilton in his mirrors finishing fifth.
An equally enthralling fight for sixth between Sebastian Vettel in the Aston Martin and Alpine's Fernando Alonso crossing the line nose to tail, both excelling in the conditions and a fitting result for the German on his final visit to the venue served him so well during his glittering F1 career.
Alonso made a late stop for fresh inters and carved his way through to nearly nip through to take sixth; nevertheless a very strong result for Alpine at Suzuka today.
George Russell was eighth for Mercedes in a below-par race for the Briton who was on questionable strategy on the day.
In contrast, his former teammate Nicholas Latifi drove one of his best races for Williams to take ninth, thanks to a smart early stop for inters when all were on wets, and thus scored his first points of the season.
Lando Norris claimed the final point for tenth on a below-par weekend for McLaren, whose rivals Alpine have overtaken them for fourth in the 2022 F1 constructors' standings.
The moment Max found out he was world champ 🙌#JapaneseGP #F1 pic.twitter.com/nQD8oVaplD

— Formula 1 (@F1) October 9, 2022
2022 Japanese Grand Prix Result: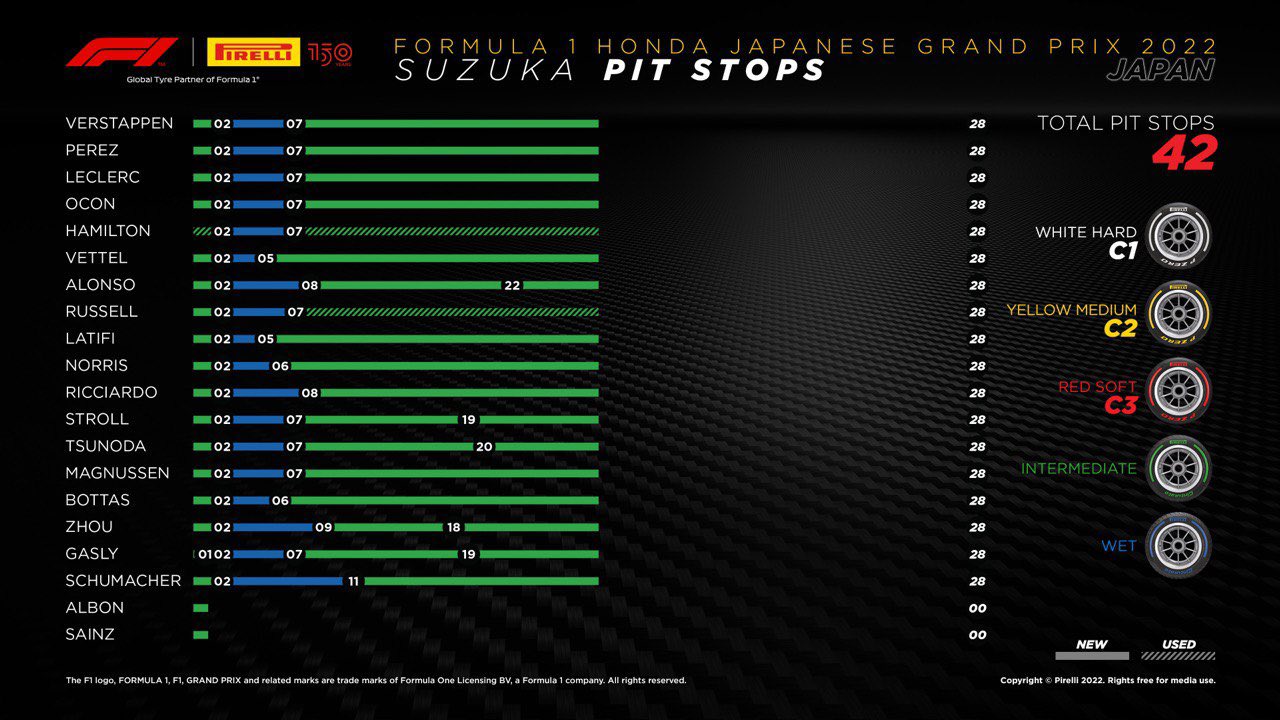 A full house of 200,000 fans braved the rain at Suzuka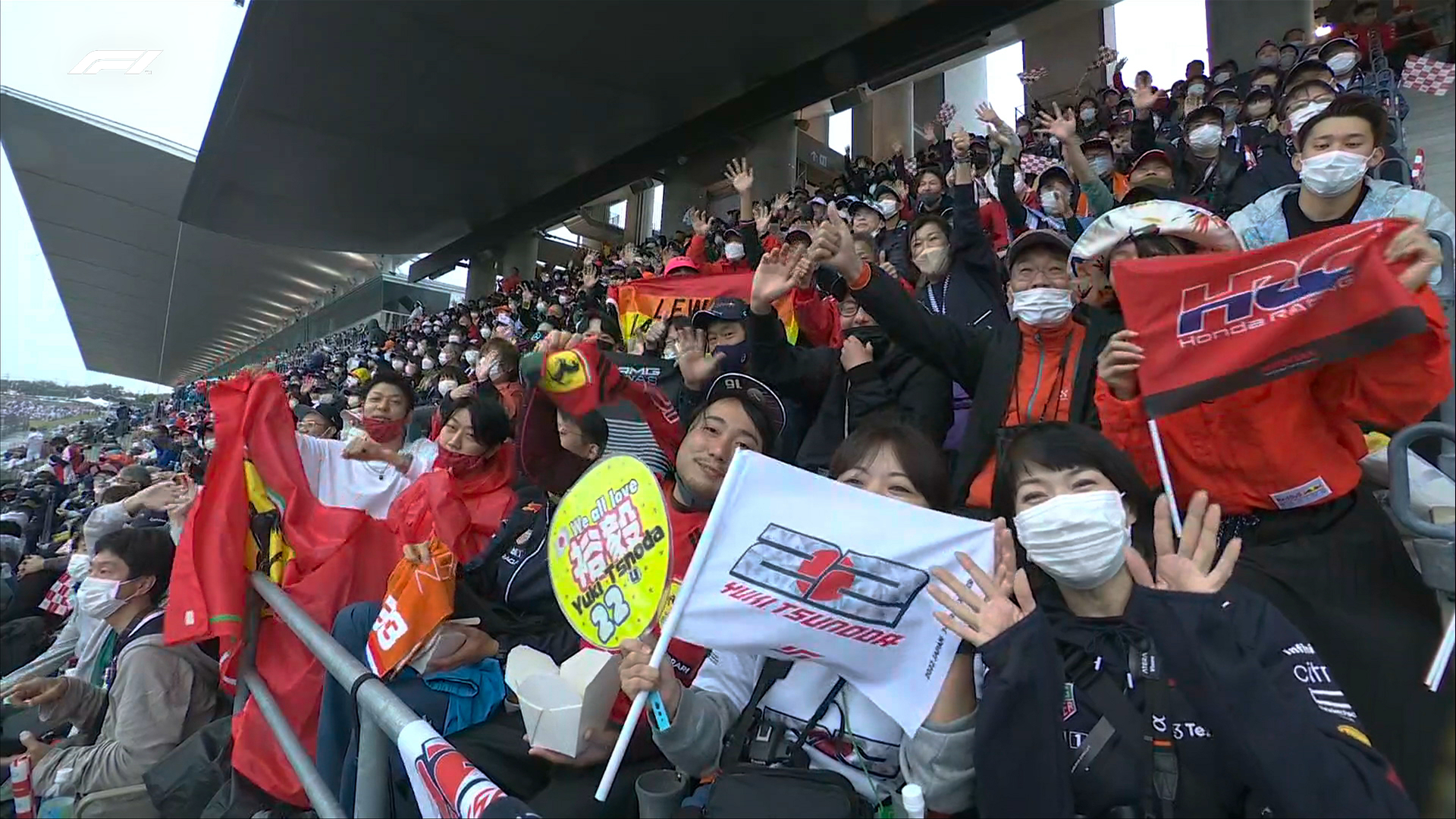 Earlier, on time despite the constant rain, when the red lights went dark, Verstappen from pole position got a tardy launch and had to watch Charles Leclerc edge ahead into T1, the Ferrari on the inside and looking to have the advantage with the Red Bull on the outside.
But Verstappen hung on the outside, karting style, to regain the lead and remained there, in the lead, with everyone engulfed in spray as the rain pelted down.
By the time the spray had cleared after the first lap:
Sebastian Vettel had spun his Aston Martin when going for a move that was not on into T1,
Carlos Sainz aqualplaned his Ferrari into the barrier,
the Alfa Romeo of Guanyu Zhou facing the wrong way or on the grass, with different degrees of damage;
The Williams of Alex Albon lost power and he parked it at the same time;
Inevitably the Stewards red-flagged the race. At that point, the big movers in the conditions were:
Daniel Ricciardo is up three places to eighth in his McLaren;
home favourite AlphaTauri's Yuki Tsunoda was up four places to ninth;
Mick Schumacher had gained five places to sit 10th;
Aston Martin's Lance Stroll from 19th to 11th.
Gasly: What is this tractor on track? I passed next to it. Can't believe this!
hey @fia i just wanna talk because this is unacceptable #SuzukaGP #PierreGasly pic.twitter.com/ls0PAzxnea

— mia rose (leclerc's version) (@miaroseev) October 9, 2022
The race was blighted during this short period,when AlphaTauri driver Pierre Gasly, returning to the pits, flashed past a heavy-duty recovery vehicle on the side of the track. This no doubt prompted memories of Jules Bianchi's fatal accident at the venue in 2104 in uncannily similar conditions.
Gasly was astounded, and radioed: "What is this tractor on track? I passed next to it. This is unacceptable. Remember what happened. Can't believe this!"
Indeed it was astounding that lessons have not been learnt since that fateful day; this one needs to be addressed and is sure to be a topic of hot debate after this race at Suzuka.
Meanwhile, today Verstappen will secure his second title if he beats Leclerc by eight points — the difference between a victory, with the fastest lap point, and second place — and scores six more than teammate Perez.
With the cars back in the pits, as the rain continued to stream down with cars and drivers, this is how they stand: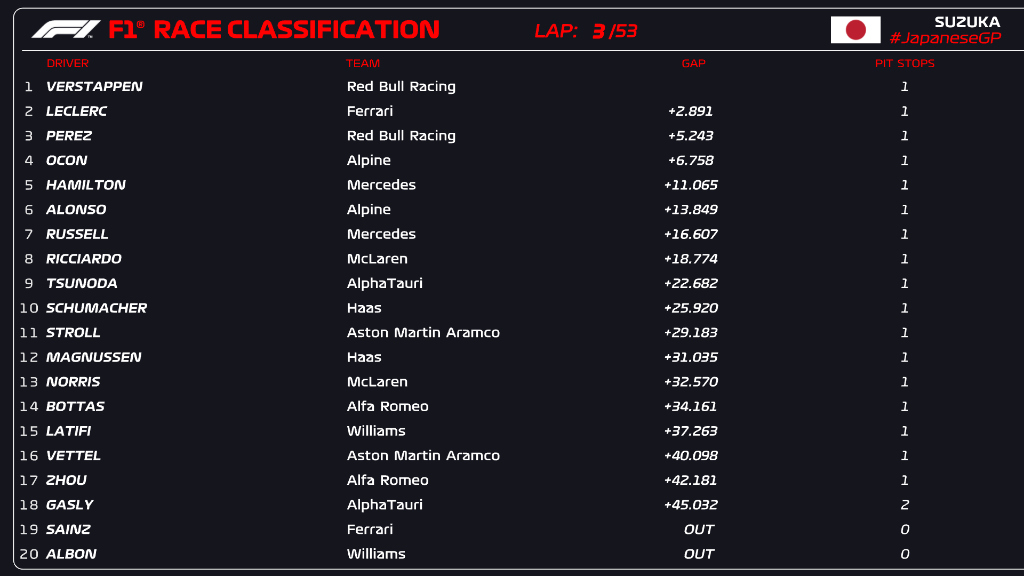 Japanese Grand Prix Grid