Our F1 Betting Project took a nasty downwards turn at the 2022 Emilia Romagna Grand Prix, the first Sprint Race weekend format which had qualifying on Friday, Sprint on Saturday and the Grand Prix on Sunday, providing a plethora of betting options for our lads…
We all know how Ferrari suffered an embarrassment at home while Red Bull's one-two sent an ominous message to their rivals.
The same could not be said for Ferrari, until this weekend past they were the toast of the paddock, only Carlos Sainz had been errant while Charles Leclerc had been faultless all year and hence led the championship.
But it all changed Sunday as Sainz's horror-show of a season got worse, he was out without completing a lap to audible groans of the Tifosi that descended on masse to hail their Reds but to find the two Blue cars stole the show and the 'chosen one' Charles binned it in pursuit.
As a result, the odds took a major reshuffle with the result this weekend on all the major betting sites listed on SvenskBetting which have the Red Bull ace closer to favourite Charles Leclerc for the 2022 F1 World Championship with nothing between them.
In contrast, the odds of Lewis Hamilton winning an eighth F1 title are all but out the window as his season of misery continued to unravel in Italy.
Norris was again best of the rest after a rock solid drive to the podium
Beyond Red Bull and Ferrari, McLaren's Lando Norris was again formidable on his way to a podium while his more experienced teammate Daniel Ricciardo punted off Sainz and never recovered.
Fourth was George Russell also bettering his far more experienced Mercedes teammate Lewis Hamilton who was only good for 13th.
Fifth was the best Ferrari powered car, ironically long-time Mercedes pilot Valtteri Bottas in the Alfa Romeo, with Leclerc sixth which literally blew up not only Ferrari hopes of a triumph at Imola, but also detonated a grenade in the F1 betting stashes belonging to Kevin and Luis; this is what they had to say after Imola:
Kevin: Trying to use logic was a bust at Imola all weekend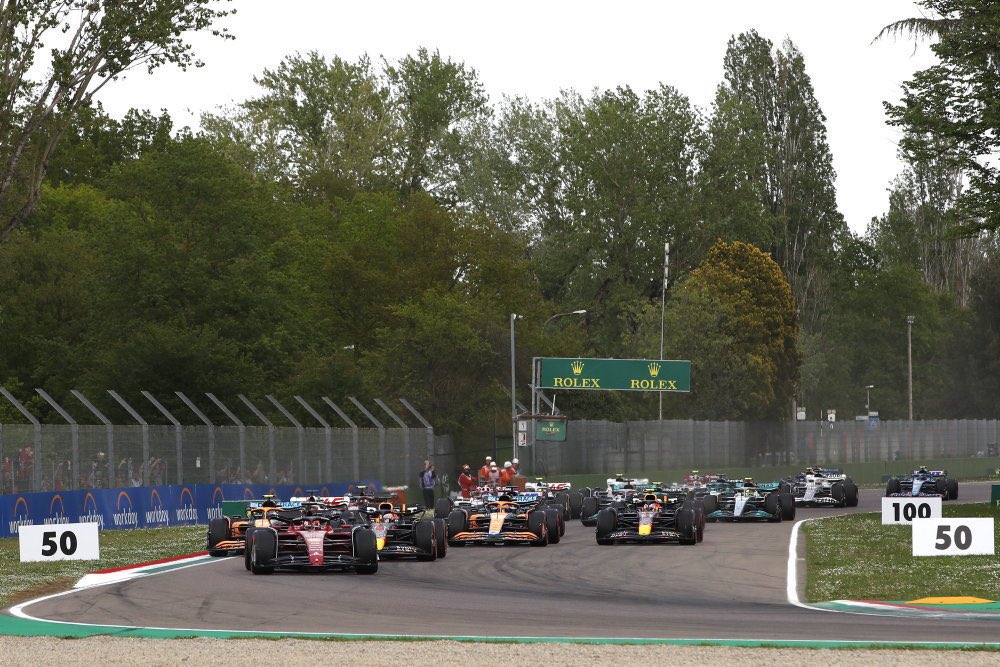 The only thing more embarrassing than the train of endless red flags sucking the life out of F1's first meaningful wet session, were the results of my Imola bets this weekend. It was ugly, irresponsible and downright shameful.
It's of high probability I'll be asking Paul for another $100 dollars by the end of the inaugural Miami Grand Prix with the way things are going.
My weekend adventure starts with seeing Red Bull fitted with their highly unlucky rear wing; what I'm calling rear wing number two of four based on vertical height that we've seen this year. This trim has yielded three DNF results and only one finish.
It came as no surprise to see Ferrari lead the way after first practice. I did not bet on first practice after losing big during practice 1 during the Australian GP.
My first bets were placed for qualifying
Fastest qualifier – Team
Ferrari @ 1.22
Stake: $10; Return: $0 (100% loss)
Pole margin of 0.1 – 0.25 seconds @ 3.50 & Over 0.25 Second @2.25
Stake: $9.94 spread evenly; Return: $13.61 (36% win)
Alonso – Ocon @ 1.36 Alonso
Stake: $10.00; Return: $13.63 (36% win)
Magnussen – Schumacher @ 1.30 Magnussen
Stake: $5.00; Return: $6.50 (30% win)
Gasly – Tsnuoda @ 1.33 Gasly
Stake: $5.00; Return: $0 (100% loss)
Norris – Ricciardo @ 1.30 Norris
Stake: $5.00; Return $6.50 (30% win)
Despite picking the majority correctly, the net result for qualifying was approximately a $5.00 loss. I thought the bets were a slam dunk, safe and basically a guaranteed win, unfortunately, it didn't end up the way I envisioned. How did Gasly get out-qualified by Tsunoda!? Yikes.
Unfortunately, things would only get worse, and a lot worse.
I decided for the Imola Sprint Race, I would put $10 on Verstappen and stop at that. I already failed to pick the correct fastest qualifier, I might as well get on board with Verstappen despite the highly uncomfortable feeling of seeing the Red Bull in a trim that hasn't produced a winning result this year.
Sprint Race Winner
Max Verstappen @ 2.00 Stake: $10; Return $20.00 (100% win)
Charles Leclerc @ 1.25
Stake $80.00; Return $0 (100% loss)
Max Verstappen @ 1.83
Stake: $3.25; Return $5.95 (83% Return)
As Leclerc ran away with victory leading Verstappen by 1.7s after jumping the Dutchman at the start, I decided to compensate for my impending loss on Verstappen by placing a live bet of $80 on Leclerc.
Watching Verstappen subsequently hunt down and breeze right by the championship-leading Ferrari was painful to watch. When Verstappen passed Leclerc I immediately put my remaining funds on Verstappen as the cash-out option was not available for the Sprint Race.
The net loss during the sprint race was approximately $70.
Frustrated by my loss streak I decided to place bets on mindless probabilities. Trying to use logic was a bust all weekend so I figured I'd place highly improbably bets which too turned out to be complete busts.
Norris, Ricciardo, Gasly, Tsunoda & Ocon – All 5 Drivers Top 10 Finish @ 67.00
Stake $3.00; Return $0 (100% loss)
Hamilton, Russell, Gasly, Ocon & Schumacher – All 5 Drivers Top 10 Finish @ 51.00
Stake $3.00; Return $0 (100% loss)
Perez, Hamilton, Norris, Gasly, Alonso & Ocon – All 6 Drivers Top 10 Finish @ 81.00
Stake $3.00; Return $0 (100% loss)
I rounded out the Imola weekend with a further $9.00 loss. Just my luck. Moving on to Miami where it'll be all or nothing on my remaining $14.
Total Spent on this GP: $147.19
Total Return on this GP: $66.19
Total Profit made this GP: $81.00 LOSS
Total Profit made to date: $85.50 LOSS
Current Balance: $14.50
Luis: Things went from bad to much, much worse not even two corners into the Imola race
Well well well. After what was basically a dream start following the first 3 Grand Prix, it all had to come crashing down at some point didn't it and as they say, the biggest they are, the harder they fall. And we took quite a tumble at Imola.
I started off with what was a pretty stupid bet in hindsight, but after seeing those performances in practice, I was hooked.
Charles Leclerc Double (Pole+ Race win)
@ 2.75 Stake: 30€ Return: 0€
This wasn't the start I was looking for, but things went from bad to much, much worse not even two corners into the actual race (didn't bet on sprint). Carlos Sainz colliding with ricciardo and out of the race lost me basically everything:
Red Bull, Merc, McLaren, Ferrari to all finish @ 2.50
Stake: 15€ Return: 0€
Verstappen and Leclerc podium, Perez Sainz top 6, Hamilton Russell points
@ 3.75 Stake: 20€ Return: 0€
Leclerc, Perez, Sainz, Hamilton, Russell, Ricciardo Top 10
@ 3.40 Stake: 15€ Return: 0€
Ferrari, Red Bull both cars top 6, Schumacher, Alonso top 10, over 15.5 finishers @ 7.50
Stake: 10€ Return: 0€
Ouch. Really not the smartest bets now that I think about it, but things could have been a lot different had Sainz stayed out of trouble in the beginning. The only bet I made profit on was this:
Max Verstappen fastest lap @ 2.75
Stake: 10€ Return: 26.12€
Before the Imola race had started my dad advised me to put 10€ on Norris winning it all. Despite the skepticism I did it anyways and well… thanks, dad.
Lando Norris to win @ 26.00 Stake: 10€ Return: 0€
So to cap off a really miserable weekend, here are the final figures following the Emilia-Romagna Grand Prix:
Balance before GP: 170.37€
Money spent on this GP: 110€
Profit made this GP: -83.88€
Total Profit made: -13.51€
Current balance: 86.49€