Lewis Hamilton won a controversial and incident-packed inaugural Saudi Arabian Grand Prix race defeating Max Verstappen, the pair equal on points ahead of the season finale in Abu Dhabi next weekend.
What must rate as one of the craziest races in Formula 1 history was a proper slugfest with Verstappen employing dubious tactics in his aggressive defence of the lead, as Hamilton threw everything at his rival.
The two contenders nearly made contact on the first start, then again on the second start and that they survived from the point Hamilton started attacking on lap 36.
Nobbing and weaving, the pair swapped positions, both dipping into their bag of tricks, track limits ignored until Verstappen overdid it once too often and was told to give the position back.
What transpired was a game of cat and mouse between pitwalls and their drivers, with Michael Masi and his men tasked to keep order during a highly explosive race at the all-new Jeddah Corniche Circuit.
Verstappen's tactics overstepped the mark according to officials who ordered him to relinquish first place to Hamilton, which he did but didn't in a bizarre tete-a-tete between officials and the drivers.
For the catalogue of shenanigans by the Dutch ace, the stewards handed him a five-second penalty. Game over there and then, no winning on the night for him.
At one point the front of the Mercedes tagged the rear of the Red Bull, sending front-wing bits flying, in what was apparently a first (bizarre) attempt by Verstappen to relinquish the lead as instructed by race control.
Nothing happened for a while until finally, Max relented and Lewis got by where he stayed until the end to take a most important victory in this campaign, ensuring the title will be decided next weekend at the Abu Dhabi Grand Prix finale.
They are equal on points, whoever beats the other at Yas Marina will be F1 World Champion next Sunday.
Before the night was over Lewis and Max were summoned to the FIA race stewards after their warfare in Jeddah.
The big talking point from Jeddah 😱#SaudiArabianGP 🇸🇦 #F1 pic.twitter.com/bkWWqlcbyO

— Formula 1 (@F1) December 5, 2021
Hamilton: I tried to be as tough as I could be out there but also sensible
Both drivers were fired up in parc ferme, and be sure the following aftermath will not be pleasant as both camps are aggrieved, both have justifiable gripes.
There will be plenty of chatter after this one. Watch this space.
Hamilton said after his 103rd Formula 1 victory: "I don't know, I've been racing here a long time but that was incredibly tough. I tried to be as tough as I could be out there but also sensible and with all my race experience over the years, just keeping the car on track and staying clean.
"It was difficult but we preserved as a team and we had all sorts of things thrown at us, particularly in the second half of the season, and so I'm just really proud of everyone," added the Wolrd Champion.
LIGHTS OUT FOR THE RESTART!

Hamilton gets alongside Verstappen into Turn 1

Verstappen rejoins ahead of Hamilton and Ocon, but there's chaos behind#SaudiArabianGP 🇸🇦 #F1 pic.twitter.com/ttXExzcZRb

— Formula 1 (@F1) December 5, 2021
Verstappen: For me, this is not Formula 1
For Verstappen, it was a third straight defeat, and to make it worse on track, needless to say he was not a happy camper, storming off the podium in disgust after earlier declaring: "What happened today is unbelievable and this sport is more about penalties than racing. For me, this is not Formula 1."
As for being voted Driver of the Day, Max responded: "Luckily the fans have a clear mind about racing, at least they enjoyed it and I gave it all today but clearly not quick enough but still happy with second."
Apart from Verstappen and Hamilton, was there anyone else in that race?
Indeed there was, out of the spotlight was the battle for third place which went down to a last-lap drag race between the Mercedes of Valtteri Bottas and the Alpine of Esteban Ocon, the Finn edging ahead across the finish line to take the final podium spot with Frenchman fourth after an impressive race, including surviving the attrition and bent metal that characterises the midfield.
Pierre Gasly, another who tends to keep his head when those around him lose theirs was Pierre Gasly who finished sixth for AlphaTauri
Also making the most of his wily racecraft and circumstances of a manic race, Daniel Ricciardo emerged in fifth which gave Ferrari something to think about. Charles Leclerc and Carlos Sainz were seventh and eighth respectively, the pair lucky not to collide during the race.
SAFETY CAR (LAP 10/50)

Mick Schumacher crashes heavily and the Safety Car comes out

He reports he is okay over the radio 👍#SaudiArabianGP 🇸🇦 #F1 pic.twitter.com/H4mZXyZjMs

— Formula 1 (@F1) December 5, 2021
Schumacher crashed his Haas heavily to bring out an early red flag
Earlier the race was stopped for the first time when Mick Schumacher crashed his Haas on Lap 14.
Before the incident, the top five remained unchanged, all getting good starts with Hamilton leading, Bottas the buffer in second, Verstappen third, Charles Leclerc fourth and Sergio Perez fifth.
Schumacher's lost control of the evil handling Haas which speered the wall hard, similar to Charles Leclerc's heavy shunt on Friday. Same result, big damage to the hapless car and the rookie heading for an early shower, his day's work over.
This prompted a slew of pitstops, with Hamilton in the pits Bottas slowed considerably to allow the Merc crew to stack their drivers, this held up Verstappen who rightfully moaned about the #77 blocking him and opted to stay out.
The Red Bull driver led now, and things got better when the race was red-flagged as marshals repaired the barriers. Which prompted moaning from Hamilton.
The race was stopped on race 14 which played well into Verstappen's hands as he led, he had leapfrogged the Mercs.
The moment @LewisHamilton drew level in the championship fight, with victory in Saudi Arabia ⚔️#SaudiArabianGP 🇸🇦 #F1 pic.twitter.com/plmETztmoh

— Formula 1 (@F1) December 5, 2021
Red Bull have all but lost the 2021 F1 Constructors' Title to Mercedes
Shortly after the first stoppage, there was chaos after the second start, as Red Bull veteran Sergio Perez crashed after squeezing Leclerc who couldn't avoid contact and Haas rookie Nikita Mazepin crashed into the back of George Russell. Another stoppage followed. And another blow to Red Bull's evening.
What was a small five-point deficit to Mercedes before the race, Red Bull are now 28 points behind with one race remaining – the Bulls may have lost the 2021 F1 Constructors' Title tonight.
A final word on an incredible Saudi Arabian Grand Prix to Martin Brundle who summed it up aptly: "It has been a dirty race in terms of tactics."
Checo awaits the restart ⏱#SaudiArabianGP 🇸🇦 #F1 pic.twitter.com/jBHOucB7n0

— Formula 1 (@F1) December 5, 2021
2021 Saudi Arabian Grand Prix Result: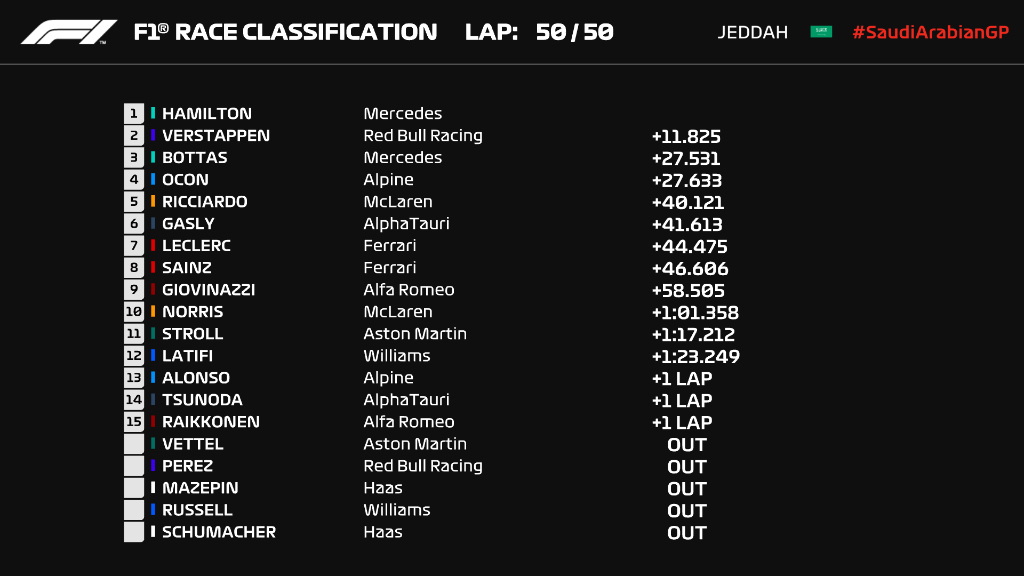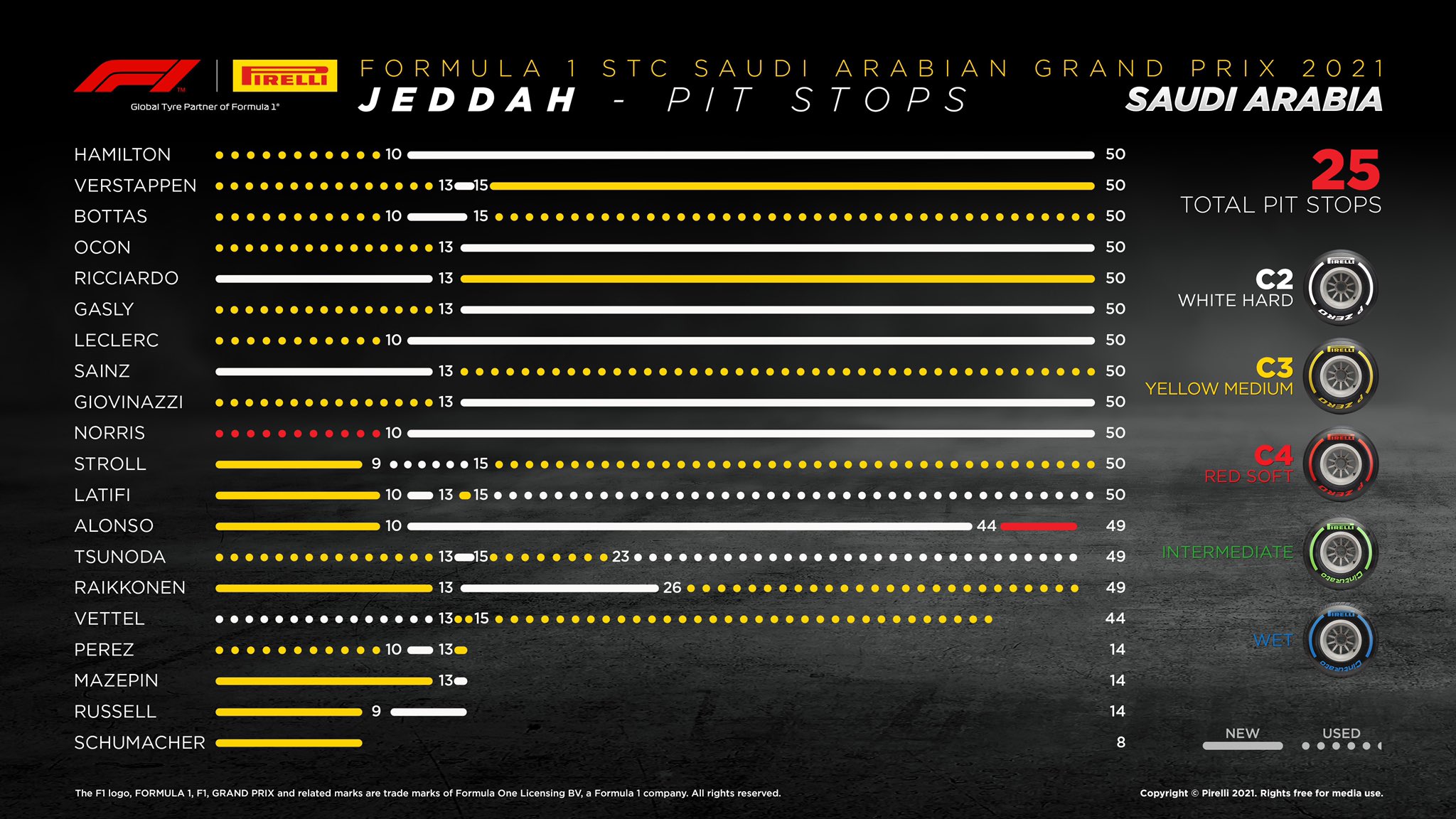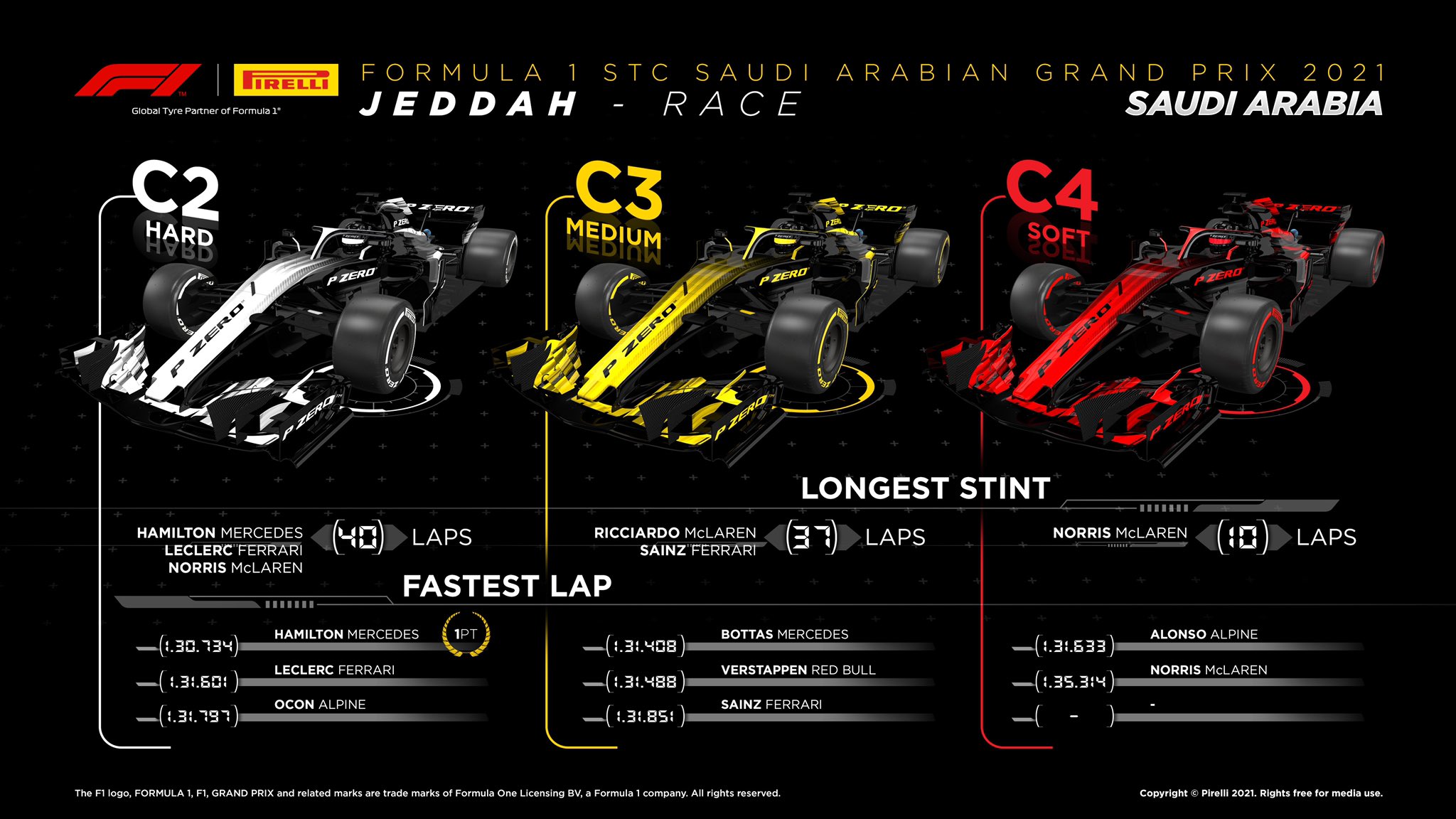 2021 Saudi Arabian Grand Prix Grid: