Valtteri Bottas scored a lights-to-flag victory in fine style to win the 2021 Turkish Grand Prix for Mercedes in tricky conditions demanding intermediate tyres for the entire 58-lap race, while teammate Lewis Hamilton was left fuming after disagreeing with his team's strategy call.
Bottas delivered a commanding performance, to take his 10th Grand Prix victory, his first since Russia over a year ago. This performance on Sunday will rank as one of his best, the kind of showing that he should have had more often for the team he leaves for Alfa Romeo at the end of this season.
The Mercedes driver said in parc ferme after the race: "It's been a while but feels good. From my side, it was one of the best races I've had – ever. Apart from that one little slide I've had everything under control.
"The car was good in every condition, really good confidence in it. I'm glad everything went smooth for once for me. It was nice. When only one drying line, it doesn't need much to go off. I definitely needed to focus all through the race.
"A difficult one, but feels like a well-earned victory," added Bottas.
A commanding drive from the Finn 💪#TurkishGP 🇹🇷 #F1 pic.twitter.com/6zYnpxyww5

— Formula 1 (@F1) October 10, 2021
The Finn held off Red Bull's Max Verstappen, building a gap of around four seconds by the halfway mark, crossing the finish line over a dozen seconds clear of the Red Bull driver.
Verstappen stalked the leading Mercedes throughout the race but simply did not have the firepower to attack for the lead. But the result means the Dutch ace is now on 262.5 points, and leads the F1 championship standings by six points from Hamilton.
The Red Bull driver summed up his race:  "It was not easy today, I mean the track was very greasy and we had to manage the tyres all race so we couldn't really push. It seemed like Valtteri had more pace and could look after the tyres better as well, so I'm happy to finish in second place."
"It was all about managing the tyres, so you were never really pushing. I'm happy to be on the podium. I think its been close the whole year and I'm sure in Austin it will be another close battle with Mercedes.
"We just have to keep pushing, keep trying to improve and we'll see where we are at the end – but it's been a great season so far," added Verstappen.
Sergio Perez was third for Red Bull, the Mexican veteran delivering exactly what he was hired to do by Red Bull; help his teammate, and he did so brilliantly fending off Hamilton's attack in a jaw-dropping wheel-to-wheel duel with the Champ. Exactly what the doctor (Marko!) would have ordered.
Perez said: "It was an intense race in the first stint – fighting with Lewis and fighting with Charles. It was just one of those races of having to be patient, push at the right times and manage the tyres well. You didn't really know what was going on with the tyres. It was hard to manage them out there today."
This partnership is getting stronger and stronger, but Red Bull still trail Mercedes in the F1 constructors' standings by 36 points.
Hamilton looked set for a podium after staying out long, and only pitting when the Mercedes pit-wall called him in. When he reemerged in fifth, the seven-time F1 world champion was fuming that third went begging.
📻 "We shouldn't have come in man"

With laps running out and running P5, Lewis Hamilton wonders about the wisdom of pitting for a new set of inters #TurkishGP 🇹🇷 #F1 pic.twitter.com/60FezdEXw7

— Formula 1 (@F1) October 10, 2021
Charles Leclerc was fifth, the Ferrari driver leading after the halfway mark as one of the frontrunners who did not stop. It was touch and go whether they kept him out, but on lap 48 he pitted and went on to finish fourth. A gamble to stay out might have served him better, but his team thought the gamble was not worth it.
Ditto Mercedes with Hamilton. We will never know if a no-stop strategy would have won the race, as the drivers certainly wanted to give it a crack but their teams lacked the courage.
Earlier, after constant overnight rain, heavy grey clouds loomed over Istanbul park as Bottas blitzed off the line to take the lead from Verstappen and Leclerc chasing, after a frenetic first lap in which Fernando Alonso was tagged by the AlphaTauri of Gasly which sent the Alpine into a spin.
⚫️⚫️⚫️⚫️⚫️
⚫️⚫️⚫️⚫️⚫️
LIGHTS OUT!!!

Alonso goes spinning off at Turn 1 and tumbles down the standings to P16 – but otherwise it's a clean start #TurkishGP 🇹🇷 #F1 pic.twitter.com/HRjlPC7nhx

— Formula 1 (@F1) October 10, 2021
Apart from that, and Alonso tagging Mick Schumacher a lap later, which earned him and Gasly a five seconds penalty, the order across the field remained pretty much the same with the exception of Hamilton who started 11th in the Mercedes, and back of the grid starter Ferrari's Sainz powering through the field.
Gasly served his penalty, which seemed a tad harsh as he was the meat in the Turn 1 sandwich, but Stewards probably feared the wrath of Alonso if the Frenchman had not been penalized, especially after the Spaniard was, for his shenanigans.
Nevertheless, the AlphaTauri driver delivered another stellar performance to finish sixth, which might have been fourth had luck gone his way.
Lando Norris finished seventh on a weekend that was not kind to McLaren, with Daniel Ricciardo starting from the back row of the grid to finish 13th. Unlike Italy and Russia, Turkey was not a happy hunting ground.
From the back of the grid, Carlos Sainz was clinical in his one-track mind to get further up the order pulling off some great overtakes. Driver of the Day, and eighth place rewarded his efforts at the tenth edition of the Turkish Grand Prix.
Lance Stroll again showed his prowess in races of high attrition, the Aston Martin driver finishing ninth. Oddly teammate Sebastian Vettel opted to change to medium slicks!
A move that proved wrong from the moment he hit the track, and slithered around dangerously before he returned to the pits, nearly binning it on entry. A gamble that went out badly. A 'WTF were they thinking?' moment from Aston Martin.
Esteban Ocon recovered his weekend to claim the final point for Alpine.
2021 Turkish Grand Prix Race Results & Info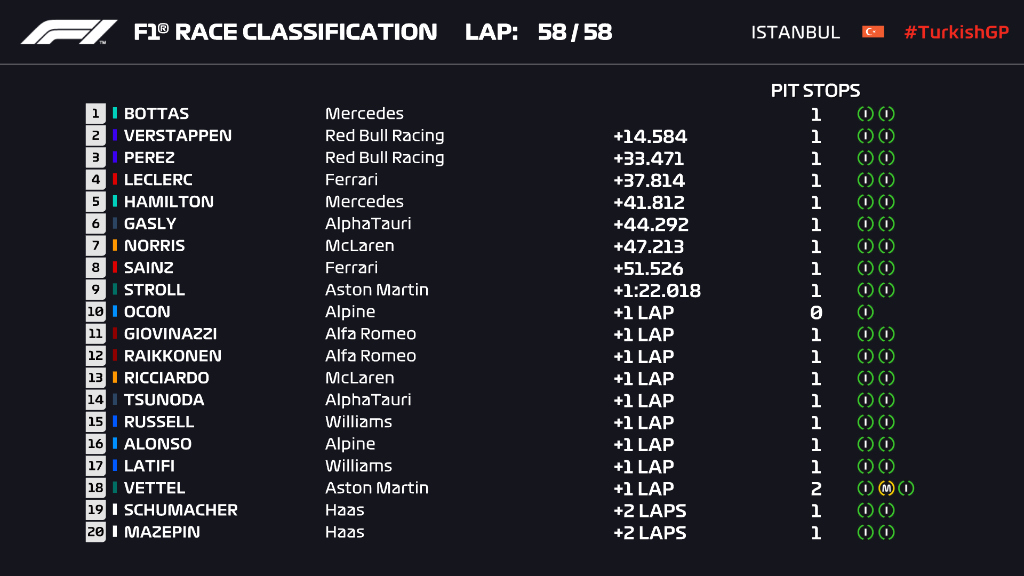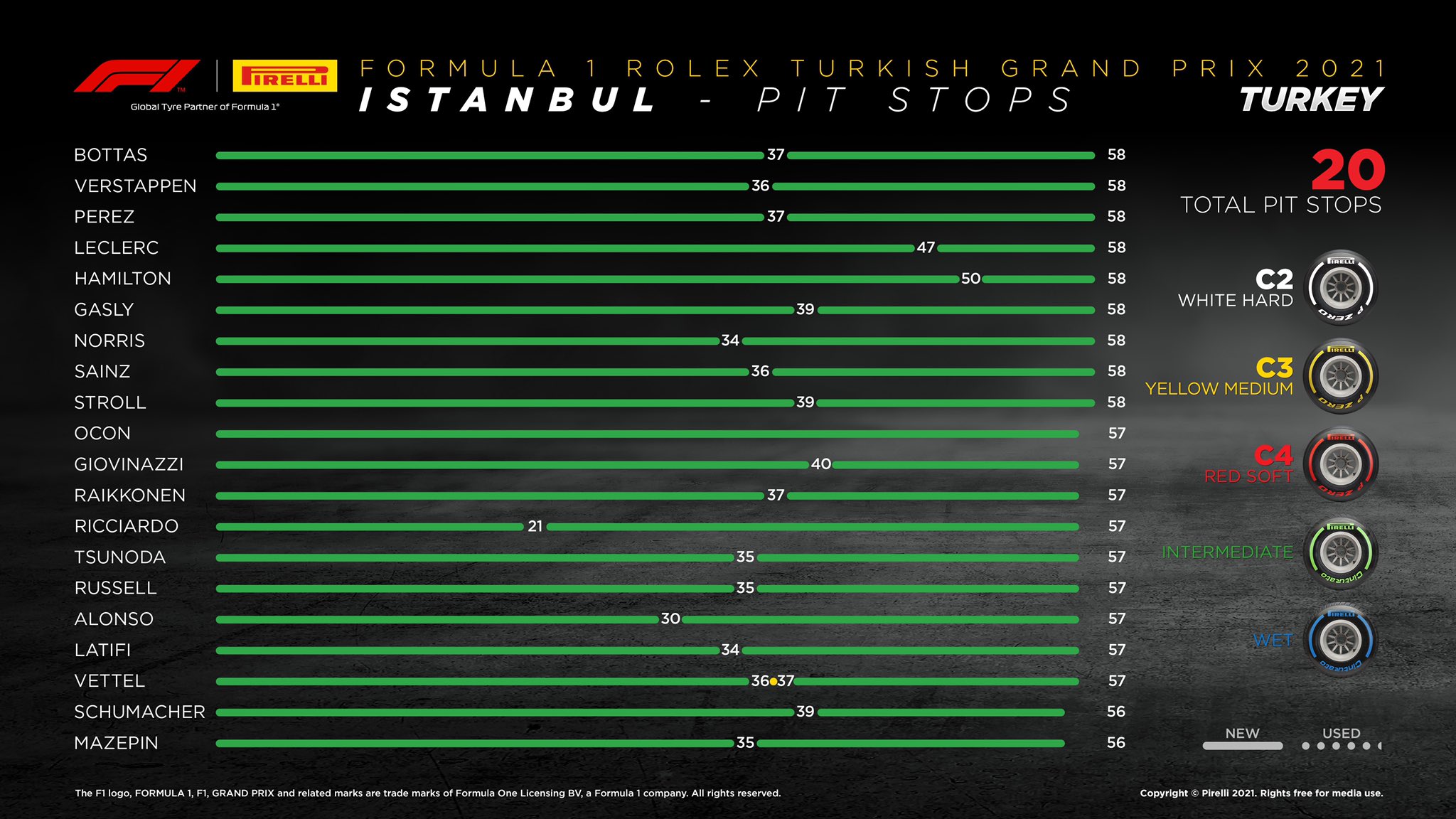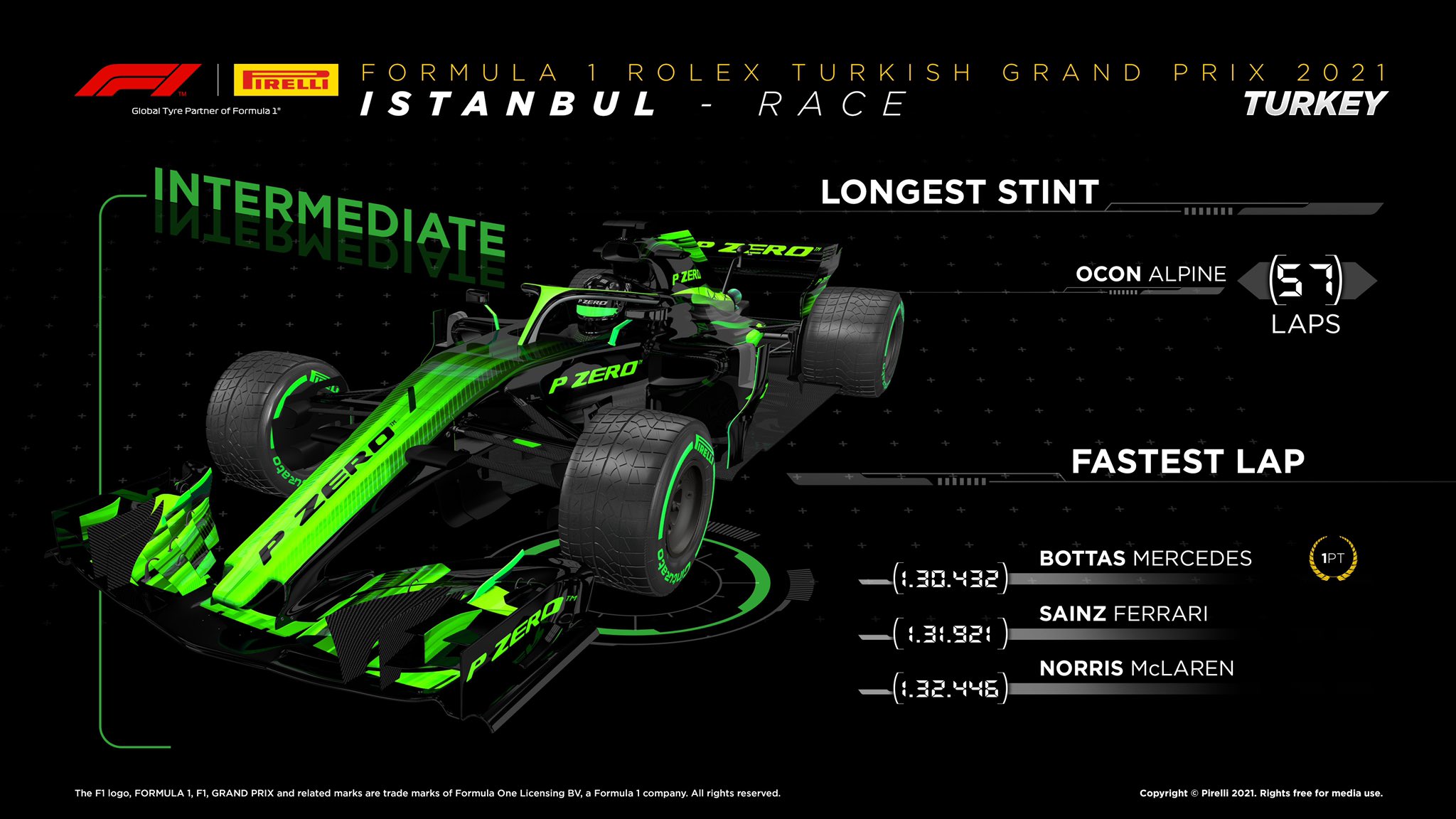 Standings after 2021 Turkish Grand Prix