A familiar story, Max Verstappen delivered another masterclass to win the Sao Paulo Grand Prix, Round 20 of the 2023 FIA Formula 1 World Championship, at Autodromo Jose Carlos Pace at Interlagos, in Brazil.
The drama began early when the hydraulics seized on Charles Leclerc's Ferrari, looking up he spun into the wall. The race was started nevertheless but was called off minutes later, when a big incident involving several cars including McLaren rookie Oscar Piastri, Williams driver Alex Albon and Haas duo Kevin Magnussen and Nico Hulkenberg and Daniel Ricciardo's Alphatauri. Triggering a red flag and a restart.
Verstappen dominated both starts and then the race, to tack up an incredible 17 win of this campaign. Control, speed and consistency were the hallmarks of his 52nd Grand Prix victory.
In his McLaren, Lando Norris gave chase in what was a two-horse race, no one in the top two drivers' league. The Briton kept the lead pegged at five seconds for much of the race, but after the final stops that doubled to ten as Verstappen had all in check.
Another Sunday drive for the Red Bull driver, the triple F1 World Champ cannot be faulted, with two perfect starts and then doing the business in the clinical, classy manner that has become his trademark.
Verstappen: We were good on any tyre
In Parc Ferme after the race, Verstappen said: "The starts were very important today. Both of them were very good. After that the whole race was about the management of the tyres. We were good on any tyre, but I think especially that middle stint we could create a bit of a gap, and I thought that was very strong there.
"It all looked quite good, but with the high deg around here you were constantly correcting the car, so your focus always needed to be there, but luckily it worked out great today," added Super-Max.
Right now, only Verstappen can deny Norris a first victory in the final two races so far this season. His 'Race 1' start was phenomenal and set the stage for his P2. If Red Bull indeed want to spice up F1, hand Lando a contract to be Max's teammate! Fireworks guarantee, and right now no other driver is in their class with what they have.
Norris knew he gave it all he had in the car and said so afterwards: "Very good, couldn't have gone much better. Good pace, similar to yesterday, which is the main thing, and a much better start to get from sixth to second.
"It was a nice surprise. My start yesterday was not so good, so I tried to work on it and it got better, but then the second start I was just a little bit aggressive on it. Still happy, P2 is as good as we can get nowadays and for the time being.
"There's little bits where the tyres come back to you and you can push on, but Max always seemed to have an answer to everything, which is a shame, but fair play to him, he drove a good race," acknowledged Norris.
Alonso vs Perez will go down as one of the great F1 battles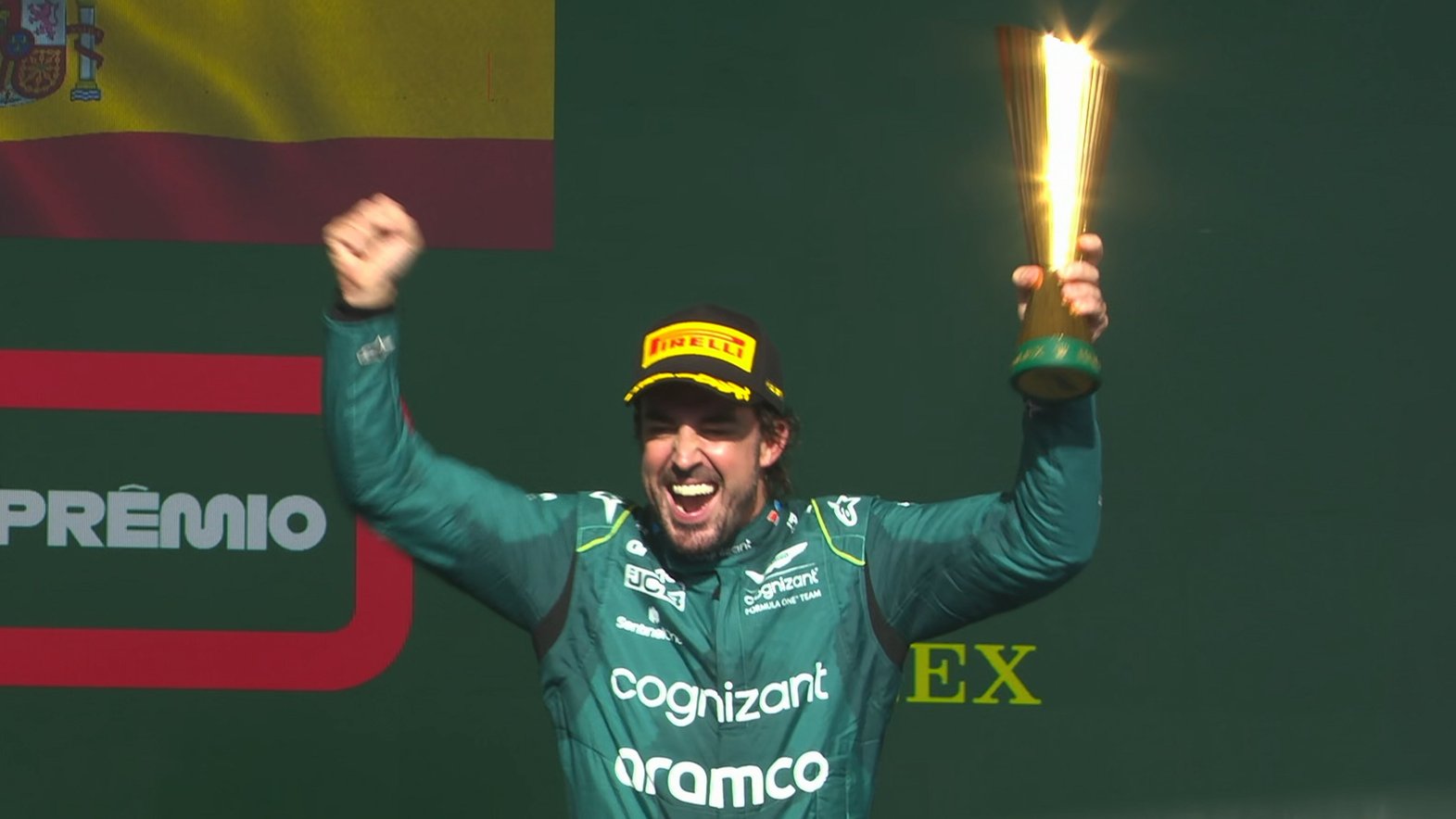 Third place was decided after a dogged battle between veterans Fernando Alonso and Sergio Perez, slugging it out throughout the final tyre stint, 20 laps or so.
On lap 70 Perez ambushed Alonso into Turn 1, but on the final lap, Alonso who never gave up lunged into Descida do Lago to take P3. It was top-notch stuff, from two wily campaigners. The gap was 0.05 s as they crossed the line. One of the great battles of this season, if not the decade.
Before another classic Alonso podium celebration, he said in Parc Ferme: "For me, it was like 30 laps of pressure from Checo! When he passed me two laps to the end, I thought 'okay, this is gone, the podium is not possible anymore'.
"But he braked a little bit late into [turn one] and I thought 'okay, I go for it' into [turn] four!' This is a phenomenal result for the team. We have been struggling for a couple of months, especially the last two events with two retirements.
"So this podium is for them and the whole factory. We keep fighting until the last lap," declared the overjoyed veteran, at 42 years of age Alonso is the oldest driver in the Current F1 grid, but among the youngest of heart it seems.
"Inexcusable performance," says Mercedes F1 boss

Making it a very good day for Aston Martin, Lance Stroll delivered one of his more solid drives of the season to finish fifth and only 6.6s behind his heroic teammate in third.
With sixth place, Carlos Sainz salvaged the face for Ferrari after Leclerc's failure but was never a factor as the 50 seconds deficit testifies.
Pierre Gasly was P7 for Alpine ahead of Lewis Hamilton on a pitiful day for Mercedes where they were lacking on all fronts, and George Russell suffered a DNF after a miserable race day for the once mightiest team.
After his DNF, Russell declared to reporters: "Clearly we got something wrong this weekend, still we're not too sure what that is as yet, but the pace just hadn't been there."
Mercedes F1 boss Toto Wolff did not mince his words: "Inexcusable performance. There are no words for that. That car finished second last week and the week before, and whatever we did to it was horrible."
Yuki Tsunoda recovered from a moment of 'farming' to finish ninth for AlphaTauri, and Esteban Ocon claimed the final point for Alpine.
In a nutshell. the Sao Paulo Gp was a pretty hectic race, needing an early restart but the same old story of Verstappen dominating like we have never seen a driver do before. Without him racing today, Norris would've made mincemeat of his rivals. They were on another level the top two.
Perez versus Alonso will remain a highlight worth remembering, as is the remarkable collapse in the form of Mercedes, and Ferrari's one-car strategy which seems to be a habit these days for the Reds. Other than that not much as teams seem to be needing this never-ending-season to end.
2023 Sao Paulo Grand Prix Result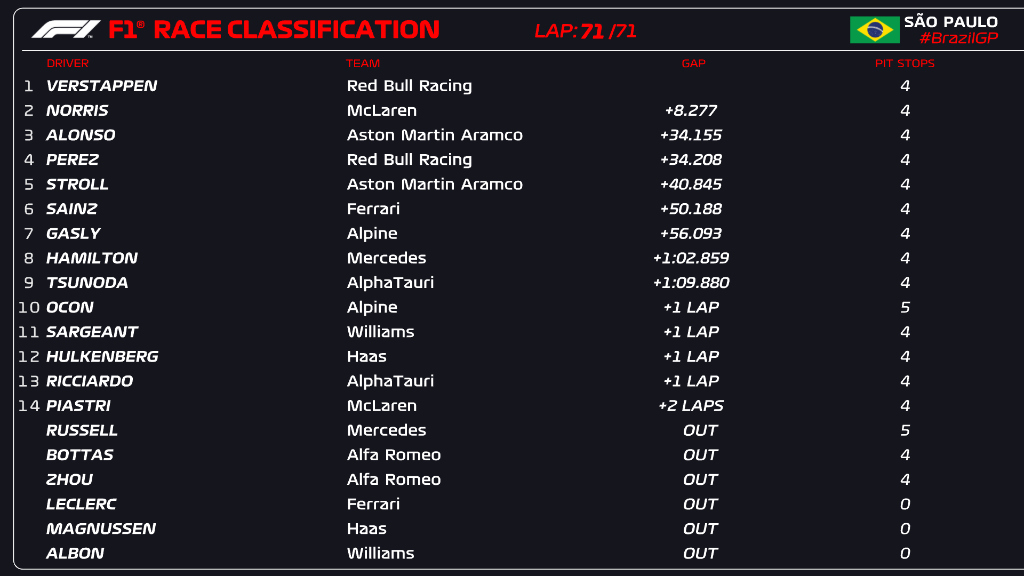 How the 2023 Sao Paulo Grand Prix unfolded:
Start top ten lineup on the grid: VER-LEC-STR-ALO-HAM-NOR-SAI-RUS-PER-PIA.
The 20-car field led by Verstappen rolled off the dummy grid for the formation laps, on Pirelli red band Softs, except Sargeant on Mediums. Charles Leclerc slid off when his Ferrari locked up before they even got going. Exasperated he groaned over the radio: "I lost the hydraulics. Why am I so unlucky?"
When the lights went out, a tremendous start from Verstappen, three car lengths ahead as they dipped down the first left-hander, with Norris blitzing into second as mayhem ensued behind.
When the dust settled, broken cars were Albon and Magnussen after Hulkenberg squeezed his teammate. The trio collided in the chaos, with only the latter surviving the melee to make it to the pits. Ricciardo also needing repairs.
Prompting a red flag as tyre thread and debris lay on the track in Turn 1, and needed clearing while barriers needed to be repaired by marshals. Piastri was told to retire the car after a clout from Magnussen's wayward Haas. But McLaren added to their rookie: "We are going to see if we can repair the car."
Big upward movers were Tsunoda up six positions up to P10, with Ocon up five in P9 and, most significantly, Norris up four places to second, creeping past a fumbling Hamilton as they charged into Turn 1. In the top ten, Stroll dropped from P3 on the grid to P5 at the stoppage. Sainz dropped one spot to P8.
Top 10 order on Lap 3 for the restart:
About 25 minutes later, Race 2 restart! Verstappen rocket launch take two. Again three cars ahead as Hamilton challenged Norris, but the McLaren edging ahead. Then Alonso ambushed the Mercedes for third with a classic move.
Top ten on lap 6: VER-NOR-ALO-HAM-RUS-PER-STR-SAI-GAS-OCO
Verstappen followed by Norris setting the fastest lap and within DRS, the pair pulled a gap on Alonso 2.2s behind. Lando piling on the pressure. Game on! But the #1 Red Bull responded and restored about 2.1s by lap 10.
Hamilton in fourth, heading a DRS train stretching down to P15! Alonso edging further ahead in PO3 and closer to Norris whose early pace was now pegged. Perez was all over the back of Russell and on lap 14, Perez was through to P5 in Turn 1, and defended well to keep the place.
Tsunoda split the Alpines to take P10.
Lap 15 Top 10 order:
On lap 17 Tsunoda went farming, ruining a good drive into the points until he lost it. Stalemate at the front with Verstappen's lead pegged at 2.6s, Norris a similar distance ahead of Alonso in P3, with Perez a further seven seconds back, the Mercedes going backwards.
Hamilton pits on lap 19 and emerges reporting a problem with the front right. Russell follows his teammate. Perez pits on lap 21, but peels out in a Merc sandwich, behind Hamilton again but ahead of Russell. The Red Bull lamented over the radio that they were not running their own race.
Lap 23 into Turn 1 Hamilton kept Perez behind, but the drag on the Reta Oposto was now contest. The Red Bull back ahead of the Mercedes.
Sainz hounding Stroll at this point for P4, the Aston Martin pits on lap 24, leaving the top three yet to stop. Verstappen now led by 3.6 seconds by lap 25. Russell continued in freefall, a lap later Stroll was past the Merc driver into P9.
Alonso pits on lap 26, ditto Sainz a lap later. Top two pit a lap later and emerge in the same order.
Lap 30 Top 10
Top 10 all on mediums. Verstappen leading by 5.3 seconds, with Norris in P2 the same distance ahead of Alonso with Perez chasing the Aston Martin for third, with Stroll 4.9s adrift.
The Mercedes were now running in formation with DRS, Hamilton ahead of Russell but in no man's land, with Sainz reeling them in. George again questioned his team's tactics, feeling he was quicker than his teammate up ahead.
On lap 35, Sainz was by Russell with Hamilton in his sights. The Mercs were pitiful at this point in the race and soon the Ferrari was in P6 and chasing Stroll. Tsunoda fought his way back to P10, getting by Bottas.
On lap 40, Verstappen's lead was pegged at 5.0s by Norris in P2, a 'two-horse' race as Alonso was 17.0s further back, with Perez 1.6 seconds behind but closing in on the Green car.
Gasly meanwhile had the feeble Mercedes pair in his sights. While Alonso and Perez battled, matching each other's lap times in a game of cat and mouse.
On lap 43, Gasly was past Russell into P8 but the Merc was toothless and had Tsunoda closing in fast.
Lap 45 Top 10
Russell pits on Lap 47. Perez pits next. Hamilton next. But the Mercs were sad, on lap 31 Gasly was up in P8. Lewis in P9 and Russell P11 and out of the points. Ocon up to P10 and reeling in the #44 Merc.
Top four VER-NOR-STR-SAI yet to pit. Sainz boxes on lap 52 from P4.
On Lap 55 Perez in DRS of Alonso with P3 at stake, albeit 35.0s behind the leaders. Verstappen led Norris by 7.8s, way clear and still to stop.
Lap 57 Verstappen pits for Mediums, the McLaren inherits the lead. Perez still chasing hard, with Alonso defending harder. Wheel-to-wheel, and rubbing paint.
Lap 59, Russell retires the W14, as his mate Norris pits from the lead at the end of the lap.
Lap 60 Top 10
Norris emerges 12 seconds behind Verstappen comfortably in P1 and 24.0s ahead of the P3 battle between Alonso and Perez, with Stroll 11.0s down in P5, who was 4.0s up on Sainz leading a stalemate behind him.
ALO-PER battle is still saucy, but it seemed a matter of time before the RBR got by but the veteran Spaniard was not going to make it easy for the Mexican. The difference? the Aston on fresh Softs, the Bull not.
On lap 70 Perez ambushed Alonso into Turn 1, but on the final lap Alonso lunged into Descida do Lago to take P3. It was top-notch stuff, from two wily campaigners. The gap was five-hundredths of a second as they crossed the line. One of the great battles of this season.
End of 2023 Sao Paulo Grand Prix Report.
---
Sao Paulo Grand Prix Preview: Head says Verstappen, Heart wants Norris
Same old story? Red Bull's triple Formula 1 World Champion Max Verstappen gets a sniff of the lead, powers into the distance for another comfortable win, his 17th in a season of total dominance never seen before in our sport. Or will the day belong to Lando Norris?
[The Sao Paulo Grand Prix race report will appear in this post at the end of the race. Please refresh your browser for the latest version. Please feel free to add your thoughts to the preview. Enjoy!]
On the evidence of the F1 Sprint Race on Saturday at Autodrome Jose Carlos Pace, Verstappen is going to blitz them today from his 31st pole position start in what has become a familiar script of this season's campaign.
The big action is sure to be behind the #1 Red Bull car, where F1 fans have one of the more salubrious grids of late, with the Aston Martin pair out of place on the evidence of yesterday's Sprint.
Lance Stroll (P3) and Fernando Alonso (P4) stunned the paddock and form book by annexing the second row for Aston Martin in Friday's Qualifying, as a sudden downpour, unleashed from pitch black skies threatening their wrath over Interlagos and indeed curtailed the final minutes of a dramatic session.
When the spray had settled, the Green cars were up near the top, but was it on merit or luck? On their Sprint Race pace yesterday, it appears to be the latter which is sure to spice up things further.
Two Aston Martins on Row 2 with two Mercedes on Row 3
With the two Black Mercs behind them on row three, with a handier GP car than they had for the Sprint, they hope, are sure to want to get past their clients ASAP.
George Russell and Lewis Hamilton have had more than one coming together, Stroll and Alonso can have very wide cars, and the Canadian is not a stranger to brain fade and wicked moves in the heat of battle. Alonso of course is Alonso so expect a bare-knuckled fight if the Spaniard is in the mood.
All ingredients for a fascinating battle for Best of the Rest, probably way behind Verstappen and… [cue drum roll] Lando Norris and his very handy McLaren the two best combos on track yesterday.
Expect Norris to try and make amends for P6 in Friday Qualifying during the 71-lap race today, one in which he may be able to work his way to the podium on the evidence of the pace he showed on Saturday and McLaren's kindness to its tyres, which should give it the advantage for the long game which the Grand Prix will be.
But first, the Englishman needs to make his way past more cars than he would have wanted to, while teammate Oscar Piastri will be worth monitoring from a rather conservative P10.
Perez and Norris are out of position
Like Norris who should be further up the grid, from a lowly P9 – in the heart of the mayhem – Red Bull's Sergio Perez will be looking to make better use of the pole-winning and a car that has won 18 GPs so far this season. Third yesterday will have boosted the Mexican who, for well-known reasons – needs to end the season with a flurry of good results. Starting today.
On the evidence of the past two days and recent races, my head has this script: Verstappen wins with ease, the #1 Red Bull laps a Ferrari and a Mercedes (or all four!) on merit (presuming no safety car of course) with Norris 10-15 seconds behind fending off Hamilton in the end.
But the heart wants Norris to win the Sao Paulo Grand Prix today. Whatever happens behind doesn't matter. It would be good for the sport on many levels. It's a big ask, but anything can happen in F1 and Interlagos is a stage that is no stranger to last-minute drama and a massive surprise or two.
Other sideshows ahead of the 40th Grand Prix in Sao Paulo:
No matter what the normally-wrong weather experts say about no rain today, keep an eye on the skies!
As mentioned above: Lewis vs George, the next chapter…
Ditto: Will Lance keep it clean and together?
AlphaTauri has a top-ten car in their hands,, so what can Yuki Tsunoda and Daniel Ricciardo do from down there?
What part or parts of the Haas will break, fail, or fall off during the 71-lap race?
Has anyone seen the Alpines? Are they in Brazil?
Who will bin it first: George, Lewis, Logan, Lance, Fernando, Esteban, Checo or Yuki?
Finally, and needs to be mentioned Safety Car…
Sao Paulo Grand Prix Facts & Stats by Reuters
Sao Paulo Grand Prix at Autódromo José Carlos Pace aka Interlagos in Brazil;
Round 20 of the 22-race FIA Formula 1 World Championship championship
Lap distance: 4.309km. Total distance: 305.909km (71 laps)
2022 pole position and winner: George Russell (Britain)
Race lap record: Valtteri Bottas (Finland) Mercedes
1:10.540 seconds (2018)
Start time: 1700GMT/1400 local
This year marks the 50th anniversary of the first Brazilian Grand Prix in 1973.
Three current drivers have won in Brazil: Lewis Hamilton (2016, 2018, 2021), Max Verstappen (2019), Russell (2022).
Brazil's race was first held at Interlagos before moving to Rio de Janeiro and then returning to Sao Paulo.
The flowing circuit is named after Brazilian driver Jose Carlos Pace, who won in 1975 and died in 1977, and is the fourth shortest on the calendar as well as the second highest at 800 metres.
Hamilton clinched his first title in Brazil with McLaren in 2008 following an overtake on the last corner of the final lap.
Sunday will be the 40th F1 World Championship Grand Prix at Interlagos.
Michael Schumacher won a record four times at the Sao Paulo Grand Prix circuit.
There is no Brazilian driver on the starting grid, although Hamilton is an honorary Brazilian. The country has produced six race-winning drivers and three world champions.
Four of the last five races have seen at least one safety car interlude.
Victories, Poles, Podiums & Fastest Laps
Verstappen has won 16 of 19 races and has 51 wins from 181 starts, putting him fourth equal on the all-time list with French great Alain Prost.
Red Bull won 18 races, with Ferrari's Carlos Sainz winning in Singapore.
Red Bull also had a team record six one-two finishes in 2023.
Hamilton has a record 103 victories from 329 starts but has not won since Saudi Arabia in December 2021.
Aston Martin's Fernando Alonso has 32 wins, most recently in Spain in 2013 with Ferrari, from a record 374 starts.
Hamilton has a record 104 pole position starts.
Red Bull have been on pole 12 times this season. Ferrari's Charles Leclerc took the top slot in Azerbaijan, Belgium, Austin and Mexico, Hamilton in Hungary and Sainz in Italy and Singapore.
Verstappen has 10 poles for 2023.
Six teams and 11 drivers have made a podium appearance this season: Red Bull, Alpine, Aston Martin, McLaren, Mercedes and Ferrari.
Verstappen has been off the podium only once since Brazil last November.
Verstappen holds the record for most podiums in a season – 18 in 2021 and this year.
Eight different drivers have taken fastest laps this season – Alonso, Alfa Romeo's Guanyu Zhou, Verstappen (8), Perez (2), Hamilton (4), Russell, McLaren's Oscar Piastri and AlphaTauri's Yuki Tsunoda.
Tsunoda's fastest lap in Austin was only the third by a Japanese driver in F1, after Satoru Nakajima in 1989 (Australia) and Kamui Kobayashi in 2012 (China).
Milestones
Verstappen can take a record-extending 17th win of the season and record 19th podium.
McLaren's Lando Norris is one podium away from equalling retired Nick Heidfeld's unwanted record of 13 top-three finishes without a win.
Red Bull and Verstappen have won both championships already, Verstappen his third and Red Bull their sixth.
Verstappen leads teammate Sergio Perez by 251 points and is set to end the season with a record margin.