Max Verstappen took his 31st Formula 1 career pole position in qualifying for the 2023 Sao Paulo Grand Prix, after a timely lap in Q3 beating the rain in the nick of time.
Qualifying started under threat of rain, but it did not really come until the first few minutes of Q3, and it was Verstappen who made the best of the dry running window, setting the first lap in Q3 and a monstrous one to go three tenths faster than Charles Leclerc in the Ferrari.
Lance Stroll was third fastest, the Canadian putting in a decent banker lap albeit over six tenths slower than Verstappen.
While McLaren and especially Lando Norris were looking like a threat to Verstappen, the Briton failed to deliver a good banker in Q3 and will line up seventh on Sunday's race grid.
What the top three said
Polesitter Verstappen said: "We didn't know when it would hit in qualifying, we thought it would hit. This is of course insane weather.
"Charles and I were just discussing, our laps felt terrible, but I don't know, I think the wind started to change and started to be very strong and we lost a lot of lap time because of it. It was all quite hectic in the last lap.
"It seems that it's all very close. You could see that already in qualifying. I expect the same also in the race. Around here there's also quite a lot of deg from the tyres. So it's all about that management.
"Last year we didn't get that right but I think we are a bit better this year," the Dutchman concluded.
Leclerc added: "In my whole career I have never experienced something like that. From Turn 4 onwards there was no rain. But the car was extremely difficult to drive, no grip.
"I was thinking about coming in at the end of the lap but I finished it and it was P2. So a really good surprise. A very weird one for everyone at the track," he added.
As for his chances on Sunday, he said: "I don't know about the race yet. In Sprint weekends there is always a big question mark on race pace.
"But I hope it will be a good one and hopefully there won't be too much rain tomorrow and Sunday," the Monegasque concluded.
Third-placed Stroll commented: "The car was feeling good throughout the session. Q3 was really tricky. My lap was pretty bad but I think conditions changed a lot.
"I had a few lock-ups and missed some apexes but in the end, good enough for top three, which is a great result.
"It's been tricky the last couple weekends. We had a good race in Austin but then a few days later in Mexico a really tough weekend, so today was a great day," the Canadian concluded.
Q3: The rain is here, and it's dark
The final part of qualifying started in pretty gloomy conditions, Ferrari informing Leclerc that rain would hit the track seven minutes into Q3.
Verstappen posted a scary lap time on his first attempt and was three tenths faster than second-placed Leclerc, while Norris could not do better than seventh.
Sergio Perez had his first lap destroyed by a Yellow flag brought out by Oscar Piastri who lost his McLaren in the final corner.
But soon the rain intensity started to increase, and the race control soon put out the Red flag as weather conditions worsened announcing the session will not be resumed.
⏪ The session ends early with a red flag as the heavens open #F1 #BrazilGP pic.twitter.com/rrRvQUccAf

— Formula 1 (@F1) November 3, 2023
Verstappen posted a 1:10.727 to take pole, 0.294s ahead of Leclerc, and 0.617s faster than Stroll in third.
Fernando Alonso was fourth fastest in the other Aston Martin, 0.043s behind his teammate and 0.082s ahead of Lewis Hamilton in fifth.
George Russell was sixth fastest in the other Mercedes, 0.121s behind Hamilton, and ahead of a surely disappointed Norris in seventh.
Carlos Sainz was eighth fastest in the other Ferrari ahead of Perez who had his banker lap ruined by Piastri's Yellow flag.
Piastri was tenth fastest.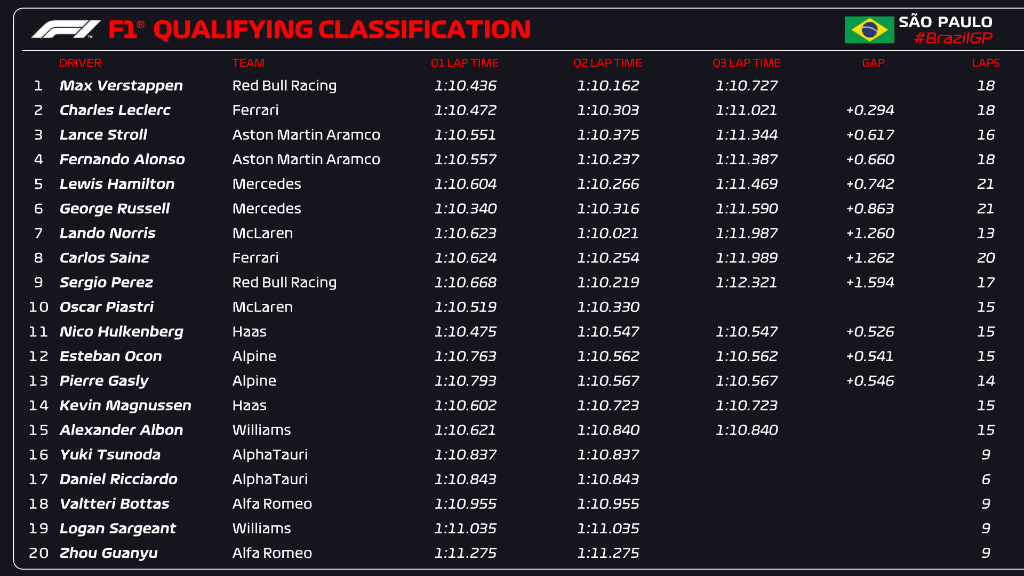 Q2: No rain yet and the Astons make it to Q3
Verstappen was informed that there were "very very light" drops of rain in the pitlane, as the remaining 15 cars started to line up to set out into the second stage of qualifying.
The first run saw Verstappen go fastest ahead of Norris and Piastri, the first two running used Soft tyres. Perez was fourth also on used Softs.
With eight minutes remaining neither Leclerc nor Sainz had set a time yet and started their out laps. Hamilton started his second run on new Soft tyres, Mercedes informing him the track temperatures have dropped.
The final six minutes saw the early runners return with new Soft tyres for a final push to ensure a spot in Q3, as replay showed Hamilton suffer a slide in Turn 4. Verstappen opted to return on the same used set of Softs.
Verstappen did not improve, as it was a scruffy lap, but his banker lap was enough to make the cut into the top ten.
Alex Albon had his lap time deleted for exceeding track limits at Turn 4, but the lap wasn't enough anyway to make it into Q2.
Fine margins in Q2 🤏

Alex Albon had his time deleted for this and didn't have time to go again#F1 #BrazilGP pic.twitter.com/MC9acf1G59

— Formula 1 (@F1) November 3, 2023
Q2 was concluded with no rain, and Norris was the fastest of the top ten, 0.141s faster than Verstappen in second and 0.198s faster than Perez in third.
Nico Hulkenberg lost out and was 11th fastest, failing to make the cut by 0.172 to Stroll, and was 0.015s faster than Esteban Ocon in 12th.
Pierre Gasly was 13th fastest in the other Alpine, 0.005s behind his teammate and 0.156s faster than Kevin Magnussen who was 14th and complaining a Ferrari impeded him.
Albon who had his lap deleted was 15th fastest.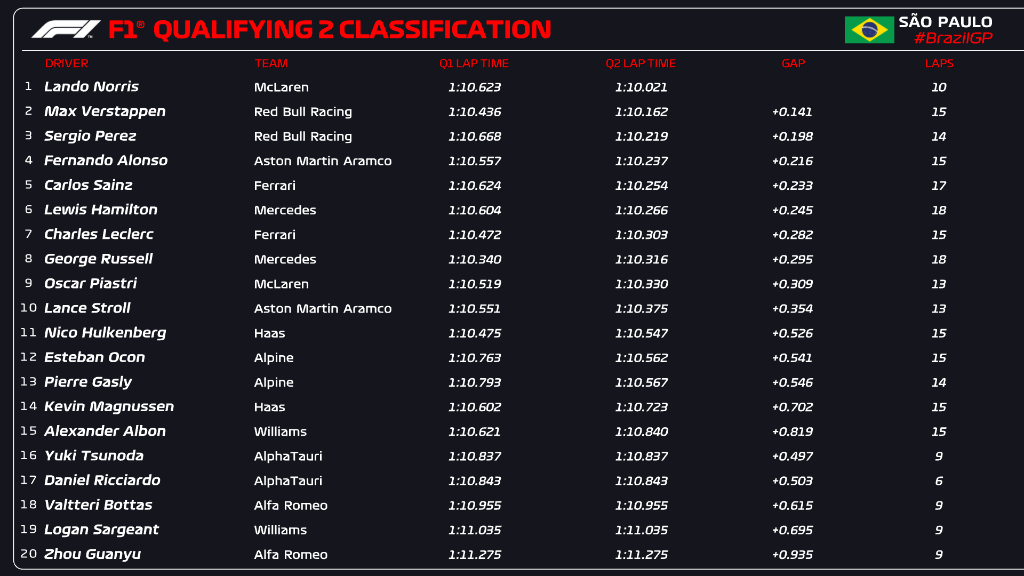 Q1: No qualifying glory for Ricciardo
The start of qualifying was delayed by 15 minutes as the track was being cleaned to remove debris caused by crashes in the support series, that caused punctures for drivers in FP1, namely Hamilton and Alonso.
The session started in overcast conditions, rain possibility at 60%, but temperatures were 30 degrees Celsius for the air while the track was at 41 degrees Celsius.
Piastri could not wait to start his qualifying on yet another new track to him, and lined up first at the exit of the pitlane, as other drivers soon followed all with Soft tyres bolted on.
The McLaren rookie was the first to set a time in the session going on top, then dropped by teammate Norris, while Verstappen was over three tenths off the pace of Norris on his first attempt. Hamilton soon betters Verstappen.
The Dutchman told his team his car is jumping "like a kangaroo" just as it was in Mexico.
After the first round, the top five were: Norris – Hamilton – Verstappen – Gasly – Russell.
Reply showed Russell impeding Gasly while both were exiting the pitlane, and the stewards announced they were looking into it.
Gasly is not happy about having to take to the grass here 👀

Russell's in his way… stewards are investigating 🔍#F1 #BrazilGP pic.twitter.com/LmZJvM8JBT

— Formula 1 (@F1) November 3, 2023
Leclerc soon was out on track for another lap with ten minutes remaining, as the Ferrari pit wall informed him he had time for one flying lap before the rain came in. Sainz followed in the other Red car.
Leclerc goes fastest and Sainz goes fourth fastest, as other drivers start their second runs, as Hamilton was informed he was not safe and needed to take another set of new Soft tyres.
With the track evolving and no rain in the final three minutes, several drivers returned yet again for another run to make the cut.
In the end, and while a few drops of rain were reported by Stroll, the session ended in dry conditions and Russell led the pack into Q2, 0.096s faster than Verstappen in second and 0.132s faster than Leclerc in third.
Yuki Tsunoda was the first to miss out on Q2, 16th fastest, and blamed Hamilton for slowing him down in the pits, he lost out to Gasly by 0.044s.
Daniel Ricciardo received a reality check and was 17th fastest in the other AlphaTauri and 0.006s off the pace of his teammate.
Valtteri Bottas was 18th fastest in the Alfa Romeo, 0.080s ahead of Logan Sargeant in the Williams and 19th fastest, while Zhou Guanyu was 20th.