Max Verstappen won the 44th edition of the United States Grand Prix on Sunday, the recently crowned triple Formula 1 World Champion claiming a bunch of milestones on the day.
The race was marred afterwards when Lewis Hamilton in P2 and Charles Leclerc in P3 were disqualified. The F1 governing FIA had reported both drivers to stewards after their cars failed post-race checks on the under-floor wooden planks at Austin's Circuit of the Americas (COTA). Full report here>>>
BREAKING: Lewis Hamilton and Charles Leclerc have been disqualified from the 2023 United States Grand Prix for a technical infringement#F1 #USGP pic.twitter.com/HHNlf5urLW

— Formula 1 (@F1) October 23, 2023

After his curtain-raiser victory in the Sprint Race on Saturday, Verstappen did it again in the Main Event at Circuit of the Americas, winning the Grand Prix for a third time in a row, his 60th F1 victory and tying his own (2022) record of 15 wins in a single season.
The Red Bull driver and the incredible RB19 only he can drive as he does, tearing up the record books but was made to work extra hard for the milestones today in Austin.
This was not the normal walk in the park for Verstappen. Brake issues kept him on edge for the second half of the race as he first caught early leader Lando Norris, and then had to deal with a very fired-up Lewis Hamilton late on. And got angry with his engineer for talking while he was braking.
Petulant under pressure, remains a Max trait. But at the end of the day P6 on the grid became P1 a couple of hours later for Verstappen and that marvellous Red Bull RB19.
He said afterwards: "The whole race, I was struggling a lot with the brakes. Around here there are quite a few braking points.  I couldn't really have the same feeling as yesterday so that definitely made my race a bit tougher out here today.
"It was very close at the end and also with the backmarkers, the tyres are already going so it makes it more difficult. It's incredible to win my 50th Grand Prix here. Very proud of course and we will keep on trying to push for more," added the F1 Champion, oddly to boos from sectors of the crowd at the COTA podium.
Hamilton: We have to congratulate these guys
In second place, Hamilton drove a potent race, and with a slightly better Mercedes, he will win again. And he will be content that this was the closest the Black Arrows have been to RBR this season. Although Verstappen was nursing his car…
Sportingly, afterwards, Hamilton said of the winners: "First of all, we have to congratulate these guys (Red Bull). The team has done an incredible job all year long, just dominated and Max has been flawless."
As for his dogged chase, the seven-time F1 World Champion summed up: "We were catching towards the end and I was hopeful we needed some more laps. The team did an amazing job this weekend, so much work to bring this upgrade here.
"Honestly it was really difficult after the last race, firstly with everything that is going on in the world and the big mistake I made. I really felt like I let the team down so much.
"I had to go through a real deep process of getting back here. It's one of those experiences of not how you fall but how you get up. Came in fighting, felt great and really happy with this result," declared Hamilton.
Norris: I didn't have enough tyres left at the end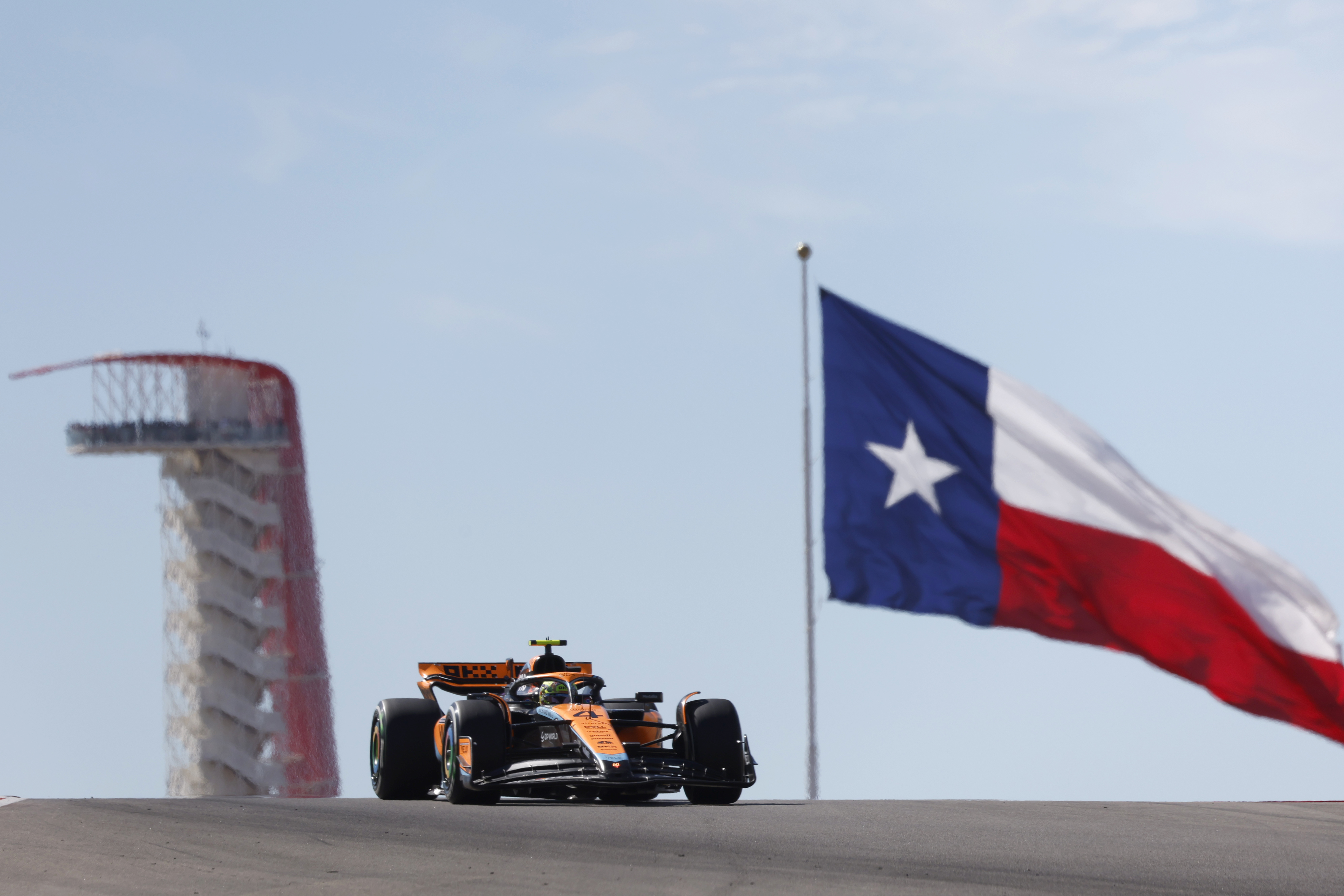 Denied a victory again, Norris had to settle for third place despite leading early on in the race. Delivering another impeccable performance, with a McLaren that is the best it has been in the new aero era, but still lacks race pace to match the winners.
Voted 'Driver of the Day' by fans, Norris said in Parc Ferme: "Leading the race I controlled it a lot, just not enough today. But I'm happy. It was a good race from my side.
"We knew our struggles, we knew what was going to be difficult today and it was just degradation. The pace over the first laps of every stint and the pace, in the beginning, was strong, I just couldn't hold on long enough. We are getting there, progress every weekend. Some more steps needed."
Norris picked his fights on the day but simply had nothing to defend with against Hamilton and Verstappen when they attacked: "I just couldn't do it. I didn't have enough tyres left at the end. You saw how quickly he pulled away at the end. I also had to look after my own race.
"Maybe if it was a cooler track it would have suited us a little bit more, but it wasn't. I'm still happy. The team have done an excellent job. To finish on the podium here was better than we expected coming into the weekend," insisted Norris.
Ferrari were pretty anonymous all weekend relative to the front-runners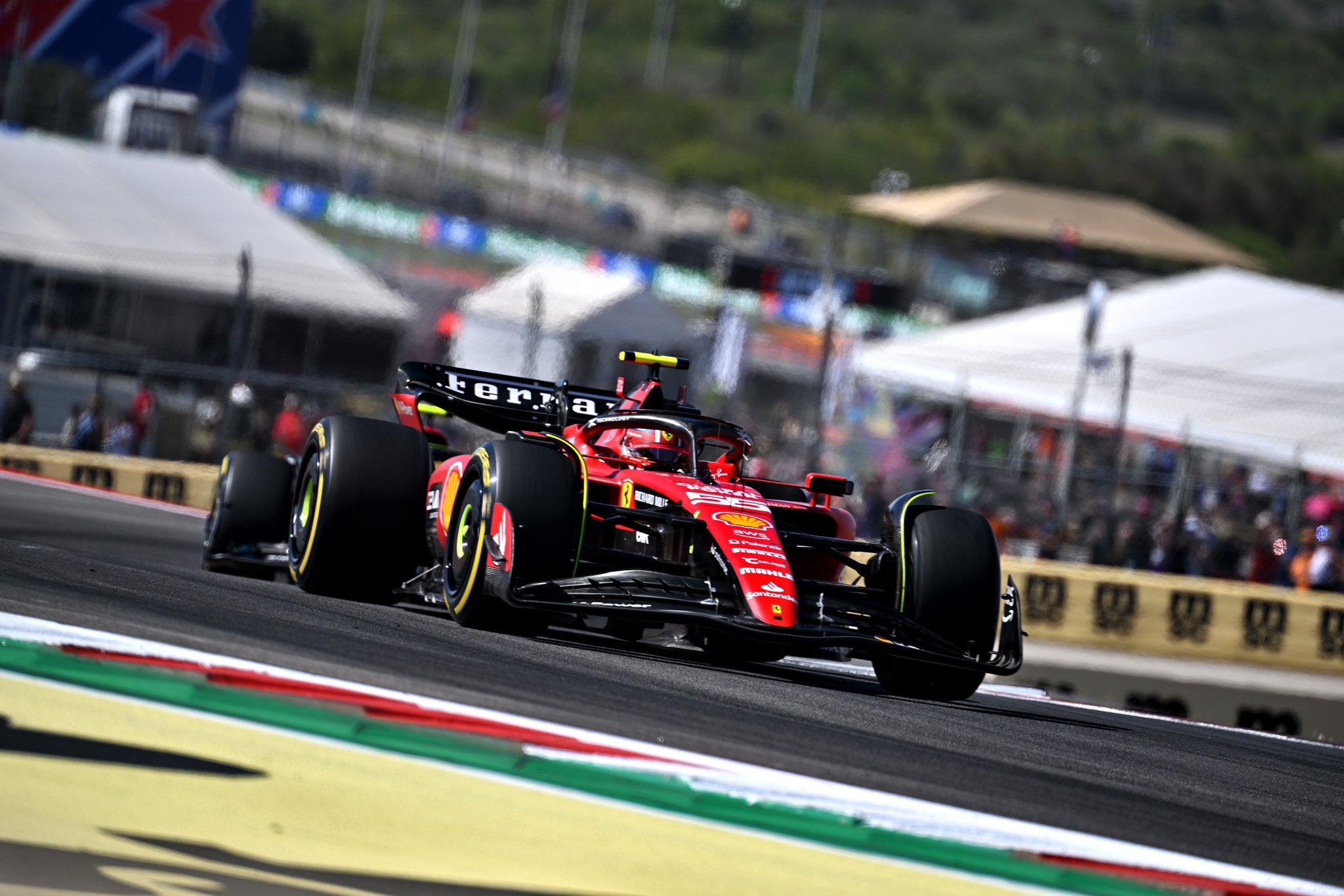 Carlos Sainz salvaged fourth place after Charles Leclerc was told to move over as Sergio Perez attacked them both. In the end, it was P4 and P6 for the Reds, with the#11 Red Bull splitting the pair, the Mexican turning P9 on the grid into P5 on a good afternoon of recovery for him.
In the other Mercedes, George Russell couldn't match his teammate all weekend. He toiled hard for seventh place. Finishing ahead of Pierre Gasly in eighth for Alpine. Teammate Esteban Ocon suffered a DNF as a result of contact on the opening lap.
Lance Stroll recovered well on a well below-par weekend for Aston Martin to take ninth place, while Fernando Alonso retired his car when in the top ten. The Greens have fallen from grace quite dramatically.
The final point for P10 went to Yuki Tsunoda in the AlphaTauri, who doubled that when he bagged the fastest lap point late in the race. Teammate Daniel Ricciardo – returning from injury – ran in the top ten at one point, but at the end was down in 17th, last of the cars still running.
Joining Alonso and Ocon for an early shower was Oscar Piastri, the McLaren driver making a great start from tenth on the grid, up to six early on before he was forced to retire his car.
Just out of the points but worth a mention were the Williams pair Alex Albon and homeboy Logan Sargeant just out of the points, P11 and P12 respectively.
Note: All drivers behind Hamilton and Leclerc on the results sheet were promoted two places. Hence Norris inherits P2, Sainz goes up to third, while Alex Albon and Logan Sargeant scored points for Williams, the latter his first as an F1 driver. Read More here>>>
United States Grand Prix Result
How the United States Grand Prix unfolded:
Grid Top 10: LEC-NOR-HAM-SAI-RUS-VER-GAS-OCO-PER-PIA.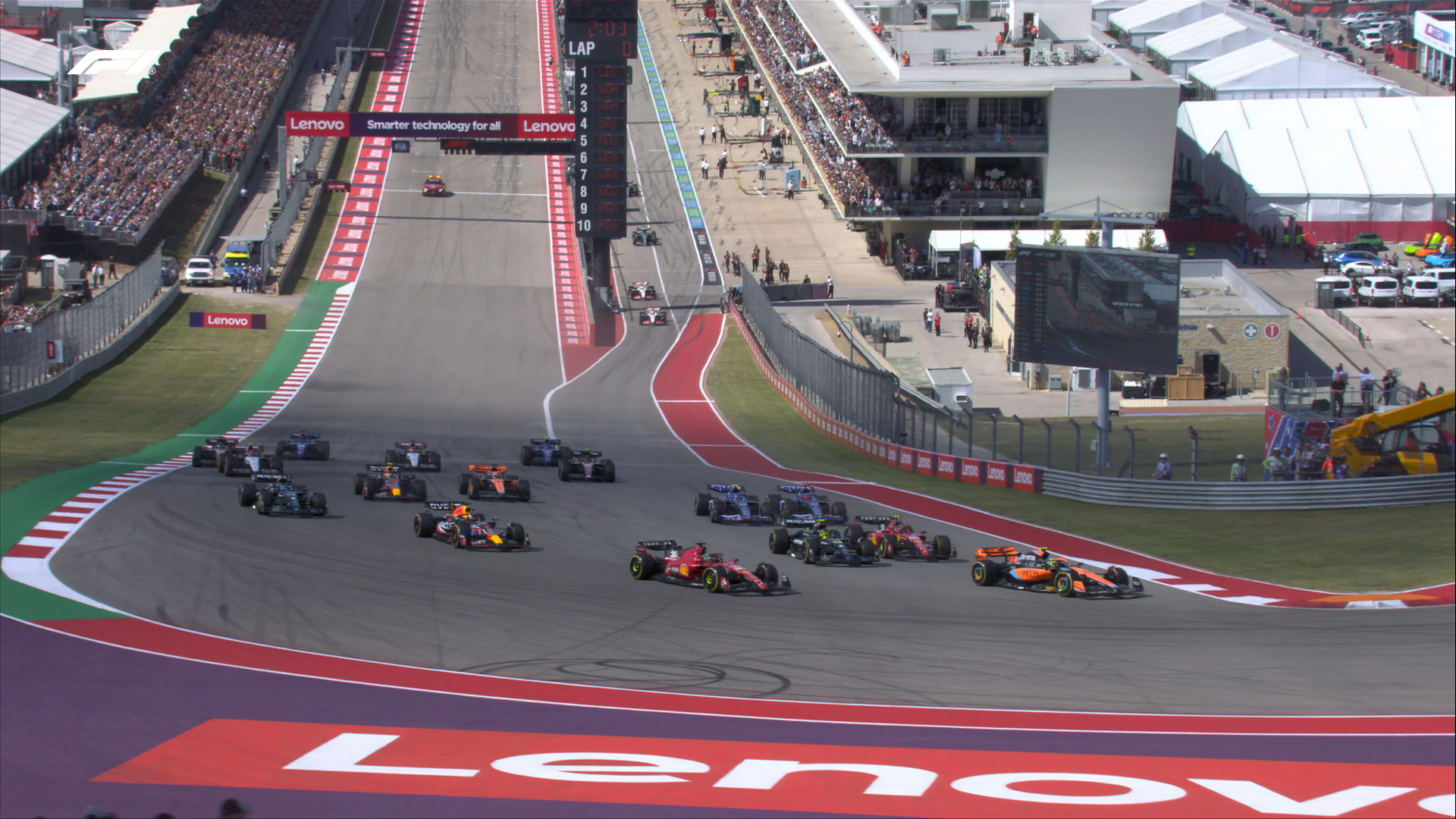 Norris made a bullet start. A car length ahead of Leclerc, with Sainz third, Hamilton in fourth harassing the Ferrari, followed by Verstappen with Piastri up four places in sixth.
At the front, Norris had a two-second lead after two laps and setting the fastest lap in the process.
Big battle for seventh between Russell, Ocon and Perez. Hamilton takes third place from Sainz on Lap 4. A lap later Verstappen was past too, into fourth.
Half a dozen laps into the race, Hamilton was large in Leclerc's mirrors and through to scond place, 3.2 seconds shy of Norris in the lead.
Ocon called in for a DNF on lap 7, a big bang on the opening lap broke his Alpine.
Verstappen within DRS Of Leclerc on lap 8, as Norris ticked off fastest laps ahead, the lead pegged at just over three seconds.
Lap 10 Order: NOR-HAM-LEC-VER-SAI-PIA-RUS-PER-GAS-TSU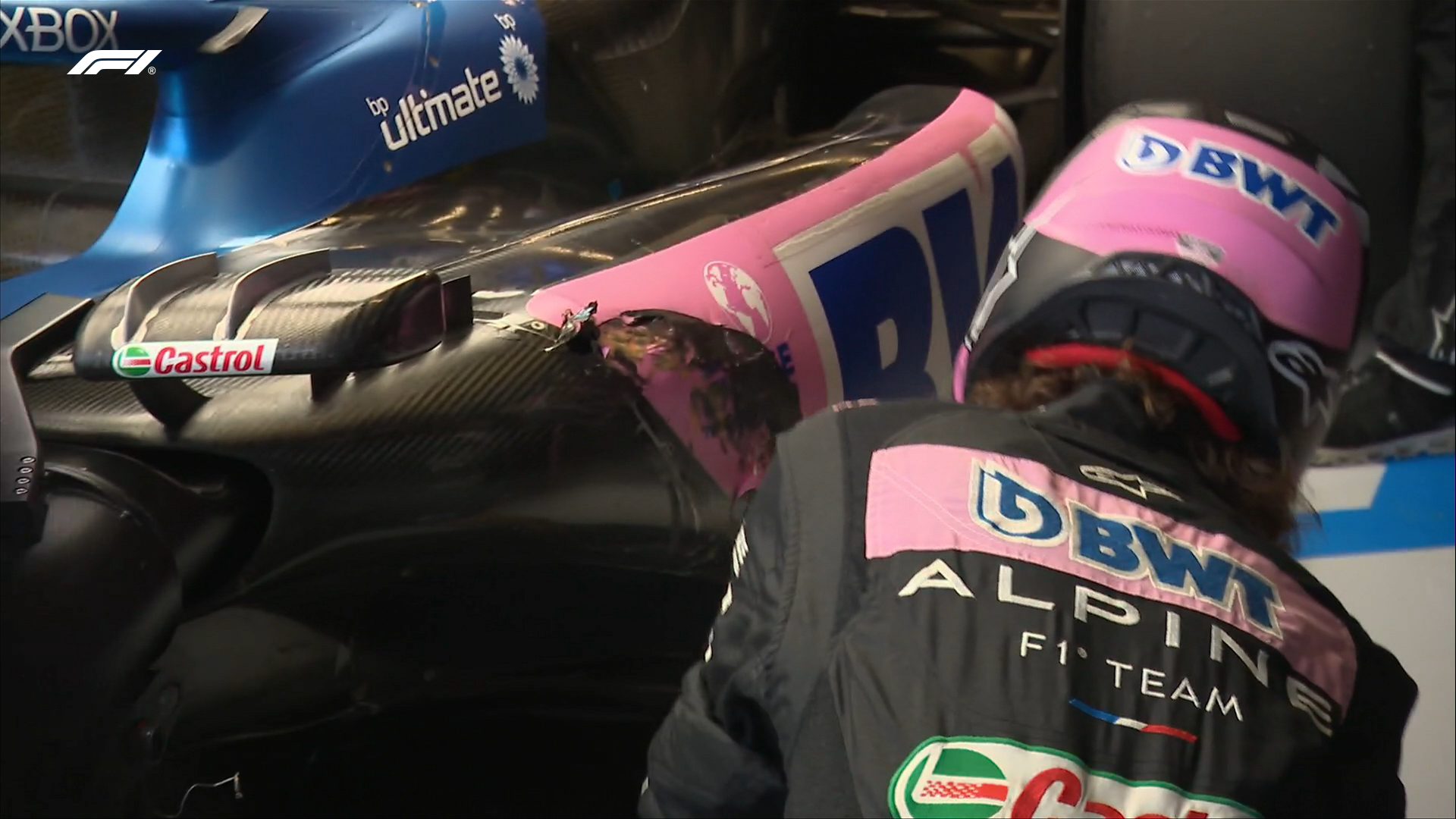 Norris leads Hamilton by three seocnds, Leclerc third with Verstappen in fourth, six seconds adrift of the leader. Lap 11 Piastri told to retire his McLaren.
First stops begin among the backmarkers.
Verstappen attacks Leclerc, who gave a good fight but had no chance as the #1 Red Bull tucked into third place. Hamilton flying, goes purple on lap 13. The gap to Norris down to two seconds, and dropping a couple of tenths per lap.
On lap 17 Verstappen was four seconds adrift of the leader and dives into the pits. The first of the frontrunners to pull the trigger for another set of fresh Mediums. A two stopper on the cards.
Norris pitted next for Hards, Sainz next, Perez next as they poured in. At the front Hamilton led, setting purples, with Leclerc now second six seconds behind, followed by Russell in third.
Speculation Hamilton was on a one stop strategy wafted through the pitlane.
Norris emerged four seconds ahead of Verstappen who started setting fastest laps. Race on!
Lap 20 Order: HAM-LEC-RUS-NOR-VER-SAI-RIC-PER-STR-GAS-TSU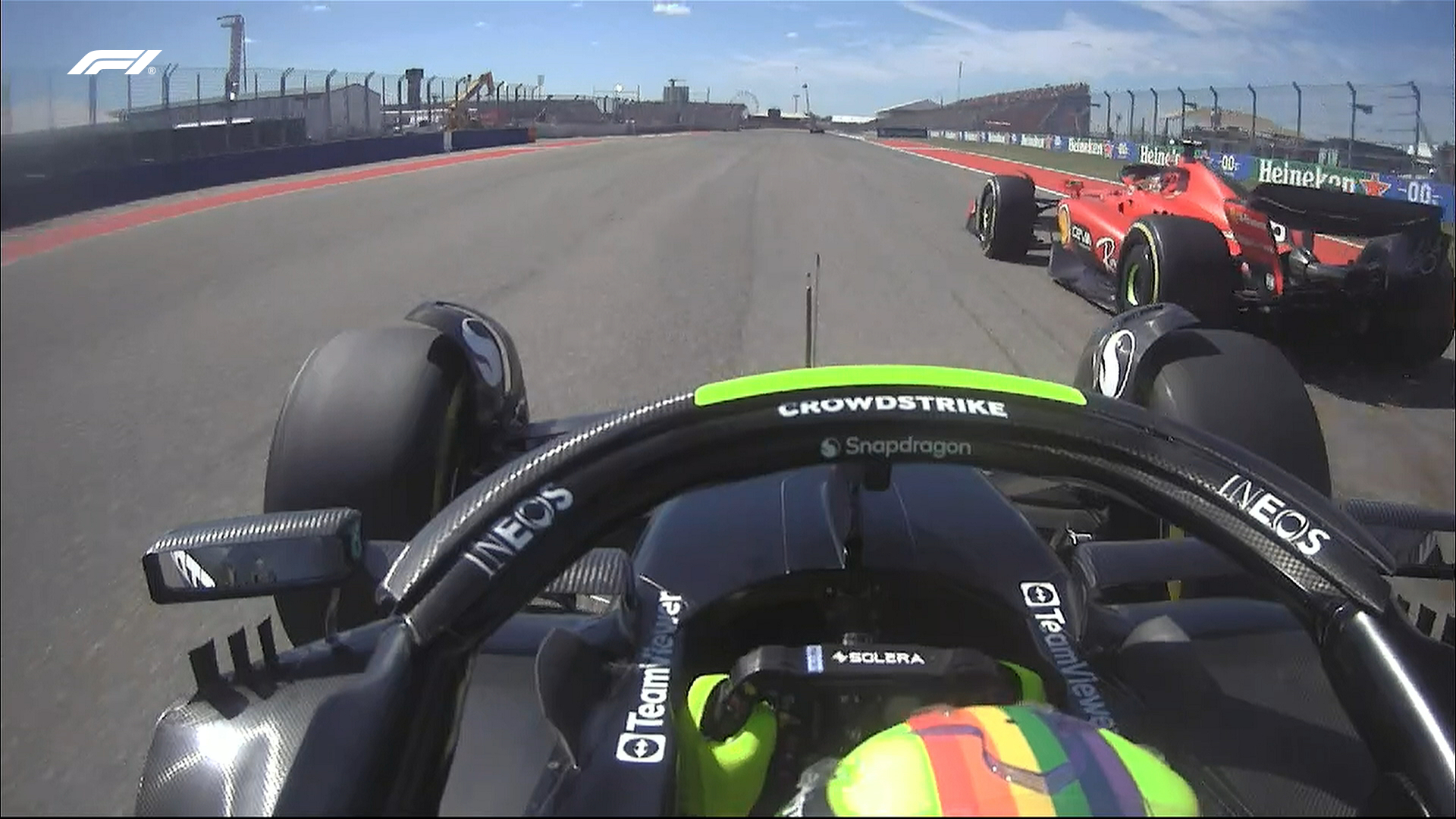 Lap 21 Hamilton pits for Hards and emerges behind Verstappen. The order at this stage was muddled as Leclerc and Russell had yet to pit. Russell boxed on lap 22. Sainz was now setting purple laps.
Gap between Norris and Verstappen is 2.5 seconds. Leclerc pits from the lead for fresh Hards. Norris now led Verstappen by 2.3 seconds, Hamilton in third seven seconds adrift.
On Lap 26 Verstappen within a second of Norris. Game on for the lead between the mates, beyond them a stalemate.
Norris was on Plan-B which appeared to be one stop. Verstappen had to still pit for something other than Mediums. Hamilton was 6.5 seconds behind the battling leaders. Sainz again fastest man on track on lap 28.
Verstappen within DRS lunges to take the lead, with Norris making it easy as a one-stop meant picking his battles. The #1 Red Bull now needed to eke out a 20-second plus lead to cover his extra pitstop.
Lap 30 Order: VER-NOR-HAM-SAI-PER-LEC-RUS-GAS-TSU-ALO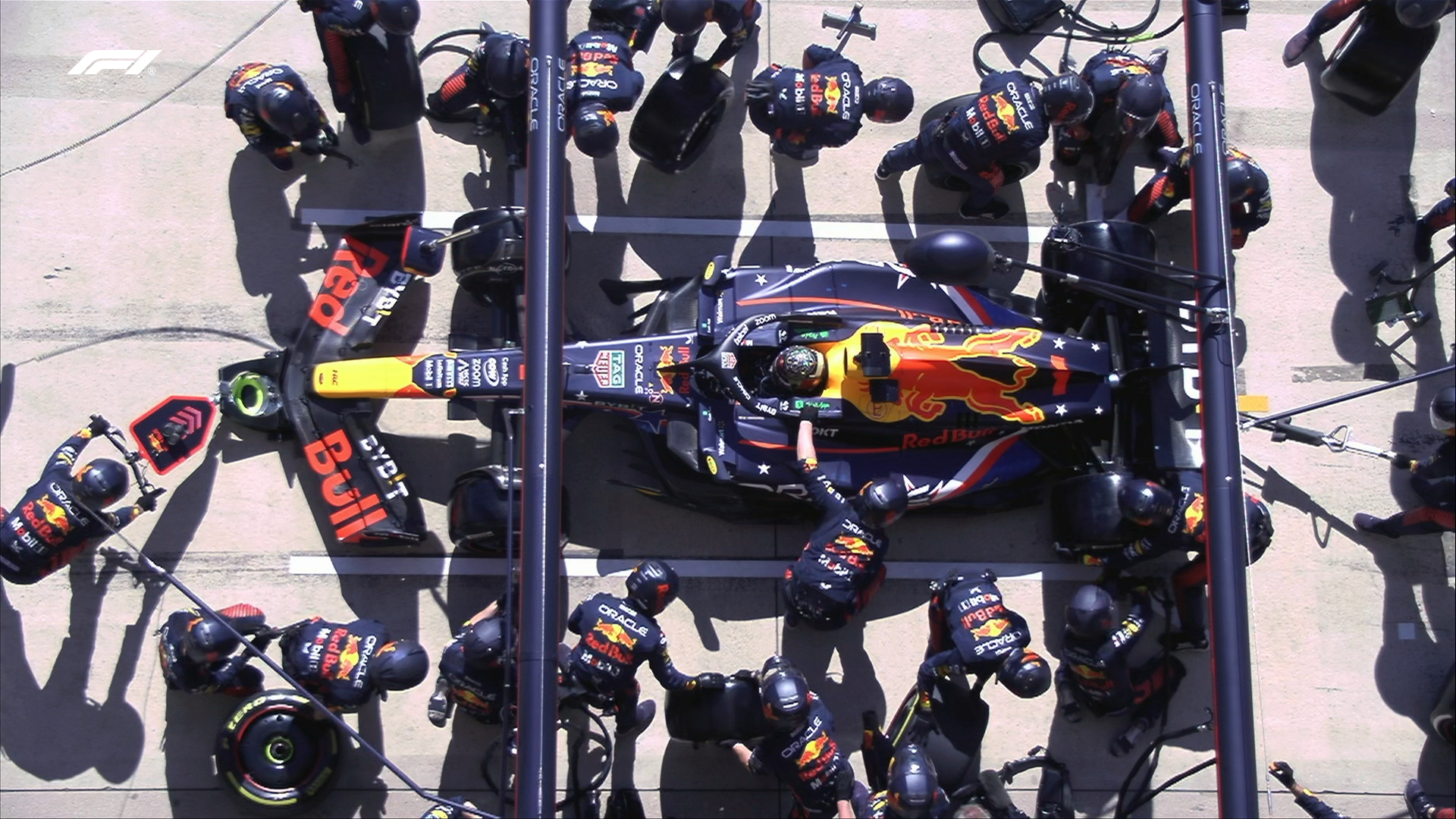 Verstappen led Norris by a second, where the McLaren stayed. Hamilton five seconds behind in third, with Sainz a further five seconds back, and 1.8 seconds up on Perez.
On lap 35 Verstappen was edging ahead slowly.
Norris then stunned all pundits for another set of Hards. This was different. Unexpected. Verstappen now led by six seconds from Hamilton, and Sainz third, a further five seconds behind.
Verstappen boxed on lap 36, emerging P4 1.4 seconds ahead of Norris P5. Hamilton now led from Perez, Leclerc in third. The gap from Hamilton to Verstappen was 15 seconds at this stage.
Hamilton pitted on lap 39, the one-stopper was not going to work. Verstappen took the lead from Leclerc, at the same time. Norris got by the Ferrari next. The gap between P1 and P2 was a tad over a second.
Lap 40 Order: VER-NOR-LEC-HAM-SAI-PER-ALO-STR-RUS-GAS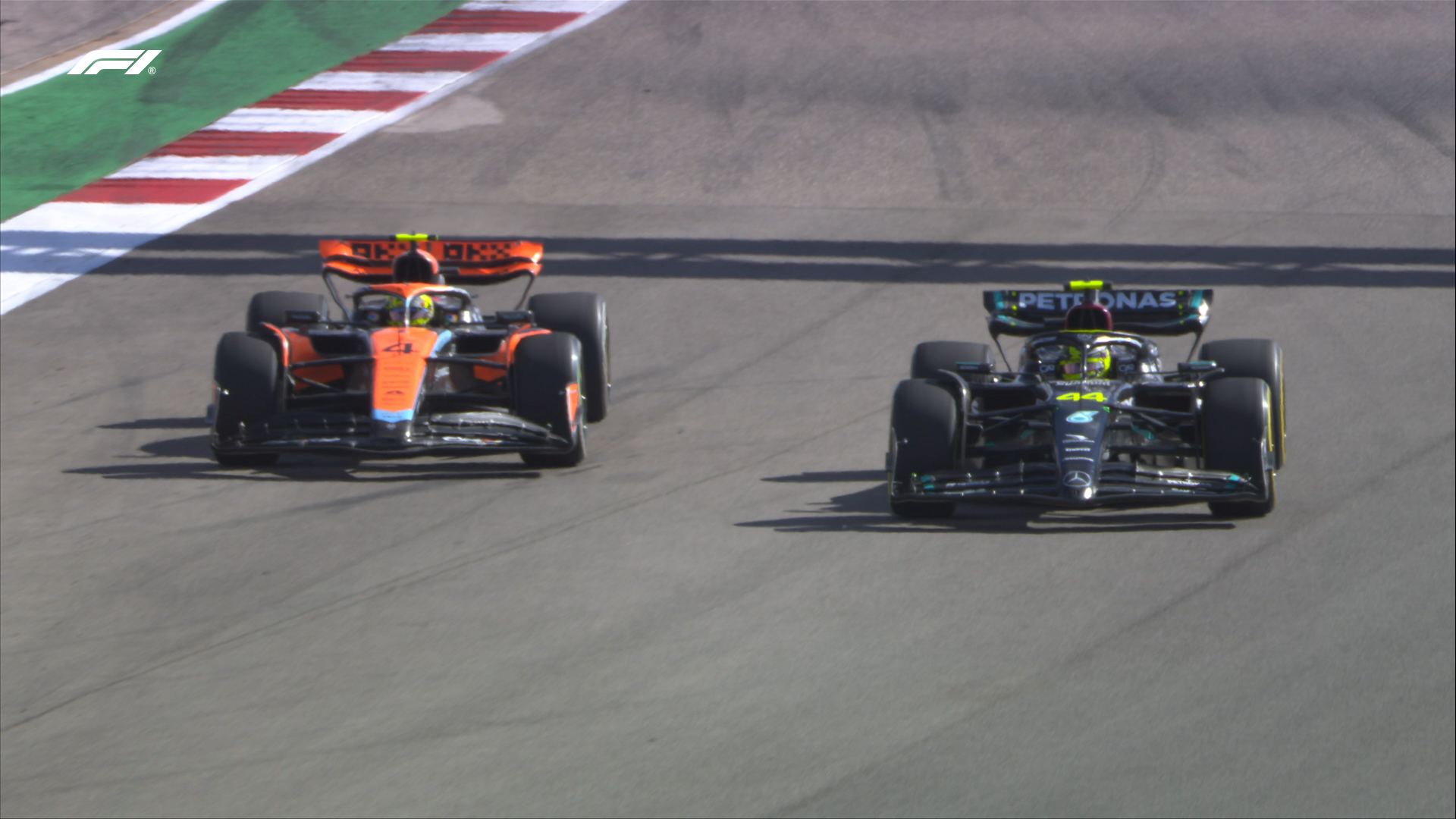 Both on Hards for the final stint, Verstappen had Norris 1.5 seconds behind, Leclerc a further 1.5 seconds behind and Mediums-shod Hamilton 7.3 seconds behind the leader.
Stalemate on lap 42 with none in the top ten within DRS range. Perez in P6, was fastest man on track at this stage.
The leader was unhappy with his brakes and let it be known over the radio.
Hamilton was up to third on lap 35 as he cruised by Leclerc who had yet to make a second stop, the only one not to do in the top dozen.
Hamilton went fastest (fittingly) on lap 44, the gap to Norris in P2 3.5 seconds.
Verstappen sets the fastest lap on lap 45 in response to Hamilton, and the Mercedes driver lobs one back a lap later. The gap between the pair now 5.3 seconds.
Norris now had Hamilton fast growing in his mirrors, 1.5 the gap. On lap 48 they were wheel to wheel, with the Mercedes into second as they exited Turn 1.
Lap 50 Order: VER-HAM-NOR-LEC-SAI-PER-RUS-GAS-STR-ALO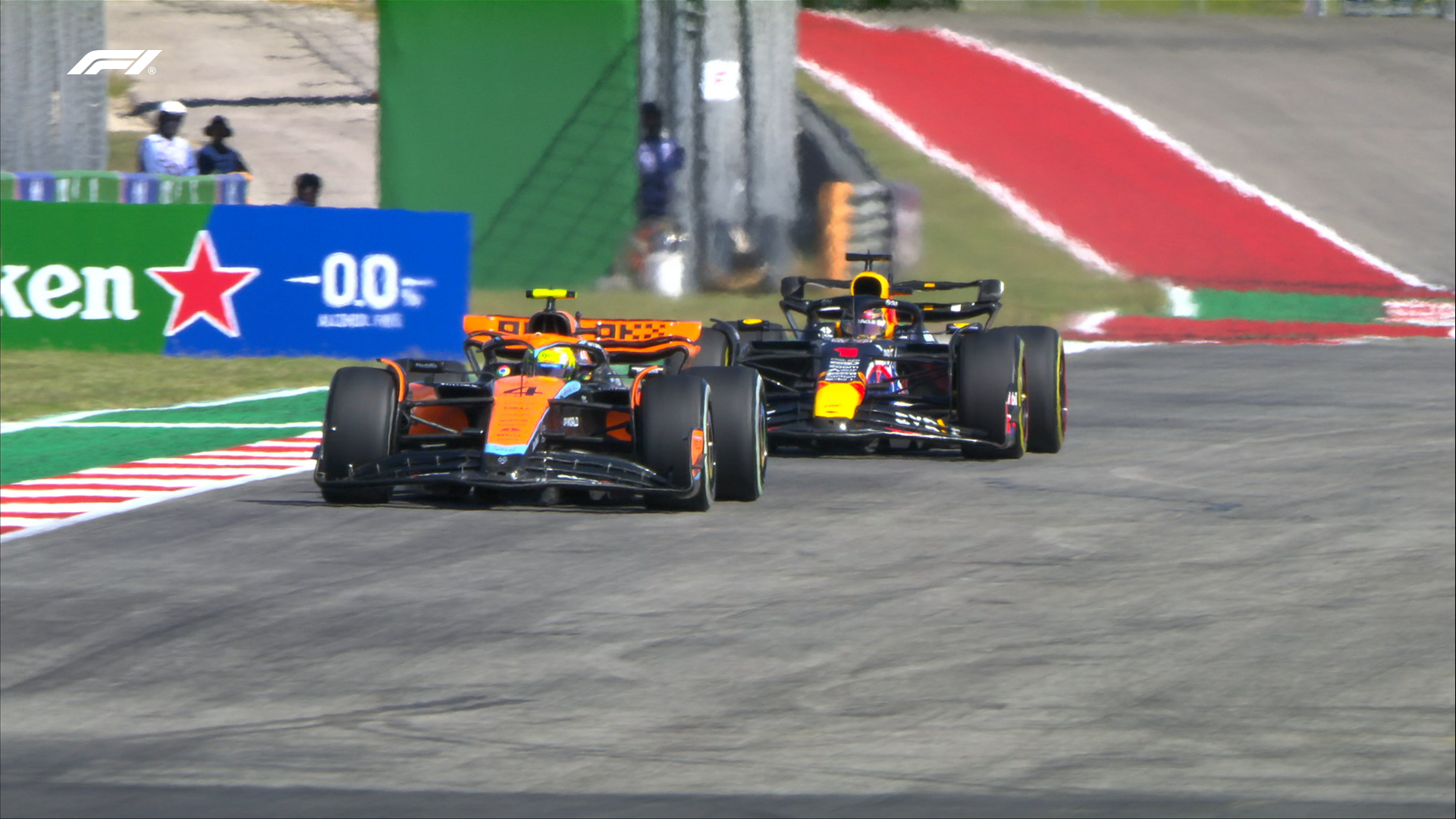 Hamilton versus Verstappen was on! The gap five seconds with six laps to go. Alonso retires. Sainz gets past Leclerc, to take fourth. Perez closing on the Ferrari duo.
But it seemed the battle for the win was over, with Verstappen pegging his lead at four seconds. Beyond that, it was another stalemate.
Perez on fresh rubber, was flying at his stage, taking fifth from Leclerc, the RBR then started chasing Sainz but, in the end, to no avail.
---
United States Grand Prix Preview
If Saturday's dominance of the United States Grand Prix Sprint Race is anything to go by, Max Verstappen will be hard to stop from winning the main event today at Circuit of the Americas (COTA).
Almost ten seconds clear of Mercedes driver Lewis Hamilton in P2 at the end of the 19-lap race, even from sixth on the grid he expects and is expected to win. He makes no secret of that, and even looks forward to having fun today in the race.
After winning the Sprint in convincing fashion, Verstappen looked ahead to Sunday's Grand Prix: "Starting P6 is going to be a bit different than today. It makes it interesting and hopefully, we can have a bit of fun. Of course, we want to win."
As expected from the serial-winning Champ! But here are ten ways Verstappen can be stopped from winning the 2023 United States Grand Prix, at Circuit of the Americas:
Max slips and falls out of the RBR motorhome and breaks something;
Putting on his helmet, Max accidentally strangles himself; <<< Highly Unikely
Red Bull forget the car keys (like Ferrari did with Carlos Sainz in Qatar);
The bullet-proof #1 RB19 won't start on the grid;
Lights out and Max stalls, the car won't restart;
Into Turn 1, George Russell or Lewis Hamilton or Yuki Tsunoda or any of the other crash-happy lads tags the #1 Blue car and beaches it; <<< Most Likely
While leading by 20 seconds after 20 laps, Verstappen falls asleep at the wheel and spins out ;
A Red Bull mechanic forgets a wheel during a pitstop (like Ferrari did with Carlos Sainz last year at the Dutch GP;
The Red Bull runs out of fuel on the last lap, and Verstappen is forced to hitch a lift back to the pits with winner Lewis (shades of Mansell-Senna at the 1991 British GP)
Rain floods Austin. Race cancelled.
Barring the above, aka force majeure, Verstappen will likely disappear into the distance and claim his third win in a row at the Austin venue. It would also be the 26-year-old Dutchman's 50th F1 victory and the 15th of the 2023 F1 season, which ties his own record of 15 wins last year.
Sadly as there are still five rounds to go in the 2023 F1 World Championship, Best of the Rest behind Max is where the action should be plentiful.
In other words, who will be Best of the Rest behind Max?
Charles Leclerc starting from the pole would love to return to the top step of the podium today, but the race pace in the Sprint Race was hardly stellar, and it was clear that Mercedes had the better race car, hence Lewis Hamilton's second-place yesterday.
And there lies the real outsider: Hamilton. A six-time United States GP winner, five times at COTA and really only bettered by Verstappen in the Sprint Race 24-hours ago. If Mercedes gets their strategy right and the stars align for the seven-time F1 World Champion, maybe win 104 is on the cards today.
But he will have to overcome a very fast McLaren and a fired-up Lando Norris, who tipped himself for the win today let alone P2. On the occasion of his 100th Grand Prix, a win is long overdue and would be deserving, if he could first prevent Max from blasting by.
Other United States Grand Prix sideshows to keep an eye on:
Lewis versus Checo for the no one cares second place in the 2023 F1 drivers' standings;
Can the Mercedes lads avoid one another on track?
Aston Martin, where are thou? Has anyone seen Fernando and Lance?
Has anyone seen Carlos for that matter?
Daniel versus Yuki?
Pierre versus Esteban?
Will Logan make it to the end of his home race?
Track limits could ruin many-a-Sunday;
Finally, Lap 1, and Turn 1 could be mayhem with bent metal.
United States Grand Prix F1 Facts & Stats by Reuters
Circuit of the Americas, Austin, Texas
Round 18 of the 22-race season.
Lap distance: 5.513km. Total distance: 308.405 km (56 laps)
2022 race winner: Max Verstappen (Netherlands) Red Bull
2021 pole position: Carlos Sainz (Spain) Ferrari one minute 34.356 seconds.
Race lap record: Charles Leclerc (Monaco) Ferrari, 1:36.169 (2019)
Start time: 1900 GMT/1400 local
Austin's Circuit of the Americas is hosting the United States Grand Prix for the 11th time, after being absent in 2020 due to the pandemic.
Lewis Hamilton, Valtteri Bottas and Verstappen are the only current drivers to have won there. Hamilton is the most successful driver in United States GP history with six victories (five in Austin).
All the races in Austin have been won from the front row of the grid, with Hamilton starting three times on pole position.
Williams' rookie Logan Sargeant is the only USA race driver.
The 20-turn circuit runs counter-clockwise and is naturally undulating, as well as one of the bumpier tracks due to subsidence. It is quite high downforce and weather can be unpredictable.
Victories, Poles, Podiums & Fastest Laps
Verstappen has won 14 of 17 races, his record run of 10 wins in a row ending in Singapore last month.
The Dutch driver has 49 wins from 180 starts and is fifth on the all-time list. Alain Prost, with 51, is fourth.
Red Bull have won 16 of 17 races, with Sainz winning in Singapore. Red Bull have also had a team record six one-two finishes in 2023.
Hamilton has a record 103 victories from 327 starts but has not won since Saudi Arabia in December 2021. Aston Martin's Alonso has 32 wins, most recently in Spain in 2013 with Ferrari, from a record 372 starts.
Hamilton has a record 104 poles.
Red Bull have been on pole 12 times this season. Ferrari's Charles Leclerc took the top slot in Azerbaijan and Belgium, Hamilton in Hungary and Sainz in Italy and Singapore.
Verstappen has 10 poles for 2023.
Six teams and 11 drivers have made a podium appearance this season: Red Bull, Alpine, Aston Martin, McLaren, Mercedes and Ferrari.
Verstappen has been off the podium only once since Brazil last November.
Verstappen holds the record for most podiums in a season — 18 in 2021 — and has had 16 so far in 2023. Michael Schumacher is the only driver to have finished on the podium in every race of a season, in 2002 (17 races).
Seven different drivers have taken fastest laps this season – Alonso, Alfa Romeo's Guanyu Zhou, Verstappen (8), Perez (2), Hamilton (3), Mercedes's George Russell and McLaren's Oscar Piastri.
Milestone
Verstappen can take his 50th career win this weekend.
McLaren's Lando Norris is making his 100th start.
Sunday's race is the 200th of the turbo hybrid era that started in 2014.
Championship
Red Bull and Verstappen have won both championships already, Verstappen his third and Red Bull their sixth.
Verstappen leads teammate Sergio Perez by 209 points and is set to end the season with a record margin. (Reporting by Alan Baldwin)