Full transcript from the FIA-hosted top three press conference after the United States Grand Prix Sprint Race on Saturday, at Circuit of the Americas in Austin.
Featuring Sprint Race winner  Max Verstappen (Red Bull Racing), second-placed  Lewis Hamilton (Mercedes) and third-placed Charles Leclerc (Ferrari). Track interviews conducted by David Coulthard.
Q: Max Verstappen, a clean sweep on the Sprint Saturday, pole position, race victory. The only difficulty looked on that run into the first corner and I saw you just talking to Charles Leclerc there, you had to defend hard, but it was clean racing.
Max Verstappen: Yeah, it was quite tight. But luckily, there's a lot of space going into Turn 1, so that definitely helps. But yeah, after that, we could do our own race, control the pace a bit. And then, yeah, I had a bit of fun at the end, pushing a bit more.
Q: We heard you earlier in the race, Lewis was staying within that one-second DRS zone and you were saying about engine control, you were having some difficulties. Was that something you overcame from within the cockpit? Or was that with you all the way through that race?
MV: Yeah, I mean, it was always like eight or nine tenths for a few laps, so that was all controllable into the braking zone. But yeah, the DRS, with such big wings here on this track, they're quite powerful, you know and once I cleared the DRS, then we all settled in our own rhythms and I think the pace of the car was very good today.
Q: No surprise, the race pace is good. You're going to need that race pace tomorrow.
MV: I do need it tomorrow, yeah! Starting P6 is going to be a bit different than today. But it makes it interesting and hopefully we can have a bit of fun out there tomorrow, few overtakes. And of course, we want to win.
Q: Absolutely. A quick word for the crowd – capacity audience here.
MV: The capacity is unbelievable. You know, the crowd here is getting bigger and bigger every single year, you almost don't see the hill anymore over there. No, it's always great to be here.
Q: Lewis Hamilton, a man knows well how good the crowd in America can be. We just heard Max reference it. You've been using that power of the people to bring Mercedes into a really strong qualifying and a strong result today.
Lewis Hamilton: I didn't hear a single word you just said.
Q: I said you were amazing!
LH: It was because the crowd were sounding so great. So, thank you everyone for the amazing support. That was a fun race. Good start down to Turn 1, and a good battle with Charles. And then I was trying early on to get closer to Max. But their pace is just undeniable at the moment. But I'm happy we're a little bit closer. We've still got a long way to go to be able to eke the pace that he was doing throughout the race. But nonetheless, I'm really happy to be back on the podium.
Q: Well, this is Sprint Saturday, that's a good podium result and you can use this for knowledge for tomorrow's Grand Prix. And of course, you're going to have Max behind you.
LH: Yeah, I think that will be helpful for us at the front. I mean, ultimately, I think he will be breathing down our necks before too long, with the pace that he had today. But I think that will open it up for a good fight with Charles and Lando, we're all quite similar in pace. So hopefully we get to have a good battle tomorrow. And if we can all keep Max behind that'd be awesome. But if not, no worries.
Q: Well, there's your challenge for tomorrow, but congratulations today.
LH: Thank you. Thanks, guys.
Q: And Charles Leclerc. Well, you went all in to the first corner. I thought that Max was going to end up in Houston, he was defending so tight. And that cost you the second place on the run out of the first corner. But you had to go for it?
Charles Leclerc: Oh, yeah. I mean, there was an opportunity, there was a gap and I tried, but obviously then it was tight and I lost the position to Lewis, but they were a bit stronger today in race pace. We expected them to be stronger and they were, so we need to work to try and understand what we can do better to be a step ahead tomorrow.
Q: Well, you're in a team that's got the only real experience of comparing the Medium and the Soft because your team-mate went off on the Soft. It didn't work for him. What can we expect for tomorrow's Grand Prix? You bank the result today, but of course this is preview to the main event.
CL: Yeah, I mean, at the end we have quite a lot of data to analyse having the two cars on two different strategies. I think this will be a bit of a help for us because we know how the Softs are behaving for tomorrow, so I hope we can take advantage of that and yeah, hopefully we can win tomorrow.
PRESS CONFERENCE
Q: Very well done, Max. It looked pretty comfortable for you in the end. Just talk us through the race from your point of view?
MV: Yeah, the start was of course, important. It was not too bad, I think from pole here. Of course, it got quite close into Turn 1, but luckily Turn 1 is quite wide, so you can enter with a few cars if needed. And from there onwards, I think the first few laps, Lewis was pushing to stay in the DRS and trying to have a go. And once I basically cleared the DRS I just focused on my own pace and tried to look after the tyres. And I couldn't maintain basically that pace and I think that was quite important today.
Q: Can we talk a little bit more about the run to Turn 1 because that looked like the closest you got to being overtaken this afternoon, pinching Charles?
MV: Yeah, I mean, I guess Charles had a little bit of a better start, so I tried to make it as difficult as possible for him to get into Turn 1 and luckily, that worked out.
Q: Now your advantage seemed to grow as the Sprint progressed. Does that give you a lot of confidence for tomorrow's race, where you'll be starting P6?
MV: Yeah, I mean, of course, it's not ideal to start P6. But the pace of the car seems quite strong, and hopefully on higher fuel loads tomorrow, we can do something similar. But you know, it's one thing to be faster, but we have also to try and get by a few cars this time. So with the deg around here that's not going to be straightforward, trying to follow also through the high speed, but yeah, we have a race on our hands, I think.
Q: Max, there was a bit of radio traffic between you and your engineer. Were there any dramas this afternoon at all for you?
MV: No, he's, just like normal, keeping me up to date, telling me a few things to look at. Yeah, like normal.
Q: Lewis, coming to you now, your first Sprint podium of the season. You looked pretty racy out there, Lewis, especially in the early laps. Just talk us through the pace of the car, first of all.
LH: Yeah, it started… I didn't get that great a start but obviously quite aggressive Turn One and had a good battle with Charles. But then, after that, yeah, the car was feeling pretty good so I was just attacking from the get-go, trying to get as close as I could while the car felt like that. I just couldn't bridge the gap enough to Max. And then once I was out of his DRS, then he just started eking away and cruising. So, it was a really… not that I haven't seen it already this year, we haven't seen it, obviously, but it was a good position to be able to watch what the the Red Bull's car what Max's car was doing, how it was behaving. So, I got to watch for a while and see where they are particularly strong, which we can obviously see that on GPS or something like that, but still, least to know where we are, if there's any where we're stronger, and where we're weaker, so I can download that to my team. And at the end, I think everyone's tyres was struggling towards the end of that stint.
Q: Download it to us, Lewis, come on, what did you learn following Max?
MV: Needs a USB drive on my car!
LH: That's what we need, is a USB! I was trying to get close enough. Next time I'll get one of those GoPro sticks! But… that we have a lot of work to do. Everyone behind these guys have a lot of work to do. And it's no small feat for us to truly catch them for next year. They will be progressing at a steep rate as they've got an amazing development team. And to make it even steeper for us to be able to close that gap. But I'm going to put 100% faith in my team that we can do it
Q: Lewis, just a few more words if we could on the battle with Charles on that opening lap. You must have enjoyed seeing him being squeezed on the left-hand side.
LH: Honestly, I couldn't see him, going into the corner. I had one of the McLarens alongside me. So that's all, I was just trying not to have a repeat of last race. And then all of a sudden, I seem to come out of the corner and then I saw Charles there – and I was just hoping I was able to pull-up alongside him, and race him, and we were racing all the way down to Turn Three. He was like in my blind spot, so I was a little bit worried at that point. And then, once I was past him, I was just trying to get onto… it was really good, just to be up at the front with these guys. They're incredibly talented, and both still have such bright futures ahead of them, so to be out there racing against strong drivers like this is what every driver dreams of.
Q: Charles, can we just start by talking about that battle with Lewis?
CL: It was nice! I mean, I had a good start so then I saw a little gap on the left. Very little. I tried to go for it and then it was very tight into Turn One. I unfortunately lost momentum by fighting Max and Lewis will get alongside me. Then I still tried around the outside of Turn Two, which was quite tricky with cold tyres, and then getting to Turn Three, there was no way for me to keep going without colliding with Lewis. So, I just left off. And then it was very difficult from that moment onwards, because we lost quite a bit straightaway in the first lap, then we didn't have the DRS and then I was just doing my own race. And the Mercedes, I mean, Lewis and Max, were too strong, especially in the first few laps. Then towards the end, we were more on the pace of Lewis, but it was too late.
Q: So, Lewis has told us about things he learnt following Max, what did you learn following Lewis?
CL: He was too far! I couldn't see his car – but I've got the GPS. I always look very carefully at the GPS. You can already see quite a lot of things also through the onboards. So, it's not too much of a disadvantage.
Q: How was the pace of the car as the Sprint progressed? Because Lando Norris was very close at the end.
CL: Yes, we struggled a little bit with the tyre. So, that we really need to work on for tomorrow because this is going to be key for tomorrow's race. And we seem to struggle mostly with the rear tyres towards the end of the race. So, we'll look into that. We've got tonight to work on it and to try and understand what we can do better for tomorrow, even though we cannot change the car. And let's see.
QUESTIONS FROM THE FLOOR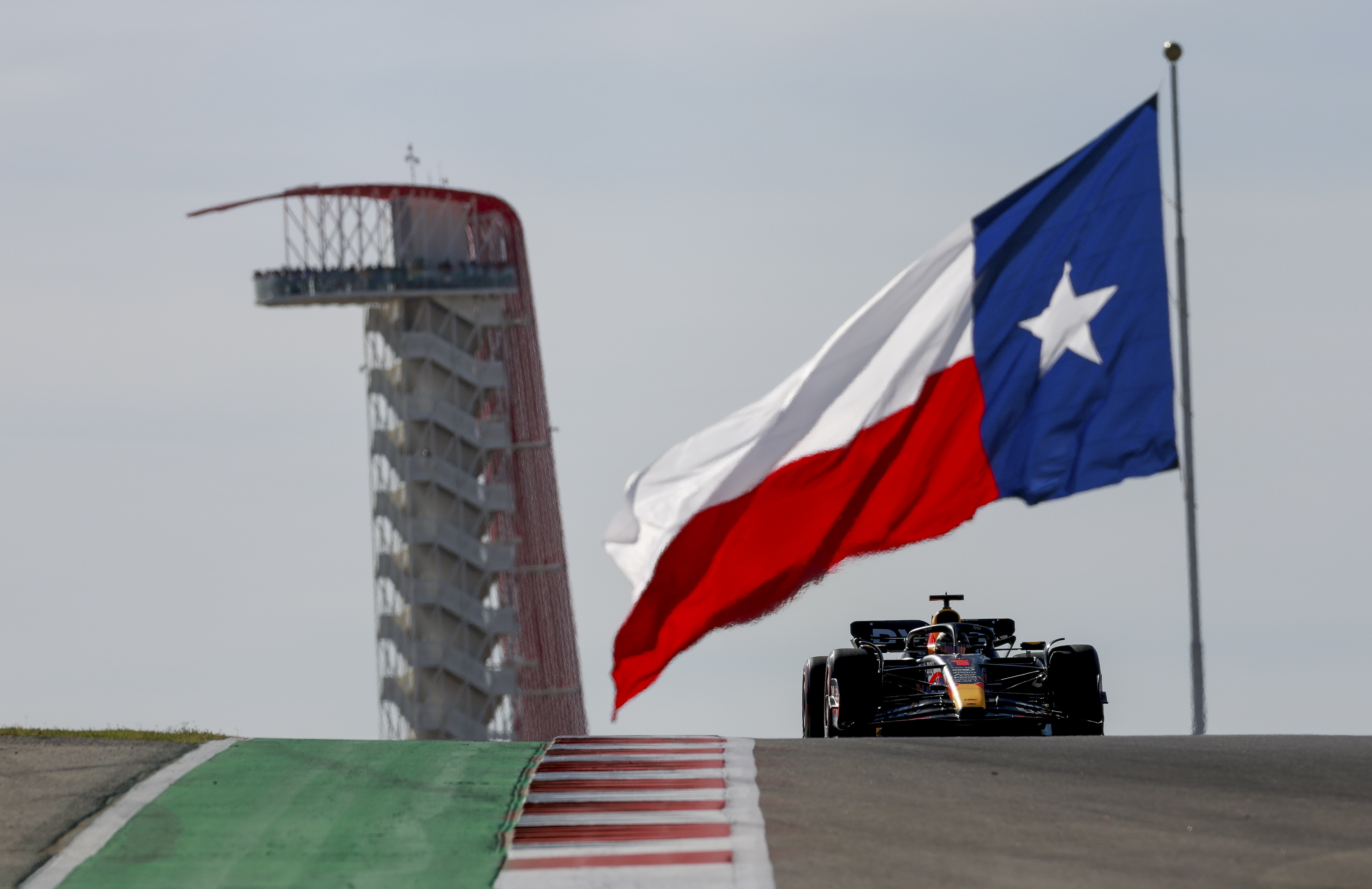 Q: (Alex Kalinauckas – Autosport) Question to Charles, please. Just going back to the start and the battle with Max, you were pretty much on the grass at the pit exit. Was it over the line from your point of view? Thanks.
CL: To be honest, I would have done exactly the same if I was in his position. So, it's on the limit but as I've always said in the past, that's the way I like to fight. So, this today didn't play on my way but that's fine. It's part of racing, and I'm happy with it.
Q: (Luke Smith – The Athletic) Lewis, question for you. You said that Max was cruising out there. Do you see any realistic chance to keep him behind, for him not to win tomorrow, even with him starting sixth on the grid?
LH: Anything's possible. It depends. I mean, he's got at least half a second on all the cars ahead of him per lap, pretty much. So that should be enough to get by. But there is degradation and those sorts of things and strategy, I assume he will be climbing relatively fast. So, we will have a job on our hands up ahead to try and hold him back. But it's a track that you can overtake, so it is likely that he will be finishing high up tomorrow.
Q: (Ronald Vording – Motorsport.com) Question to Max. Another one on the radio messages but this time the message immediately after the race. You seemed to thank or compliment one specific – maybe – a team member. Can you explain who that was for and if there's a little bit of background behind it?
MV: That's my start guy. I mean, the poor guy has had a few tough races. So, I was just joking like that it wasn't too bad this time.
Q: (Mark Cipollone – Autoracing1.com) A question for both Lewis and Max. Brazil, the last two years, Lewis you've been strong, your team has been strong. And Max you lost that race. Well, your team couldn't beat Mercedes last year. Lewis, do you think you could win that race this year? And Max. What did you learn from last year? And do you think you can win this year?
MV: We go to Brazil?
Q: Two races' time.
MV: Yeah, no, I know! Yeah, well last year… that's the problem with the sprint format. If you make a mistake with the set-up, you're stuck with it for the rest of the weekend. And that's something that I don't like. So that was the case last year. So, I'm quite confident that we can do a better job this time.
Q: Lewis, Brazil?
LH: With the pace they have, as I said, they've got half a second here, they're going to have at least three tenths by that race. We're not in the same league as them at the moment so we're not in shooting… I mean maybe to get second or third but if Max is on form, there's no chance.
Q: (Fred Ferret – L'Equipe) Can you have some pleasure driving on that kind of sprint race with nothing happening? And have you had some pleasure in previous sprint races?
MV: Love it. It's fantastic! If you want my honest opinion about the sprint weekends, I don't really get excited by it. In qualifying, I just feel like once you complete qualifying, you're a bit lost. I feel like we only need one qualifying in the weekend where you really put everything on the line and it feels great. This morning as well, like you put it on P1 but I'm like it's a Saturday, there's not many points anyway for the race. And besides that, like now, we've done this race, everyone more or less knows what's going to happen tomorrow between all the cars in terms of pace, so that takes a bit the excitement away from it. If we wouldn't have done today and we only had that qualifying that we had yesterday, you don't really know what's going to happen before the race, so everyone is very excited, turning on the TV because you don't know and also we didn't know. Now we know, a little bit. So…
LH: Sounds like you're a bit bored.
MV: I'm not bored but if I would be a fan, I would just be disappointed because then you more or less know about the picture. If nothing crazy happens, you know what's going to happen tomorrow so I find that a bit… it takes away that magic of waking up on a Sunday morning or whatever, Sunday afternoon, and you turn on the TV and you've had qualifying but you're not sure which car is going to be quickest in most of the years and yeah, it takes that magic away, I find
LH: It's a slightly different perspective when you're chasing so for us it's fun. For me, it's fun. I like having the extra opportunity to get out there and try to squeeze everything, every little bit and more out of the package that we have. Can it be better? I'm sure we can learn. I think it's been exciting for people so I personally quite like the sprint weekends, particularly a Friday I really like where you only have one practice session and then you're straight into qualifying.
CL: Yeah, I think there are some things that are nice, others that are a bit less nice. What I enjoy is the Friday to only have one free practice and to go straight into qualifying. This is something that as a driver I like because you need to… FP1 then becomes a real session. Normally in a normal race weekend, FP1, FP2, FP3 it's really plenty of laps before you get to qualifying, which is maybe a bit too many. On these weekend's I quite like it. But then there are maybe other things that we need to look into. I think in Qatar it was very exciting, the sprint race, because we had two compounds that were very different. So one that was extremely good in the first six, seven laps and then had a lot of degradation. And the other that was really good towards the end of the race. And that makes the sprint race really exciting. Otherwise, we've got races like today where everybody, apart from Carlos unfortunately, uses the Medium and then it's a bit of a shame.
Q: (Sahil Kapur – NBC) A question for Max only because I asked the other two yesterday: how have your experiences racing in the United States changed over the last four or five years? I know you've won a bunch of championships since then but as the fan base has grown, how have things changed for you?
MV: Yeah, bigger crowds especially here. In Austin we saw the effect of pre- kind of popularity and now, where, a couple of years ago, you could just drive back to the hotel within 20 minutes, 25 minutes, no problem. You could go out for dinner, no problem, you could walk around, no problem whereas now, driving back to the hotel takes you 40 minutes, 45 minutes. There are so many fans in the city. They really love it. It's a massive crowd next to the track. So yeah, it has grown a lot and I think that's, of course, great to see of course here but of course also like Miami, you can see the crowd and I can only imagine what Vegas will be like so yeah, it's good to see that.
Q: (Alex Kalinauckas – Autosport) Charles, you're starting on pole position tomorrow, you'll have Lando alongside you. Given how he closed that gap – it was quite a big gap maybe seven seconds – by the end of the race today, how do you see that battle with McLaren playing out tomorrow?
CL: It's going to be tight, as much as it's going to be tight also with the Mercedes guys and Lewis. I expect Max to get ahead and to not be too much of a fight but then otherwise it's going to be tight. I think we have to look into our data and try to understand what we can do better for tomorrow's degradation because the pace is there, it's always been there, sometimes we seem to be a bit inconsistent with our race pace. Today was the case, we struggled more than others and we'll try to understand what's wrong and see if we can do anything different for tomorrow to help that.
Q: (Ronald Vording – Motorsport.com) Max, yesterday, you had the moment with the track limits and Charles already said this weekend that he would prefer the kerbstones as the limit instead of the white line. Do you have a similar opinion or do you see at least a quick way to improve the situation a little bit?
MV: Yeah, I do think that the kerbs are bit… sorry, more easy to judge in general, especially in the very fast corners. In the very low speed, I think the white line hasn't been a massive issue but in some corners, judging on such a small white line is tough, and yesterday, of course, it caught me out. But yeah, I do feel that we need to come up with something different because it is tricky. You don't make these kinds of mistakes, of course on purpose. I think today with that double kind of white line, that already helped a bit. But yeah, we'll keep talking to the FIA to see what we can do.
Ends