It had to end at some point, Max Verstappen's incredible, record-breaking ten wins in a row came to an end Sunday night at the Singapore Grand Prix, Ferrari driver Carlos Sainz winning a tense race and the 2023 Formula 1 World Championship leader down in fifth.
Sainz did not make a single mistake, delivering one of his smartest drives to claim a well-earned victory. Controlling the race from Lap 1 to the end when under massive attack from Mercedes, with teammate Charles Leclerc playing the wingman role to perfection early on, but his sacrifice compromised his own race. He finished 4th.
The Spaniard fended off Lando Norris who made the most of an updated McLaren to take second place, the pair fending off a massive charge from Mercedes in the final laps of the race.
It was a race of high attrition, Safety Car, VRCs and no Red Bulls in sight of the podium. Thus ended an incredible unbeaten run this season, also curtailing Verstappen's winning streak to ten. It simply was not their weekend. All great things come to an end, so they say.
George Russell looked set to challenge for victory late in the race after a storming P2 in Qualifying and was game for the win all evening at Marina Bay, but slammed the wall into Turn 10 on the final lap which allowed Lewis Hamilton into third.
The Merc duo had stalked and jabbed at the top two from the moment they pitted for fresh Medium tyres under the VSC while others stayed out on ageing Hards, but tripped each other up too. Probably cost them victory on the night. It was a brave strategy that almost paid off, with Hamilton taking third and Russell none.
The night belonged to Sainz who has raised his game to the next level since the summer break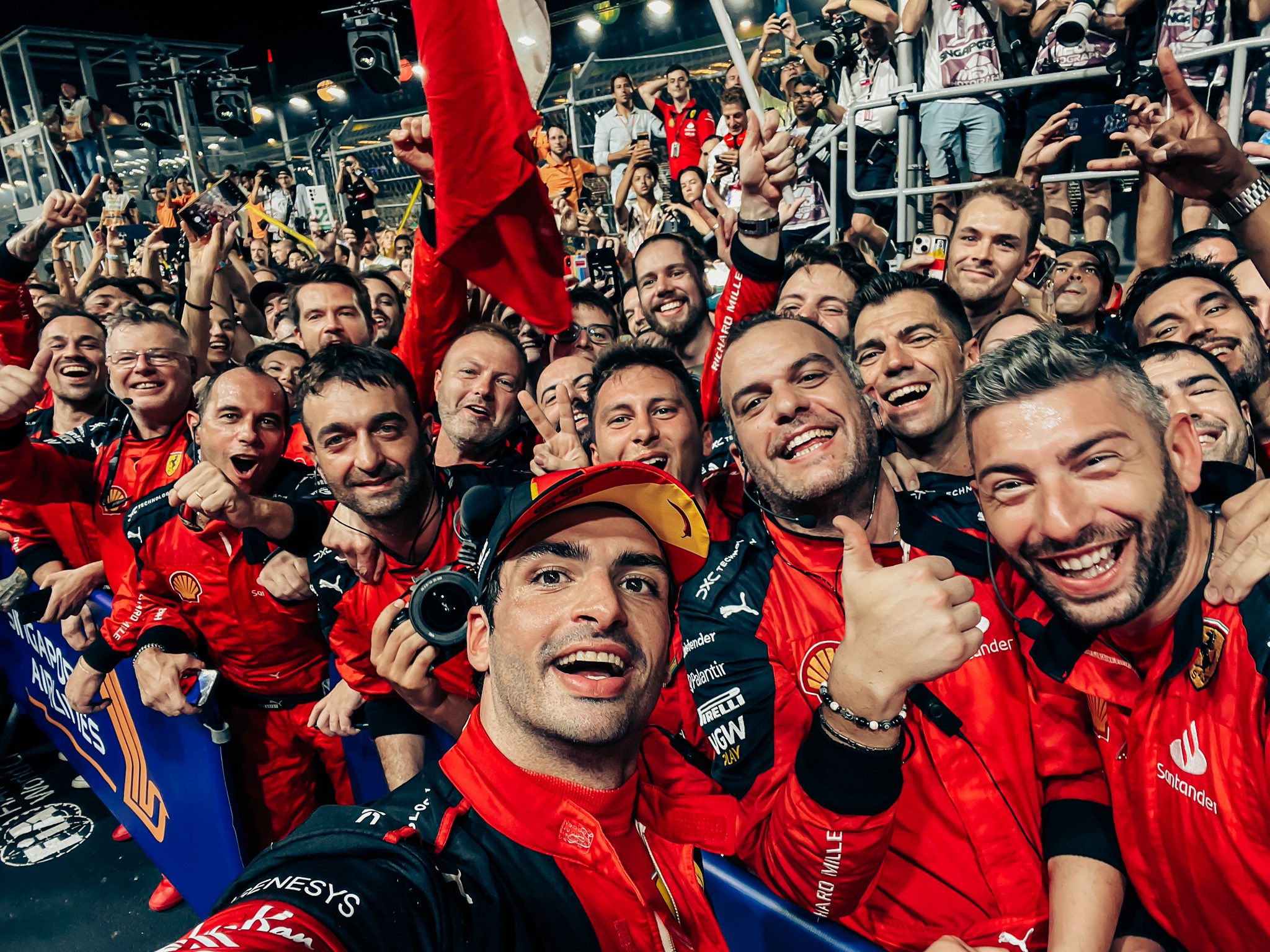 The result also gave Ferrari team principal Fred Vasseur his first victory as the great Italian team's boss. What they could not do in front of Tifosi last time out at Monza, today they delivered and for a change made no mistakes, with perfect execution for their winning driver.
After his second F1 victory and the first for the Scuderia since Austria 2022, Sainz said afterwards: "An incredible feeling, incredible weekend. I want to thank everyone in Ferrari for making this huge effort to turn around and win this season after a tricky beginning
"But now we nailed a weekend and nailed the race. We did everything we had to do. We did it perfectly and we brought home a P1 that I'm sure all of Italy and Ferrari will be proud today.
"It was all about managing the beginning of the stints to make sure I made it to the target laps. The safety car forced us to pit earlier than we wanted and I knew it was going to be a long stint on the hards. It was just quite tight at the end. We gave Lando a bit of DRS to help him and in the end, it worked," added a delighted Sainz.
Norris worked hard to finish second, he worked with his former teammate Sainz up ahead as the two Mercedes loomed large in his mirrors. The Ferrari driver offering the McLaren DRS, which Lando seized, to hang on to second.
Norris: I hit the wall in the same place as George
Reflecting on his Singapore Grand Prix, Norris said: "Carlos was very generous trying to help me get DRS. It helped my race and it also helped his. We knew it was going to be tough as soon as the Mercedes' boxed, especially with only a couple of cars for them to overtake, but we are on the podium, P2, and we held them off. We did everything we needed to do and more."
As for Russell's incident, Norris revealed: "I hit the wall in the same place, I did the same. So I think he copied me and did it even worse. So I feel for him, he fought a tough race, and he was the quickest I would say out there. So it helped me a bit, the last couple of corners I could chill."
Third place for Hamilton was at the expense of Russell and a hefty points haul that third and fourth would've meant had the younger Merc driver not thrown it away at the very end. Hamilton in turn, did all required from fifth on the grid to claim the final podium step at Marina Bay.
But there is a niggling thought that had HAM-RUS worked better together as teammates, they might've won it on the night. Bittersweet for the team.
Hamilton: I kept my head down and kept pushing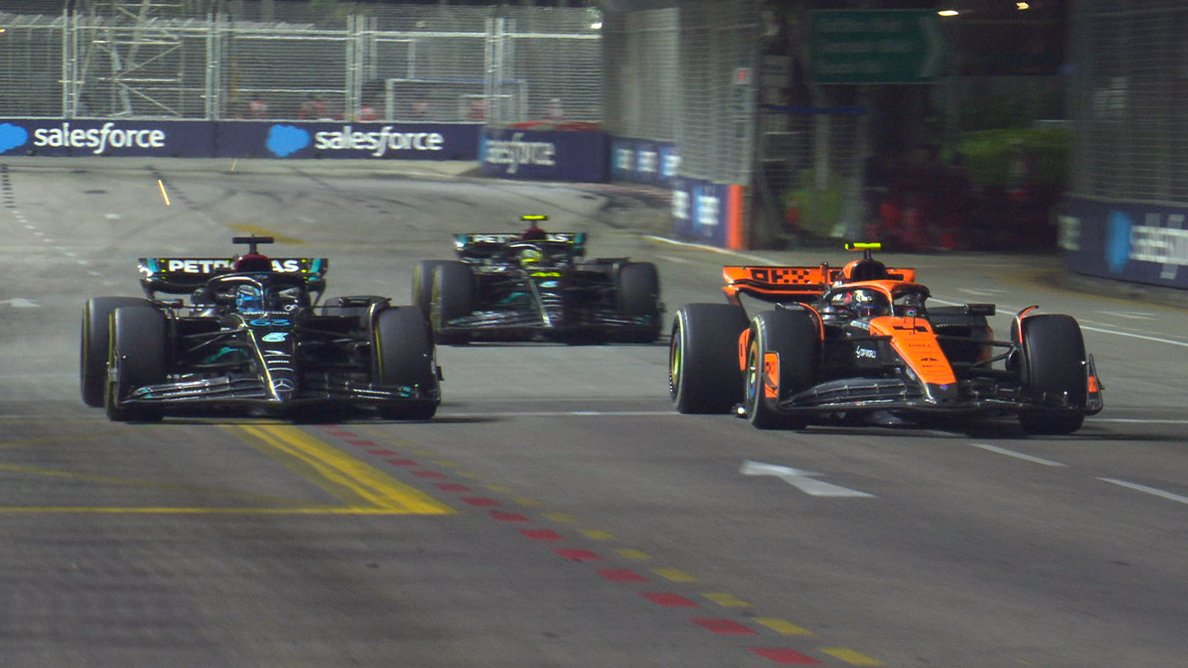 In parc ferme, Hamilton summed up: "Congratulations to Carlos and Lando. They did a great job today and there strategy worked. We rolled the dice this weekend and went with a different amount of tyres into qualifying to have the option of what we did today.
"I felt it was a two-stop but I think the team did an amazing job to get us back up there.  It was a real shame the first corner but I kept my head down and kept pushing.
"Extremely unfortunate for George, we were pushing so hard to catch these guys and our tyres were so hot. But I know he will bounce back. He's been phenomenal all weekend," added Hamilton.
No matter how you look at it, Red Bull's no-show in Singapore was a shocker, unexpected and out of left field. For the first time in a long time, Verstappen was not a factor all weekend, neither was teammate Sergio Perez.
Verstappen did turn 11th into fifth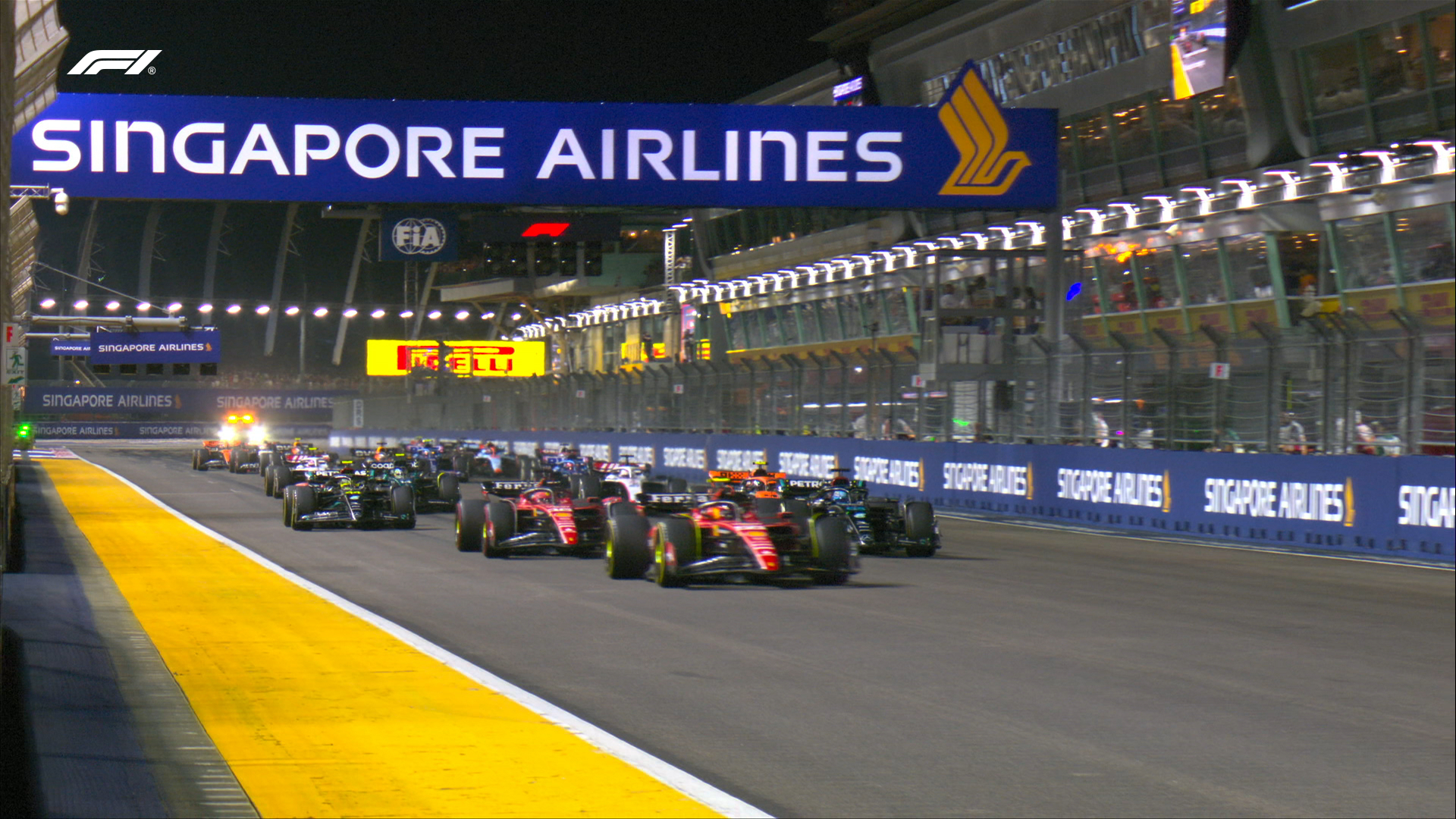 But by the Dutchman's lofty standards is a disappointing result amid a season of 12 victories. Perez in the sister car also struggled, his P13 grid start turned into eighth by the time the chequered flag waved. Nevertheless, their poorest showing in an otherwise stellar season.
Alpine looked set for a double-points finish until Esteban Ocon parked his Alpine with an apparent engine issue while running a string eighth. Teammate Pierre Gasly kept going to finish a lonely sixth followed by McLaren's Oscar Piastri also in no man's land, in seventh.
Arguably the best performance on a day of incidents and the usual unique challenges of Marina Bay, was three-race rookie Liam Lawson who scored his first points with an impressive ninth-place finish. A bittersweet race for AlphaTauri as Yuki Tusonda's race was brief thanks to an early DNF.
The final point went to Haas and Kevin Magnussen, on a positive weekend for the American team scoring for the first time since Austria.
Special mention for Fernando Alonso who seemed destined for another solid points finish, but a wayward afternoon and a slew of out-of-character moves, including a penalty, made it a forgettable weekend for Aston Martin, whose hapless Lance Stroll crashed heavily in Qualifying on Saturday and pulled out of Sunday's GP.
Russell: So just sorry to the whole team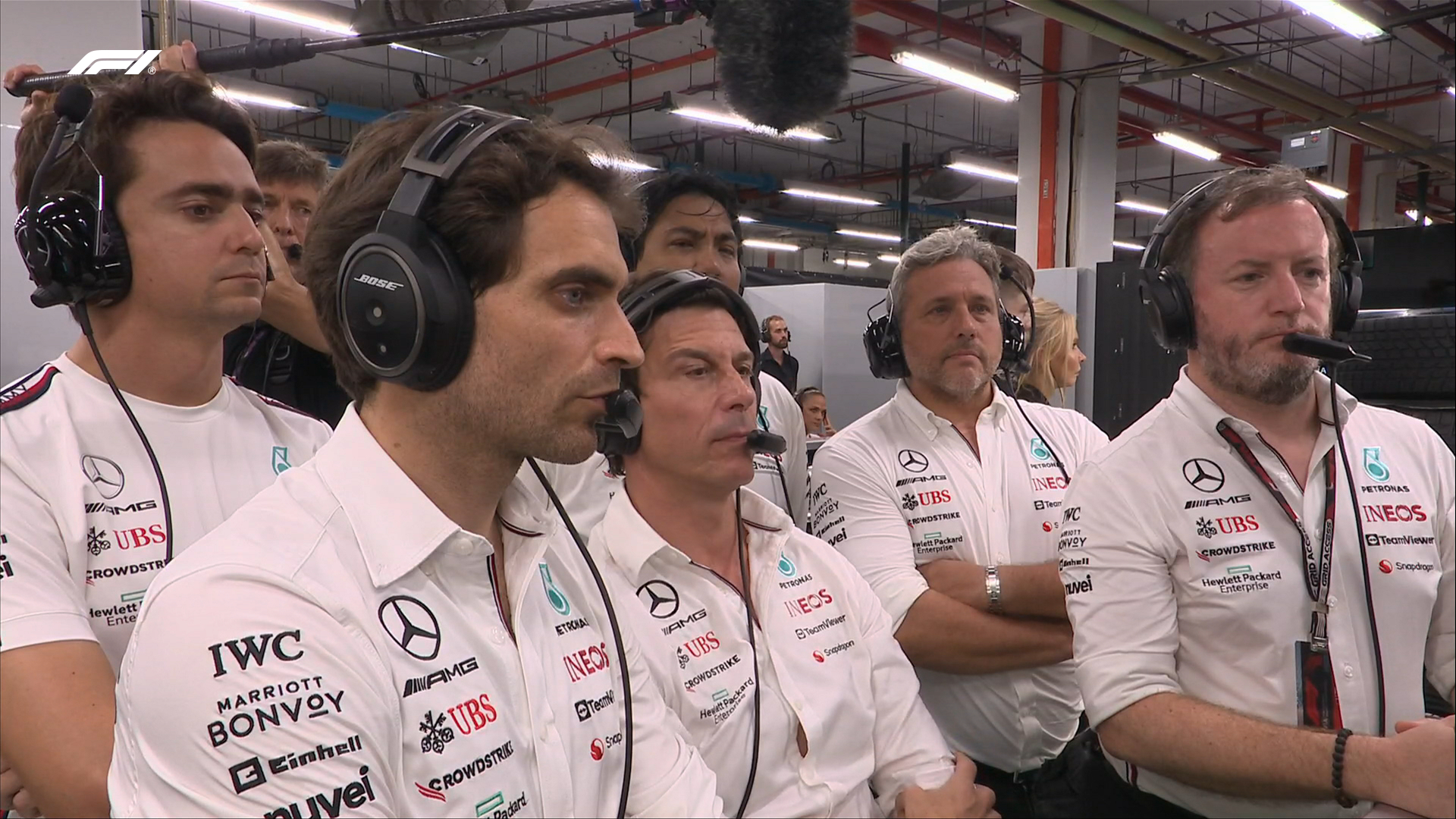 Final word to Russell who might've won the race had the stars aligned: "No words to be honest. Such a long, physical race. Difficult to keep concentration. Carlos did a great job backing the pack up, not allowing us to do the alternative strategy.
"I think we were half a car's length from winning the race had I got past Lando when I had the opportunity, I think we would have been able to get past Carlos.  Then just the last lap, a millimetre lapse of concentration and game over. So just sorry to the whole team.
"It was a really challenging race, the tyres were dropping off and you are pushing the limits. That's how racing should be, you make a small mistake and you are bitten for it.
"It's heartbreaking after such a great weekend –  the car has felt great, qualifying was great, the race was great, we were bold with the strategy.  I feel like I let myself and the team down. It's tough but we will come back," insisted Russell.
2023 Singapore Grand Prix Result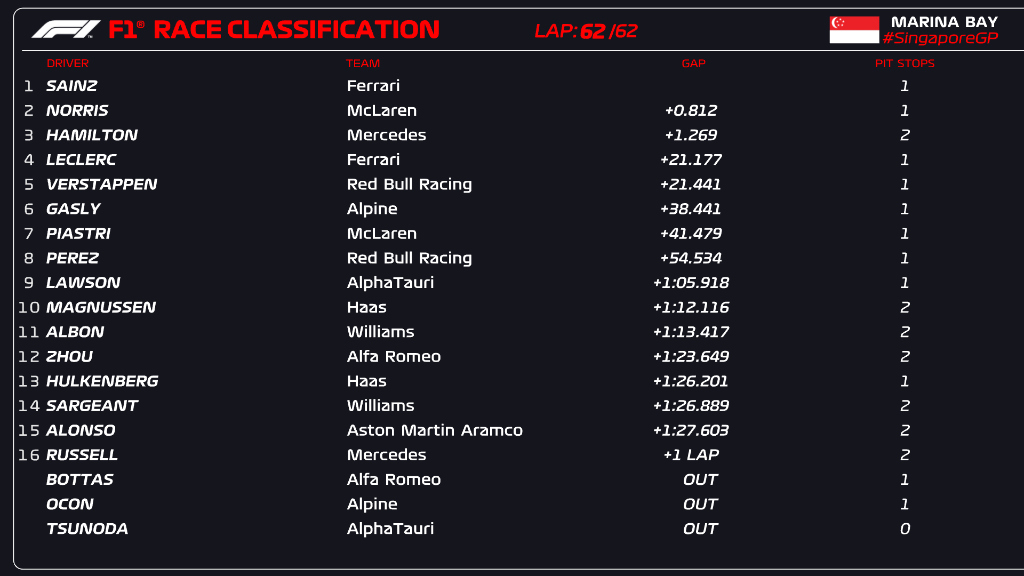 How the Singapore Grand Prix unfolded:
Sainz leads Leclerc who jumps Russell off the line. Hamilton takes to the run-off side-by-side with Russell into Turn 1, with Lewis getting ahead before relinquishing the position. Norris dropped to fifth.
Verstappen up to 10th as Perez in 13th. Both Red Bulls are on the Hard tyres. Tsunoda parks for a DNF at Turn 14. Ferrari one-two at the front.
Sainz is not scampering away as he leads Leclerc by one second, with Russell, Hamilton and Norris all within DRS range of each other. Hamilton lets Norris and avoids a penalty.
Sainz controlling the pace and Leclerc in his mirrors. Perez struggling at this point, Verstappen was not on the Hards and moving into the top ten.
Lap 10 SAI-LEC-RUS-NOR-HAM-ALO-OCO-VER-MAG-HUL
Sainz edged a 3-second lead over Leclerc, 2.4s the gap, until told to drop five seconds behind Carlos, Charles apparently sacrificed.
Russell itching to win the race radioed: "Let me know what our best shot at winning this race is. What do I need to do?"
Engineer: "We need to keep the pressure on these Ferraris."
Lap 19 and hapless Sargeant clouts the wall in Turn 8. Safety Car. Everyone into the pits apart from Verstappen, Perez and Bottas!
The top 10 on Lap 20 SAI-VER-RUS-PER-NOR-LEC-HAM-ALO-OCO-BOT
Lap 22 Safety Car in, advantage leader Sainz without his rear gunner Leclerc, has Russell stalking.
Alonso in eighth handed a five-second penalty for going over the white line at pit entry. Sainz now had Russell right behind him, the Leclerc buffer down in P5.
Lap 27 Hamilton breezes by Verstappen going into Turn 7 for fourth place.
Sainz leads Russell by a second with Norris 1.3s behind. Verstappen and Perez were down in P6 and P7 respectively. Staying out looks like a bad idea for Red Bull.
The top 10 on Lap 30 SAI-RUS-NOR-HAM-LEC-VER-PER-ALO-OCO-MAG
Tight at the front, Sainz conserving tyres and Russell aware of it a second adrift and Norris even closer. Verstappen in sixth, 30 seconds behind the leader, reported "it's like driving on ice."
The top 10 on Lap 40 SAI-RUS-NOR-HAM-LEC-VER-PER-OCO-ALO-GAS
Stalemate, everyone cat and mousing it until lap 43 when Russell got the hurry up just as Ocon's Alpine came to a halt on the track. A top-ten finish was blown after a strong drive by the Frenchman. Virtual Safety Car deployed.
Both Mercedes dipped into the pits for a double stack stop. The dice were thrown. Alonso also pitted, a slow one then went on to overshoot into a slip road. Not a good day for the veteran.
The order changed substantially: SAI-NOR-LEC-RUS-HAM-GAS-PIA-LAW-HUL-ZHO
Verstappen and Perez in P11 and P13, just the same as where they started! Lap 46 and the field is unleashed. Russell in fourth immediately setting the fastest lap, 11 seconds behind the leader.
The gap at the front was Sainz ahead by 1.7s over Norris, with Leclerc a couple of seconds further back. Russell catching a further five seconds behind, but nearly two seconds per lap quicker than Sainz in the lead.
Lawson in eighth was making a mark in only his third F1 race, leading Verstappen was an eye-opener intile th #1 car darted past on lap 50.
The order then: SAI-NOR-LEC-RUS-HAM-GAS-PIA-VER-LAW-HUL
Russell and Hamilton were fastest at this point. George was in Leclerc's DRS on lap 53 and got by into third, a lap later Hamilton was fourth. The second Ferrari down to fifth. Sainz at the front was now being seriously chased.
Verstappen was past Piastri on lap 55 into seventh, and a few laps later past Gasly to take sixth, 8 seconds behind Leclerc.
Russell was around 1.5s faster than the leader, with Hamilton in his wake setting the fastest lap. Double-pronged Black Arrows attack on Sainz who led Norris by 1.1s. Game on!
On Lap 58 the top four were all within DRS, separated by 1.7s, incredible stuff as they snaked nose to tail. The top two on ageing rubber, and the Mercs on fresh Mediums on the move. Norris defended with all he had, as the Mercs attacked remorselessly but also tripped each other up.
Russell ended in the tech pro with a late big brakes move and after clipping he barrier with his rear right tyre, and Hamilton was through to third.
Singapore Grand Prix Preview
Will the Singapore Grand Prix, Round 15 of the 2023 Formula 1 World Championship be the race where Red Bull and their soon-to-be triple World Champion get defeated? With Max Verstappen starting from down in P11 and Sergio Perez.
[Please note that this preview post will be followed by the race report when the chequered flag waves this evening at Marina Bay. Please refresh the post for the latest version. Enjoy the Grand Prix!]
If ever there was a race to end that run, tonight's battle at Marina Bay Circuit could be it because the hitherto invincible Red Bull RB19 has not switched on all weekend.
On Friday they were out of sorts, testing aero parts and settings that clearly did not work at the tight, tricky street venue. Saturday was better, but still not good enough when it mattered in Qualifying as Verstappen failed to make Q3, edged out by – believe it or not – in the Red Bull junior team, AlphaTauri's three-race rookie Liam Lawson.
That's an uncanny fall from grace for a team that was simply gobbling up every race with ease, so much so that many, themselves included, flirted with the idea of RBR winning every race this season.
If that is to happen, today is the sternest test they will follow. Verstappen too. He will be in damage limitation mode and expect the Dutch ace to move forward from 11th, but will he have enough to take the win?
When in doubt bet on Max?
He is the guy, after all, who has won races from lower than that on the grid. eg. 14th to victory in Belgium last year. And we have a saying here: When in doubt bet on Max! A tall order. But how Verstappen deals with this setback tonight will be intriguing as this is unfamiliar territory for the sport in an era of Red Bull domination.
Thus the spotlight falls on the sharp end of the grid where Ferrari's increasingly excellent Carlos Sainz put it on pole for the 2023 Singapore Grand Prix. The Spaniard has clearly worked on his hot laps, no longer a pushover in Q3 as he tended to be. As a result, he has out-qualified acknowledged Qualy master and teammate Charles Leclerc three times out of three since the summer break.
He is good in race mode too. As shown in Italy, Sainz is not shy to brawl, even with his teammate if need-be and thoroughly deserves a victory this season, based on his current form particularly. Leclerc not so deserving as he has gone off the bubble of late but also capable should the stars align for him.
And of course, provided Ferrari don't botch up the strategy, don't play games with their drivers, execute pitstops at the highest level and don't forget wheels during these. Yes, the Reds tend to be their own worst enemy and inevitably the question is: How are Ferrari going to lose this Singapore Grand Prix?
George Russell is the last non-Red Bull driver to triumph in F1
While Red Bull are possibly out of the victory picture (Disclaimer: But you never know) and the World Champs are very much on another planet, in terms of the two Championship titles on offer this season, Mercedes are most likely to take the fight to Ferrari today.
George Russell is the last non-Red Bull driver to triumph in F1 when he did so last year at the Sao Paulo Grand Prix and set himself up nicely to be the driver to end their remarkable streak, with P2 on the grid for today's race.
Lewis Hamilton, starting P5 tips his teammate to win this one. But, and a big BUT don't discount the seven-time F1 World Champ who has won here four times in the past. If the Mercedes is on song this weekend, the garage tend to know what they are doing, this might be their night to shine brightest.
A first GP victory for Norris is more than due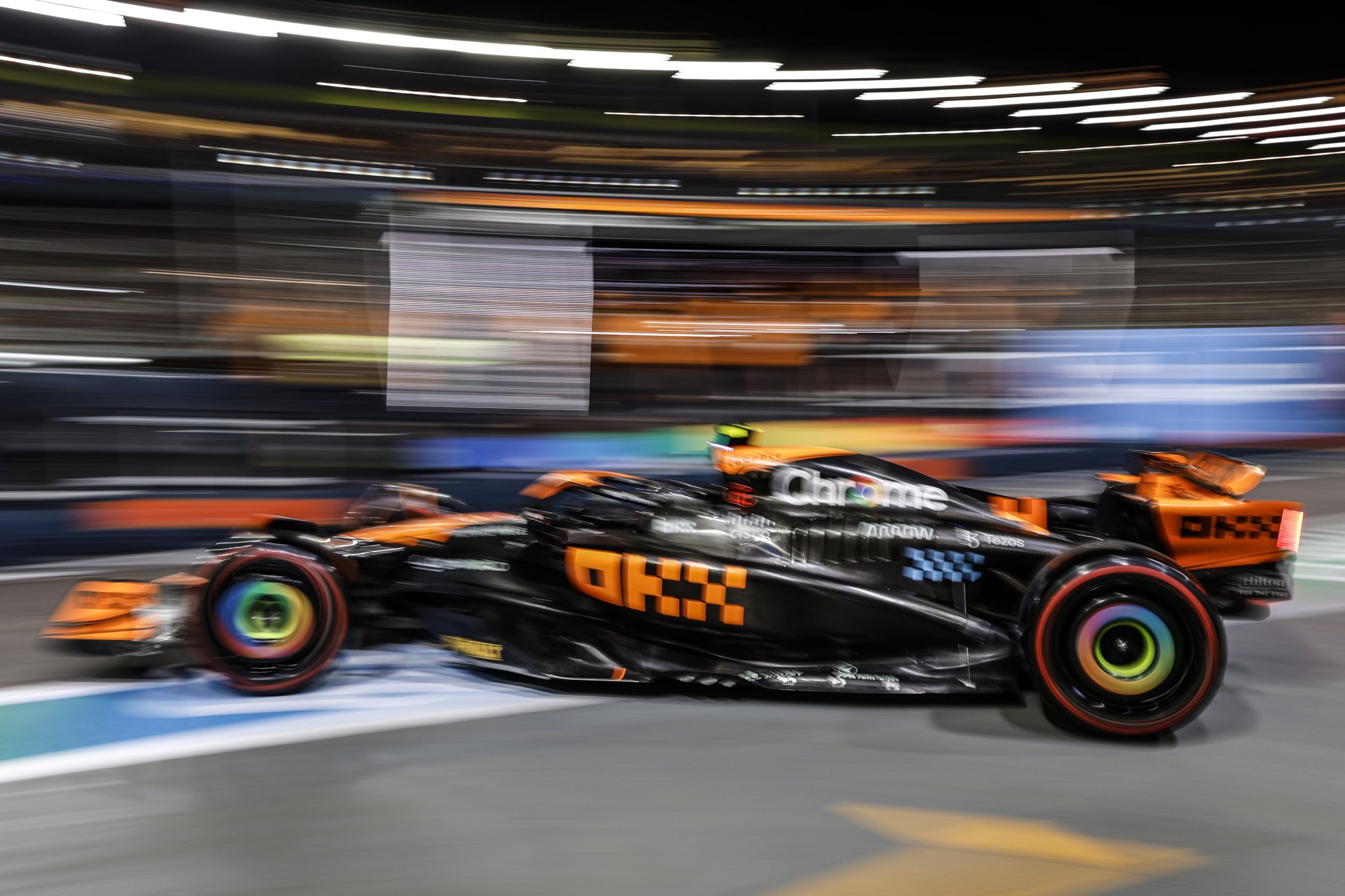 Fourth on the grid and itching for a maiden victory, Lando Norris has made the most of another impressive McLaren upgrade package (teammate Oscar Piastri is in the older spec car) to slot into fourth on the grid for the 14th edition of the GP in Singapore.
It might well be THAT day for Lando, and if ever a driver is due a victory it is the 23-year-old Briton. Throw into the mix the always competitive (these days) Fernando Alonso who will line-up seventh on the grid. It will be the sole Aston Martin too, because the team decided to withdraw Lance Stroll from the race in the wake of his big prang in Qualifying.
Realistically, any of the top five and Alonso are capable of winning, so close are the margins. Notably McLaren, Mercedes and Ferrari have 'forgotten' how to win races this year, and therein lies the rub and reality: the team that executes the best strategy, and pitstops will win this race.
Good to see the two Haas old boys find some pace on Saturday Night, with Kevin Magnussen starting the Singapore Grand Prix from P6 and Nico Hulkenberg P9.
Singapore Grand Prix other notable storylines:
Was Monza just a blip for Alpine? What can Esteban Ocon do from 8th?
Three drivers into two AlphaTauris cannot happen. Tsunoda, Ricciardo, Lawson… How special is Liam? Just asking…
Who will be the first to bin it now that Lance is sitting this one out?
How many times will the Safety Car be deployed tonight?
Singapore Grand Prix Formula 1 Stats & Facts by Reuters
Round 15 of the 22-race 2023 FIA Formula 1 World Championship season
Lap distance: 4.940km. Total distance: 306.143km (62 laps)
2022 pole position: Charles Leclerc (Monaco) Ferrari One minute 49.412 seconds
2022 winner: Sergio Perez (Mexico) Red Bull
New, shorter layout for this year
Start time: 1200GMT (2000 local)
The bumpy track has been changed since last year, due to construction work, with the 23 corners reduced to 19 and lap times set to be some 10 seconds lower as average speeds rise.
The hot and humid night race is one of the season's biggest physical challenges. Drivers can lose 3kg of weight during the race through sweating.
Sunday´s race is the 14th in Singapore since its debut in 2008.
Three current drivers have won there — Fernando Alonso (2008, 2010), Lewis Hamilton (2009, 2014, 2017, 2018) and Perez (2022).
Mercedes and Red Bull have won four times each, Ferrari three. Ferrari, in 2019, had the first one-two in Singapore.
Hamilton has been on pole four times. The race has been won from pole position on eight occasions.
The lowest winning grid position is 15th for Alonso in a now-notorious 2008 race in which Brazilian teammate Nelson Piquet crashed his Renault deliberately on team orders.
The safety car has been used in all 13 editions so far.

Wins, Pole Positions, Podiums & Fastest laps
Red Bull's Max Verstappen has won the last 10 races, a record run.
The Dutch driver has won 12 of 14 races this season. He has 47 wins from 177 starts and is fifth on the all-time list. Alain Prost, with 51, is fourth.
Red Bull have won every race this year (Verstappen's haul and two for Perez) and 15 in a row dating back to Abu Dhabi last year. They have also won 24 of the last 25.
Red Bull have had six one-two finishes in 2023, a team record.
No team has ever won every race in a season of more than 10 races.
Hamilton has a record 103 victories from 324 starts but has not won since Saudi Arabia in December 2021.
Aston Martin's Alonso has 32 wins, most recently in Spain in 2013 with Ferrari, from a record 369 starts.
Hamilton has a record 104 poles.
Red Bull have been on pole 10 times this season. Leclerc took the top slot in Azerbaijan and Belgium, Hamilton in Hungary and Carlos Sainz in Italy. Verstappen has eight poles for 2023.
Six teams and 10 drivers have made a podium appearance this season: Red Bull, Alpine, Aston Martin, McLaren, Mercedes and Ferrari. Verstappen has yet to finish below second.
Verstappen holds the record for most podiums in a season — 18 in 2021. He has been on the podium for the past 15 races.
Michael Schumacher is the only driver ever to have finished on the podium in every race of a season, in 2002.
Seven different drivers have taken fastest laps this season – Alonso, Alfa Romeo's Guanyu Zhou, Verstappen (6), Perez (2), Hamilton (2), Mercedes' George Russell and McLaren's Oscar Piastri.
Piastri's fastest lap at Monza was the first of his F1 career.
Milestones
Perez will be starting his 250th grand prix, only the 11th driver to reach that number.
If Verstappen wins, it will be the 24th different circuit at which he has triumphed — one more than Schumacher managed. Only Hamilton has won at more tracks (31).