Carlos Sainz took his fifth career pole position for the 2023 Singapore Grand Prix, fending off a rampant George Russell, on a day when Red Bull and Max Verstappen imploded, their dominant streak over.
It was a lesson in humility for Red Bull, who despite their warnings that they won't do well in Singapore, definitely did not anticipate to be that bad, both Max Verstappen (11th) and Sergio Perez (13th) knocked out in Q2, the reigning Formula 1 Champion also under investigation for two impeding incidents which the stewards will look into after qualifying.
The bad form Red Bull showed throughout FP1, FP2, and FP3 was indeed not sandbagging. The RB19 just did not get alive around the Marina Bay Circuit.
"I knew it would always be tough to put it on pole. But this I didn't expect," Verstappen said after qualifying. "Throughout the weekend we have been struggling. FP3 was actually not too bad but then we tried a few more things on the car for qualifying and that tipped it over where it became undrivable again.
"The car was massively bottoming out in the big braking zones, all the time if I wanted to brake late and hard, my front wheels were getting unloaded," he revealed.
"It's just a shocking experience and then trying to lean on the car in the slow-speed, I was constantly sliding and no traction, just really difficult to drive," the Red Bull ace concluded.
In the end Ferrari proved the speed they showed from the get go in Singapore was no fluke as Sainz bagged pole, denying an rejuvenated Russell by the slightest of margins, while Charles Leclerc had to settle for third, the Monegasque having no answer for his teammate's speed for the second weekend in a row.
This ended being one of the most exciting qualifying sessions this season, and set the scene for a great race as well on Sunday, with both Red Bull looking to make amends as well as the potentially great fight up front with Sainz looking for the win, with Russell naturally targeting the same, not to mention Leclerc and Lando Norris (fourth) lurking on the second row.
A hair-raising qualifying session! 🤯#SingaporeGP #F1 pic.twitter.com/JkL68Dx73B

— Formula 1 (@F1) September 16, 2023
What the top three said
Sainz spoke of his second pole position in a row after the session, he said: "A bit like Monza really, we hit the ground running in FP1. I felt very confident all through the sessions and put it together in Q3 .
"I just focused on not doing any mistakes on that lap. Keeping it clean in Singapore normally pays off," he added. "We had a very good car on certain tracks and conditions. These short apexes and quick changes of direction, our car seems to be very good this weekend.
"We know our weakness is always the race pace and where we pay the price," Sainz pointed out. "But I think our team has been doing a great job over the last couple of weekends to understand the package and car. We have definitely made a bit of progress, keeping in mind this circuit always suits Ferrari well."
As for his prediction for Sunday's race, the Sainz said: "Mercedes is normally a bit quicker than us come race day. They have a different tyre strategy, which we will have to keep an eye on.
"But if I focus on my own race and put together a good first stint and stint on hards, we can target the win," the Ferrari driver concluded.
A second pole in a row for our Smooth Operator 💪 We're in a strong position tomorrow!#SingaporeGP 🇸🇬 pic.twitter.com/AEn6Yjnzlf

— Scuderia Ferrari (@ScuderiaFerrari) September 16, 2023
Second placed Russell added: "It was definitely a challenging session. When you're sat in that car it's like a sauna sweating it out.
"Really happy with this weekend as a whole," he added. "I felt really confident in the car, the team did a great job with the strategy.
"We are on an off-set strategy compared to everybody else, so we have an extra set of medium tyres tomorrow which nobody around us has. So to get to Q3 and be on the front row with a strategic advantage tomorrow is an exciting place to be," he explained.
On his race prospects, he said: "With our mediums, we can try to put Ferrari into a difficult position and try to force them into an error and get the upper hand. So that's what we are looking for."
WHAT A QUALI IN SINGAPORE!!! That's a front row start for George tomorrow. SO close to pole! 👏 pic.twitter.com/P0KCXgdEqO

— Mercedes-AMG PETRONAS F1 Team (@MercedesAMGF1) September 16, 2023
Leclerc, in third place, commented: "It's extremely difficult as everywhere, here probably more so, with overheating in the lap. It's always a balance between the first and last sector.
"Everything was super close, Mercedes were really strong today too. Unfortunately I missed it just a little bit to gain a few positions. Carlos did a great job to get 1-3 for tomorrow.
"The physical challenge is going to be something for sure. Up until now, we have had a very good performance.
"We did not expect to be this competitive on a track like this. This is a good sign for the future," Leclerc concluded.
Q3: Sainz denies Russell by a negligible gap
Q3 went ahead without the Championship leader Verstappen for the second time this season (Jeddah was the first), and it was an open affair between the Ferraris, the Mercedes, Aston Martin's Fernando Alonso, and McLaren's Norris.
The first round of runs in Q3 gave the following order: Sainz, Leclerc, Norris, Russell, Lewis Hamilton, Alonso, Kevin Magnussen, Nico Hulkenberg, Esteban Ocon, and Liam Lawson.
First runs in, advantage Sainz!

He runs a quarter of a second ahead of his team mate Leclerc#SingaporeGP #F1 pic.twitter.com/f2I6gIm96y

— Formula 1 (@F1) September 16, 2023
With the second rounds done and dusted, Sainz emerged as the fastest posting a 1:30.984, only 0.072s ahead of Russell who was just 0.007s ahead of Leclerc in third.
Norris did well to take fourth for McLaren making good use of the huge upgrade, but which wasn't enough to challenge he Ferraris of the Mercedes. He was 0.286s off the pace in the end.
Again Hamilton was outqualified by his teammate, as he was only good for fifth and half a second off the pace and his teammate.
A superb Magnussen out his Haas in sixth with a 1:31.575 lap time, 0.591s off pole and ahead of Alonso, seventh in the Aston Martin and 0.040s behind the Dane.
Ocon who will celebrate his birthday on race day was eighth fastest in the Alpine, 0.689s off the pace, 0.135s ahead of Hulkenberg, ninth fastest in the other Haas.
A brilliant Lawson, just on his third outing in an F1 car, made it into Q3, and was tenth fastest for AlphaTauri, albeit 1.284s off the pace.
The gap to the top might be big, but kudos for the Kiwi for keeping a cool head in the scorching heat of Singapore.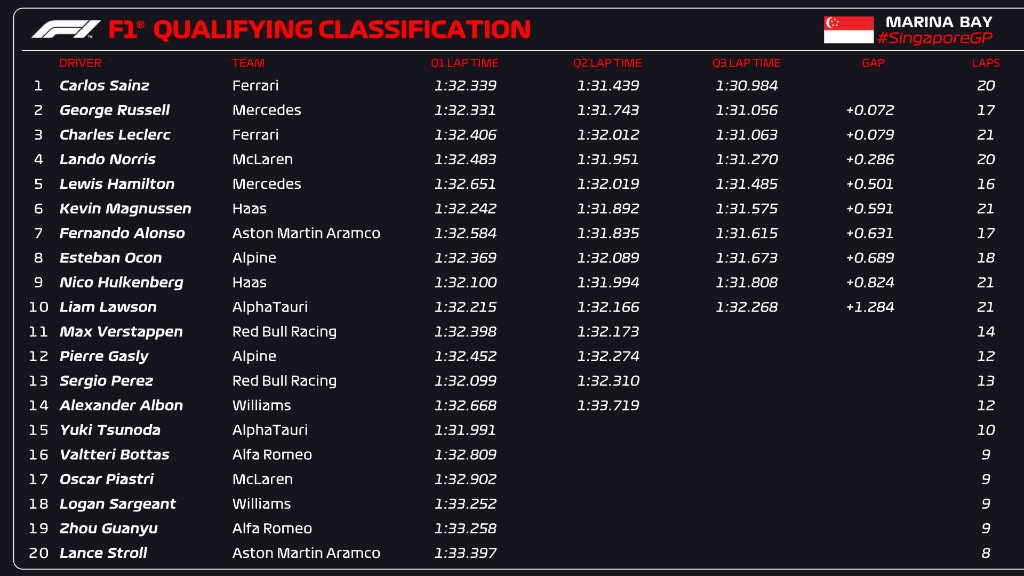 Q2: Lawson bumps Verstappen out of Q2
The start of Q2 was delayed as the marshals worked on clearing Lance Stroll's car and as well as the fluids it leaked on the track, while they also worked on repairing the barriers at the final corner.
With Q2 finally green lighted, Perez lead the pack out of the pits as teammate Verstappen followed, both a new sets of Soft tyres.
The first round of flying laps painted a grim picture for Red Bull, as Verstappen and Perez were tenth and 11th beating only Hulkenberg, Lawson, Alex Albon, and Yuki Tsunoda.
To make matters worse for Verstappen, he was being under investigation as well for impeding Tsunoda while the Japanese driver was on his flying lap and had to bail.
Back to the grind 😤

Perez and Verstappen sit P10 and P11 with five minutes of Q2 to go

The world champion is under investigation for impeding during Q1#SingaporeGP #F1 pic.twitter.com/iAV6bWgpzC

— Formula 1 (@F1) September 16, 2023
With less than a minute remaining, Perez brought out a brief Yellow flag after spinning and was the first Red Bull to lose out on Q3 and soon Verstappen faced the same fate, being bumped out by Lawson.
In the end Sainz lead the way into Q3 with a 1:31.439 with Russell second fastest, 0.304s behind the Spaniard, while Alonso was third fastest, 0.396s behind his compatriot.
Verstappen lost out on Q3 by 0.007s, and was 11th fastest, that is as we wait to see if any of the investigations he will be under after qualifying will yield any penalties.
Verstappen was on the team radio after being eliminated, he said: "I don't know if you saw that, but that was ****. Shocking, absolutely shocking experience."
Pierre Gasly was 12th fastest, 0.101s behind Verstappen and 0.036s ahead of Perez who was only 13th fastest.
Albon was 14th fastest, ahead of Tsunoda who did not set a time in Q2.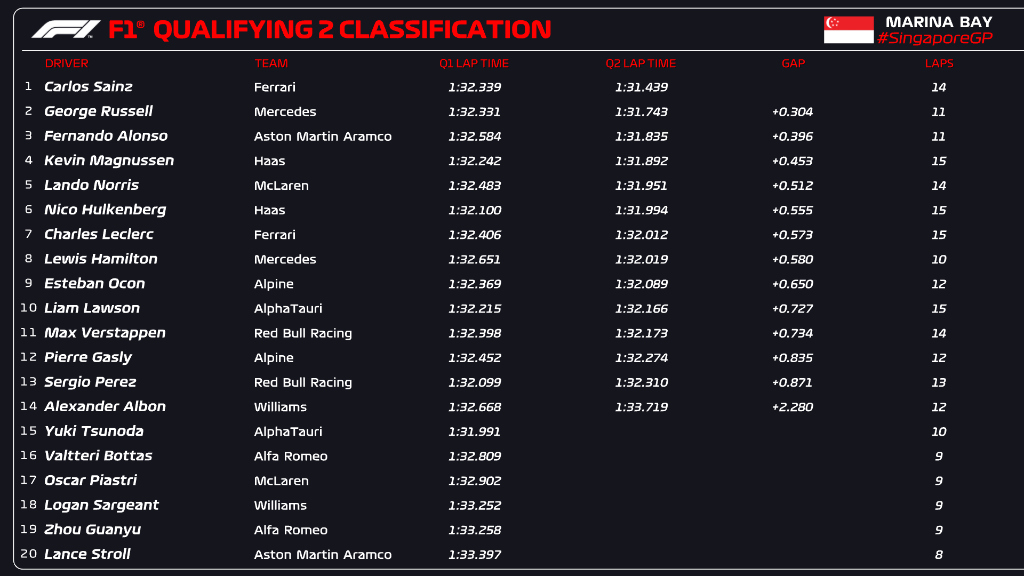 Q1: Stroll crashes, Tsunoda fastest
As was the case on Friday, the temperatures dropped while humidity worsened as the sun set on Singapore, and qualifying started under 78% humidity, while the ambient temperature was 30 degrees, the track temperature was 35 degrees.
None of the teams were taking any risks, and all the drivers bolted Soft tyres on their cars before heading out on track for the start of Q1, Verstappen leading the pack.
Traffic would be an issue to look out for in Q1, especially as cars on timed laps will encounter slower ones getting ready to set lap times.
Stroll, while on a flying lap, was impeded by a Williams of Logan Sargeant and reported it to his team over the radio… On to the stewards.
In the meantime, the lap times were falling as drivers kept in banging in the laps around the Marina Bay Circuit as several drivers took turns on the top spot  – Russell, Leclerc, Sainz, Verstappen, and Norris.
Ocon got lucky as he touched the wall a tad too hard at Turn 5, but could keep going, and informed his team, to have a look at his left side.
With time over, and the drivers on their final runs, Lance Stroll brought out the Red flag as he crashed pretty hard destroying his AMR23 going into the final corner after riding the kerbs quite hard.
🚩 RED FLAG 🚩

Lance Stroll crashes heavily at the final corner and ends an absorbing Q1 session early

Most importantly, he reports he's okay over the radio 👍#SingaporeGP #F1 pic.twitter.com/lAb3zVm3j7

— Formula 1 (@F1) September 16, 2023
Norris was lucky not to collect the stricken Aston Martin that was stationary in the middle of the track after it bounced off the barriers.
Stroll's accident came at a point when the track was improving massively, lap times dropping by at least one second with many drivers from the slower teams shooting up the order, which meant the order might have been shaken up considerably given the traffic towards the end of the session.
The impact was so strong that Stroll front left wheel sheered off the car.
Stroll's entire front-left wheel sheered off from the impact 😳#SingaporeGP #F1 pic.twitter.com/LOWA7bSDaV

— Formula 1 (@F1) September 16, 2023
In the end, Tsunoda lead the way into Q2 with a fastest lap time of 1:31.991, 0.108s faster than Perez in second, while Hulkenberg was third fastest 0.001s further behind the Mexican. Sainz was seventh, Verstappen was ninth as Leclerc was tenth.
The first driver to head for an early shower was Alfa Romeo's Valtteri Bottas who lost out to Albon by 0.141s and was 16th fastest.
The biggest loser was Oscar Piastri and was 17th fastest, 0.091s behind Bottas, having missed out on another timed lap due to Stroll's crash. He was the only driver from the top teams to lose out on Q2.
McLaren CEO commented on Piastri's elimination, he told Sky Sports F1: "It's disappointing. Happy Lance is OK but it pretty much ended Oscar's qualifying.
"He had enough pace to get into Q2 and Q3. Now we will focus on tomorrow's race and Lando for the rest of the session," the American added.
Sargeant was 18th fastest in the Williams ahead of Zhou Guanyu in the Alfa Romeo, while Stroll was classified last with no lap time.
Q1 was crazy. 🤯#SingaporeGP #F1 pic.twitter.com/914vprh4Jv

— Formula 1 (@F1) September 16, 2023
Worth noting as well is that Verstappen will be investigated after qualifying as Mercedes reported him for waiting too long before getting out on track after the lights at the end of the pitlane went green.
There was also a huge number of cars driving slowly between Turns 16 and 19 towards the end of Q1, something the stewards will also be looking at after qualifying.