Max Verstappen turned 14th on the grid to win the 2022 Belgian Grand Prix in what was a masterclass of dominance that will go down as one of his great Formula 1 victories.
Every time the #1 Red Bull overtook, which was often, fans lining the Kemmel Straight erupted in joy, going ballistic when Verstappen drove by waving after his tenth victory of the season.
The Dutch ace was of course born 100km away in Hasselt. His mother Sophie Kumpen a Belgian. Call it a home victory, indeed the fans did.
Like in qualifying on Saturday, Red Bull's F1 World Champion was simply on another planet on Sunday, at Spa-Francorchamps, scything his way through the field unstoppable as he picked them off one by on, all the big names of our sport and, remarkably, seize the lead on lap 19!
Thereafter Verstappen was never headed as he totally controlled proceedings, the car and driver with an advantage that harks back to their golden era a decade ago. The fastest lap point was his too as was the Driver of the Day Award. Proper Grand Slam stuff.
To roars from the crowd, Verstappen summed up his glorious day in Belgium: "It was quite a hectic first lap to try to stay out of trouble…but once we settled in after the safety car, the car was really on rails.
"Once we were in the lead, it was all about managing everything and this whole weekend has been incredible. It's been a weekend I couldn't imagine before, but we want more of them so we'll keep on working hard."
Verstappen heads to his home race fresh from his 29th F1 victory at the Belgian Grand Prix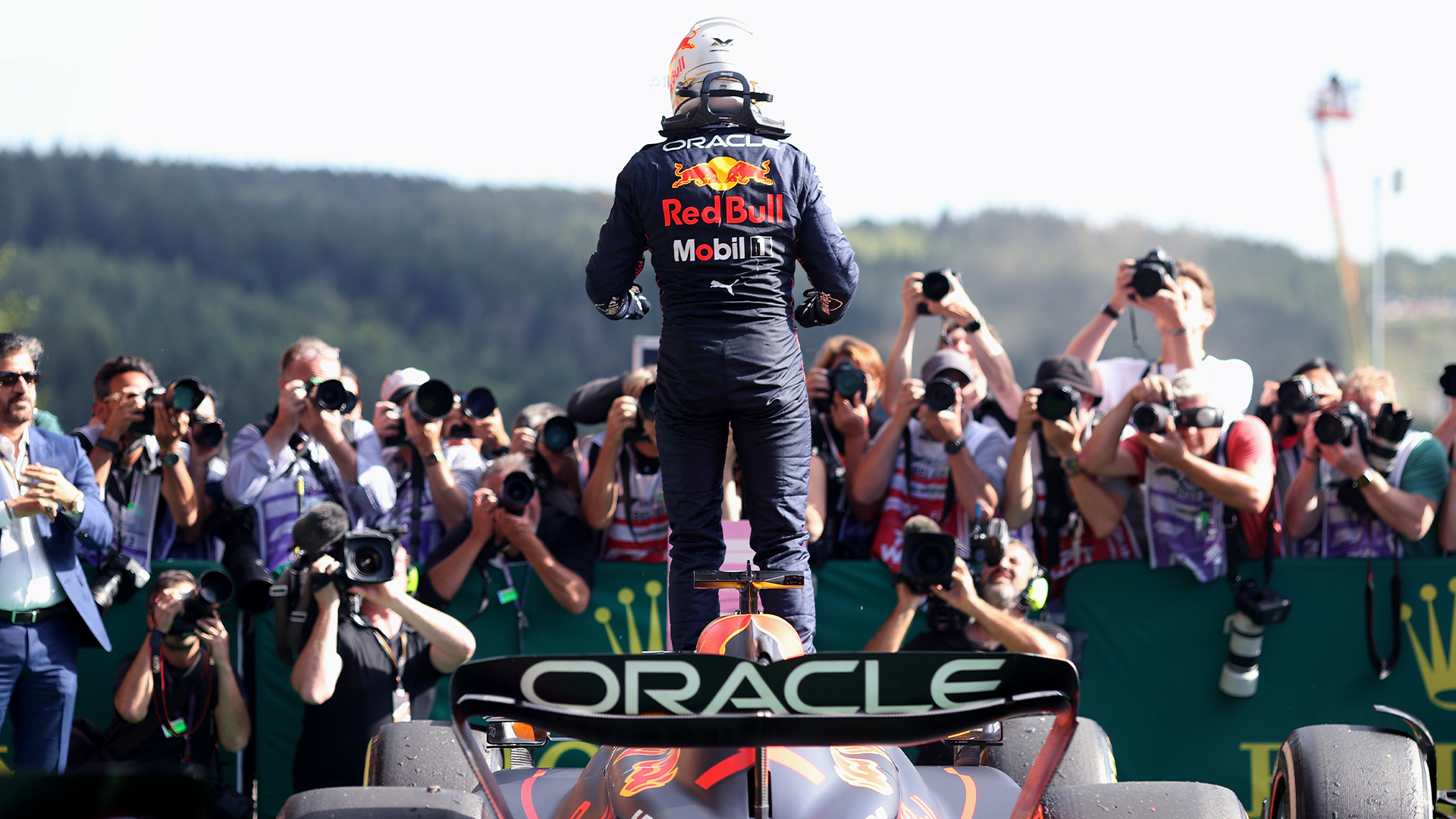 This means Verstappen has won ten times this season and now leads teammate Perez by 93 points. Leclerc trails by 98.
Perez's second place made it a perfect result for the Bulls who are heading for their first F1 constructors' title since 2013. The Mexican veteran had no answer for his teammate's stellar pace all weekend and said as much.
"I really hoped for more today it was a good opportunity but Max was on another planet today, he was flying, he was untouchable," admitted Perez. "Especially the first stint was quite poor in terms of degradation but it is a strong result for the team.
"We managed to get a lot of points today which is important looking forward. It was a bit of chaos o lap one and I had a really poor start and lost key positions but managed to get them back into Turn 5."
Third went to Sainz after a race-long battle with Russell, on an awkward weekend for Ferrari who now are clearly lagging Red Bull in qualifying pace, as was seen on Saturday, and today also on race pace.
Ferrari fumbled again as pole becomes third for Sainz, while Leclerc has a bizarre afternoon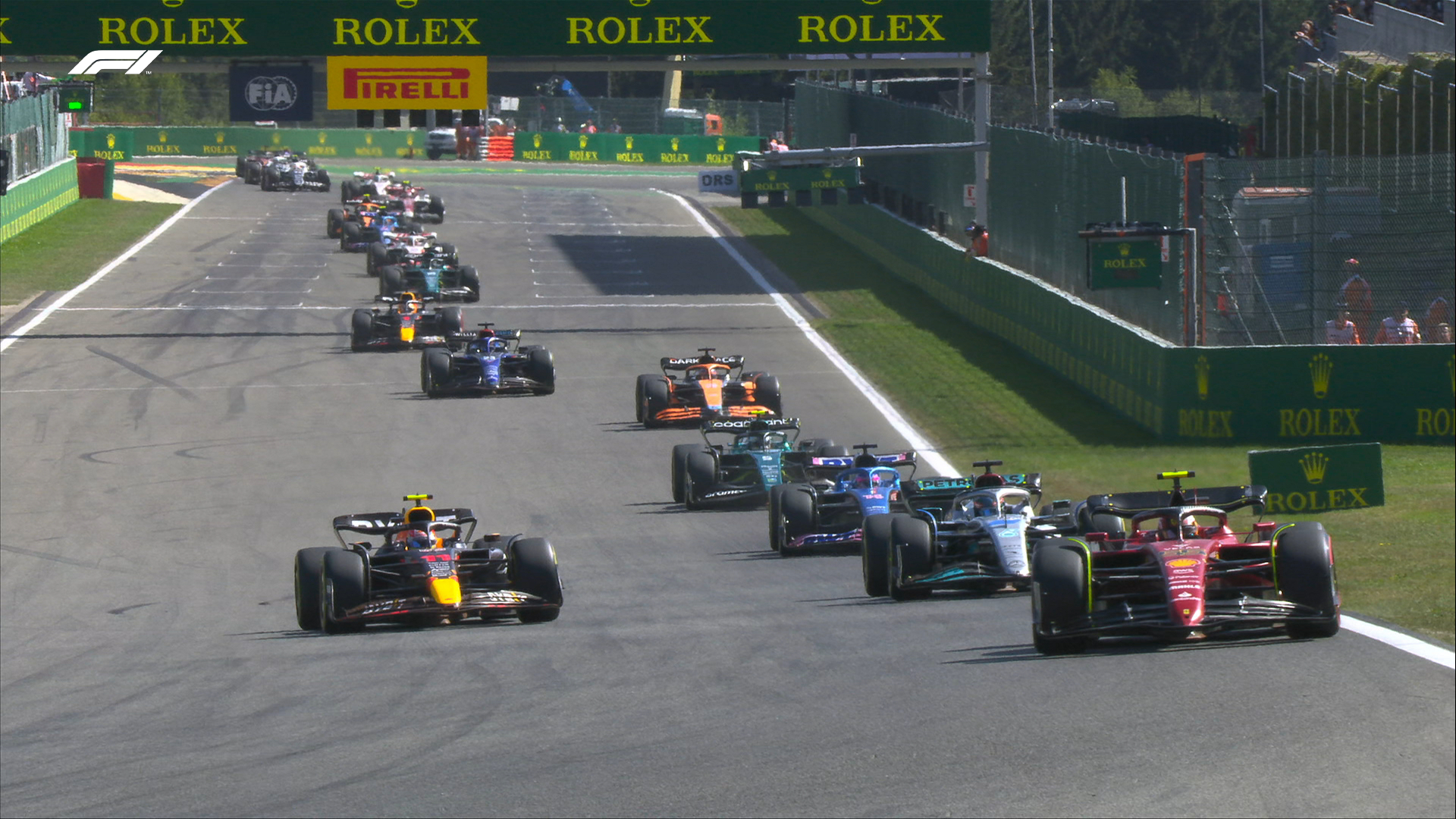 Sainz said in Parc Ferme before moving to the podium: "Unfortunately, it was harder than expected. We got a good start and a good restart after the safety car, but the pace was not there.
"We had a lot of overheating on the tyres, we were sliding around a lot and for some reason, our package wasn't quite there this weekend. But, in the end, we finished on the podium and we will take it," added the Spaniard.
Ferrari's 'title contender' Leclerc starting from 15th, had a strange day, early damage compromised his race and then he has been given a five-second time penalty for speeding in the pit lane which dropped him to sixth behind Fernando Alonso.
Also, before the chequered flag, an attempt by Leclerc to take the fastest lap backfired further when he missed out substantially.
Hamilton was the only first-lap casualty but only had himself to blame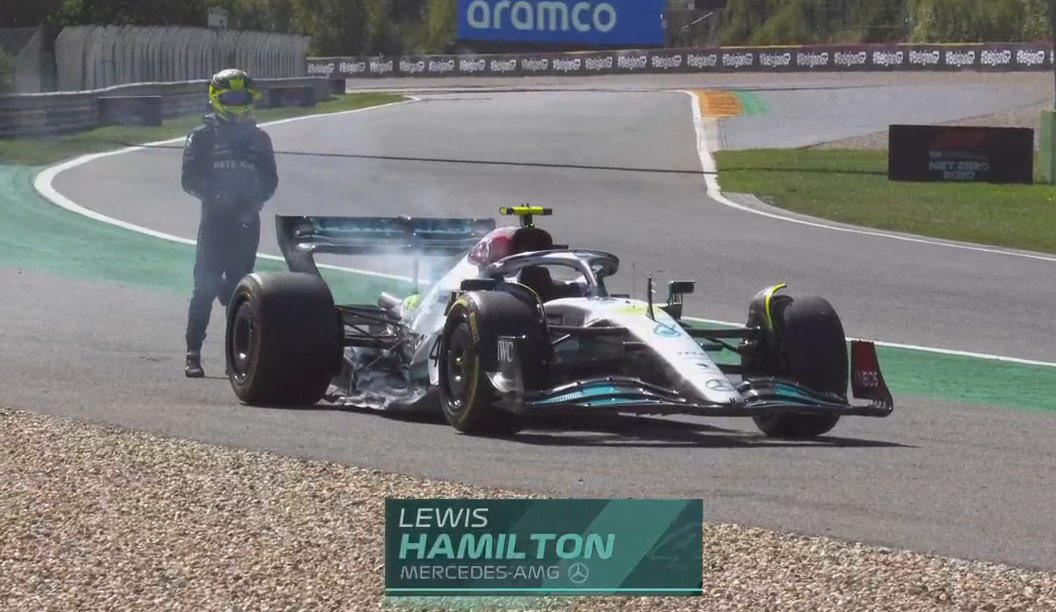 Considering that Turn 1 is a hairpin, Hamilton was the only lap one casualty at this edition of the Belgian Grand Prix, colliding with old foe Alonso into Le Combes, the Mercedes driver ambitious trying to go around Alonso but tightening for the right-hander he clattered into the Alpine whose driver had nowhere to go.
It was a 'Never-Move' that cost the two veterans what might have been a good day. Hamilton had to park after the car took damage, prompting the safety car on Lap 2.
Alonso continued, but was fuming: "What an idiot! Closing the door from the outside. I mean, we had a mega start but this guy only knows how to drive and start in first."
Latifi spun all by himself nearly taking out Ocon and making Bottas go wide and into the gravel facing the wrong way a mega start but this guy only knows how to drive and start in first."
Sainz took the lead after an awkward restart followed by a train of PER-RUS-ALO-VET-RIC-VER.
Leclerc who had hung on to Verstappen as they carved through the traffic, the Ferrari driver reported "I think there is smoke from the front right," before pitting for mediums."
He was 16th on lap 6, 11 seconds down on leader Verstappen.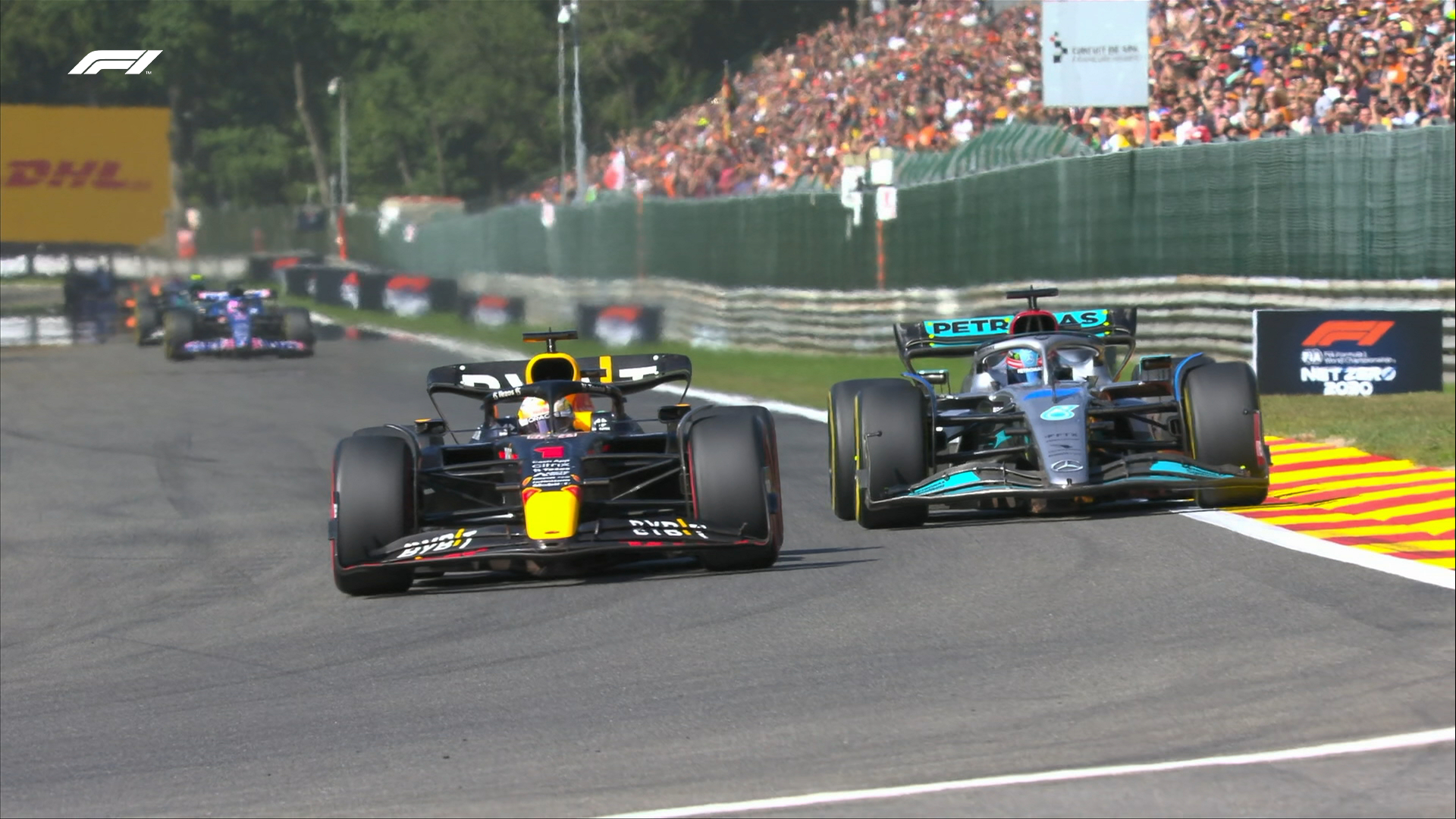 A lap later Verstappen got past Vettel and not long after Alonso was also gobbled, mugging the Spaniard at Le Combes to snatch fourth, only 5.3 seconds down on Sainz leading. The #1 car was on the move.
Next Russell was easy prey to the roar of the partisan crowd lining the Kemmel straight. Leclerc was 14th on fresh mediums.
By lap 11, Verstappen behind Perez wanted to get by and again at the end of Les Combes the Red Bull was at the front. From 14th to first in 12 laps and powering away.
On Lap 16 with a 13 seconds lead, Verstappen stopped for fresh rubber, emerging second behind Sainz and ahead of Perez. Sainz led by 4.8 seconds.
Perez was third, followed by Russell who had Leclerc closing in fast.
On Lap 18, Verstappen nearly rear-ended Sainz, then down the Kemmel straight he did the busines. The Red Bull was in a class of its own on another planet, whatever!
Its driver at his pompous best, delivering a masterclass at the 2022 Belgian Grand Pdix which will go down as one of his great victories.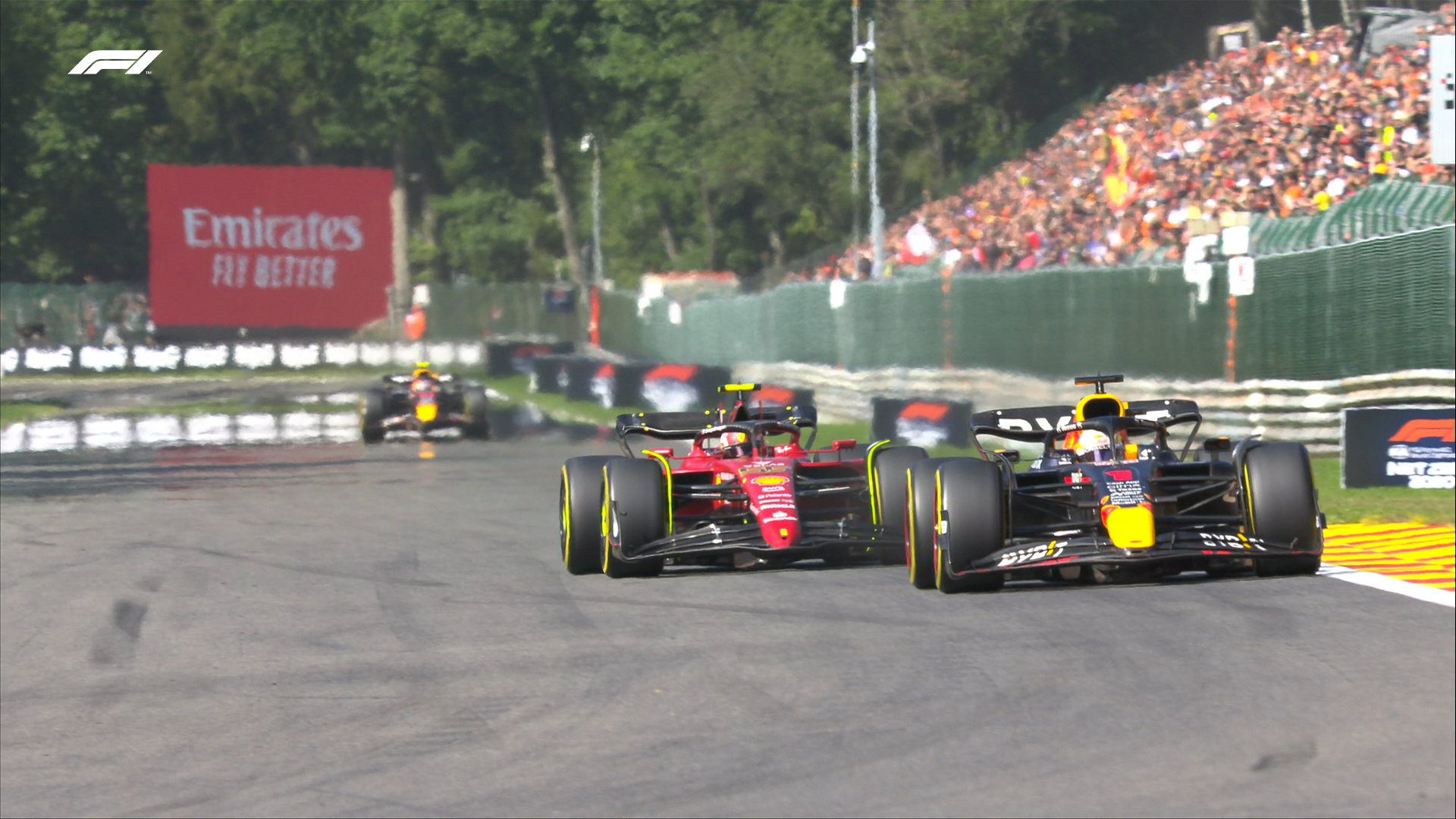 With Max gone and five seconds ahead, next Perez gobbled up Sainz. The battle of the wingmen taking centre stage at this point. The Red bulls were running one and two as the Mexican breezed by the Ferrari.
Behind the top three, Russell in fourth was in a Ferrari sandwich as Leclerc chased the Merc which was closing in on Carlos.
Behind them Alonso, who had damage since the lap one incident with Hamilton, was remarkably in sixth with VET-OCO-ALB next. Ocon making a strong recovery from 17th.
Next stops Ferrari played their final hand, putting Sainz on hards and Leclerc on Mediums, they emerged fourth and seventh. Russell bumped up to third at this point but dropped down to fourth behind Sainz after the Merc stopped.
The Alpines were next best behind the stars of the Spa show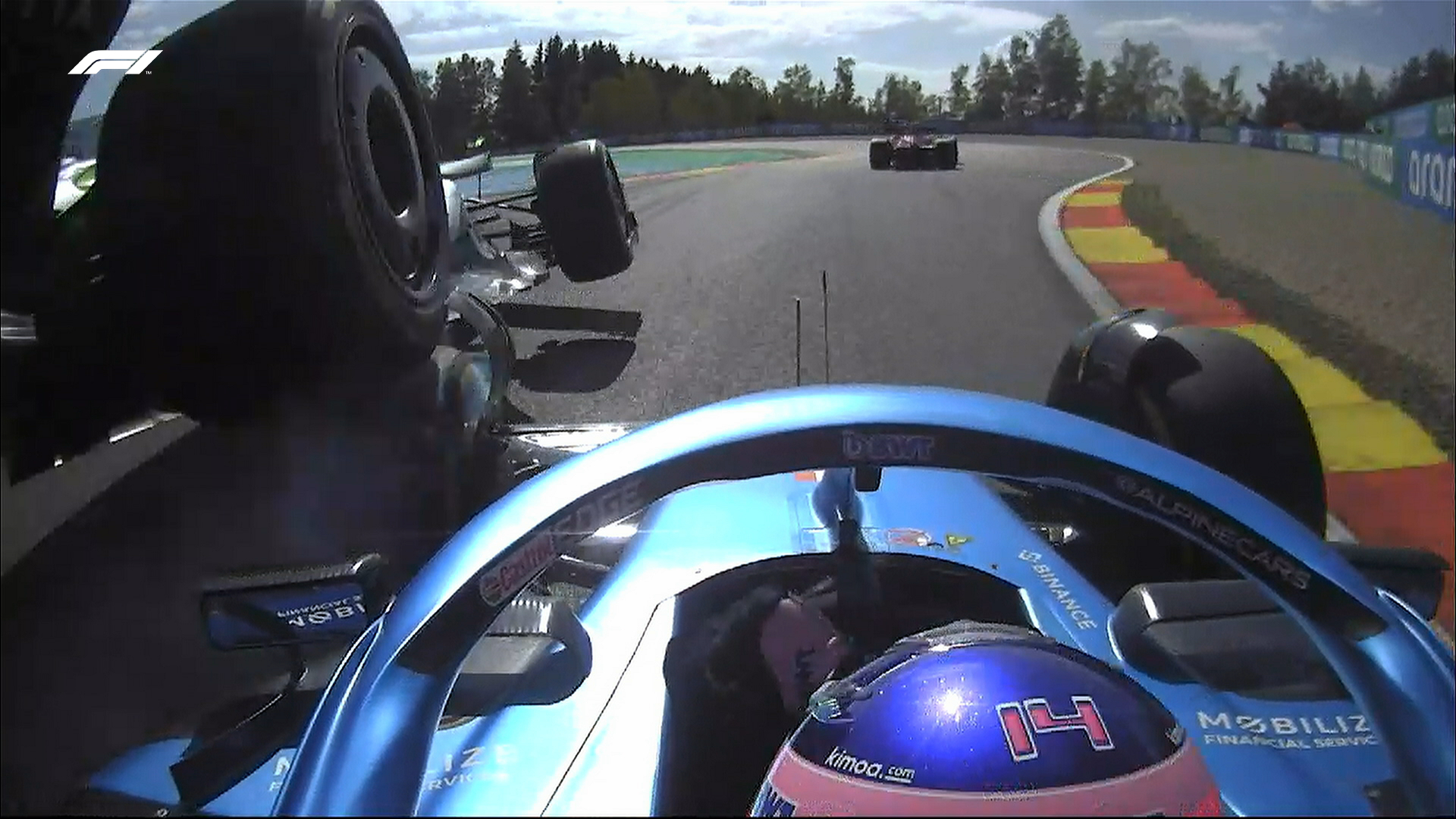 Alonso and Ocon were sixth and seventh respectively, the Spaniard surviving the Hamilton incident, was his gutsy self and the Frenchman doing a sterling job from 16th on the grid due to engine penalties.
Eight went to Sebastian Vettel who had one of his stronger afternoons in Aston Martin colours, ahead of Pierre Gasly in ninth, the AlphaTauri driver ending a points drought after starting from the pitlane.
The final point went to Alexander Albon, the Williams driver shining at Spa-Francorchamps this weekend, unlike his hapless teammate Nicolas Latifi who was again involved in too many incidents as he laboured to 18th, last of the runners and a lap behind.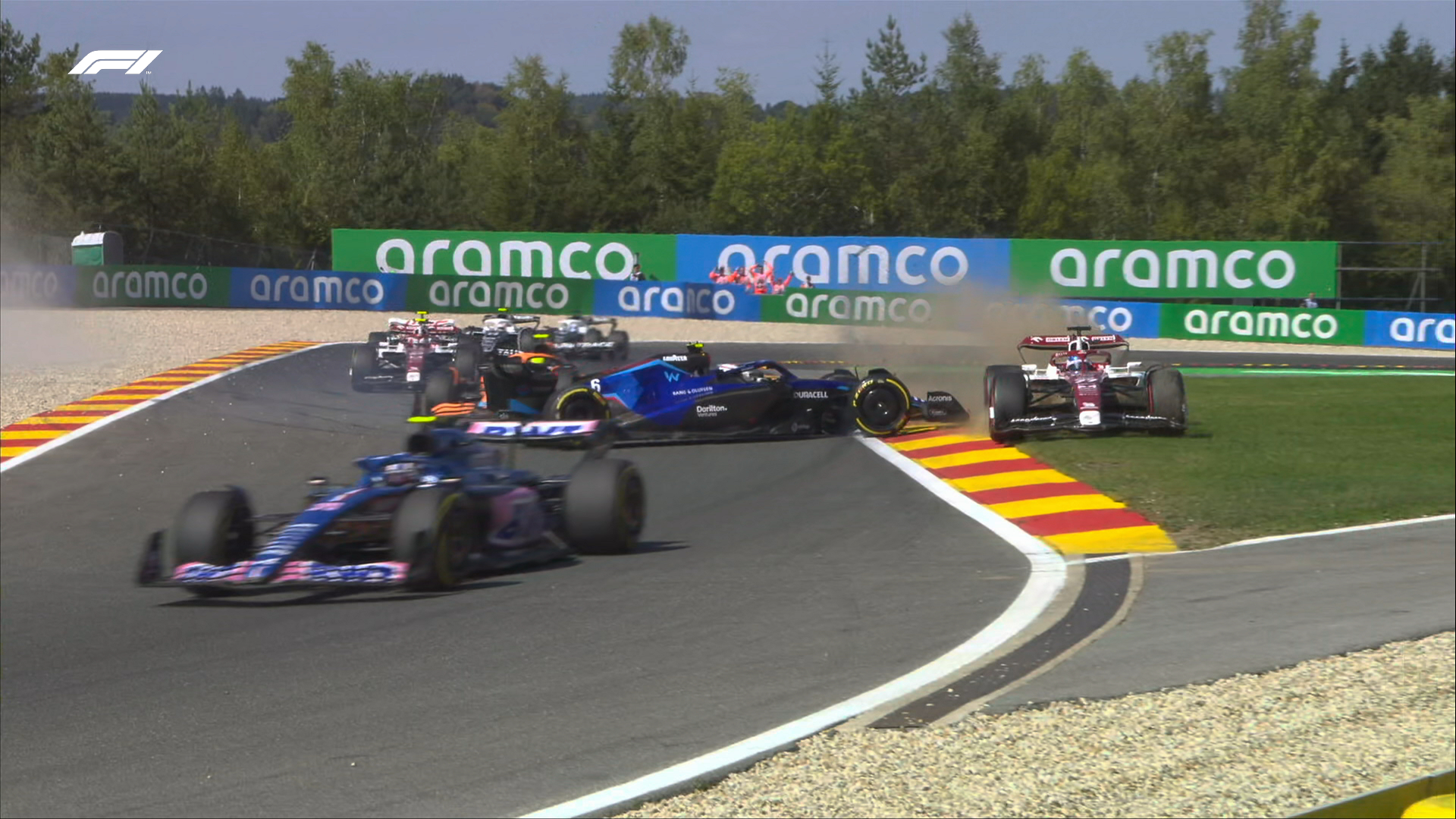 Report in progress…
Belgian Grand Prix Provisional Result: