Max Verstappen blew the temperamental roof off Circuit Zandvoort, sending 300k fans into raptures as he powered to victory at the 2023 Dutch Grand Prix no matter what the gods threw at him today for the three hours on track.
That 'roof' over the seaside resort was indeed dynamic, wet, then dry, then nearly wet then dry. Then a crash. Then dry, then wet etc etc.
A race of so many 'episodes' and opportunities for all, in the end, was won by the current Formula 1 uber-maestro, the unbeatable Max Emilian Verstappen and his faultless Red Bull team.
In the end, it took a five-lap sprint, at the very end of the race for Verstappen to conquer everything thrown at him, on a long but thrilling Grand Prix day in the Netherlands.
Having won Part I of the GP which came with its own adventures and misadventures. All that work was nullified when rain pummeled down, forcing a Red flag with the finish in sight.
Part II was tense stuff as Verstappen got a good restart but so did Alonso who went on to chase the RBR all the way to the flag, with Perez chasing the Spaniard and hunting a one-two for his team. But a mistake and a penalty for speeding cost him and his team.
Forgetting the crazy race it was, to be honest, Verstappen winning the Dutch Grand Prix was no surprise. No one would have predicted a different result at the start of the race, or even when rain played havoc with proceedings early in the race.
Max and RBR had an answer to everything dished out on the day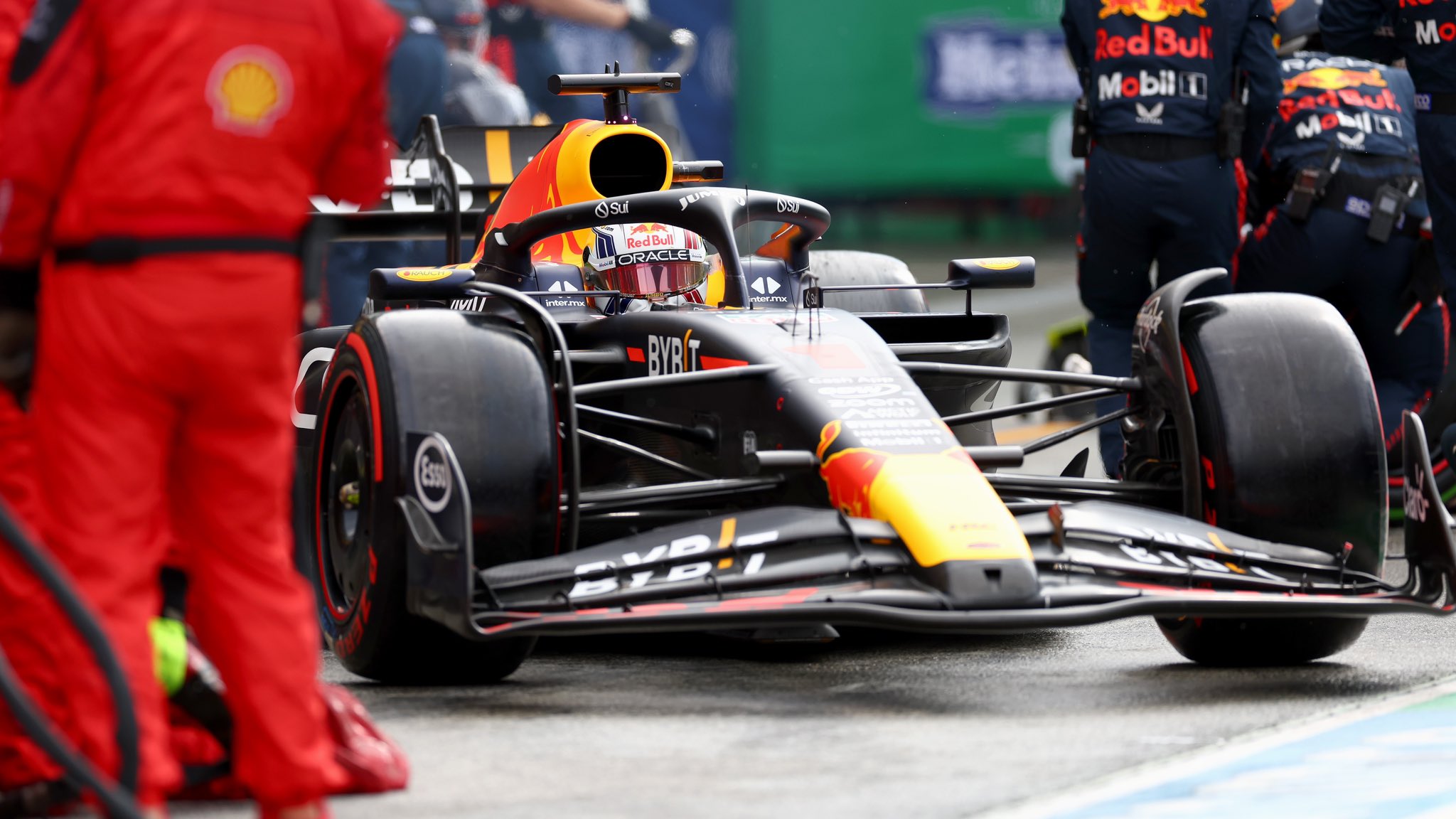 Apart from his masterful mayhem avoidance, it was also incredible calm and perfection of a team at the pinnacle of performance. Nothing fazes RBR or their number one driver.
Victory today at Zandvoort, is Verstappen's 11th of the season, the 46th of his F1 career and of course another substantial step towards his third F1 title. He remains the only driver to win at Zandvoort in the three years it returned to the F1 calendar.
No one but Max has even started the race from the pole. He owns it with his Orange Army, he continues to delight.
"Incredible!" declared Verstappen after his history-making performance: "They didn't make it easy for us with the weather to make all the right calls. Incredibly proud. I already had goosebumps when they were playing the national anthem before the start.
"Even with all the bad weather, the rain, the fans are still going at it. So an incredible atmosphere. I'm going to enjoy this weekend. It's always tough. The pressure is on to perform and I'm very happy to win here," declared the soon-to-be tiple F1 World Champion.
His Red Bull teammate Perez was no match all weekend. The 1.3 seconds deficit in qualifying and the half-second or so down on race pace will have the Red Bull camp concerned… Or not.
Maybe Max is operating on such a high level, Checo is as good as it gets. Whatever the case, the result might've been a perfect one for the World Champs, if not for their second driver's mistake and penalty mishap. He finished fourth.
Alonso: Very special to share the podium with Max and Pierre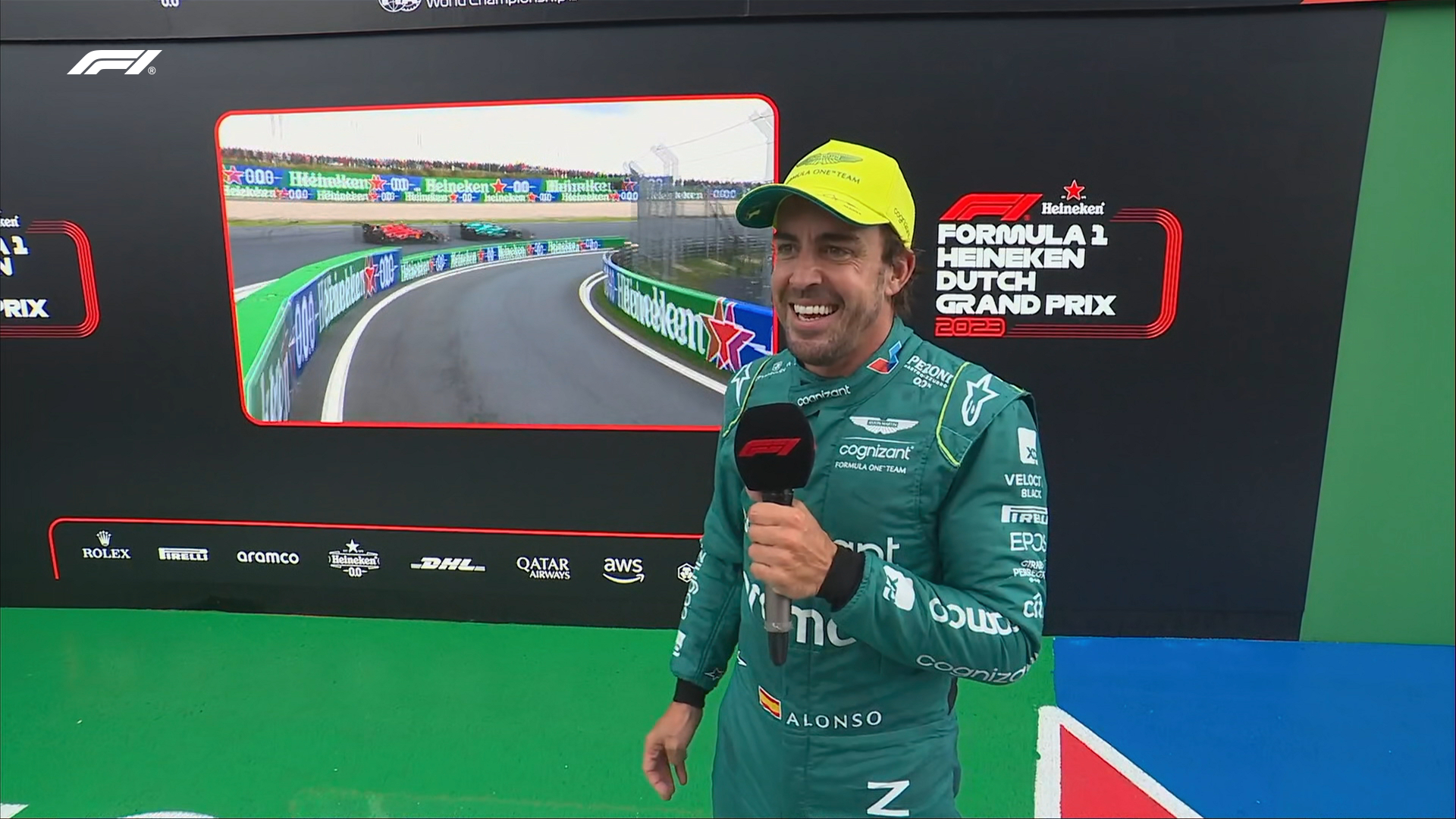 Second place meant Alonso returned to the podium after another never-give-up and typically gritty drive to second place. Making all the right moves in a race of high attrition and packed with incidents. Experience is a good teacher, and Alonso making the most of this precious weapon in his arsenal.
And he does add an extra element to podium celebrations. Welcome back to the podium Fernando. His late race chase was game but not enough to make it win 33.
Before celebrating his 105th GP podium finish, Alonso reported: "It was a very intense race, obviously in the wet conditions we were fast.  We stopped maybe one lap too late but the car was flying today.
"In these conditions, you need a car you can trust and I did trust the car today. Today is going to be very special to share the podium with Max and Pierre. I think this is a very special race track. I did think about trying to move in the last restart," added Alonso.
It was also our delight for Pierre Gasly in third place, a good result for Alpine at a time of big change. Fourth place was a strong result, although a podium might have been possible. Nevertheless, P4 is a just reward for the Frenchman's tenacity today, overcoming a penalty in the process.
Celebrating like a winner, his foirst podium with Alpine, Gasly summed up in parc ferme: "I just want to say LET'S GO! What a race. Coming back from the summer break and it hasn't been the easiest time of the year. Just trying to improve race by race. It was good to get some time off and come back straight into it. I'm super pleased for all the guys to get P3.
"I was pretty upset I had a five-second penalty earlier in the race, so I thought it was 1-1. Then I pushed as hard as I could to stay within five seconds and managed to do it. It was a very long race, very challenging from start to finish," reflected Gasly.
Carlos Sainz survived the wars to bring his Ferrari home fifth, but never in with a podium chance. Rather a result achieved with a gutsy showing. In contrast, his teammate Charles Leclerc was wayward this weekend, and a DNF his plight on a disappointing weekend for the Reds.
Similarly for Mercedes, it was a forgettable weekend. Lewis Hamilton in sixth and George Russell suffering a DNF is not why the once serial World Champs go racing.
Final word to wining team principal Christian Horner: "Max did an amazing job. A really incredible drive. The expectation on him, everyone feels that, but watching him on the grid, keeping himself in the zone.
"It's truly impressive and to match Sebastian's record, the fact we have achieved it twice now as a team, it's very special to us," added the Red Bull man.
Much more was expected of McLaren but they faltered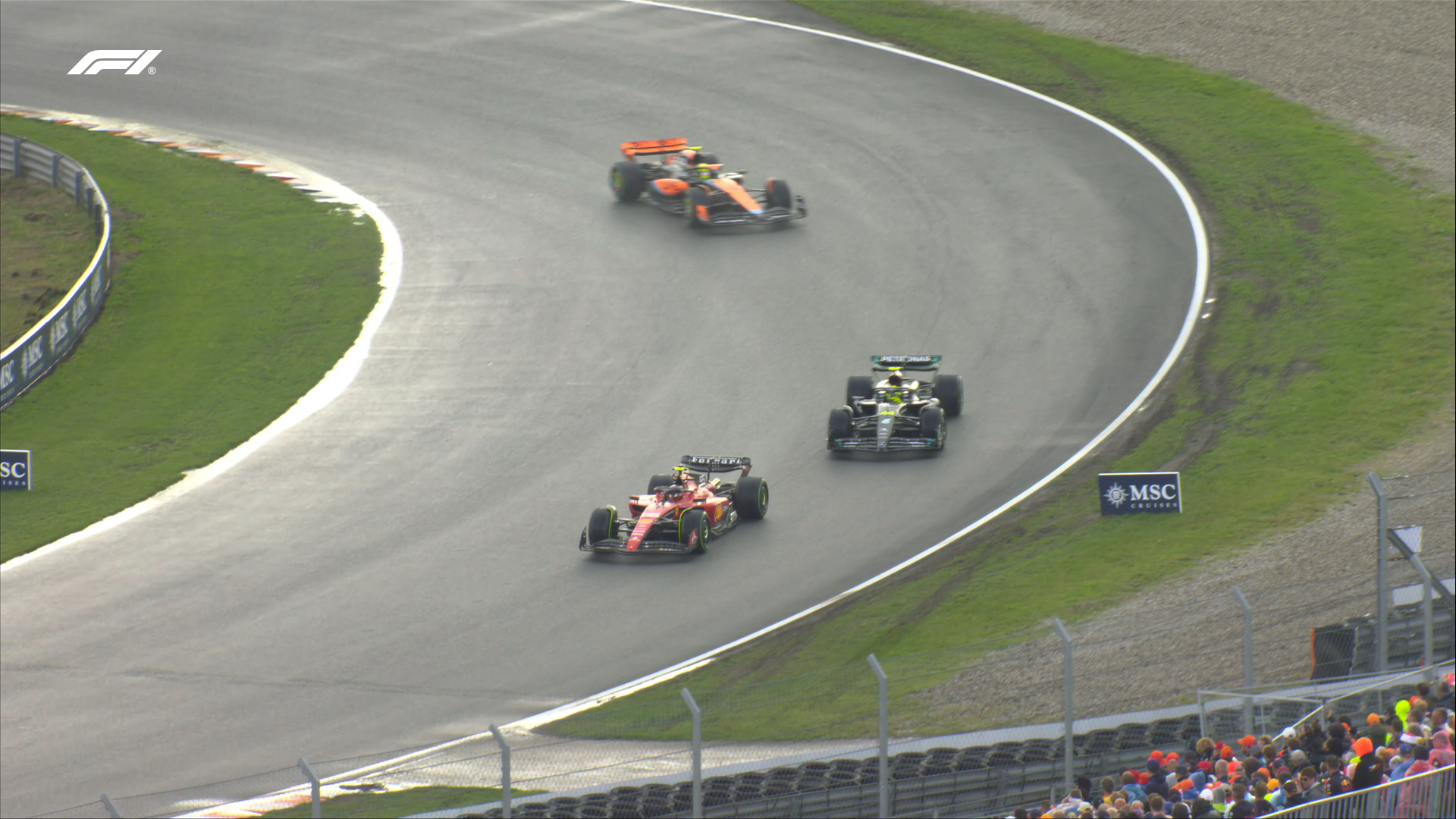 Ditto McLaren. The pre-race bluster was loud from the Woking outfit. Lando Norris sparkled with second place in qualifying. But on race day it all came to nought.
When smart strategy was required, Norris was denied. What many predicted would be a podium for Norris ended up being a disappointing seventh. Oscar Piastri was ninth on a weekend in which McLaren denied themselves.
Star of the weekend in his Williams was Alex Albon, but also a victim of bad team strategy he nevertheless fought back to split the McLarens with eighth place in the end.
Esteban Ocon claimed the final point for a double haul for Alpine at a time when they sorely need good results as their new era beckons, with new leadership at the helm, the French will go home happier than they have been for a while.
Special mentioned to F1 debutant Liam Lawson, starting last on the grid but finishing 13th on a weekend he did not expect to be racing. Short notice call-up for injured Daniel Ricciardo, and doing a solid job in the process. Time will tell what the future holds for the New Zealander, F1's 775th driver.
Reflecting on Zandvoort, it rings out that Verstappen won in Max-land to add to his beautiful F1 legacy we are privileged to witness as it evolves. For now, he rules F1, just as he rules the Netherlands.
Provisional Dutch Grand Prix Result
How the Dutch Grand Prix unfolded
The grid lined up for the 33rd running of the Dutch Grand Prix under skies-threatening rain, with Liam Lawson making his debut in the AlphaTauri replacing injured, and luckless Daniel Ricciardo.
Strategies were always going to be interesting, as running has been so mixed all weekend while umbrellas popped up among the heaving 300,000 plus Orange-clad fans. Rain was coming was the collected body language.
Lights out and Verstappen was gone, with Norris chasing and Alonso blitzing into third. No contact! And it was close, plus slippery as rain pounded down on the main straight.
Perez pitted for inters, as did Leclerc and Gasly among the big guns.
Alonso got past Norris into second, Verstappen 1.2 seconds ahead when they pulled him in for inters. Perez was ahead when Verstappen emerged, and took the lead on Lap 3. The drivers on slicks struggled, as those on inters blitzed around.
By lap 5 the top eight were on Inters. Perez and others who pitted earlier benefitted massively. Zhou was up 13 places in second with Gasly fourth and Verstappen, who waited for a lap, in fifth after starting from pole. Those who waited until late suffered badly, Russell from third was down in 17th.
Lap 7 the new top ten were PER-VER-ZHO-GAS-ALO-LEC-SAI-TSU-MAG-OCO. Verstappen flew and set the fastest lap, elbowing Gasly out of the way in the process.
The gap Perez to Max was now six seconds and closing at about a second per lap, simply in another league.
Lap 10 order PER-VER-ZHO-GAS-ALO-SAI-LEC-TSU-OCO-NOR.
A flurry of pitstops for slicks followed.. The top four out on inters, with Alonso flying on soft slicks to take fifth. Time for slicks. Verstappen pits for slicks, Perez a lap later. Gasly and Zhou followed.
Verstappen was back in the lead on lap 13, followed by Alonso and Gasly. Perez in the pits, rejoined in second ahead of the Aston Martin.
Bewildered Perez questions his team: Did Max undercut us? Indeed he did, they did, we did.
Lap 15 and Sainz versus Gasly ensued as rain fell amid the sunshine. Lap 16, Sargeant crashed the Williams again. The rookie out of his depth all weekend, triggered a safety car and further shone a spotlight on his F1 future. Teammate Albon, suffering by staying out too long, was nevertheless in eighth.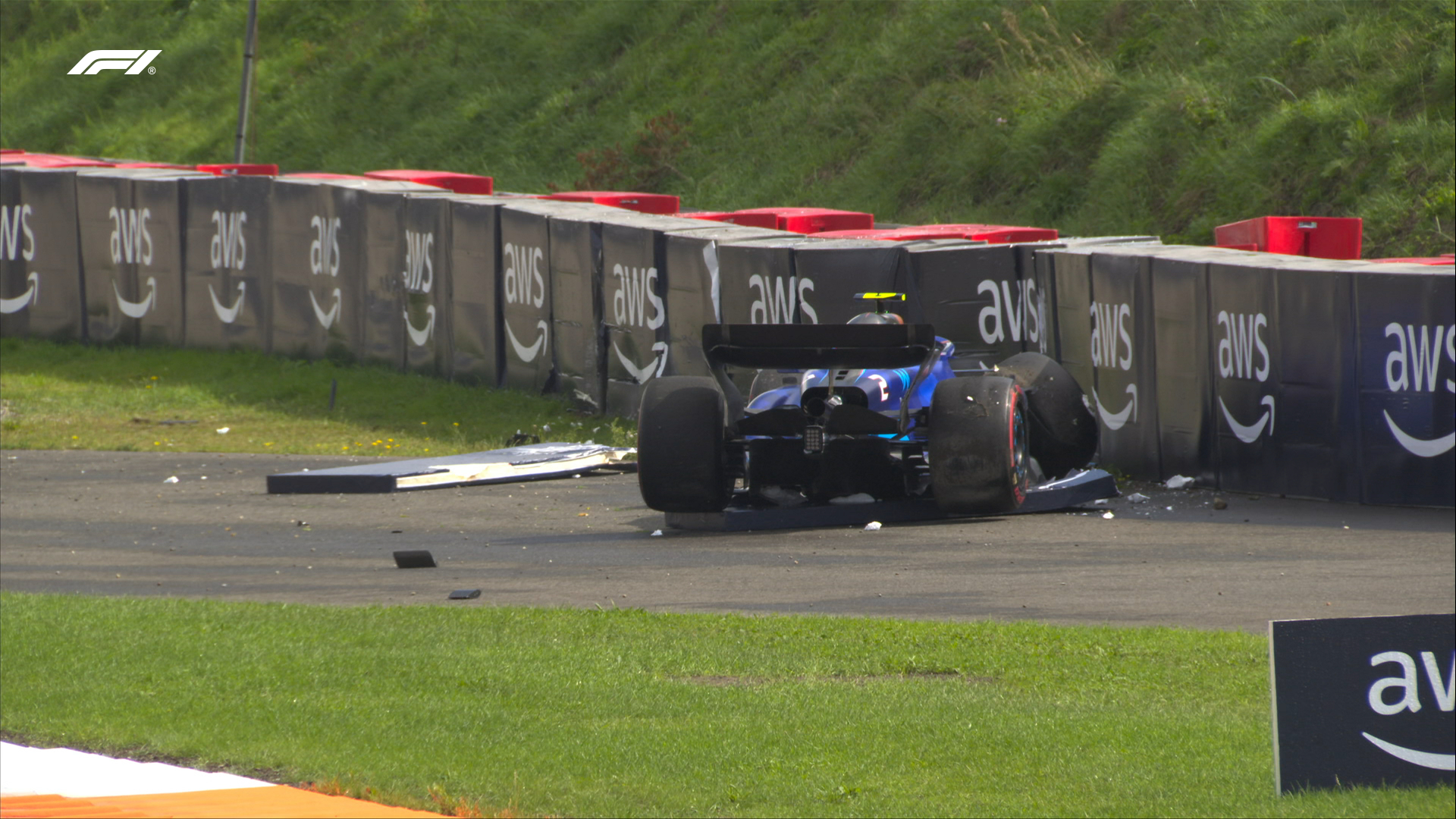 Pitstops ensued as the Safety Car led the race before unleashing the field at the end of lap 21, the top ten then VER-PER-ALO-GAS-SAI-ZHO-MAG-ALB-OCO-TSU
Albon was on the move, up to sixth on lap 27. Alonso chasing Perez hard as Verstappen popped fastest laps with the gap to Perez up to three seconds, within three laps. Growing the gap with each lap..
Magnussen was in freefall the Haas down to 11th by lap 28, as Norris edged into the top ten and a gap to chasing Hamilton, 12th in his Mercedes. Russell from third on the grid, was 17th!
Zhou on Mediums was under pressure from Softs shod Tsunoda, Norris and Hamilton chasing for eighth, covered within a couple of seconds at this point. The AlphaTauri was the first past the Alfa Romeo, and then the other two.
The order on Lap 30 was VER-PER-ALO-GAS-SAI-ALB-OCO-TSU-NOR-ZHO
Lap 33 Hamilton was past Zhou into tenth. Lap 34 Verstappen lays down the fastest lap, the gap to Perez 4.4 seconds, Alonso a further 3.5 seconds down, and a couple of seconds ahead of Gasly.
Lap 40 order VER-PER-ALO-GAS-SAI-ALB-OCO-TSU-NOR-HAM
On lap 49 Aston Martin fumbles Alonso's stop, he drops two positions. Verstappen pits from the lead.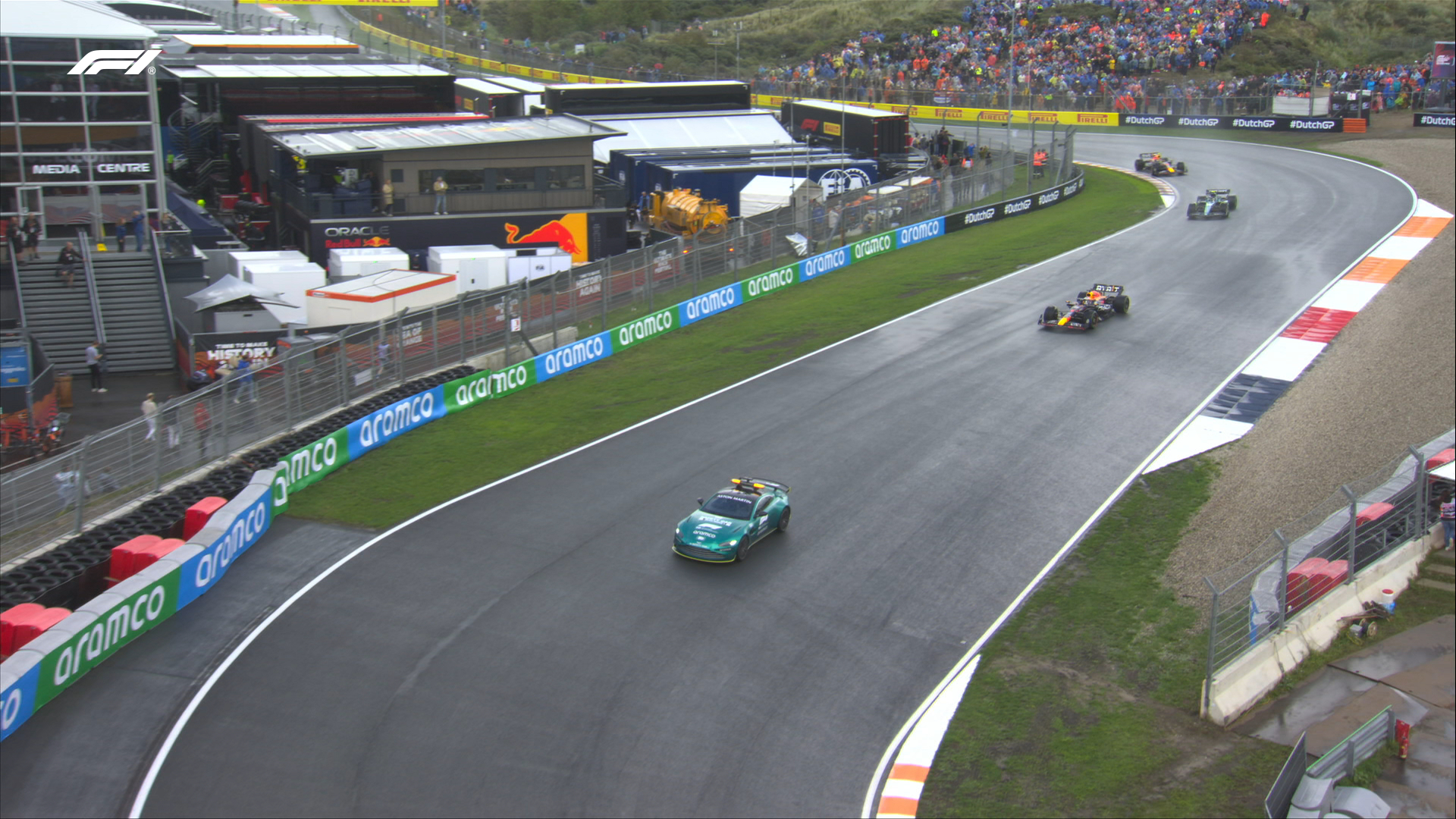 Lap 50 order VER-PER-SAI-ALO-GAS-TSU-RUS-ALB-OCO-NOR. Alonso stalked Sainz and gained fast, still determined to end on the podium. Lap 52 into Turn 1, Fernando was back in third.
At the front Verstappen led by 7.3 seconds ahead of Perez who was 13 seconds up on Alonso. Tsunoda was in freefall, banging wheels and fumbling away all day.
Lap 55, RBR radios Max to warn of rain expected towards the end of the race. A lap later Albon got by Russell. The Williams were impressive despite staying out way too long, earlier in the race. Alex's best weekend in F1. On lap 57, hello to the first spots of rain.
Alonso was on the move, setting the fastest lap at that point.
Lap 60 order VER-PER-ALO-GAS-SAI-ALB-HAM-RUS-OCO-NOR. Verstappen led by 10 seconds when Perez pitted early. RBR fumbled briefly. The top three plus Ocon stayed out. The rain was pummeling down. Verstappen pits a lap later than Checo, but emerges in the lead by 20 seconds from Perez!
Alonso was third, six seconds behind Perez who spun out on lap 63. Alonso into second, and Zhou in the wall.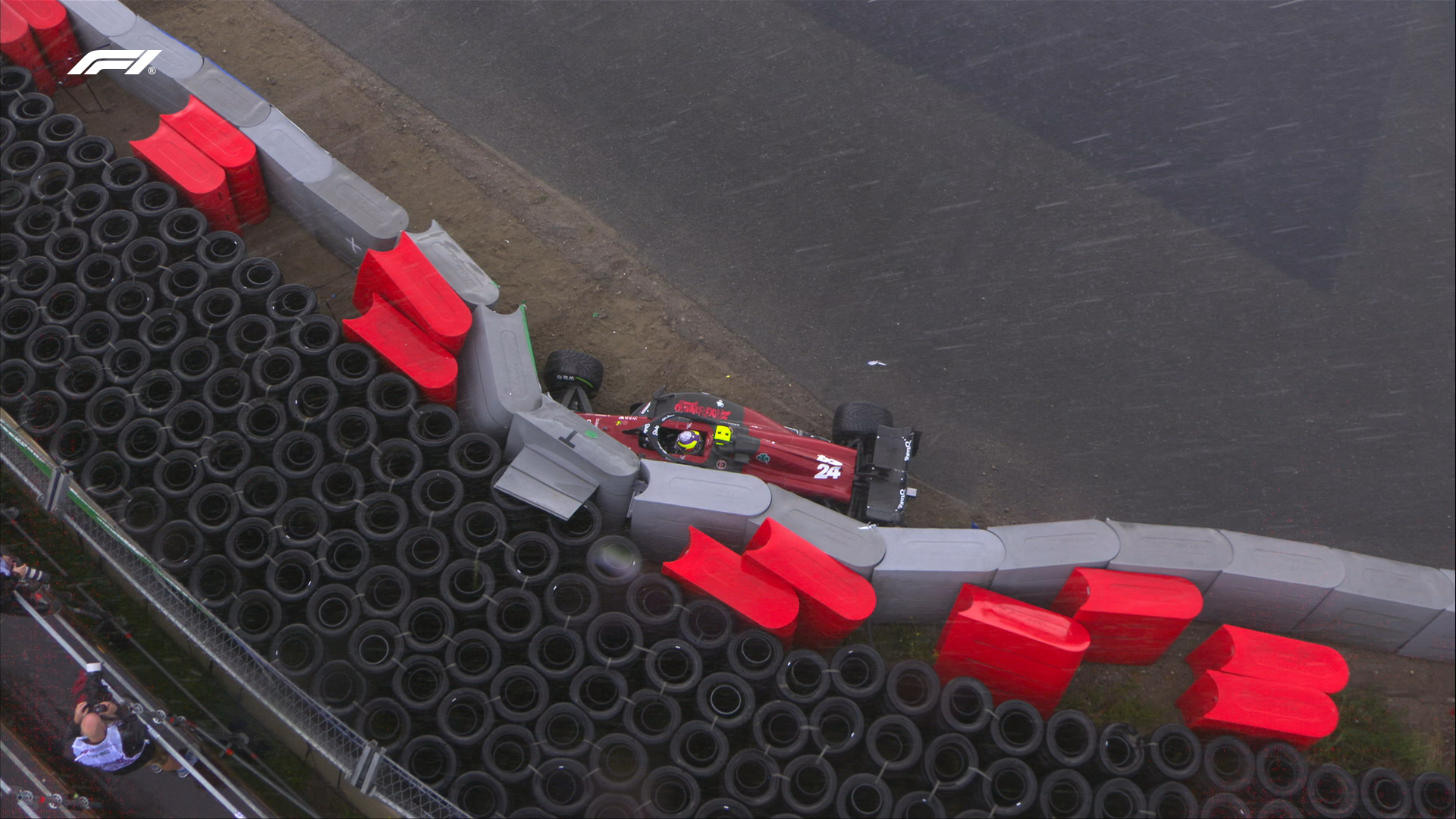 The restart saw Max bolt ahead with Alonso tagging onto the #1 car, with Perez trailing and dropping Gasly, Sainz and Hamilton. Russell was on the move but a lap later was boxing his Mercedes for a DNF, after an altercation with Norris.
Sainz had Hamilton and Norris hunting him down. One could write "History beckons for Max Verstappen" as a headline each time before a Grand Prix because these days he is unbeatable in the remarkable Red Bull RB19 in the past eight races of the 2023 Formula World Championship.
Vettel, now retired, is the only driver to have won nine races in a row during a single campaign and he did it on his way to a fourth F1 title in 2013; all with Red Bull too. Today Max can match Seb, and even has the great German's blessing to beat the record!
Dutch Gand Prix Preview
One could write "History beckons for Max Verstappen" as a headline each time before a Grand Prix, he has been unbeatable in the remarkable Red Bull RB19 for the past eight races of the 2023 Formula 1 World Championship.
[This post will be updated with the Dutch Grand Prix report at the end of the race at Zandvoort. Please refresh page for the latest version. Enjoy the GP!]
Sebastian Vettel, now retired, is the only driver to have won nine races in a row during a single campaign and he did it on his way to a fourth F1 title in 2013; all with Red Bull too. Today Max can match Seb, and even has the great German's blessing to beat the record!
And betting against the soon-to-be triple F1 World Champion winning today – and turning his home Zandvoort deliriously Orange – is foolhardy, as he is every bookies' outright-outright favourite (yes two times it!)
Even his rivals wait for him to make a mistake, a small slip-up but they wait in vain as the Dutch ace delivers near perfection every weekend these days, in a near-perfect car for him executed by his near-perfect RBR team. Arguably the very best combo ever witnessed in F1 history, up there with Lewis Hamilton at Mercedes; Michael Schumacher at Ferrari; Ayrton Senna at McLaren. Namely up there with the Gods (and their teams) of our sport's history.
The Dutch driver has so far won 10 races in 2023. He has 45 wins from 175 starts and is fifth on the all-time list. Alain Prost, with 51, is fourth.
Red Bull have won every race this season (10 for Verstappen, two for Perez) and a total of 13 in a row dating back to Abu Dhabi last year. No team has ever won every race in a F1 World Championship season.
But with all this F1 greatness comes a huge sacrifice to the sport too
Verstappen's rule is a double-edged sword if you wish, as Verstappen's dominance has turned the sport predictable once again. The double F1 World Champ is in a phase of greatness that it is no longer a matter of "if he will win, but rather by how much"; and Max relishes not only going for the gap but also how big the gap is to P2 at the end of the race.
Thus this preview asks the two questions, whose answers will determine the result today at Zandvoort: By how much will Max win the 33rd running of the Dutch Grand Prix today? Does Fate plan to intervene?
If you (aka Fate) take pole position starter Max out of the equation, his teammate Sergio Perez is nowhere. With his teammate able to claim pole in the same car, seventh on the grid for the Mexican and the 1.3 seconds deficit to the #1 car is hard to ignore.
Either the wheels are falling off Checo's career or Verstappen is simply unbelievably good at the moment. Probably a combo of both, as one driver struggles to make the podium, and the other will struggle not to be on the top step of it!
The good news is that behind Max we have one great race in the making!
The McLarens have been impressive all weekend. Lando Norris, the only driver to push Verstappen, will start from the front row and fancies his chances of an upset despite the odds. These are not all pro-Max, because each time he wins, he is one race closer to the inevitable race he won't win.
Norris is smart, driving with gusto and dare while shining in a car he deserves to have under him. Because the better the cars get, the better the Englishman drives. Further inspired to raise his game by feisty teammate Oscar Piastri, we have the best Lando emerging every session.
Two young guns capable of causing a big upset in Orange-land by painting it Papaya, if you can's tell the difference.
With Max on current form and luck on his side, expect him to win this 72-lap race by over a minute. Behind him, good money would go on Norris on the podium, with P3 up for grabs by half a dozen drivers.
George Russell is due a strong result in the Mercedes. The Williams in Alex Albon's hands looks destined for a big moment as the darling of the show so far at Zandvoort. Of course, Fernando Alonso is always good value in the Aston Martin. Ferrari's Carlos Sainz is capable of a podium but probably will go backwards.
Worth pondering ahead of and during the 2023 Dutch Grand Prix:
What is Lewis Hamilton doing down in 13th?
The first weekend of a new era at Alpine. What's the difference?
Was that the last of Daniel Ricciardo's comeback? How good is Liam Lawson?
How are Ferrari going to engineer Charles beating Carlos this time?
Dutch Grand Prix Stats & Facts by Reuters
Dutch Grand Prix
Circuit Zandvoort
13th race of the 22-round 2023 FIA Formula 1 World Championship season.
Lap distance: 4.259km. Total distance: 306.587km (72 laps)
2022 pole position: Max Verstappen (Netherlands) Red Bull one minute 10.342 seconds.
2022 race winner: Verstappen
Race lap record: Lewis Hamilton (Britain) Mercedes 1:11.097, 2021
Start time: 1300GMT (1500 local)
The race returned to the calendar in 2021 for the first time since 1985.
Verstappen won in 2021 and 2022, both times from pole position, making him the only current driver on the grid to have won the Dutch Grand Prix.
Zandvoort opened in 1948 in the coastal sand dunes and is often described as "old school" — a quick and flowing circuit with high-speed changes of direction and much of the lap spent cornering.
Overtaking can be a challenge, putting an emphasis on qualifying.
It is roughly a half-hour train journey from Amsterdam.
The last two banked corners have an angle steeper than the Indianapolis Motor Speedway. The 235 metre pit lane is the shortest of the season, and the speed limit is lowered from the usual 80kph to 60kph.
The narrow and twisty track, with 14 corners, is the second shortest on the calendar and the race has only six laps less than Monaco. Only 55% of the lap is spent at full throttle.
Wins, Poles, Podiums & Fastest Laps
Verstappen has won the last eight races and can equal the record of nine successive wins in a single season set by Sebastian Vettel, also with Red Bull, in 2013.
The Dutch driver has so far won 10 races in 2023. He has 45 wins from 175 starts and is fifth on the all-time list. Alain Prost, with 51, is fourth.
Red Bull have won every race this season (10 for Verstappen, two for Perez) and a total of 13 in a row dating back to Abu Dhabi last year.
No team has ever won every race in a F1 world championship season.
Hamilton has a record 103 career victories from 322 starts but has not won since Saudi Arabia in December 2021.
Aston Martin's Fernando Alonso has 32 wins, most recently in his home Spanish Grand Prix in 2013 with Ferrari, from a record 367 starts.
Hamilton's pole in Hungary last month was the record-extending 104th of his career and ended Verstappen's run of five in a row.
Red Bull have been on pole in nine of the season's 12 races, with Charles Leclerc taking the top slot in Azerbaijan and Belgium and Hamilton in Hungary. Verstappen has seven poles for 2023.
Six teams and eight drivers have made a podium appearance this season: Red Bull, Alpine, Aston Martin, McLaren, Mercedes and Ferrari. Verstappen has yet to finish outside the top two.
Verstappen holds the record for most podiums in a season — 18 in 2021.
Michael Schumacher is the only driver ever to have finished on the podium in every race of a season, in 2002.
Five different drivers have taken fastest laps this season – Alfa Romeo's Guanyu Zhou, Verstappen (6), Perez (2) and Mercedes' George Russell and Hamilton (2).
2023 F1 Championship Standings