Lando Norris continues to rise, the McLaren driver making the most of the increasingly handy MCL60 to push pole winner Max Verstappen into a mistake in qualifying for the Dutch Grand Prix, but that seldom happens.
Sure Verstappen has had moments on the limit, sh!t happens. But he gets by with his mastery as he did when he scraped the barriers, avoiding damage on gripless grass during a wet practice session. Had he bent metal, it would've been a mistake. But he did not. And seldom does these days, as his rivals point out often enough.
Norris has cheekily called Verstappen out as McLaren's party-crasher and again showed respect for the double F1 World Champ after finishing P2 to him in Qualifying for the race at Zandvoort, on Sunday, Lando said: "P2 was a good result, I guess, in these conditions.
"Every now and again you hope Max makes a mistake and he doesn't. Frustrating in a little way but I'm very happy. The team's done a good job. It was a chaotic qualifying but another P2, so… good."
Regarding the frenetic session on Saturday, Norris explained: "Qualifying is always stressful, no matter what the conditions. But definitely, now it's definitely trickier. Like the first half of the lap was mega, the second half was probably one of the worst second halves that I've done!
"So, it peaked very early on. It's tough, but I really enjoy these conditions. I've always enjoyed the conditions, it's when we do well. So, I'm taking the P2 still."
Lando: I peaked too early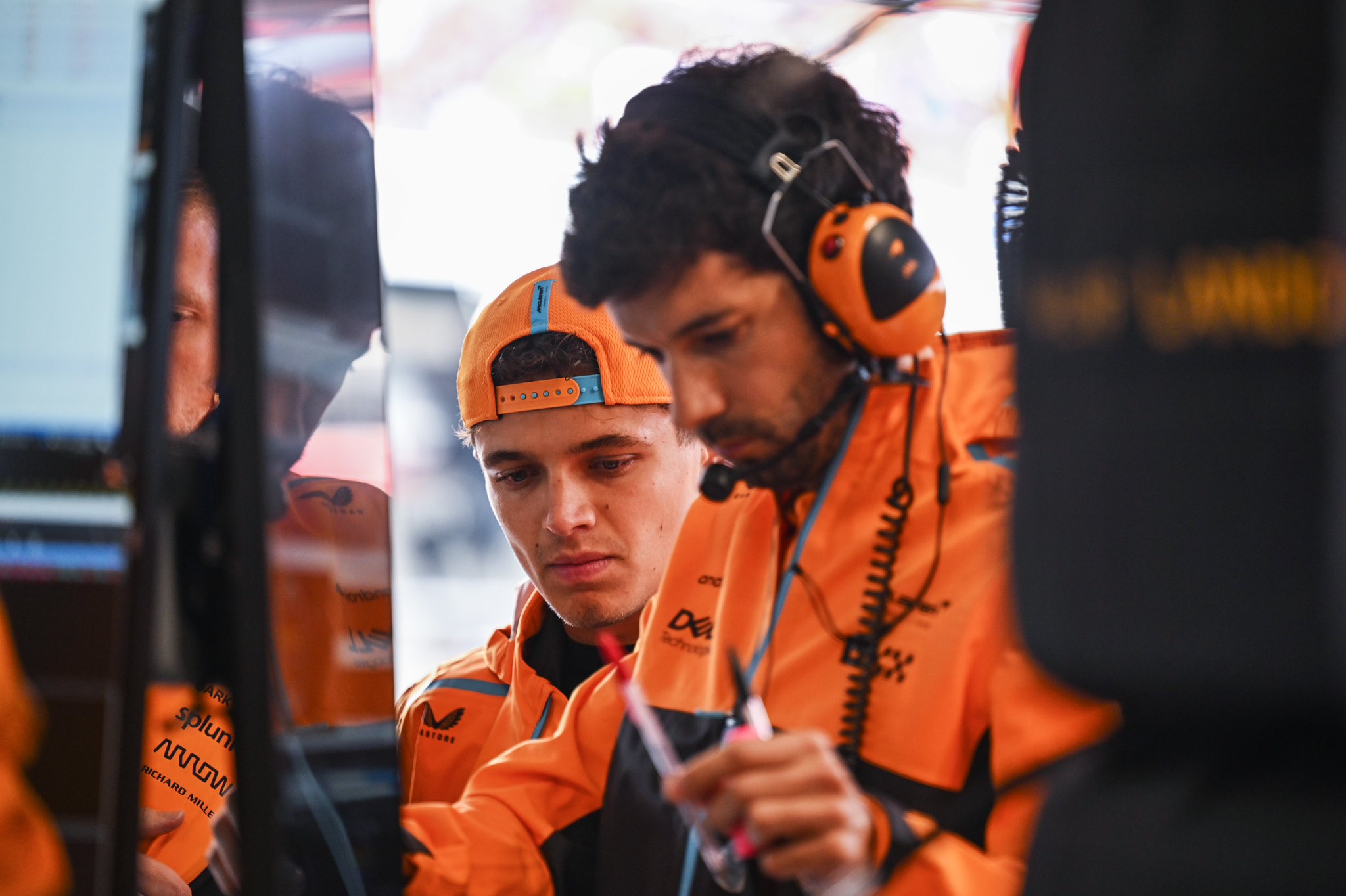 Asked to explain if it was he or the car that "peaked very early" Norris replied: "The driver! Tyres were good until the end. The driver peaked very early, so I've got a bit of work to do. Not the most comfortable but good enough, so I'll take it."
Did he feel he had a realistic shot at pole position on the day? Norris reckoned: "I thought there was a chance at least. I knew my lap in Q3, Run 1 was decent but I knew everyone's going to improve a huge amount. I knew there was plenty of places and time for me to gain on that lap.
"So, it's difficult because even when you think you're doing… You know, I was one second up after already, what, six corners, seven corners? It gets you a bit excited. But you know, everyone else is probably doing a similar thing.
"My first half a lap was very good, my second half was pretty terrible. I had a double shift out of Turn 10, which probably cost me a couple of tenths, but at the same time, nothing would have got me enough to get past Max. He did a good job. These conditions, where you hope something might come your way and it didn't today, but P2 was a good result for us," he repeated.
As for Verstappen's effort, did it surprise him? Norris said: "No, no. It's never a surprise anymore."
Piastri: The car had good pace and felt good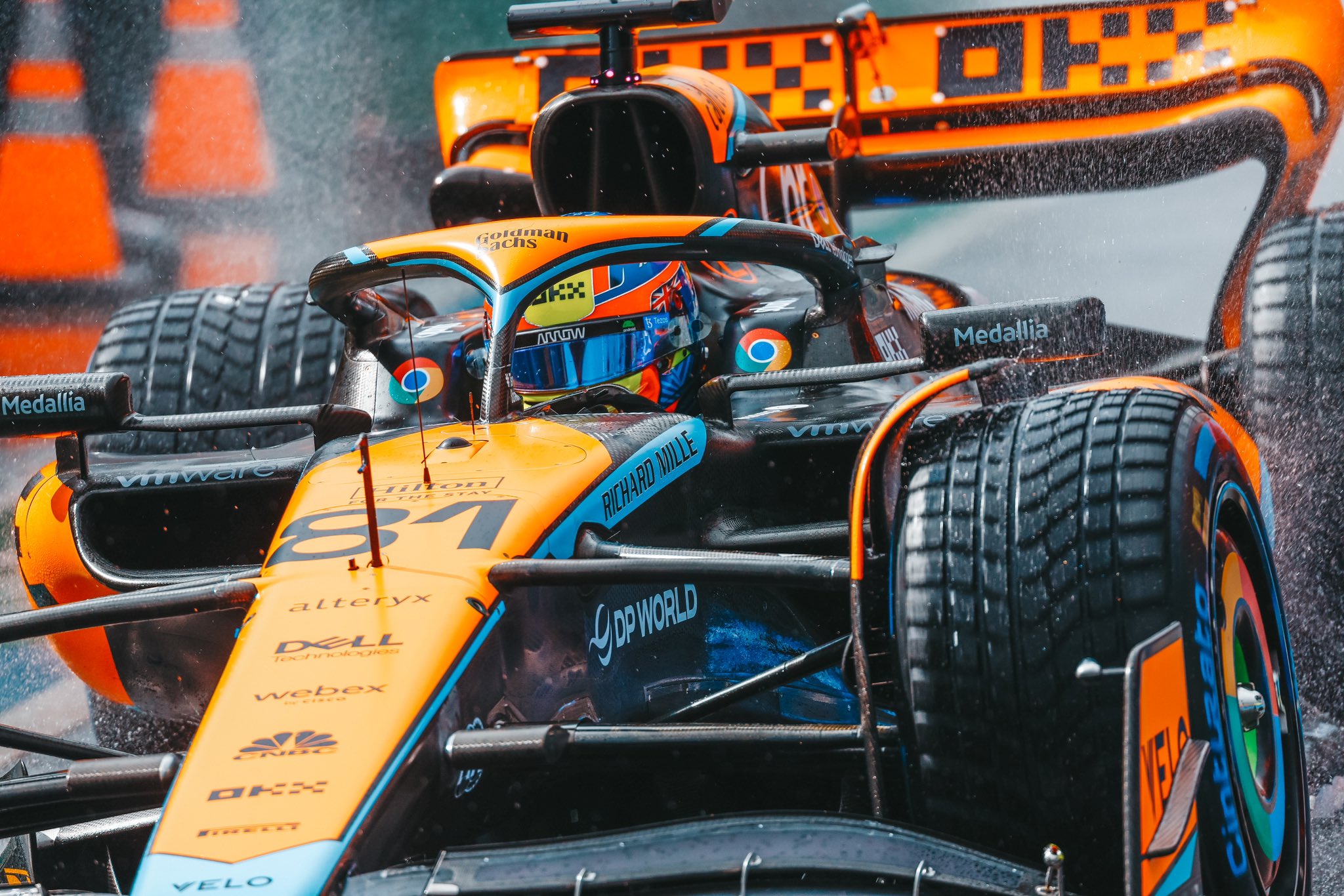 In the other McLaren, after crashing Oscar Piastri was at the sharp end throughout qualy, the rookie again impressing and keeping his teammate honest by going faster in Q1 and Q2. But when the chips were down in Q3, he was lacking eight-tenths on Norris and only good for eighth on the grid.
In the McLaren team report, Piastri lamented: "Eighth in qualifying, a bit of a disappointing end to what was otherwise a good session. It's a shame to be a bit further back than I'd like, I just think I paid a little bit for not getting the laps in yesterday's practice sessions, especially when it dried-up today.
"The car had good pace and felt good which is pleasing so we'll see what we can do tomorrow and hopefully score some decent points to start the second half of the year," added Piastri.
Team Principal Andrea Stella gave the McLaren take on Saturday's action: "It was a busy qualifying with conditions that kept changing all the way through the session. The team and the drivers made good decisions, being out on track with the right tyre at the right time, which allowed us to make it with two cars in Q3 and fight for the front positions of the grid.
"In Q3, Lando put together a clean lap on dry tyres, even if he wasn't completely happy, but this is normal without having many references. On Oscar's side, after a strong first run on dry tyres, he struggled to find the rhythm going onto the second set.
"We can't forget that not only is Oscar a rookie at this track in a Formula 1 car but also yesterday he had limited running in dry due to the incident. Overall, we start the race from strong positions. We're now going to analyse and prepare for Sunday, to try and score good points," added Stella.