Max Verstappen took his eighth pole position of the 2023 Formula 1 season, in front of his home crowd at Zandvoort after a tricky session marred with Red flags.
Qualifying started in wet conditions with Intermediate tyres being the order of the day, and as the track started to dry out and the grip ramped up, the lap times started to tumble with many drivers emerging as serious contenders.
But in the end Verstappen set the record straight and took pole for Sunday's Dutch Grand Prix as he targets his third win in a row at his home race.
In the end the Dutchman took pole from a rapid Lando Norris who had to settle for second place, while George Russell gave Mercedes something to smile about being third fastest, after Lewis Hamilton was eliminated from Q2.
However, the star of qualifying was undoubtedly Alex Albon who was superb so far for Williams, on a track where the FW45 wasn't supposed to struggle. He was fourth fastest.
Ferrari continued to struggle from Friday and Charles Leclerc ignominiously crashed his SF-23 in Q3, the second driver to do so after Logan Sargeant did the same just before him in Q3.
MAX VERSTAPPEN TAKES POLE AT ZANDVOORT!!! 🥇

Lando Norris joins the Dutchman on the front row, George Russell will start third 👏#DutchGP #F1 pic.twitter.com/RTAVjJgkaI

— Formula 1 (@F1) August 26, 2023
What the top three said
Verstappen spoke in parc ferme after taking his 28th F1 career pole position, he said: "It was a very tricky Qualifying.
"The track surface is quite slippery with the new tarmac. It was all about putting your laps in but staying out of trouble. I think we managed that quite well.
"There was one dry line in some places on the slicks, so we had to risk it a bit, but that last lap was very enjoyable," he said of his choice of Intermediate tyres at the start of Q3.
"The pressure is always there to perform but when you pull it off it's incredible," a satisfied Verstappen concluded.
Norris, after settling for P2 said: "Good. I'm happy still. P2 was a good result in these kind of conditions.
"Every now and then you hope Max makes a mistake, but he doesn't, so frustrating in a little way. But I'm very happy. The team did a good job. It was a chaotic qualifying and another P2.
"The first half of the [final] lap was mega but the second half was probably one of the worst second halves I've done. So it peaked early on but I really enjoy these conditions.
"I'm taking the P2 still," Norris concluded.
Russell was clearly elated to take P3, after struggling recently to beat teammate Hamilton in Qualifying, he said: "Really great session.
"Qualy was one of my strengths at the start of the year and it has been going a bit wrong recently. It was good to have that break and I came in with a fresh set of ideas, good reset and we are in a great place for tomorrow to fight for the podium.
"The lap was OK. We always struggle when it's very wet or it's the crossover onto slicks and we have to get that temperature into the tyres. But we know the Saturday weakness is the strength on Sundays.
"It's going to be an exciting race. I'm sure Max will be having his Sunday drive and waving to the crowd tomorrow, but hopefully we can have a good fight with Alex, Lando and all those guys," the Briton concluded.
Q3: Sargeant's hard work undone, Leclerc crashes
The final stage of qualifying started with the slick tyres seemingly the better option, and while some drivers head out on Intermediates, others opted for the Softs, namely, Albon, Alonso, Russell, and Sargeant.
Verstappen went out in the Intermediates, but immediately radioed his team to prepare the slicks as he realized the track was sufficiently dry for them.
But less than two minutes into the session, Sargeant threw all his good work into the bin and crashed his Williams into the barriers at Turn 2 and brought out the Red flag.
At that point, only Albon, Sargeant, Carlos Sainz, and Russell had set banker lap times.
Sargeant, on slicks, fractionally deviated from a narrow dry line and it was game over #DutchGP #F1 pic.twitter.com/1mPjiyl7o5

— Formula 1 (@F1) August 26, 2023
With the barriers fixed after Sargeant's accident, the session was green lighted with a little over eight minutes remaining in the clock, and all the remaining cars set out on the Red banded Softs.
With four minutes remaining after the restart, Leclerc crashed his SF-23 at Turn 9 oversteering into the barriers and brought the second Red flag out.
At that point, the top three were: Norris, Oscar Piastri, and Verstappen.
Leclerc skidded off onto the grass and took a fairly hefty hit to the barriers 💥

Pride bruised, otherwise okay 👍#DutchGP #F1 pic.twitter.com/L7avBtLK9V

— Formula 1 (@F1) August 26, 2023
In the end, and after Leclerc's stricken Ferrari was cleared, it was about making one hot lap work, and that is exactly what Verstappen did, clocking a 1:10.567 to take pole from Norris by 0.537s.
Russell was this fastest for Mercedes, 0.190s behind Norris and 0.125s ahead of the flying Albon in the Williams who had to settle for fourth.
Fernando Alonso set a lap time of 1:11.506 to go fifth fastest in the Aston Martin and was 0.248s faster than compatriot Sainz who was sixth fastest in the Ferrari.
Sergio Perez was seventh fastest, a whopping 1.313s off the pace of his teammate, in the same car, while Piastri was eighth fastest in the McLaren. Piastri was 0.834s off the pace of Norris.
Leclerc's time he set before crashing was good enough to put him ninth, ahead of Sargeant who was tenth.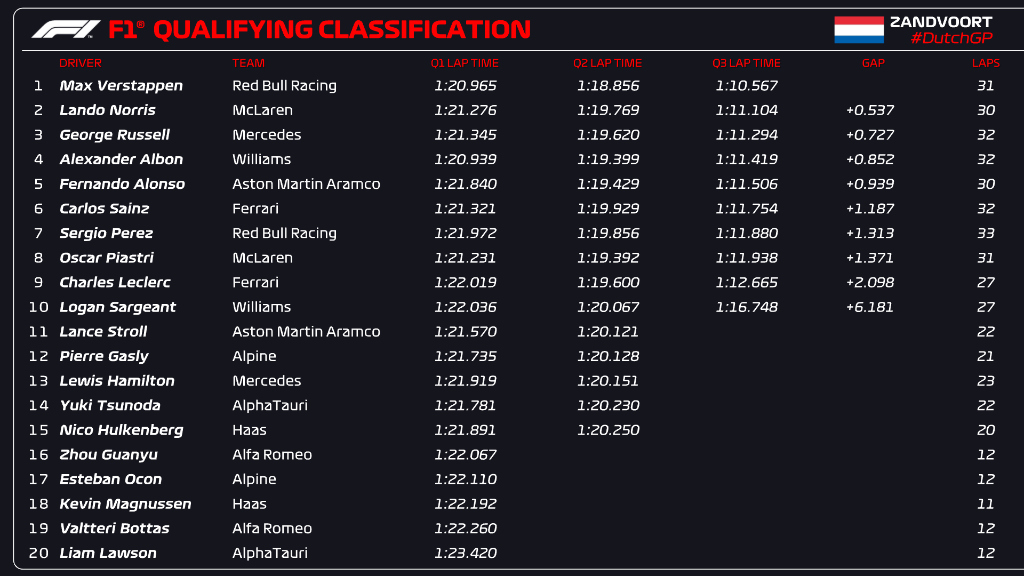 Q2: Hamilton out, both Williams in
Q2 started with the rain still away from the track, which meant a drying track would make matters tricky for the drivers chasing a banker lap and then trying to improve with continuous running to make sure they set a time when the track is at its best grip-wise.
Q3 ended with no major incidents, but the surprise was Hamilton being eliminated while two Williams cars made it into Q3.
Verstappen set the fastest lap in Q2, a 1:18.856, and was 0.536s faster than Piastri in second while Albon was 0.007s further down in third.
First of the losing party in Q2 was Lance Stroll who was 11th fastest, missing out by 0.054s while Pierre Gasly was 12th fastest in the Alpine, 0.007s behind the Canadian.
Hamilton was disadvantaged by the the traffic. He will line up 13th on the grid of Sunday's Grand Prix, his best time being 1:20.151, 1.295s off the pace.
Yuki Tsunoda was 14th fastest for AlphaTauri and 0.020s ahead of Nico Hulkenberg who was 15th for Haas.
Hamilton and Tsunoda were announced to be under investigation for impeding, while it is also worth noting that Leclerc visited the gravel for a fourth time at Turn 1 on Saturday. He made it through though.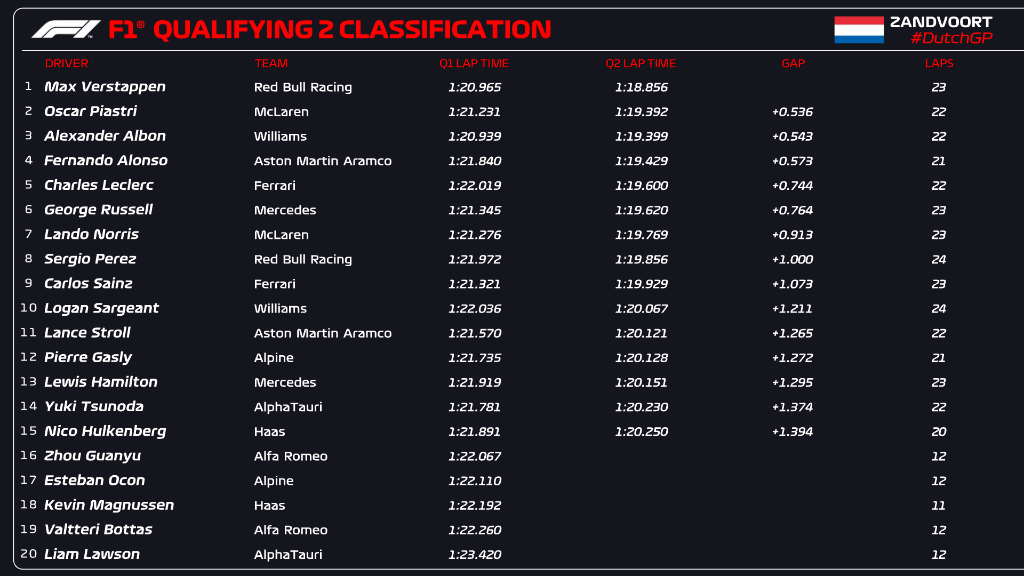 Q1: Albon shines
Following a rainy and wet FP3, qualifying started with car queuing in the pitlane to make sure they get on track to put in a banker lap in case the conditions worsen. Track temperature was 22 degrees while ambient temperature was 17 degrees.
The track was very wet but the rain had stopped, which means the grip will improve with every lap put in around Zandvoort.
Albon has been impressive so far this, but was one of the first drivers to cut the track into the gravel at Turn 11.
Verstappen soon had a moment at Turn 1, and was complaining over the radio: "Mate what is going on with the car? There is no grip. I'm spinning everything everywhere."
Conditions are very tricky 😮

Even Max Verstappen is struggling, running over the gravel at Turn 1 #DutchGP #F1 pic.twitter.com/5z0UXRQzXA

— Formula 1 (@F1) August 26, 2023
The conditions continued to improve and the lap times continued to drop with several drivers taking turn in occupying the top spot.
Piastri had a close moment with Sainz who was coming out of the pits and did not see the Australian coming through. Also Hamilton complained about being impeded by the Aston Martin of Stroll. Hamilton also complained about being impeded by Alonso.
While the first two incidents were going to be under investigation after the session, the last one involving Alonso did not require further investigation according to the stewards.
That was close 😰

Piastri takes to the grass to avoid Sainz #DutchGP #F1 pic.twitter.com/Mxoj40aeNS

— Formula 1 (@F1) August 26, 2023
In the end, Albon lead the way into Q2 with a lap time of 1:20.939, 0.026s faster than Verstappen in second, with Piastri third fastest and 0.292s off the pace.
The first to drop out of qualifying was Zhou Guanyu who was pushed out by Sargeant by 0.031s. He was 16th fastest.
Esteban Ocon was 17th fastest for Alpine, missing the cut by 0.074s and was 0.082s ahead of Kevin Magnussen who was 18th fastest in the Haas.
Valtteri Bottas was 19th fastest in the Alfa Romeo, with Liam Lawson dead last on his F1 debut, 2.481s off the pace.
Leclerc who was 14th fastest in Q1 was under risk of elimination and needless to say, he was not happy with how his team managed the session and he aired his frustrations of the team radio.
"Come on. Now, let's be on it," he vented. "The traffic is the most important. Tyre warm-up, everything, this is important. This is the only priority we have.
"Let's focus on that and everything will be fine, otherwise we will be out in Q2. We are lucky already to be in," he added.