Oscar Piastri's shares just took a significant upswing, after the Australian rookie qualified P3 for the 2023 British Grand Prix, the rookie's best start in Formula 1 which was not too far off of his more experienced teammate Lando Norris on an afternoon in which McLaren stole the show at Silverstone.
Thus for their home race on Sunday, McLaren drivers Norris and Piastri will line up second and third on the grid, on merit, and take the fight to Max Verstappen who found a couple of tenths around the high-speed venue which no one else could. The Red Bull World Champion will start from pole position.
While is remains to be seen if McLaren MCL60 has the race pace and can sustain a race-long attack on Max and the Red Bull is dominating with. Whatever the case Zan Brown's team have found a magic button of sorts, and flipped it to "ON" today.
After P3 in only his tenth F1 qualifying, 22-year-old Piastri said in parc ferme: "Very, very, very happy. What a qualifying session – we were almost out in Q1 and then the car was a rocketship in Q2 and Q3. Massive result for the team as well. To have both of us up here is a mega result and now we just have to try and stay here tomorrow.
"Yesterday we had a bit of a rough day, we were a bit quicker than we looked. We did a better job today, these conditions today we do well in them all the time. We've had a fair few moments like that but to pull that off in Q3 like that was a mega result."
In the end, a tenth and a bit was the gap from Norris to Piastri, which is an impressive result for both young drivers but more so Piastri who has kept his teammate honest from day one, which his veteran predecessor and fellow countryman Daniel Ricciardo could seldom do.
Piastri: Both of us have now got the new bits on our car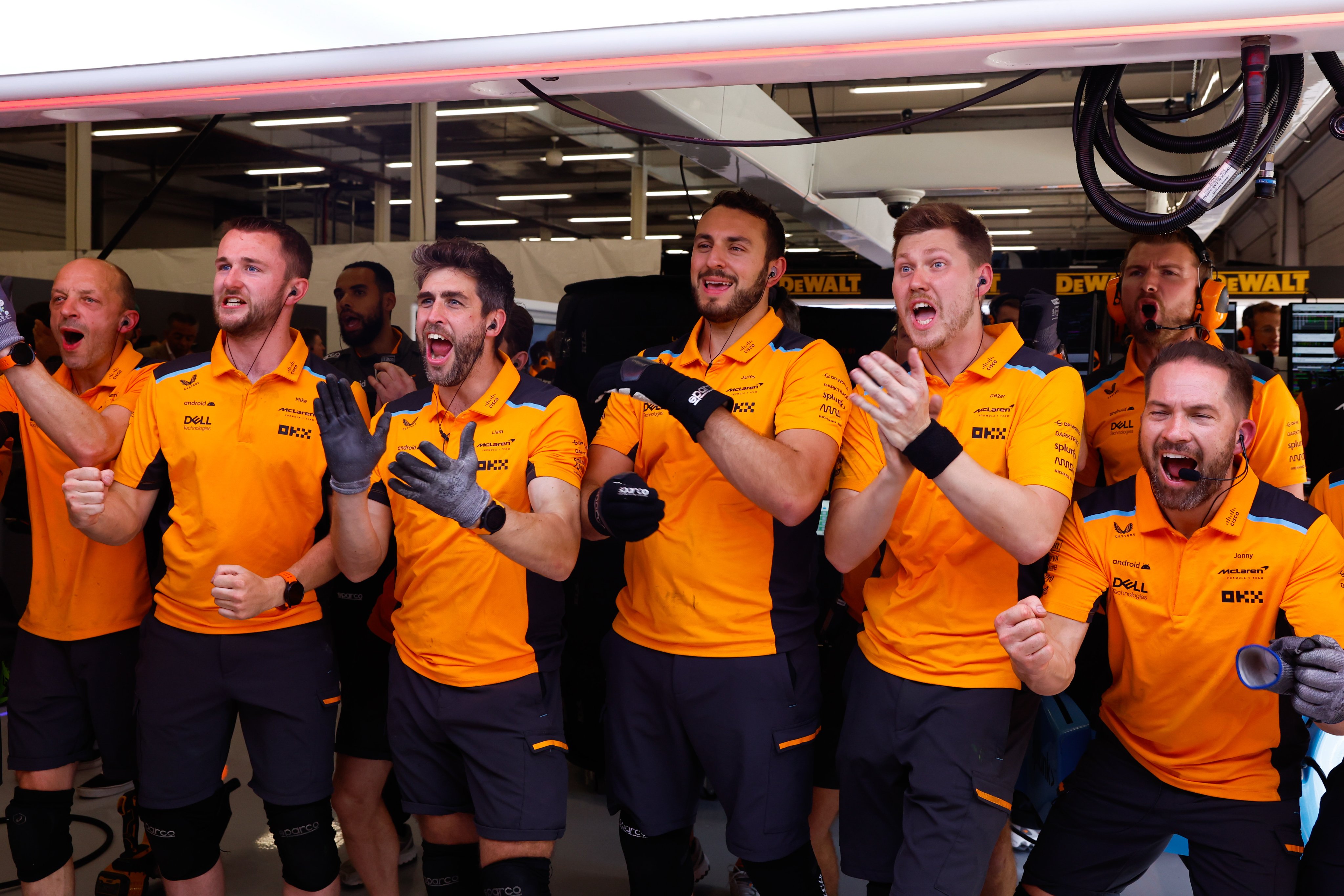 "The new bits are working really well," revealed Piastri and added: "I can't thank the team for continuing to push. From where we were at the start of the season to where we are now is a massive step in the right direction," added Piastri.
In the team report, team boss Andrea Stella reflected one of his better days in charge of the Papayas: "It's great to see two McLarens up towards the top of the qualifying standings here at Silverstone. P2 and P3 has been achieved in tricky conditions.
"The team had to be switched-on to get us through the first two sessions. We could then capitalise on that with strong laps from Lando and Oscar in Q3. A big positive is that we could confirm the progress we saw in Austria and the further upgrades we brought here.
"For that, I have to thank everyone at the factory and here trackside for their hard work, commitment and dedication. We have an incredible team, and we should enjoy today and use this as extra motivation going forward. We now focus on preparing for the race and look forward to tomorrow.
"We are realistic for the race as we know we have quick cars around us, but we will give our best in tomorrow's British Grand Prix," added Stella, whose team will be seeking a victory on home soil for the first time since Lewis Hamilton won in 2008. It would be their 15th at Silverstone.