A masterful Sergio Perez won the 2023 Saudi Arabian Grand Prix from pole position, denying his teammate Max Verstappen who stormed through the field to finish second, for another Red Bull one-two.
Star of the show again was Aston Martin's 'new' veteran Fernando Alonso who crossed the line in third, even celebrated on the podium but was demoted to fourth shortly afterwards thanks to aten seconds penalty imposed by FIA Stewards, which gifted third to Mercedes driver George Russell.
As they did two weeks again Bahrain, Red Bull dominated this weekend in Jeddah, but this time it was their Mexican veteran on the top step of the podium after trading fastest laps with Verstappen for a tense latter half of the 50-lap race.
Verstappen took it easy early on, cautiously avoiding potential bent metal during early mayhem, but soon got a head of steam as he started to carve his way through the field, up to fourth place when a safety car was deployed to clear the stricken Aston Martin of Lance Stroll.
Alonso starred on the night but fell foul of the 'law' and was demoted from third top fourth
The decisive moment 💔#SaudiArabianGP #F1 pic.twitter.com/bXIU0ny9PG

— Formula 1 (@F1) March 19, 2023
Prior to that, Perez was nearly ten seconds up the road well in control of the race, with Fernando Alonso, again dazzling for Aston, holding station initially before the Red Bull got tinier.
The Spaniard was given a five seconds penalty for lining up his car incorrectly on the grid which Alonso took calmly, put his head down, and built an eight seconds gap when the SC came, whereupon he pitted and served the penalty to remain in second.
After the race he got another ten seconds penalty, dropping him to fourth and Russell promoted to third.
Next up, George Russell was running strongly in third with Verstappen on a charge was soon past the Mercedes, and honing in relentlessly on the Aston Martin between him and his teammate.
On lap 25, the halfway mark he got past Alonso with relative ease and began his fruitless pursuit of his teammate.
At the front the Red Bull boys were swapping fastest laps
¡Número uno!#SaudiArabianGP #F1 @SChecoPerez pic.twitter.com/QCSxl4q5uh

— Formula 1 (@F1) March 19, 2023

It was enthralling stuff as Perez in the lead and his pursuer Verstappen swapped fastest laps, the pair really pushing as they eked a gap of one second per lap, aka on another planet.
But that's where Verstappen's mega charge remained pegged: at around five seconds, as Checo matched his teammate, and bettered him at times when it mattered. Tit-for-tat, clearly this RB19 is also built for him and not Max alone.
Late in the race, after throwing everything at closing the gap to the #11 car ahead, the Dutchman in the #1 car started reporting a 'driveshaft' issue, similar to the one he experienced when his car broke down in qualifying on Saturday.
But he continued, asking for the fastest lap time to take a go at it, his team urging him not to do so.  Guess what Max did on the penultimate lap?
At the front, Perez was getting on with it quietly popping fastest laps and crossing the line seven seconds ahead his teammate. It was a masterful performance by the Mexican, among his fines of the five victories he now has on his CV.
Perez: The important thing is we have the fastest car
Nobody could stop @SChecoPerez in Jeddah 💪#SaudiArabianGP #F1 pic.twitter.com/h0FUWND4Gz

— Formula 1 (@F1) March 19, 2023

Beaming from ear-to-ear, Perez said in the Jeddah parc ferme: "It turned our to be tougher than expected, with the safety car. We really did the job in the first stint. The safety car again tried to take the victory away from us – but not this time.
"I was on for victory last time and finally I got it. The team did a fantastic job – they've worked so hard during the weekend, there's been a lot of mechanical issues. I'm really happy for them – it's time to celebrate. The important thing is we have the fastest car, so I'm pleased with that," added Perez
Credit to Verstappen for his dogged chase and drive through the field from 15th; in the end, he got the fastest lap he so wanted, which keeps him on top of the drivers' standings by a point after two rounds.
The reigning F1 World Champion reflected on his race: "It wasn't very easy to get through the field. Through the first sector, trying to follow at the beginning of the race was very difficult, a lot of sliding around.
"But once I cleared them one by one, I got into a good rhythm and of course very happy to be here on the podium. It was a very good recovery so I am happy with that."
Another famous one-two for an impressively dominant Red Bull team. The writing is on the wall for their rivals and it reads: Catch us if you can!
Red Bull are not on another planet, they're in another galaxy!
We're getting used to seeing these three together in 2023! 🇲🇽🇳🇱🇪🇸#SaudiArabianGP #F1 pic.twitter.com/KCUdhWnm87

— Formula 1 (@F1) March 19, 2023
Because when PER-VER were giving it their all for the latter half of the race, they were comfortably a second quicker than their closest rival Alonso, and more than that over Ferrari and Mercedes whose "quietly confident" of their race pace narrative pre-race, is now smile-inducing.
Despite losing the podium it was a great night for the veteran Spaniard, relishing his new status as a front-runner; a tenacious drive of a driver still operating at the highest level, with unmatched enthusiasm and passion.
Before he heard the news of his demotion, a wide-grinning Alonso summed up his night: "What a start to the season! Probably unthinkable one month ago when we launched the car.
"They have made a fantastic car and a fantastic execution in strategy. The Red Bulls may be a bit out of reach but the rest are behind."
Of his penalty for an incorrect starting position he said: "I made a mistake. When they told me a five-second penalty, I said, 'okay, I need to drive faster'. I need to review."
Thus a fortuitous third place went to Russell, who kept his teammate Lewis Hamilton at bay for most of the race, the seven-time F1 World Champion finding impressive pace in the patter half of the race to finish fifth from seventh on the grid.
The Ferrari duo were out of podium contention since Saturday when Charles Leclerc was penalised ten places for a PU-related issue. Today they simply did not have the firepower to match the Red Bull's let alone take on the Mercedes-powered cars ahead of them.
Carlos Sainz – who had a forgettable weekend in Jeddah outmatched by Leclerc on all fronts until the race where he had the advantage of starting eight positions ahead of his teammate – ended sixth from fourth on the grid, with Leclerc trailing him home.
Sainz: It's difficult to take positives when you are P6 and P7
That's the end for #SaudiArabianGP 🏁⬇️@Carlossainz55 P6@Charles_Leclerc P7 pic.twitter.com/k7cn56kWyw

— Scuderia Ferrari (@ScuderiaFerrari) March 19, 2023
"Going into the race, we expected better race pace. We thought we would be on the pace of the Mercedes and Aston Martin," admitted Sainz.
But added: "Post-race, it looks like we have some work to do – especially race pace towards the end of the stint. We just degrade too much. We cannot keep the pace of the frontrunners and we know the car isn't where we want it to be.
"It's difficult to take positives when you are P6 and P7, especially the last stint when they all pulled away," lamented the Spaniard.
His former team, Alpine enjoyed a solid evening with a lowly but useful double-points haul with Esteban making up for his Bahrain shenanigans to finish eight, ahead of teammate Pierre Gasly who again scored points with ninth.
The final point went to Kevin Magnussen who overcame Haas teammate Nico Hulkenberg in a delightful race late duel between the F1's best journeymen.
And a final word to the winning Red Bull team principal Christian Horner: "The team, all credit to them, have built an incredible car. What we saw today, two drivers pushing each other, Max coming through from 15th on the grid – by half distance, he was already in P2."
Horner: I think that was Checo's best ever race
Total domination from @SChecoPerez! #SaudiArabianGP #F1 pic.twitter.com/kPHl708ZNg

— Formula 1 (@F1) March 19, 2023
The Red Bull boss continued: "He managed the pace, the restart and those guys were going absolutely flat out. We thought we had an issue with Max, checked the data and then they were hard at it again.
"They were both pushing hard and Max got the fastest lap of the race, but what a weekend for him – no fault of his own yesterday with the driveshaft, 15th, he was patient, he picked the cars off – a phenomenal recovery from him.
"We don't know it was the driveshaft today – he heard a noise, he reports that and you immediately think of the failure yesterday. We've got a great car and two great drivers – we talked about it in the briefing earlier today 'you're free to race, but you keep it clean' – but they're both competitive.
"For Checo, that was I think his greatest Grand Prix," concluded Horner, smiling with as his lads hog the top spots of the 2023 F1 drivers' standings and the team topping the constructors' table on 87, with more than double the points of their closest rivals Mercedes have scored, they're on 41.
2023 Saudi Arabian Grand Prix Result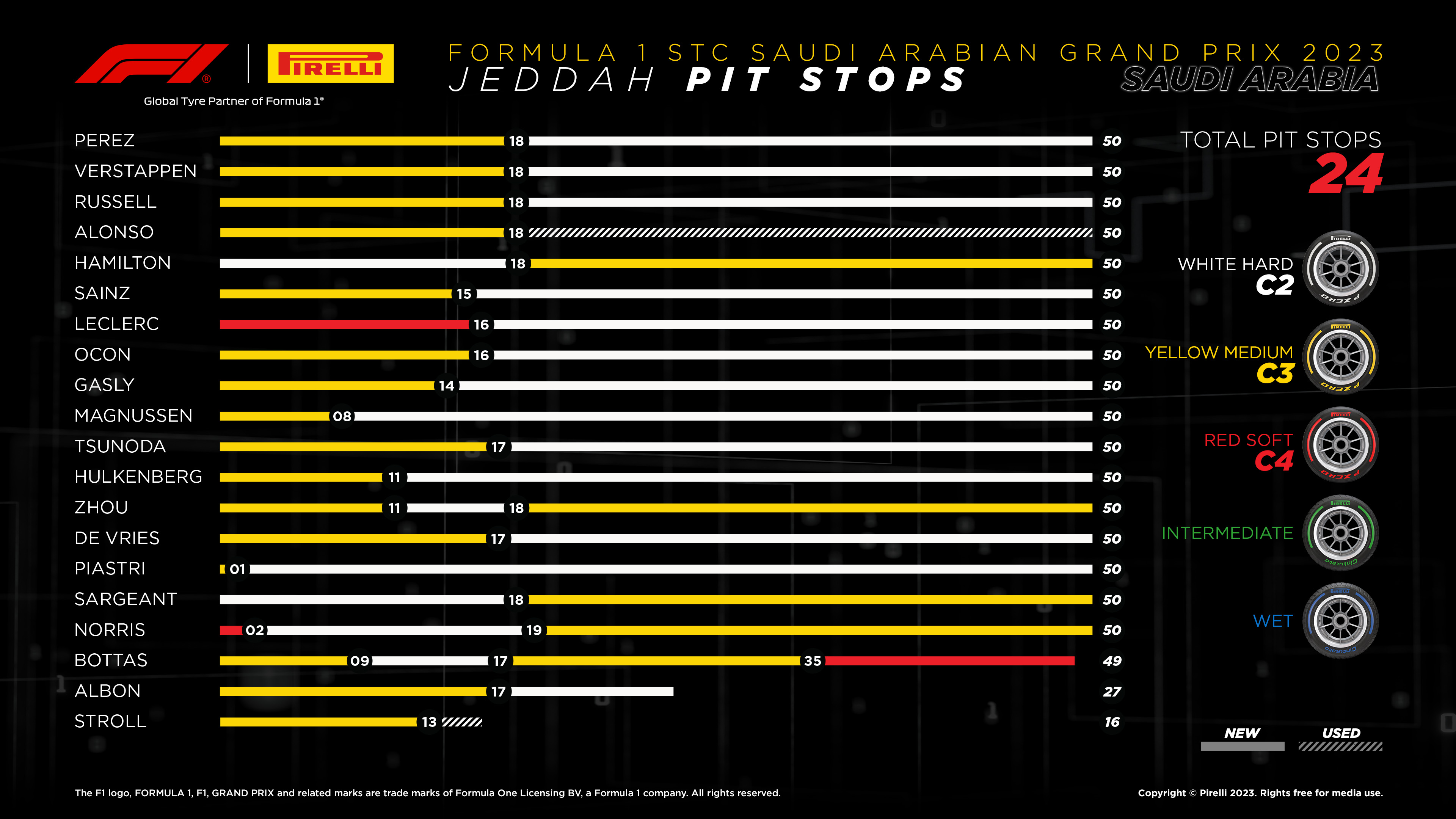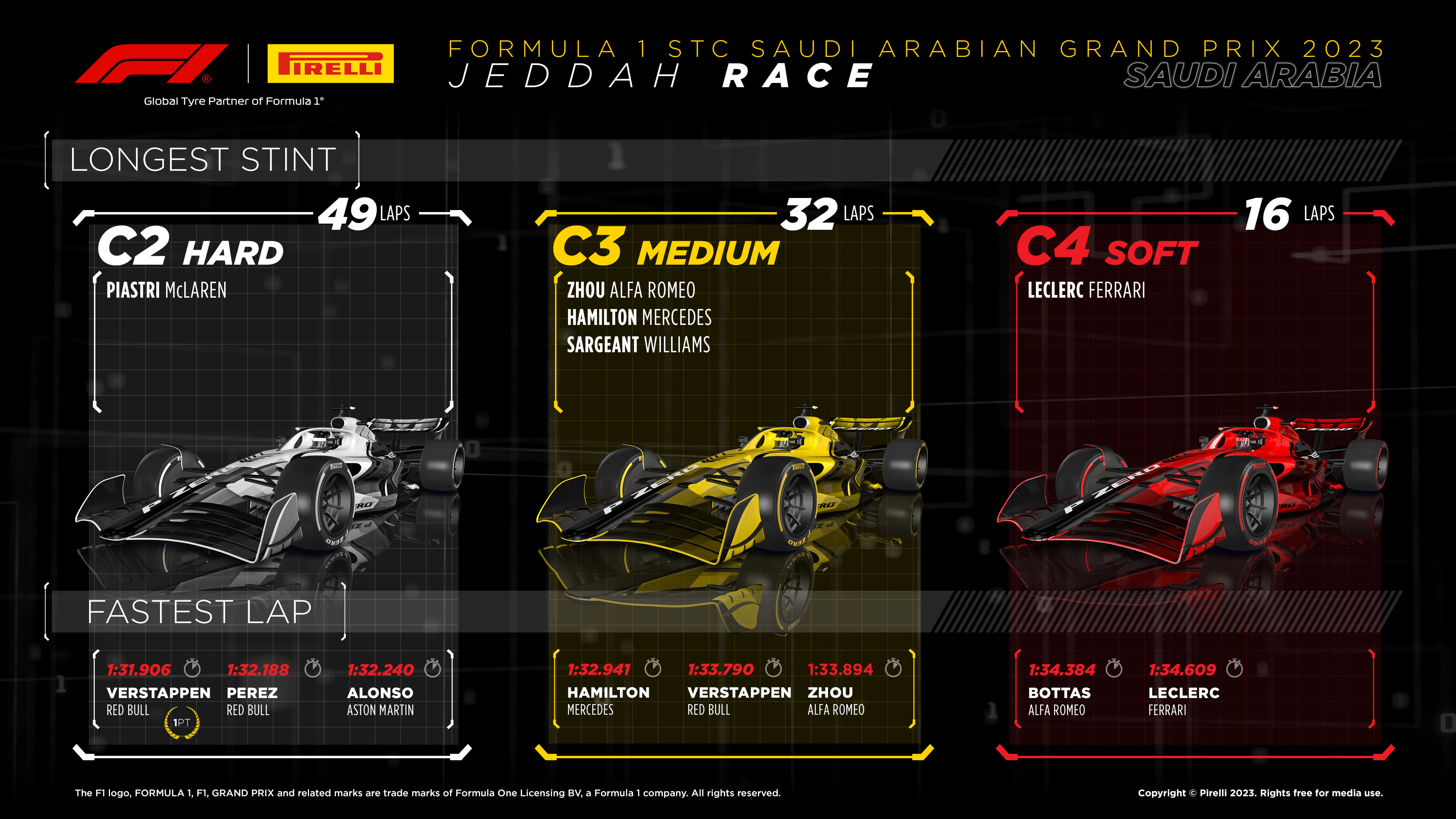 ---
2023 Saudi Arabian Grand Prix Preview: When in doubt bet on Max Verstappen
The scene is set for a salubrious third running of the Saudi Arabian Grand Prix tonight, Red Bull's reigning Formula 1 World Champion Max Verstappen starting from 15th and targeting a sensational repeat of his masterclass at Spa-Francorchamps last year.
Note: This preview will be replaced with the race report when the chequered flag waves on the winner of the #SaudiArabianGP tonight.
At last year's Belgian Grand Prix, the Dutch maestro powered to a remarkable victory from 15th (!!!) on the grid to P1, and if there are doubts about who will win this evening in Jeddah, then fling all your money on Verstappen.
Doubts? You may ask. On paper, factoring in the evidence from practice, qualifying, and the form shown last week in Bahrain, with his dominant teammate out of sight Sergio Perez should run away with this, however behind him is a posse of eager beavers ready to make his quest tougher than one would expect.
Aston Martin, Ferrari, and Mercedes, all believe they have a better race car than a hotlap one, and because of this, all are quietly confident ahead of today's race, Round 2 of the 2023 F1 World Championship.
Nevertheless, it is still hard to see them beating Perez, a known 'tyre-whisperer' who was on pole and could've won at the venue last year had it not been for an untimely Safety Car; and this year has an even better car in the Adrian Newey-penned Red Bull RB19.
Which leaves Verstappen. If anyone can win from 15th on the grid, Max has done so before and can do so today is the consensus among his rivals, pundits, and fans. However, perilous Jeddah would hardly have been his choice to start a Grand Prix from deep down the order.
Be safe Boys! Motor racing is dangerous
The first lap in Jeddah will be super tricky, surviving the early mayhem will be key to anyone behind Perez and Alonso on the front row. Expect the pair to scuttle off into the distance. Why? Was that Fernando schmoozing the Mexican in parc ferme, some choice words in Spanish perhaps?
I thought so too! The old fatherly hand-on-the-shoulder trick. That's why we love Fernando! Such an operator. Or maybe DTS on Netflix is getting to me!
One can imagine Fernando whispering: "Tuyo para ganar Checo, ahora trabajemos juntos, salgamos de Dodge lo antes posible, y mantendré a Max a raya…"
Translates to: "Yours to win Checo, now let's work together, get out of Dodge ASAP, and I will keep Max at bay…"
Somewhat macabrely, Red Bull team boss Christian Horner summed up aptly what is likely to be in the script tonight: "There will be plenty of action, plenty of carnage and it should provide an exciting race hopefully."
Even predicting a podium for the floodlit race will be a tough ask. If I was a betting man I would consider two options for the podium: the obvious one being PER-VER-LEC but I have my doubts, so will opt for VER-PER-A.N.OTHER because that battle for Best of the Rest is a flick-of-the-coin close.
Add to that the fact that Jeddah has tended to be a lottery of survival, the highspeed nature of the circuit is sure to create incidents and many of them, which suggest a 'last-man-standing' scenario, with that possibility of a bucket full of surprises that makes a mockery of trying to predict today's outcome.
This, of course, is refreshing considering most of us had handed the Saudi race winner's trophy to Max prior to him breaking the Red Bull RB19. Yes, from what I saw he did the immensely loaded driveshaft no favour by clobbering a curb too aggressively during his attack lap in Q2.
But that's Max, all or nothing, full gas, flat-out. But on this occasion lesson learnt for him no doubt, but beware a wounded Max is a very fast Max. Thus when in doubt… you know what to do!
View the official F1-produced Saudi Grand Prix digital race programme here>>>
Other 'Drive to Survive' subplots to look out for at the Saudi Arabian Grand Prix:
Forget the chaos and turmoil at Maranello, when the flag drops the BS stops. Ferrari reliability?
Can Fernando win an F1 race for the first time in a decade? He last won the 2013 Spanish Grand Prix as a Ferrari driver, to be precise.
Lance in a bad car (aka AMR22) is very bad, in a good car (AMR23) he is very good. Let's see if that's true…
If anyone can pull a rabbit out of the hat this evening in Jeddah, George can…
Lewis… Is that retirement talk we hear? With 103 Grand Prix wins and seven F1 titles, can the GOAT stay motivated for another year of winless pain?
Have Alpine finally found the keys to the door that starts their season? Step-up Pierre and Esteban.
OSCAR! They said he was good, and we are starting to see why. Lando's alarm-clock should be ringing – wakey, wakey. Will the F1 rookie beat the hotshot today?
Keep an eye on the other rookies: Logan was unlucky to make a novice mistake during a solid lap in qualy, but his handy time in the Williams was expunged which ended his charge. As for Nyck, he's hardly done laps but that should not stop him from putting on a good show. Remember Monza?
Reuters supplied Saudi Arabian Grand Prix Info & Stats
2023 Formula 1 World Championship, Round 2 at Jeddah Corniche Circuit
Lap distance: 6.174km. Total distance: 308.450km (50 laps)
2022 winner: Max Verstappen (Netherlands), Red Bull
article-prompt-devices
Register for free to Reuters and know the full story
2022 pole: Sergio Perez (Mexico) Red Bull, one minute 28.200 seconds.
2022 fastest race lap: Charles Leclerc (Monaco), Ferrari 1:31.634.
Lap record: 1:30.734 seconds (Lewis Hamilton, Mercedes, 2021)
Start time: 1700 GMT (2000 local)
The night race in Jeddah made its debut on the calendar in December 2021, with seven-times world champion Hamilton winning for Mercedes from pole.
Verstappen won from fourth on the grid last year.
Red Bull, Mercedes and Ferrari have been the only teams on the podium so far in Jeddah.
The 27-turn Corniche layout is the second longest on the calendar, some 800m shorter than Belgium's Spa, and the fastest street circuit.
The circuit runs along the shores of the Red Sea.
The top 10 last year all made one stop in the race.
Red Bull were the fastest cars in a straight line last year, with Perez clocking a top speed of 335.1kph in qualifying.
RACE WINS, POLE POSITION & LAPS LED
Hamilton has a record 103 F1 career victories from 311 starts but is chasing his first since he last won Saudi Arabia in 2021.
Verstappen now has 36 GP wins on his CV.
Hamilton has a record 103 career poles.
Perez's pole on Saturday is his second in Saudi Arabia, and also the second of his career
Red Bull have led every lap so far this season.