Sergio Perez capitalized on teammate Max Verstappen's misfortune in qualifying for the 2023 Saudi Arabian Grand Prix, taking pole and saving face for Red Bull.
It was the Mexican's second career pole, his second in succession in Jeddah, after starting the race from the top spot back in 2022.
Despite Verstappen being out of qualifying, several driver dreamed of clinching pole, but Perez came good for Red Bull securing the top spot by 0.155s from Charles Leclerc, second in the Ferrari.
Fernando Alonso, set himself up for a proper race on Sunday, and will line up third on the grid in the #14 Aston Martin, 0.465s away from pole.
Leclerc, however, will have to serve a ten-place grid penalty on Sunday, meaning that he will start the race from 12th, with Alonso being promoted to the front row.
Perez said after qualifying: "You really feel Formula 1 cars coming alive in this place.
"Max has been really strong so hopefully tomorrow we will have both cars up there. It is a shame [what happened]. You know reliability issues can hit you at any time."
Leclerc admitted to mixed feeling after going second fastest, but with the prospect of dropping ten places; he said: "On one hand, it has been a very difficult weekend in terms of pace for us but on my lap I think I put everything into it and it was really on the limit.
"On the other hand, Red Bull are on another planet and we are struggling a little but so we need to keep pushing but that is what we are doing as a team.
"Tomorrow isn't going to be easy. I have a 10-place grid penalty so we will be starting a little bit further back but we will focus on the race and hopefully come back to the front as quickly as possible.
"The race pace looked quite good but it is very difficult to compare. We will see but it is not going to be easy because I think everyone is going to be very close on race pace," the Monegasque concluded.
Fernando Alonso who will inherit Leclerc's second place added: "Qualifying was our week spot in Bahrain but we performed very well [here] so let's see what we can do. It is amazing.
"We are confident, we feel very strong. The strongest part is the long-run pace so it should be better on Sunday."
Verstappen: It is going to be tough, but we have good pace
The biggest loser from qualifying has to be Max Verstappen, on a different level from the moment a wheel turned around the Jeddah Corniche Circuit, but will have to fight his way up the grid tomorrow from 15th.
"It is the first time I have heard about it," Verstappen said of his car failure. "Coming out of Turn 10 it happened, which is very annoying.
"I think so far we had a really good weekend, every session was going really well. Every time we were on the track the car was working really well.
"Now it will be a bit more tricky to get to the front but it's all about scoring points. It's a very long season. Of course I would have liked to have stared further up the road but I can't change that now.
"Anything is possible at this track. We have seen a lot of crazy things. Also, let's stay a little bit realistic. It is going to be tough but we have good pace, so for sure we'll move forward," the Dutchman concluded.
Q3
Sergio Perez's pole time was a 1:28.265, 0.065s slower than the best time he clocked back in 2022, but it was enough for him to secure a start from the top spot beating Leclerc by 0.155s.
Fernando Alonso registered a 1:28.730, third fastest but will start second, as George Russell was the fourth fastest driver at the end of Q3, 0.127s behind the Spaniard. The Briton will start from third.
Carlos Sainz could not go better than fifth fastest in the #55 Ferrari, with a 1:28.931, 0.666s off the pace and ahead of Lance Stroll who was only sixth fastest despite being closer to Alonso in practice.
Stroll was 0.215s off his teammate's pace, but will advance one position after Leclerc's grid penalty.
Esteban Ocon did a decent job, and confirmed Alpine's improved form this weekend. The Frenchman's best lap time was a 1:29.078 to go seventh fastest ahead of Lewis Hamilton, eighth fastest in the Mercedes and 0.145s behind the Alpine. Ocon and Hamilton start the race sixth and seventh respectively.
Oscar Piastri was impressive in the McLaren, and while his more experiences and highly rated teammate Lando Norris clumsily put himself out of qualifying clipping the wall and damaging his suspension in Q1, the rookie driver delivered for his team, and made it into Q3.
Piastri's 1:29.243 was good for ninth fastest – becomes eighth – but was almost one second off pole. Nevertheless it was a strong performance for the Aussie on his second outing with McLaren.
Pierre Gasly was tenth fastest in the Alpine with a 1:29.357, 1.092s down from Perez's time, and 0.279s off his teammate Ocon.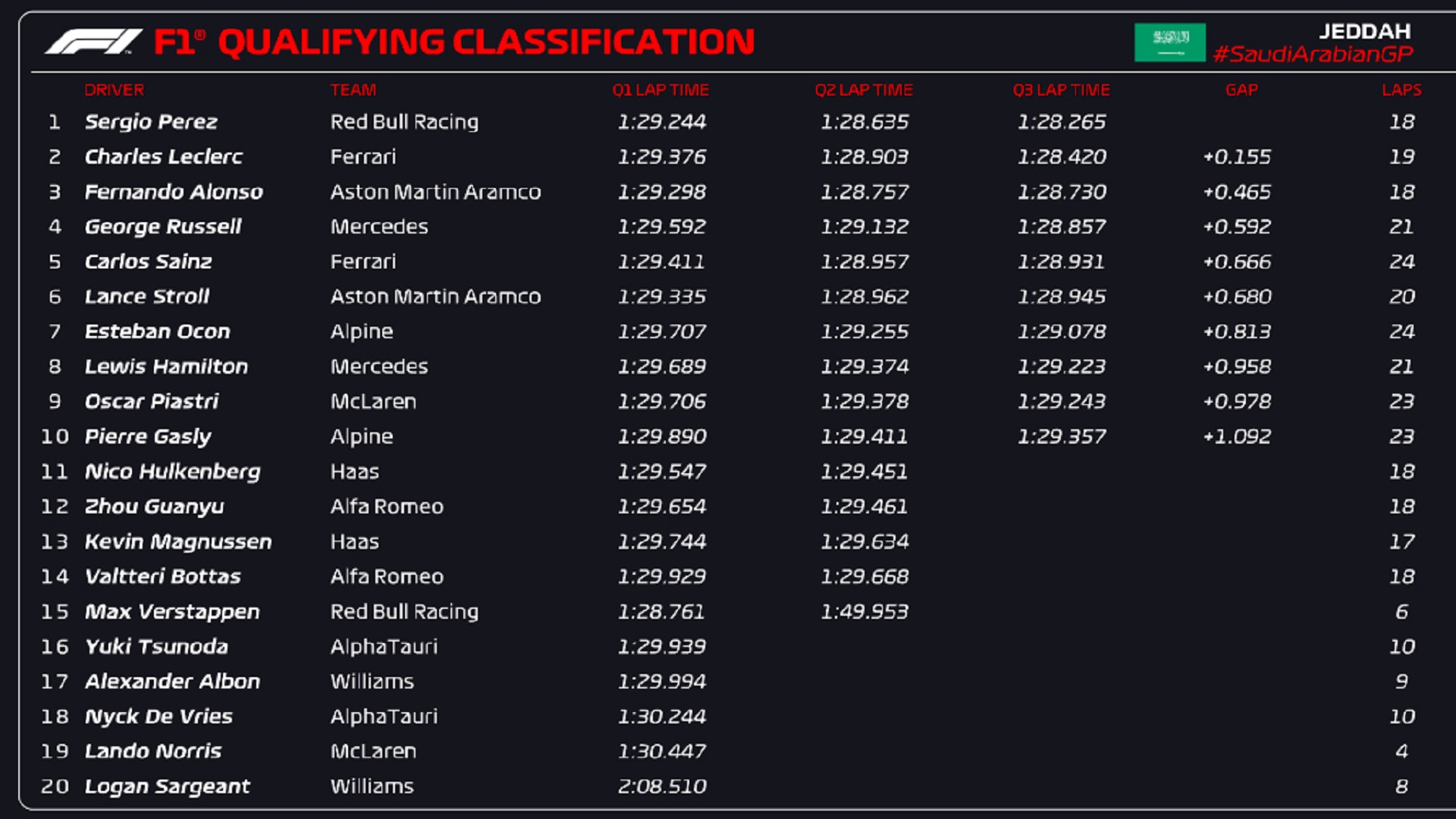 Q2
Drama hit early on in Q2, with Max Verstappen suffering engine problems on his first timed lap of Q2, and limped back to the pits, and was soon out of his RB19, his qualifying over.
This would make for an interesting remainder of qualifying as now, several drivers were within a shot for pole after the double Formula 1 Champion dropped out.
Red Bull confirmed it was a driveshaft failure that ended Verstappen's qualifying prematurely.
Q2 Final Update: Driveshaft mechanical failure confirmed for Car 1.

— Oracle Red Bull Racing (@redbullracing) March 18, 2023
With Verstappen out of the way, teammate Sergio Perez took over Red Bull's charge and lead the top ten drivers into Q3, with Fernando Alonso 0.122s behind in second.
Charles Leclerc was third fastest in the Ferrari 0.268s off the pace of Perez, with Carlos Sainz 0.054s further down the road in fourth.
Nico Hulkenberg was the first of the drivers not to make it into Q3, 11th fastest and missing out by only 0.040s, with Zhou Guanyu lining up 12th in the Alfa Romeo, 0.010s behind the German.
Kevin Magnussen was 13th fastest in the other Haas with a 1:29.517, with Valtteri Bottas in 14th, 0.151s behind the Dane.
Max Verstappen will start the 2023 Saudi Grand Prix from 15th on the grid.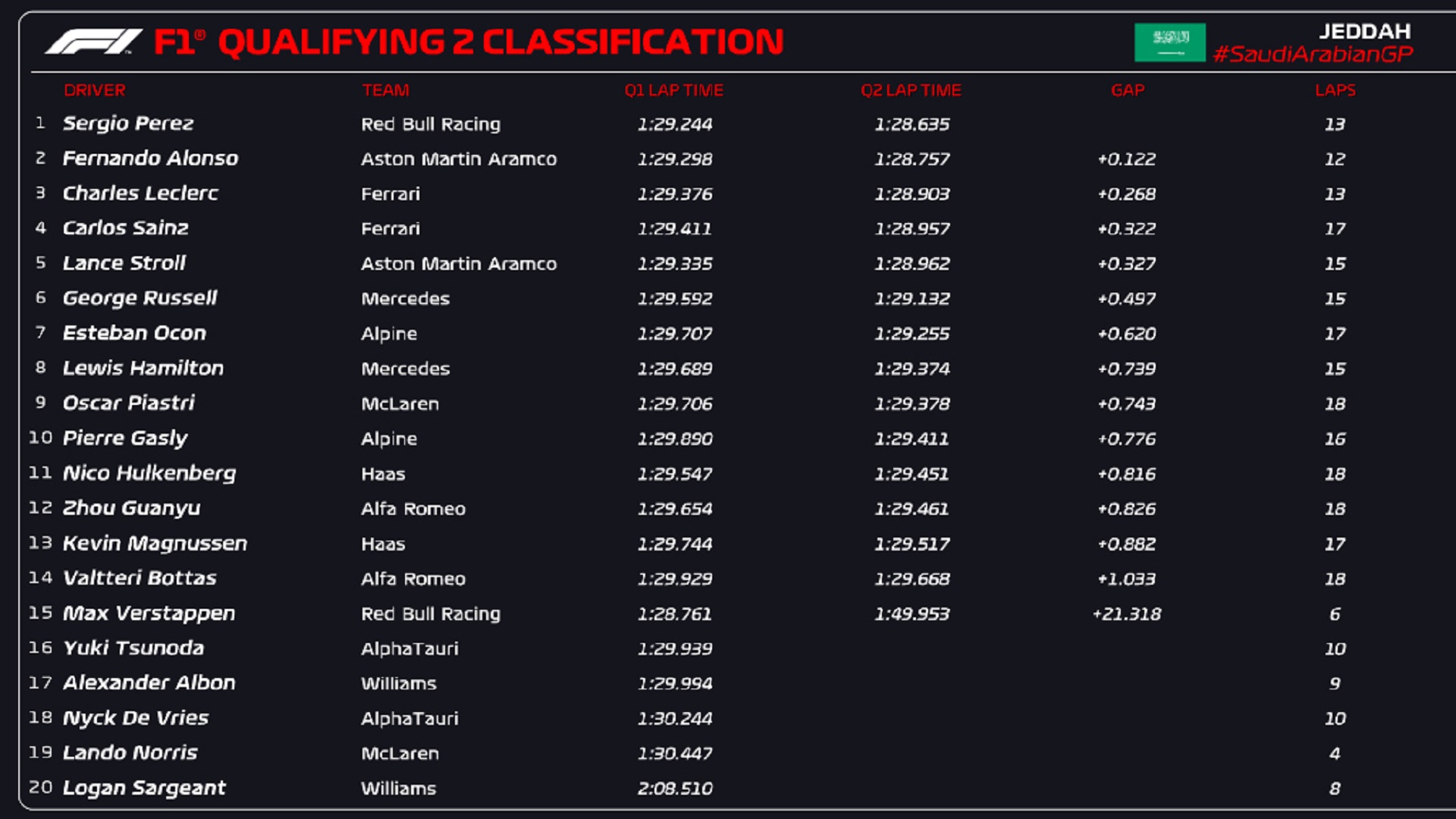 Q1
Right at the start of Q2, Nyck de Vries who missed FP3, as his AlphaTauri AT04 required a power unit change, locked up his rear tyres going into Turn 1 and was sent into a spin. No damage though on the car.
Lando Norris also touch the wall at the final corner with his front left tyre, causing damage to his suspension and limping back to the pits.
"I've damaged the front left steering," Norris told his team over the radio, as Fernando Alonso soon has a moment of his own, spinning at Turn 2 but surviving to fight the rest of qualifying.
Lando bonks the wall at the final corner, and heads back to the pits 💥#SaudiArabianGP #F1 pic.twitter.com/VplSXBpTb3

— Formula 1 (@F1) March 18, 2023
Norris did not make it back on track as the McLaren mechanics could not fix his MCL60 in time for another run.
With four minutes remaining from Q1, Logan Sargeant, under pressure after his first lap was deleted for track limits violation at Turn 27, brought out the Yellow flag, spinning at Turn 22, his teammate Alex Albon just behind him and managing to avoid him.
That ruined several laps for various drivers who were on second runs on fresh Soft Tyres.
In the end, Max Verstappen led the 15 cars that made it out of Q1, fastest of all with a 1:28.761, Sergio Perez 0.500s behind in second, while Alonso was third fastest 0.037s behind the Mexican.
Lance Stroll was fourth fastest 0.033s behind his teammate.
First to miss out on a place in Q2 was Yuki Tsunoda, who was 16th fastest, missing out by a painful 0.010s, while Albon was 17th fastest, 0.055s behind the Japanese driver.
In 18th was Nyck de Vries with a 1:30.244, ahead of Lando Norris lining up 19th after failing to set another lap time, on a day when teammate Oscar Piastri made it into Q2.
Logan Sargeant lines up 20th after failing to set a time after his first effort was deleted, and also locked up into Turn 1 on his final attempt.