David Purley is one of the many forgotten heroes in Formula 1's illustrious history, the dust may have settled on the short chapter of his career, which was filled with passion, bravery and humanity, worthy of being remembered and cherished.
Danger was not an unfamiliar companion to the British driver, not even prior to joining the pinnacle of motorsport. He served in the army and had a parachute accident. He was a certified deep-sea diver as well as a stunt pilot.
He survived a Guinness record-breaking impact (179.8 G) during a practice session at the Silverstone Circuit. And 50 years ago this very year, Purley gained sudden popularity among fans by displaying nothing short of a heroic act.
On lap 8 of the 1973 Dutch Grand Prix at Zandvoort, he hurled himself into the flames to try and free Roger Williamson trapped inside his wrecked car. Purley was the only one making one desperate attempt after another, to save the life of his fellow driver.
Formula One's dark past could be truthfully demonstrated by numbers. 15 deaths in the 1950s, 14 fatalities in the 1960s, and 12 in the 1970s. By the 1980s this horrifying number dropped to 4. According to the calculations of Sir Jackie Stewart and his wife, Helen, they attended 57 racing-related funerals between 1960s and 1990s.
Alongside Jackie Stewart and Lewis Hamilton, David Purley has also received a national accolade for his outstanding accomplishment. Not as a driver, but as a person. His bravery holds up as a great example, even today.
From Paratrooper to Race Driver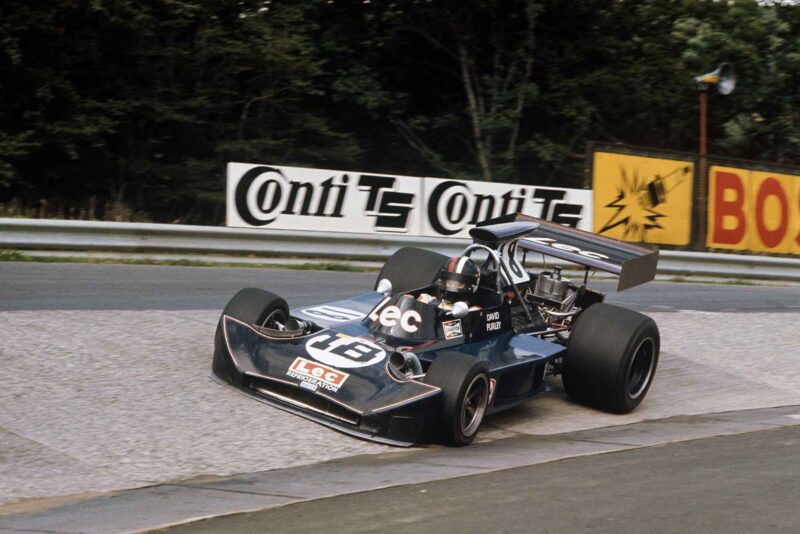 Purley was always tiptoeing on the verge of life and death. After working as a truck driver for his family's successful refrigerator business, he joined the British army. Though the Purley family was more than well-to-do, he did not look for a kitchen assistant position, he chose to become a paratrooper instead.
Purley frequently took part in deployments as well as training exercises. During one of his platoon's early morning sessions his parachute failed to open. Miraculously, he landed on top of his officer's parachute and managed to hold onto it for a good 90 seconds, until reaching the ground. It was a narrow squeak, but Purley was virtually unharmed.
During one of his active deployments in Yemen, a motorhead friend introduced him to the world of Formula One. In 1969, upon retiring from the army, he immediately established his own racing team.
Backed by his family's Lec Refrigeration Company, in 1970 Purley progressed to Formula 3, driving a Brabham BT28–Ford. Even though he scored points and podiums in lower open-wheel categories, nobody considered Purley to be a particularly talented driver.
He was not too keen on winning races and titles either. The fierce Brit was a man who enjoyed challenging himself, he was in it for the sake of adrenaline. Admittedly, Purley felt more comfortable driving on dangerous tracks than on "slower" ones.
Once he said: "When we did bayonet training in the Army, we were taught to scream as we lunged forward. At Rouen, coming past the pits, doing about 160 mi/h, then you've to do that incredible series of downhill sweepers, nearly all of them flat out, towards the Nouveau Monde turn. As I came past the pits, before those places, I used to scream into my helmet, to give me more courage, to keep my foot hard down (…) My preferred tracks are the tremendously satisfying Nürburgring, Rouen, Chimay and Macao."
Formula 1 and Zandvoort, 1973
As he made quite steady progress as a driver, by 1973, he got the opportunity to compete in Formula One. He did a decent job in the first two races of the season. In Monaco, Purley had a nice run but had to retire his car midway through the race due to a technical problem. While in Silverstone, he managed to outqualify such drivers as Jacky Ickx and Graham Hill.
The Dutch Grand Prix was only his third race in Formula One, but it gained him sudden global fame. On the 8th lap of the race, the extremely gifted Roger Williamson's March got a puncture, which catapulted him into the barrier. The weakly secured barrier threw the car back on track, it slid upside down for three hundred metres or so and eventually turned into a fireball.
Williamson was relatively unhurt but unable to free himself from his vehicle. Purley, seeing the accident, immediately pulled aside and ran across the track to reach the wreckage. First, he attempted to turn the burning car over. However, once he realized he was trying to do the impossible he grabbed a fire extinguisher from a nearby marshal instead.
Unfortunately, Purley's desperate attempts all failed as the race marshals did nothing to assist him. Later, track employees claimed to have thought Purley himself had the accident, got out of the car and was trying to extinguish it himself.
Most probably, Williamson lost his life from the lack of oxygen and from gas inhalation. "For God's sake, David, get me out of here!" Williamson has reportedly pleaded for help. Following the tragic accident, his words haunted Purley for a long time.
The race was uninterrupted and Purley's rescue attempts were observed by many around the track and on TV. There was a fire truck parked a few hundred metres from the scene, which could not have moved any closer as the race was still going on. Ultimately, spectators decided to try to get over the barriers, and give the two drivers a hand. However, security held them back while all the other drivers kept on competing for points and podiums.
"What shocked me was that no one else stopped to help. It wasn't that I was trying to save my friend, I didn't know Roger well. It was an instinctive reaction." Purley said.
Following the tragic accident, new side track regulations, such as mandatory fire-resistant clothing for marshals, were introduced. Thankfully both safety measures and morals among drivers have improved tremendously since Williamson's fatal accident. It is enough to think of Niki Lauda's terrifying crash on the Nürburgring when he was pulled out of his burning Ferrari by fellow drivers.
For his bravery and heroism, Purley was awarded one of the highest civilian honors in the UK, the George Medal. He later considered the award to be one of the reasons why his F1 career stumbled. He said people stopped seeing him as a race driver, they saw him as the guy with the shiny George Medal instead.
The 1977 British Grand Prix
After 1973, Purley became famous but was not successful on track. In the later part of the season, he failed to qualify for the Italian Grand Prix and in 1974, for his home race in Silverstone. He raced in F2 and won the championship in F-5000 during his years away from Formula 1.
Eventually, he managed to return to "the golden category" in the second half of 1977. However, during the first practice session in Silverstone, an electrical fire turned Purley's weekend into a nightmare.
The problem seemed to have been quickly resolved and the fire extinguished. Nonetheless, due to the team's financial struggles – they did not have a sufficient number of mechanics – they could not prepare the spare car for deployment. Therefore, Purley had to keep on using the very same car he previously had the fiery incident with.
Unfortunately, the leftover dust and some spilled fuel cemented inside in the vehicle's engine. The throttle of the Lec had stuck wide open at Becketts and Purley ran directly into the barrier.
"I remember most of it," he told the BBC two years later. – I arrived at Becketts with a speed of about 230, but when I stepped on the brakes, nothing happened. I thought they had gone bad, but as it turned out, the throttle was stuck in the open position."
In this record-breaking accident Purley's car decelerated from 173 km/h to a standstill in less than 66 centimetres, which corresponds to a 179.8 G force effect. This held the Guinness record for the biggest impact survived by anyone until 2003, when IndyCar driver Kenny Bräck survived a collision with a jaw-dropping 214 G.
Just for the sake of comparison, Romain Grosjean was hit by 67 G during his harrowing fireball crash at the Bahrain Grand Prix in 2020.
Years after the accident, Purley said "Later they told me I had 29 broken bones, quite a few sprains, my heart stopped six times, I'm pretty lucky to still be here."
Interesting enough, right after being resuscitated for the N-th time, he regained his consciousness. As Mike Earle, Purley's team boss at the time, stood next to his stretcher they immediately started quarreling over the cause of the accident. Earle later stated, he kept the argument going in order to distract his driver from the unbearable pain he had to endure.
Although both the team and the doctors knew it was impossible for the Brit to race the next day, Earle promised to have his race car ready for him. In fact, doctors on the scene doubted whether Purley would survive his 30-kilometer journey to the nearest hospital.
Agonizing Recovery and Return to Racing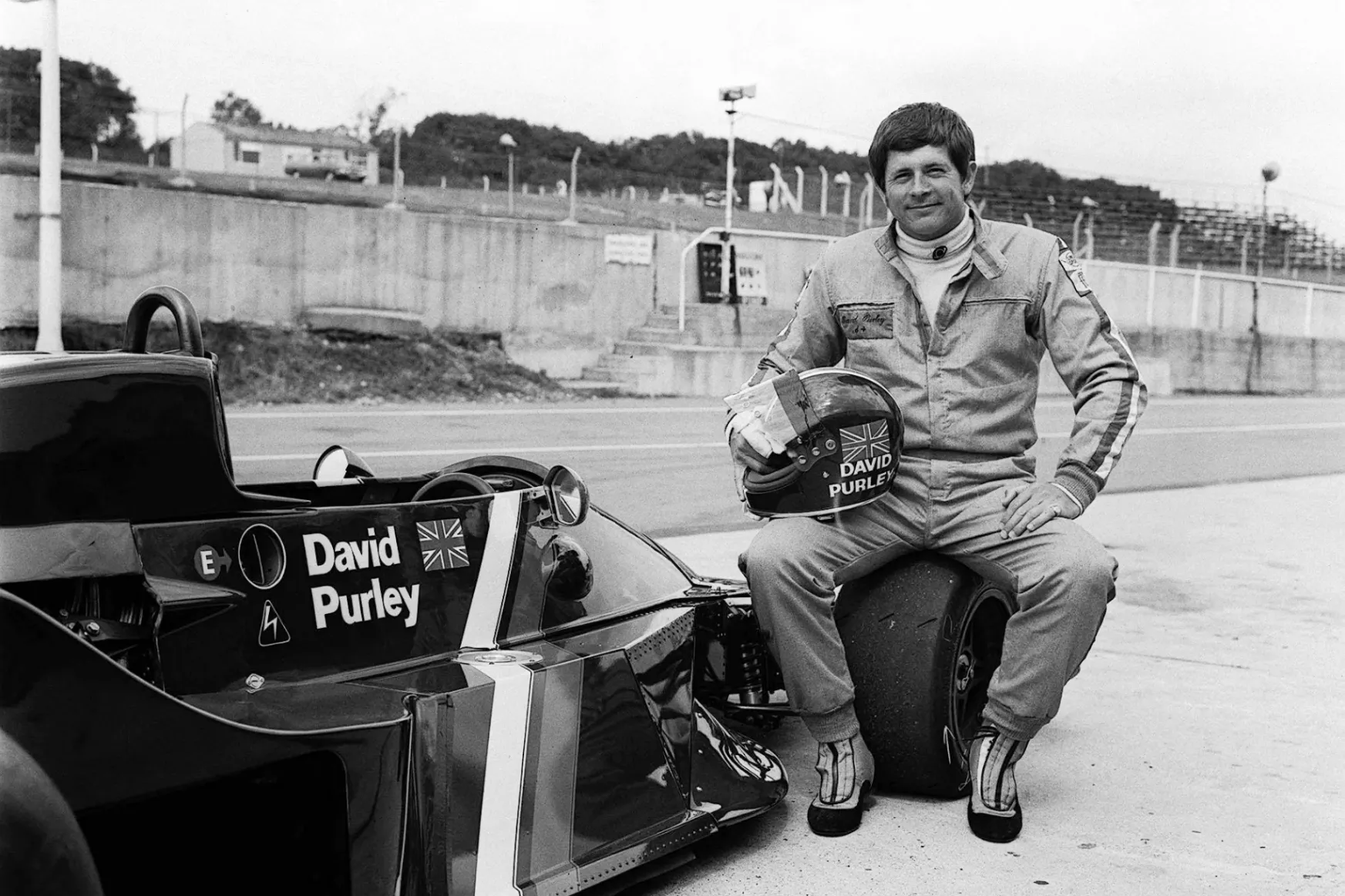 The British driver did not only survive the crash and his trip to the hospital, but he decided to make a comeback as soon as possible. After years of excruciatingly painful rehabilitation, Purley eventually had to give up his dreams of rejoining Formula One. However, he managed to get in good enough shape to take part in the British Formula One series, Aurora.
As a consequence of his brutal crash in 1977, his left leg remained an inch shorter than his right.
Since he was unable to accept his new condition, he began searching for a medical expert who could have helped. Ultimately, he came across a Belgian surgeon who was willing to take his case.
During months of a hellish procedure, the doctor broke Purley's left leg, stretched it millimetre by millimetre and grafted it into bone.
The procedure had only been performed on children before. Therefore, there was a gigantic risk that the process would have paralyzed an adult patient. After months of agony, there was no guarantee Purley could walk again. However, he threw caution to the wind, as he was stone cold determined to make himself fit for racing.
In 1979, Purley reached his ultimate goal: he was racing again. His ankles never healed completely and he lost his ability to run. However, miraculously, he improved his lap time at Goodwood, compared to his own laps two years earlier. Soon after his return, his family stopped sponsoring him as a driver.
Since he did not manage to find another investor or sponsor he had to switch to other sports. First, he took part in Enduro motorcycle races and eventually, dedicated his time to competing in aerobatics.
On July 2nd, Purleey suffered a fatal aircraft crash during a practice session near his hometown, Bognor Regis. One of the greatest, albeit almost forgotten heroes in Formula 1 history died at the age of 40, he was survived by his fiancée Gail and their baby girl, Claudia.
Following the accident,  1976 F1 World Champion James Hunt declared: "I think you may run out of luck, he has definitely used all his nine lives." (Feature by Dora Endre; Sources: motorsportmemorial.org, f1forgottendrivers.com/)