Ferrari's invisible Chairman John Elkann turned up at the Italian Grand Prix reaffirming his faith in Mattia Binotto's leadership and talking-the-talk of "Formula 1 titles before 2026" which needed some deconstructing by the team principal.
Elkann appears to be of the laissez-faire school of management, as a result, Ferrari and Binotto have apparently been unaccountable for a potential Formula 1 world championship-winning season that turned to an embarrassing defeat.
Even winning at home, this past weekend, with Charles Leclerc from pole was mission impossible as Max Verstappen romped to his fifth consecutive win of the season, his 11th so far just to add insult to injury.
Prior to that, on the eve of the race weekend, Elkann told Gazzetta dello Sport: "We have great faith in Mattia Binotto and we fully appreciate everything he and all our engineers have done but there's no doubt that the work at Maranello, in the box on the wall, and behind the wheel must improve.
"We have trusted in Binotto and his team. That was the right decision. It has paid off and we can thank them that Ferrari is competitive and winning again. But I'm not satisfied, I think we can always improve.
"We must continue to progress and that applies to the mechanics, the engineers, the drivers and obviously, the entire management team. Including the team boss. We have seen far too many mistakes, from reliability issues to driving errors and strategic blunders.
"That is why I believe that Ferrari will once again win the Constructors' and Drivers' titles before 2026, with Charles Leclerc in pole position. We are lucky to have two great drivers, probably the strongest pairing in Formula 1," ventured Elkann.
Binotto: We are continuously in contact
Asked if support from the Big Boss took the pressure off his shoulders, Binotto replied: "Is it a relief? First, I know and the team knows that we've got the full support of our chairman so we do not need an article or an interview to know that so we got. We are continuously in contact.
"We are commenting races, post-race. We are discussing race preparation, so he's a person that is certainly a lot interested in what we are doing and supporting the team itself.
"Is it a relief? I think more for external – let me say – judgements rather than internal, so internally we were focused, we were okay and had no concerns but seeing such an interview certainly is great because it's somehow confirming what we already know," explained Binotto.
However, the goal to win a title between now and 2026 could also be perceived as ambitious and, no doubt, the ambition of the nine rival teams on the grid, but it does set a timeline that provides a looming target for Ferrari, albeit four years from now.
It has been 18 years since Michael Schumacher's glory run of five unbeatable seasons, at the turn of the century, came to an end, 15 years since Kimi Raikkonen won the Scuderia their last F1 drivers' title and 14 years since the Finn and Brazil's Felipe Massa won their last F1 constructors' title.
Be sure, like Elkann has targeted, looking ahead to 2026, for sure Red Bull, Mercedes, Alpine, McLaren and even Aston Martin will be saying the same things in their respective boardrooms and think tanks.
This season Ferrari have the drivers and the car to do the business
Despite being the best they have been for some years, somehow have not been able to nail the advantage and sustain it and convert it into results and points in the way their rivals, Verstappen in particular, have done.
More so this season with the Ferrari F1-75 a very fast car as the eight pole positions Leclerc has mustered testifies, winning races for both drivers.
Considering that they so close, Binotto was asked why it would take four seasons to win, to which he replied: "I think it's more managing as far as the expectations but more than that, I think what he said precisely it's 'before 2026' so from now to 2026 and no doubt that the ambition of the team is to do it as soon as possible.
"On the other side, if we look at the current season, we are fully aware that there are still steps which are required to be somehow in the position to win a championship. Ferrari has done, I think, an enormous development in terms of performance from the last season to this one and if we look back at the… at least for Ferrari, you need to be back many years to see such a big development.
"So I think overall, the team did a fantastic job in developing the current car but still, there is situations as first I think the reliability because the reliability cost us at least a couple of victories and in order to win championships, you need to be reliable, no doubt.
Binotto: Race management, strategy, and pitstops certainly are areas that require improvement
Binotto explained: "I think during the race weekend, you may always do mistakes. I think being perfect is almost impossible. You need to take decisions, in real-time at the pit wall but what needs there to be the best and the fact that we're still making mistakes means that there is an area of improvement.
"So the team overall is a great team. It has proved (that) doing such a great car but certainly, we are aware – as I said – that still there are steps of improvements which are required to win the championship and how long it will take back at the factory, here at the racetrack, we are all working very hard to be there as soon as possible.
"That's why I think as well that the final part of the championship is important for us, it's important because we need to prove to ourselves that we are capable of addressing mistakes and improving furthermore, and that will be important too for the next season as well.
"So finishing well the season is important for the next one and furthermore for the following one. So it's continuous progress, it's a continuous process of improvement on which we are but we are not too distant from where we need to be and I think it's… by continuous working, as we've made in the last few seasons, I'm pretty sure that these are very soon," said the Ferrari team boss.
Binotto: Charles on average has been faster than Carlos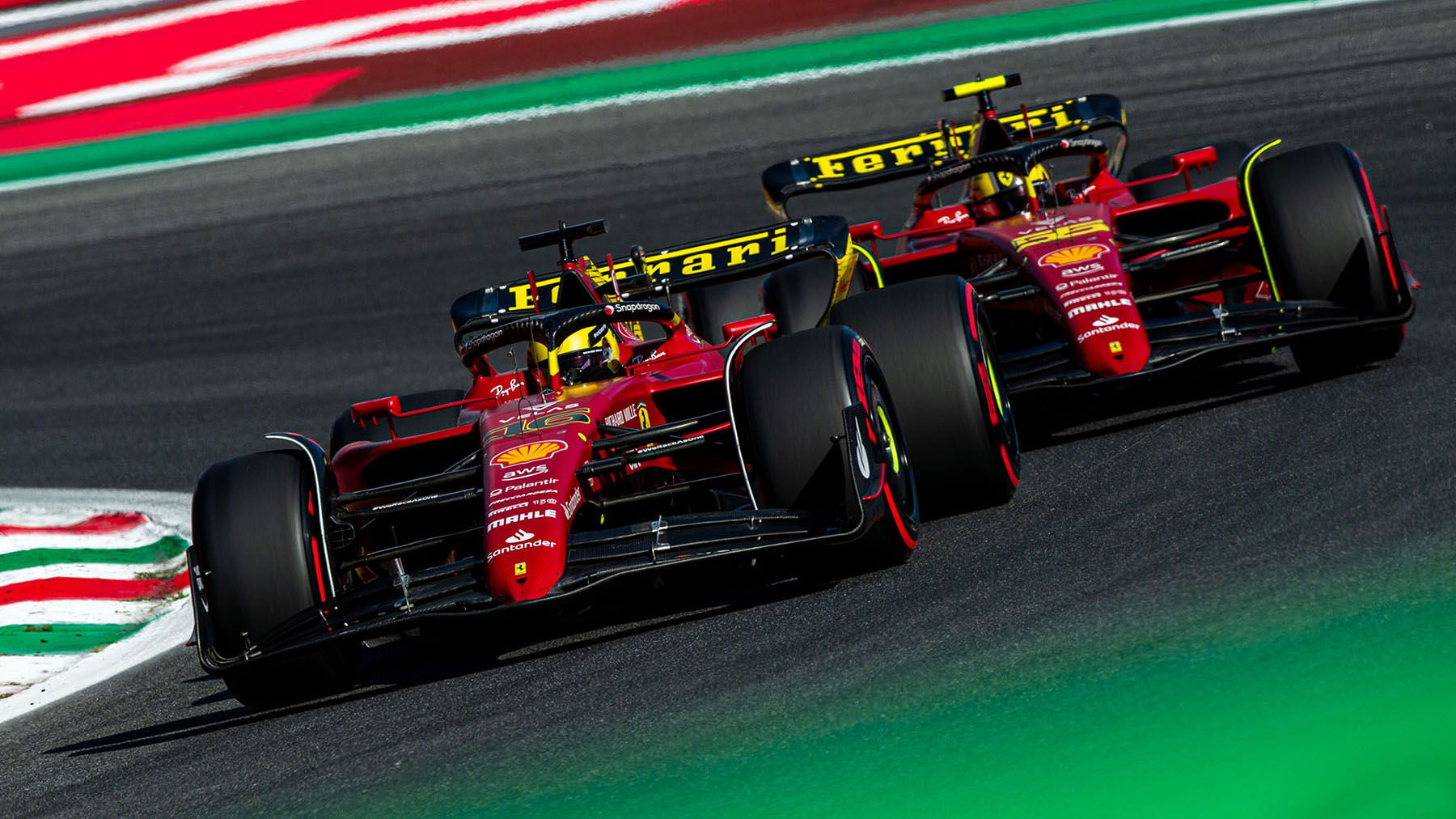 Also pointed out was Elkann's specific mention of Leclerc, as if he is expected to spearhead the title charge, which Binotto explained: "No, doesn't mean that. I think that what our chairman said if you look at the current season.
"Charles on average has been faster than Carlos and has been most often on pole position but the ambition of the two drivers, the final ambition is to win, for both of them, the championship and I think Carlos is a strong racer.
"He has proved it last year, in the past seasons and is still proving this season that he's a good racer. He is scoring a lot of points on Sunday, he's a good learner and he's fast as well so I think it's fair, as a team, to give them equal chance, certainly at the start of the season and through the season.
"If necessity will be there, we may designate who's got the most opportunity to win," conceded Binotto.
Currently, Ferrari lies second in the 2022 F1 constructors championship standings training Red Bull by 139 points and Leclerc second in the F1 drivers' standings 116 behind Verstappen; mathematically the Dutchman could wrap up the title in Singapore in two weeks time or, more likely, in Japan.
Whatever the case, it's game over in terms of championship/s for Ferrari for yet another season, until next year when the first of four chances will come to impress Elkann before 2026. Watch this space!