A drama-packed 2022 Dutch Grand Prix was decided in a final 12-lap sprint race thanks to a late Safety Car period, resulting in a shootout between local hero Max Verstappen and Mercedes drivers Lewis Hamilton and George Russell.
The final restart was HAM-VER-RUS-LEC-PER-SAI-ALO, but by Turn 1 the roar of the full-house crowd at Zandvoort, on its feet, told the story: Verstappen, who started from pole position, was ahead where he stayed, pulling away to take another famous victory.
Adding to his victory last year at the same place, a proper double Dutch delight.
Wearing a helmet in tribute to his father Jos Verstappen, hunting his tenth victory of the season from the top spot start on the grid, Max delivered another masterful performance, while his team adapted their strategy to take on a potent Mercedes challenge as Ferrari once again were their own worst enemy.
Whatever was thrown at them, they had it covered… at least with Verstappen's #1 car. Even the point for fastest lap of the race went to his pile.
However what many expected, before the race, would be a cruise on home soil was not, as Verstappen had to work harder for it than he and most expected, with the serious pressure, in the end, coming from the Mercedes duo.
The victory today also means another significant step toward a second F1 Title in a row for the Dutch ace.
Over the Red Bull team radio, the World Champion said after crossing the finish line: "They threw everything at us but we made the right calls. Very lovely result guys. We did very well, congrats guys."
Verstappen: It was not a straightforward race
2021 🏆
2022 🏆

Double #DutchGP victories for @Max33Verstappen #F1 pic.twitter.com/FtRPuaRfOc

— Formula 1 (@F1) September 4, 2022
Later in parc ferme, Verstappen summed up his 30th career F1 victory: "We had to push, of course with the safety car, virtual safety car, making the right calls. Always a bit of question mark but it worked out really well. Once we got back to the soft tyres we had great pace again."
The final restart, with Hamilton on pole, saw Verstappen blitz past as they hurtled into Turn 1, he recalled: "We timed it really well out of that last corner into the banking. You could see the draft was quite strong and we got ahead. It's incredible to win again.
"It's always special to win your home Grand Prix. This year I had to work for it even more. An incredible weekend and I'm really happy we got the Dutch Grand Prix."
Verstappen now leads the 2022 F1 Championship standings on 310 points, 109 ahead of second-placed Leclerc; Red Bull lead the Constructors' table by 135 points, with seven races remaining on the calendar.
Best of the Mercedes duo today was Russell who called for Pirelli Softs, for his final fling, which gave him enough pace to chase Verstappen gamely and claim a well-deserved second place. His move on Hamilton was close, and probably had hearts fluttering in the Merc garage.
Russell: We like to keep it close, you know, always
Of the incident, George said in his post-Dutch Grand Prix interview: "As a team today, we showed incredible pace, I know the team result wasn't quite what we hoped for but this gives us a lot of confidence and a lot of faith moving forward."
Once Russell was gone, with ageing rubber, Hamilton dropped down to fourth as Leclerc found pace in the Ferrari for the last stint to take the final podium step, despite another forgettable day for the Scuderia.
Leclerc said of his Sunday: "To be honest, much better was difficult to do. We were a little unlucky with the VSC. I don't know if this would have changed anything – Max was too quick today. Then there was the Mercedes which were flying on the hard tyres. We struggled to find the feeling on the hard tyres, so we'll analyse that."
Leclerc's teammate Carlos Sainz was the chief victim of Ferrari's inevitable shenanigans on the day, his race was compromised when his crew forget the left rear tyre in the garage on his first pit stop, costing him at least a dozen seconds.
Then they released him unsafely from his final pit stop which cost him fifth as he was relegated to eighth by a five-second penalty due to his team's carelessness during this edition of the Dutch Grand Prix. A public lesson on how to break a drivers' rhythm and moale, Ferrari-style. Sainz deserves a great deal better.
Alonso was his feisty self turning 13th on the grid to sixth!
Also struggling relative to his own teammate, all weekend (and all year) was Sergio Perez – sorely exposed this weekend by teammate Verstappoen's mighty pace. The Mexican veteran never got going in the race and was lucky to get fifth after Sainz's demotion.
For a driver who's driving the other pace-setting and 11-time-race-winning RB18, ten wins coming in Verstappen's hands, it wasn't deserved.
Richly deserved though was Fernando Alonso's astounding and impressive fight from 13th on the grid to sixth, with teammate Esteban Ocon ninth from 12th on the grid and making it another solid double-points scoring result for the French team whose cars started outside the top ten.
Largely off the radar during the 72-lap race, Norris also benefitted from his former teammate's penalty, seventh for the McLaren driver was a solid result while not so for Daniel Ricciardo down in 17th, really looking like a has-been whose shares have probably crashed beyond repair.
This weekend's show did him no favours which is probably the best way to sum up his final Dutch GP for McLaren.
The final point went to Lance Stroll in the Aston Martin, the Canadian enjoying one of his better weekends this time out, while teammate Sebastian Vettel just gets worse and worse as 14th testifies.
Too many incidents and a real nutty interference with the leaders during the race made it clear that the German is well past his sell-by date, sad to see of a driver with such an illustrious career in the top flight at such a low level of performance.
Tsunoda's antics should be investigated as they impacted the outcome of the race
In closing, Tsunoda's antics that led to the final safety car should be investigated, the AlphaTauri driver found good pace this weekend, but as is becoming the norm, got involved in a bizarre incident which saw him park his car twice, the first thinking his wheels were loose, and a final time when he was told to switch off.
The incident had a major impact on the race, and the Japanese driver's judgment should really be questioned is he indeed felt the car was losing a wheel, when it was not. Explanations rather than excuses are required to get to the bottom of that moment of madness.
While the antics of the driver in the Red Bull 'junior' team are sure to trigger conspiracy theories as, coincidentally, Tsunoda's troubles played nicely into the hands of Verstappen when it appeared he might lose the race to one or both of the Mercs.
As mentioned, conspiracy theory fodder, from a so-so race turned highly entertaining 2922 Dutch Grand Prix, that needs to be dispelled ASAP.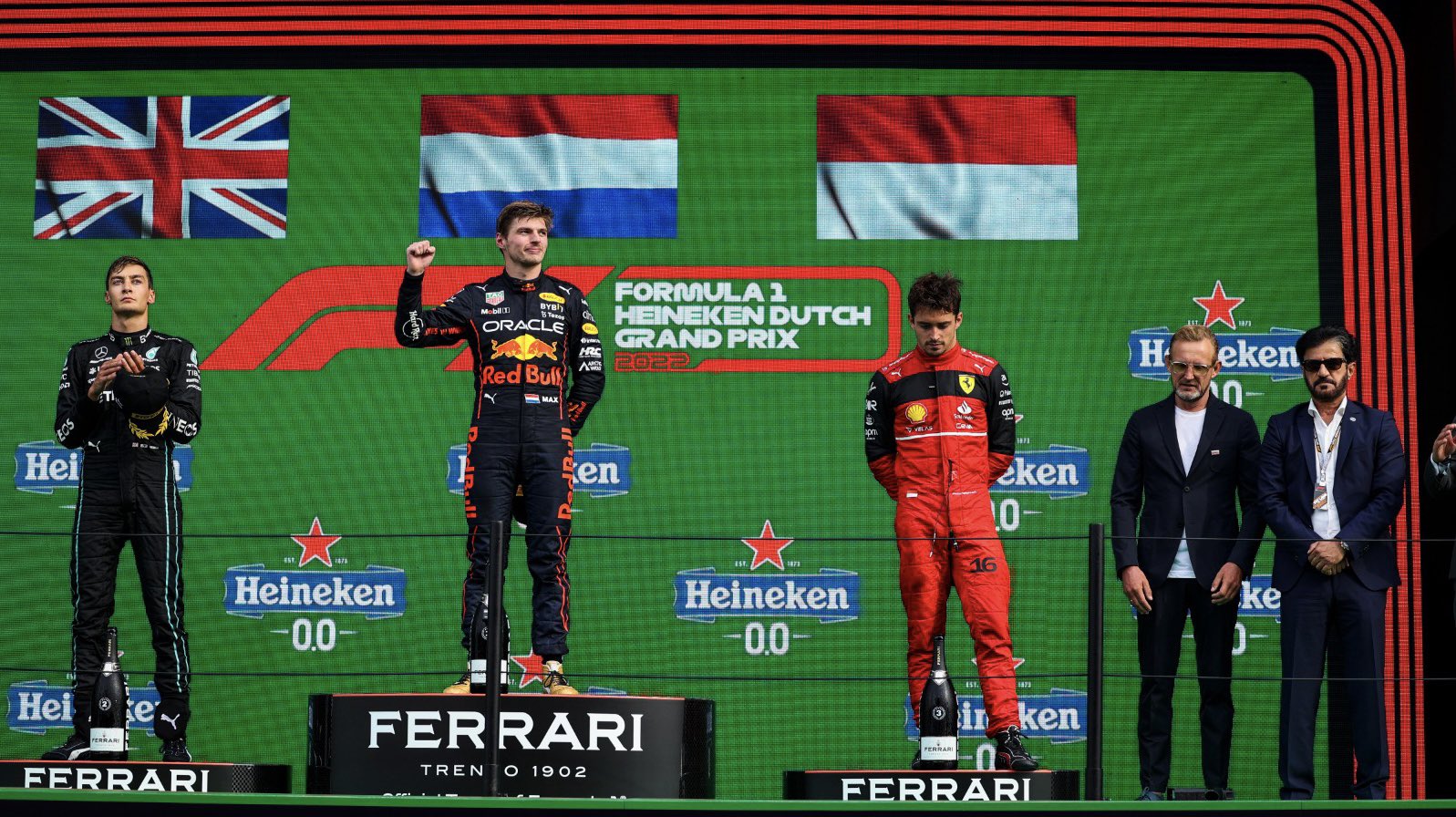 2022 Dutch Grand Prix Result