Max Verstappen will start the #1 Red Bull from top spot on the grid for the Canadian Grand Prix on Sunday at Circuit Gilles Villeneuve in Montreal, Round 9 of the 2022 Formula 1 World Championship.
The World Champion was constantly at the sharp end of proceedings, at times well over a second faster than anyone before popping a 1:21.200s to take pole, by six tenths over Fernando Alonso in the Alpine, the 40-year-old without doubt, the star of the weekend thus far and showing how good he really is when the playing field is level.
The Spanish veteran, who showed his hand earlier in the day by topping the times in FP3, was elated as the crowd roared his name, afterwards in parc ferme he reported: "The car was mega. I was so comfortable with driving this car and I think the fans also helped me to make an extra push."
As for Sunday's game plan, Alonso replied with a wink: "Let's see… I'll attack Max on the first corner!"
Verstappen again relished conditions in which he is peerless, as his dominance today again showed, but after notching up his 15th F1 career pole position he is not taking the Grand Prix for granted: "I still expect it not to be a straightforward race
"With the tricky conditions today we stayed calm, we made no mistakes, so of course super happy with that, with pole position here – and also to be back here in Montreal. It's great to see all the fans.
"You really get that go-karting sensation with proper kerbs around here. We always enjoy driving here and I'm looking forward to the race," added Verstappen, who leads the F1 Championship standings by 21 points.
Ferrari will have Sainz battling at the front and Leclerc charging from the back due to PU penalties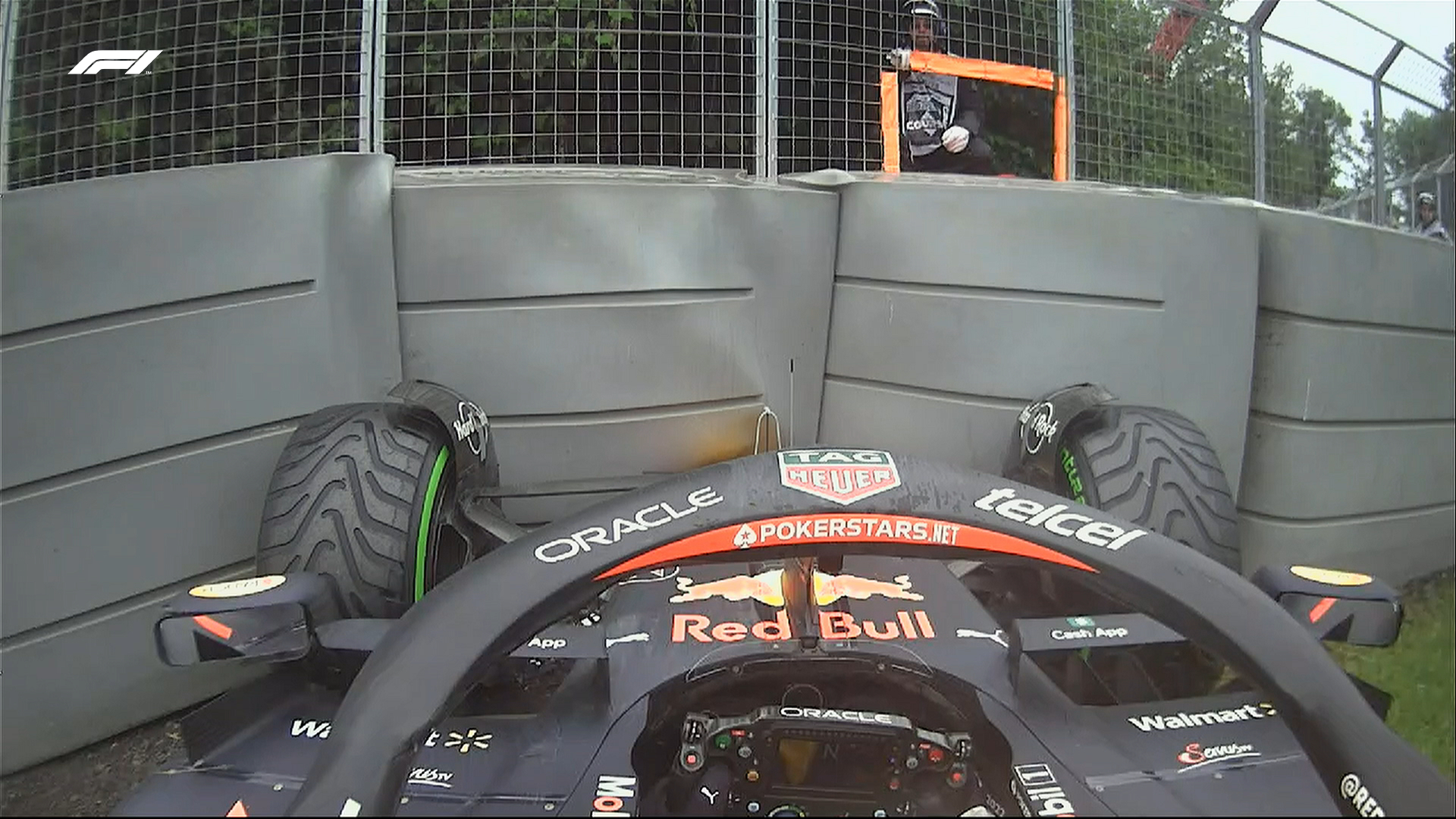 Carlos Sainz will fly the Ferrari flag, the Spaniard will start from third, he was seven-tenths shy of Max's best effort sharing the second row with Mercedes driver Lewis Hamilton enjoying a strong afternoon, albeit 1.5 seconds down on the pole time.
Sainz reported: "I was feeling quite OK with the car, especially as the track was drying. I think I was going purple one then in sector two, I knew I had lost a bit too much. And then in the last corner, I just tried to do a very quick last corner and that cost me half a second, just trying to go for it, for the pole.
"In the end, it was that mistake but the rest I think we're in a good position for tomorrow. It's going to be a good fight with Max upfront and let's see what we can do with Fernando because he's been very good all weekend. Let's see how it goes," added the Ferrari driver.
Row three will be an all-Haas Ferrari-powered affair, Kevin Magnussen ending three-tenths faster than teammate Mick Schumacher, the German delivering an F1 career-best and very important performance on the day; the pair will start from fifth and sixth.
In the other Alpine, Esteban Ocon could not match his teammate by 1.5 seconds but was still good enough for seventh, on what was a very good Saturday for the French team.
Russell gambled and it backfired, Hamilton enjoys a strong qualifying session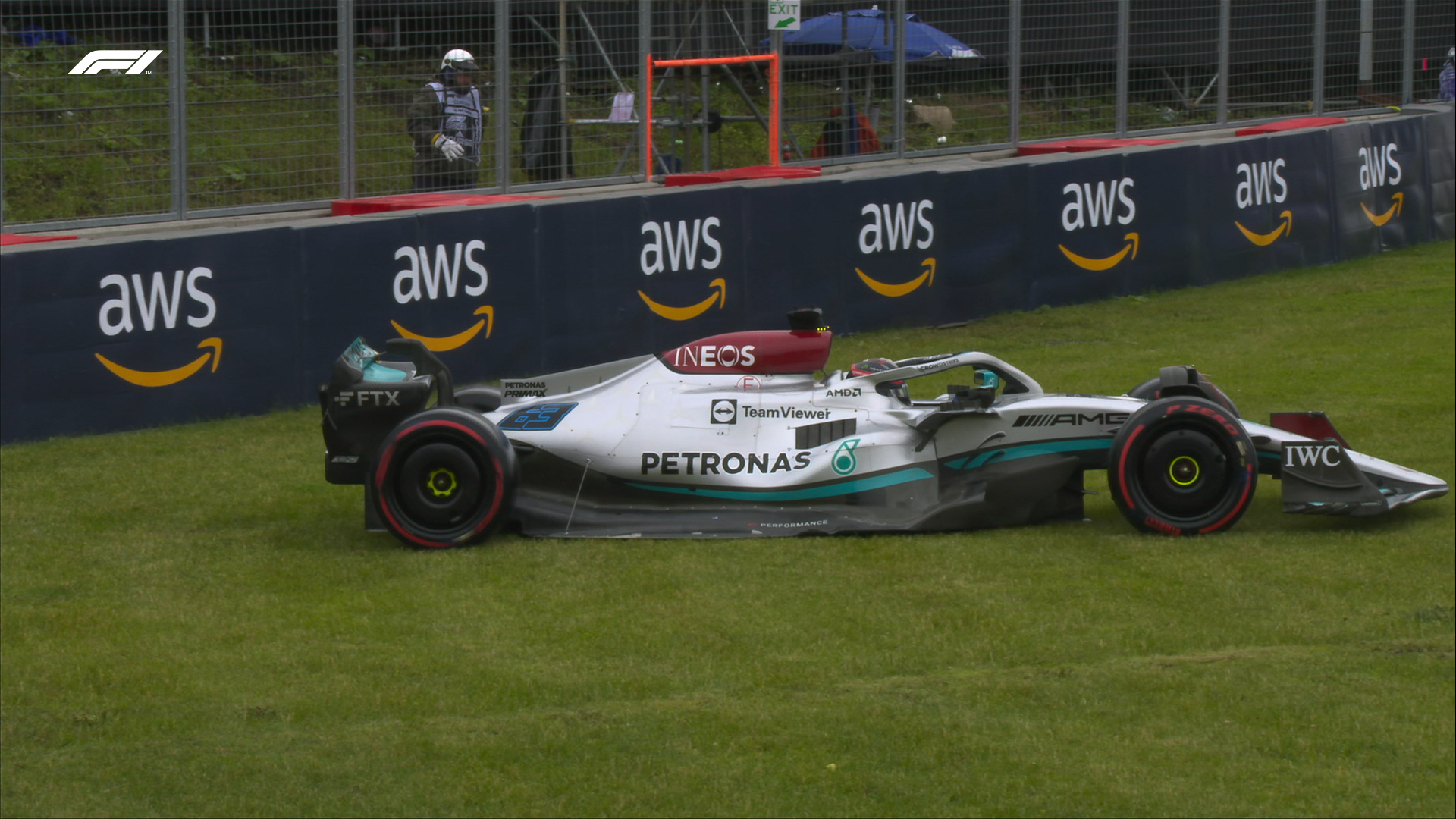 Credit to Russell, bravest of the brave was the first to bolt on Soft Slicks. A big gamble which backfired. He slipped off, backwards, tapping the barriers lightly with his right rear and gave it another shot. The banker lap on Wets was enough for eighth place.
Daniel Ricciardo had a better day than teammate Lando Norris, the Australian ninth fastest and delivering a much-needed solid result.
Arguably one of the most impressive performances, on a day packed with great driving, was Alfa Romeo's Guanyu Zhou who out-qualified his vastly more experienced Alfa Romeo teammate Valtteri Bottas in conditions he has never experienced in an F1 car, and also his first time at the Circuit Gilles Villeneuve.
Big disappointment for Aston Martin who, Sebastian Vettel in particular, were looking good for Q3 after showing strongly in practice. But then it went south fast as both Green cars failed to make it beyond Q1.
Ditto both AlphaTauri's, while Yuki Tsundoa was understandable as he will start from the back of the grid anyway due to PU-related penalties; but Pierre Gasly"s showing was disappointing from a driver who tends to excel on days such as these.
For qualifying rain levelled the playing field even more with many incidents and surprises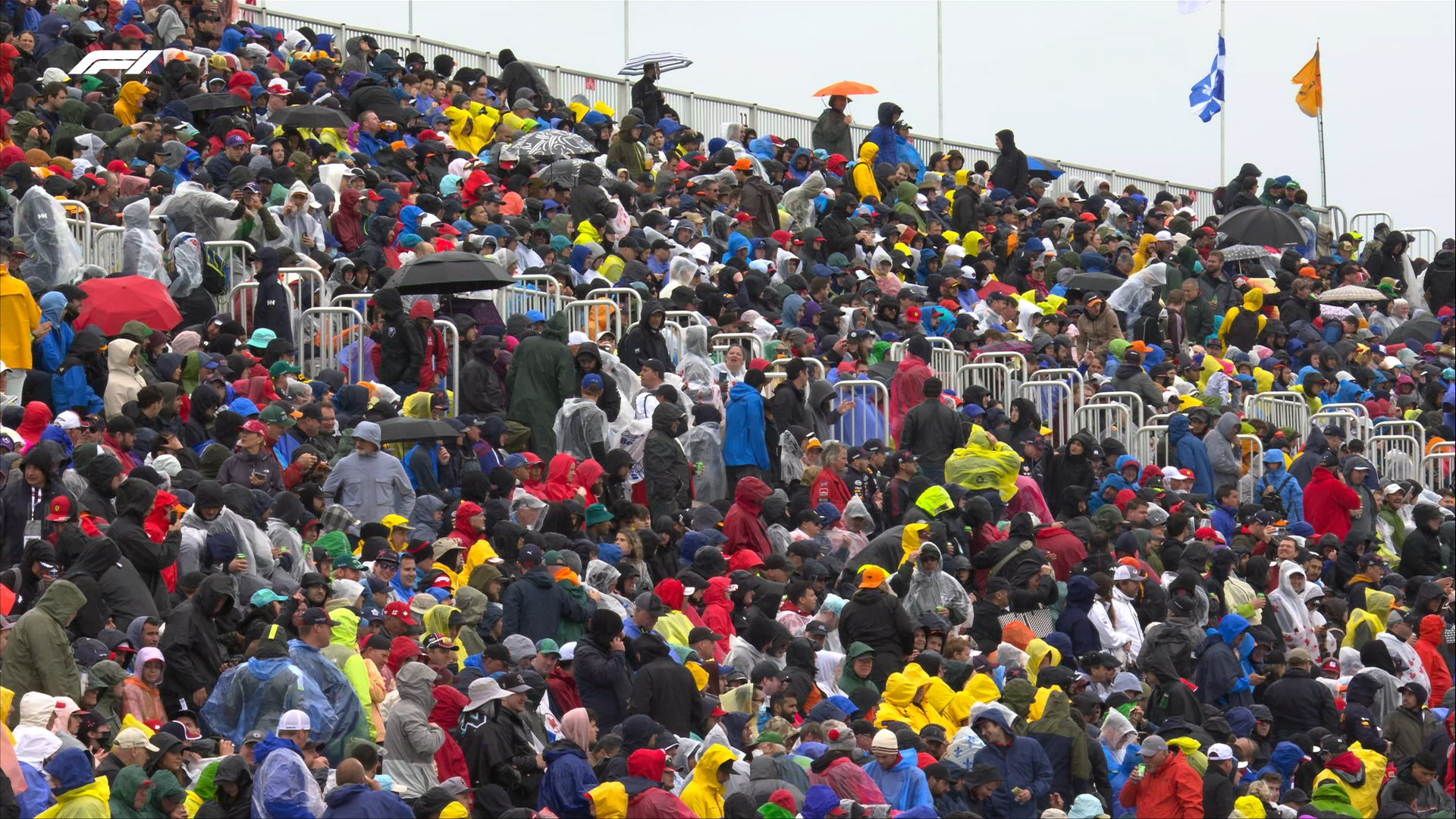 Earlier, after a wet and rainy FP3, qualifying began a couple of hours later in 12 degrees cold, blustery and wet conditions; again full blue band Pirelli Full Wets were needed, although the rain had subsided when the track went green to start the session.
Immediately, everyone went out as the pitlane opened, and soon it became clear that doing a lap without making a mistake became the biggest challenge for the 20 drivers in the tricky conditions.
When it mattered, the track very tricky, a slick quilt of wet and dry patches, Verstappen was simply on another level his first Q3 effort 1.3s faster than anyone else and then 1.5s faster until Alonso came along to reduce the gap with his mega-effort.
His antics were much appreciated, the crowd erupting into cheers of appreciation for the unforgettable show Alonso gave them in qualifying on Saturday, to brighten up what was a miserable day, weather-wise.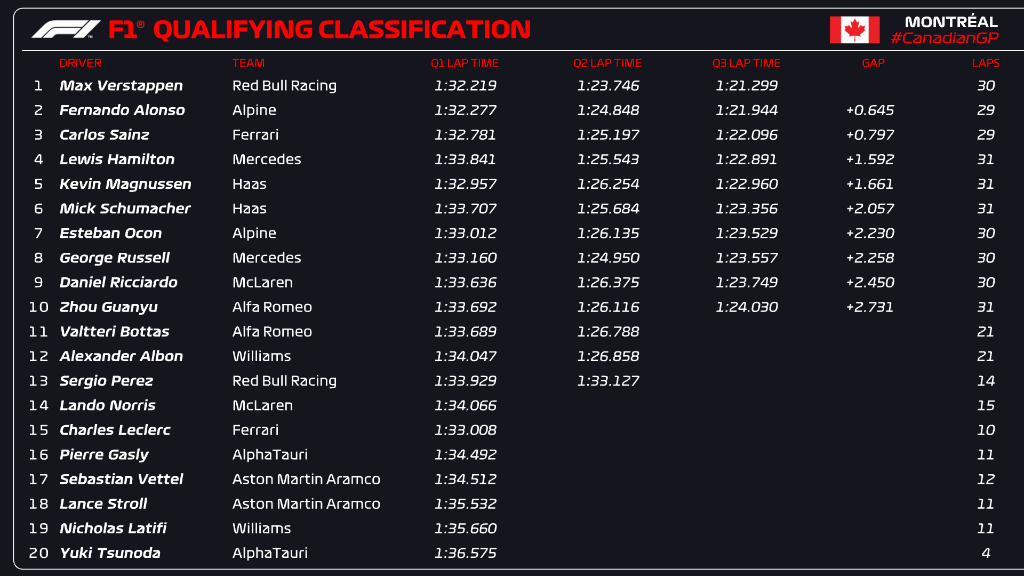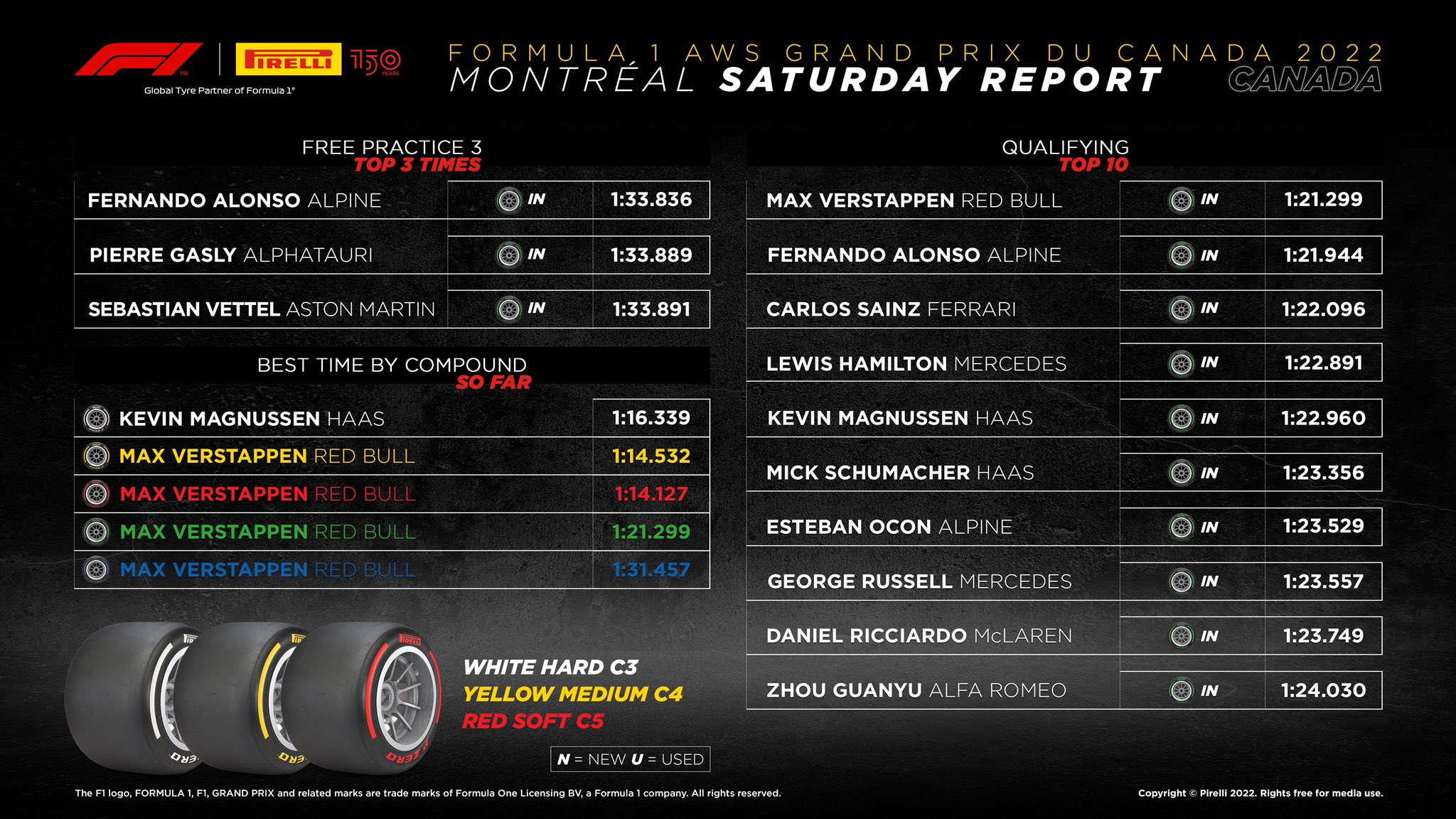 Q2: Perez crashes out, Alonso fastest
The question as the Q2 started was, to bolt-on Full Wets or Inters? A handful opted to go out early with the Inters and they had made the right call. Alonso immediately went two seconds quicker than the Mercedes pair, using the Full Wets.
With eight minutes on the clock and the track drying remarkably rapidly, Albon first nudged the wall, and at almost the same time Perez nose-jabbed the flexi-Tecpro-wall with quite some force through T3 and T4. This triggered a Red Flag and ended a tricky qualifying day for the Mexican veteran who normally is far better in such conditions.
With Leclerc parked, the others axed in Q2 were luckless Norris who had issues with his McLaren and did not get a run; Bottas was the biggest scalp, missing out by three-tenths; also out were Albon and of course Perez.
🚩 RED FLAG 🚩

Perez also slides off on the Intermediates, and can't get it out of the wall#CanadianGP #F1 pic.twitter.com/bepojkmkOt

— Formula 1 (@F1) June 18, 2022

Q1: Both Aston Martins and Alpha Tauri duo out
Wet, cold, windy conditions engulfed an enthusiastic crowd gathered for the first qualifying in Montreal since 2019, on a day that proved to be a great leveller. So many had laps scrapped for going beyond track limits, just about every big hitter a victim.
By the time the spray had settled, a topsy turvy Q1 timesheet emerged, with at the top and early showers for both Aston Martin drivers, the Alpha Tauri duo and inevitably the Williams of Latifi.
Verstappen topped the first stanza of qualifying, with Alonso 0.058s adrift, second quickest. Leclerc, with PU penalties for the race, called it quits after ending the qualifying fifth quickest.
Charles Leclerc heads back to base after Q1, as he starts Sunday's race from the back#CanadianGP #F1 pic.twitter.com/fnV6TzYSLQ

— Formula 1 (@F1) June 18, 2022