It was riveting viewing while it happened, Lewis Hamilton alighting his Mercedes in slow-motion, clutching his back in pain after finishing fourth at the 2022 Azerbaijan Grand Prix.
Lewis appeared in serious pain after 51 laps of sitting in a popcorn machine, which was his Mercedes W13 "porpoising" all weekend in Baku, and he was showing it so the world knew how much he was suffering.
That Spanish Grand Prix 'solution' which appeared to have resolved the issue, was fake news. The car is still a shitbox and probably the most difficult to drive on the limit, and you don't have to be a body language expert to figure that out
So serious was the pain, that immediately from within the Mercedes paddock compounds, exactly who pulled the trigger remains unclear, but what was crystal clear was the message we reported: Get Nyck De Vries because the star actor may need an understudy for Montreal.
Hamilton was hurt, and "may even miss this weekend's Canadian Grand Prix" was the narrative overnight, despite Lewis looking pretty okay during his post-race interviews, but they may have discovered what ailed the seven-time F1 World Champion after the race.
Then a day later, of course, Lewis was quick to spring the "I won't miss Montreal for anything" Tweet to remind all that he is still around, the back pain is now gone, one has to gather, or it was not as bad as it looked.
Or the prospect of De Vries stepping up and working wonders – which I have no doubt he will do even alongside Russell – gave Hamilton a wake-up call.
Sure Lewis had Baku-ache, but not enough to win him the Oscar at that point, so climbing out of his car in parc ferme, cameras fully trained on him, we were gifted one of the greatest half-minutes of showbiz; a performance to make Sir Lawrence Olivier proud.
Netflix script writers must have orgasmed witnessing all this, so priceless was the footage
It was pure Lewis, embodying everything that makes him the F1 driver I am most fond of. A guy who wears his heart on his sleeve, a Mommy Boy, a Drama Queen; just like me and many blokes I know. That's why I recognise and relate.
If I am injured or sick, make it a tad more dramatic, man-flu style, and you get the sympathy vote, and treatment. It's chapter one of the Drama Queen manual.
If there is drama and sometimes it follows me, milk it to my advantage, and do something that makes me stick out in a crowd; it's the way I am wired whether I like it or not and thus relate to Lewis. And Ayrton Senna. And Nigel Mansell. Many of you do too.
For me, Lewis, Ayrton and Nigell are/were the greatest of the F1 Drama Queens I had the privilege of watching from day one of their careers, to their final laps in an F1 car. Guys with their hearts sewn on their sleeves.
So many tales of Ayrton's great Oscar moments exist: weak and struggling to hold up a trophy on the podium; unable to get out of his car after winning at home; the Irvine confrontation; the berating of Stewart; the sermon on Mount Casino after his Lap of the Gods at Monaco; the disappearing act and tears when he pranged out of the lead, also at the seaside village.
All riveting stuff that mesmerised us all while the great Brazilian legend graced us with his presence. The constant drama and proper showbiz kept us coming back more and more each weekend, producing many more great Ayrton Drama Queen moments that still bring tears to the eyes when one thinks of the Brazilian.
But is there a better F1 Oscar winner than Nigel Mansell?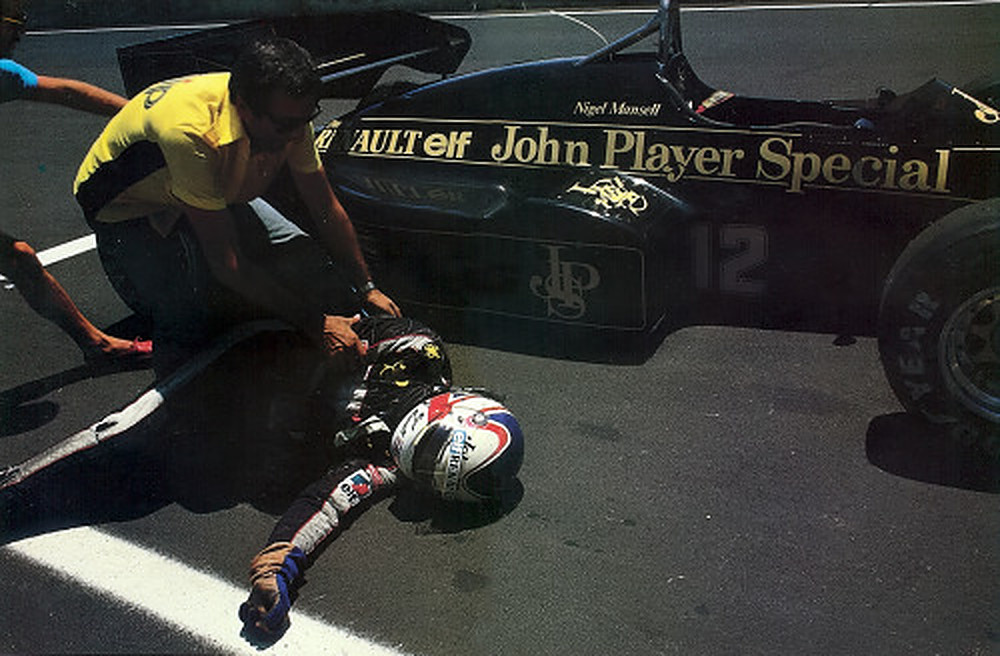 Mr. Whinger. Mr. Make-A-Mountain-Out-of-a-Molehill kind of guy. The F1 Champ and Legend, also did well in Indycar. Like Hamilton, Mansell is also British, thus cut from the same cloth of some of the greatest thespians the world has known.
Nigel's theatrics would fill volumes. Top of the Pops of all time must be pushing the Lotus across the line until he collapsed, one of the greatest off-script, improvised moments of F1 theatre ever witnessed live on TV.
Flashback 1984: With his JPS Lotus stopped with the finish line in sight, at the end of a race in the murderous heat of Dallas, Our Nige got out and proceeded to push the car to the finish line, without a purpose as he was sixth either way… and then collapsed and lay beside the car before being attended by team personnel and medics.
Brilliant method acting and improvisation of the highest order, which Mansell realised made him, like Ayrton, like Lewis, a headline magnet. Thus throughout his career, there are stellar moments such as these that make Nigel one of the greatest characters of our sport; at least for those who lived that great era.
And so it is and has always been with Lewis. Nowadays a driver with nothing to prove, having driven shitboxes to victory; beaten everybody; lost out on F1 Titles but still won seven; won with dominant cars but always with drama, there has never been an easy win for the winner 103 Grand Prix races in 296 starts. And that's why we love him.
While fate robbed us of Ayrton before he was anywhere near retiring, Mansell survived and we know where he is now. Wealthy, chilled and living in Jersey, Our Nige will always be "Il Leone" because he always wore his heart on his sleeve. Like Lewis.
How does Lewis bow out gracefully with George now bossing it at Mercedes…
This brings us to the hard truth which Hamilton faces now with a hungry (used to close-combat, driving very bad cars) George Russell. No back pain for the 24-year-old celebrating on the Baku podium.
Although the young Merc driver was most vocal about the dangers of "porpoising", after the race his back was fine. Unlike Lewis.
And that's the problem. Lewis has nowhere to hide right now as he is being shown up by George every weekend. And understandably, one driver with nothing to prove and the other with everything to prove. A driver at the end of his long F1 road, the other at the beginning of his undoubtedly long F1 road.
Make no mistake, Hamilton has not forgotten to drive fast since he pulverised everything in the final races of last season, but with a troublesome car, stuck in the midfield the seven-time F1 World Champion is like a fish out of water.
How do you motivate yourself to go to work at Burger King every day when you have been working at chef Alain Passard's Arpège for the past dozen years?
Which begs the question: What are Hamilton's options?
There are three choices Hamilton faces at this stage of his career:
Grin and bear it with the hope Mercedes sort out the car and Lewis beats George regularly;
Tell Mercedes to get the car to work, when it's working he will come back and drive it, meanwhile give it to Nyck or Stoffel or Hulk – the W13 is not worthy of a seven-time F1 World Champion;
Walk away. Like Niki Lauda did. Enough is enough. Just quit.
Of course, option-1 will remain in play for 40-million good reasons, the only problem is I don't see Lewis beating George regularly, in fact, I would bet he doesn't beat him unless the younger driver has an issue or is told to move aside.
With youth on his side, George is only going to get better and better; at 37, Lewis won't
However, I digress!
The object of this piece, of course, is to celebrate Lewis' great F1 Oscar moment which embodies everything we should love about Lewis and feel privileged to have been a voyeur on his incredible journey. He kept us riveted to F1 since he burst on the scene.
Formula 1 changed, it got better and bigger, it got fiercer, and it became what it is today, thanks to Lewis and his generation, but it is his big Oscar moments that will stand out.
And, when it's time to go, if there are last thoughts that go through my mind about F1, it will be about Ayrton, Nigel and Lewis because they will always make me smile. My Drama Queens.