Sergio Perez drove his greatest Formula 1 race on Sunday to win the 2022 Monaco Grand Prix, the Red Bull fending off a relentless onslaught to hold on for victory at the end of an incident-packed afternoon.
After a long race that lasted three hours or so, including a delayed start, safety cars and a big crash, it was then decided by a 30-minute sprint which came about for the final restart, where Perez found himself leading, from Sainz, Verstappen and Leclerc.
And, being Monaco, that's how it remained. Perez knows a thing or two about defending and whatever Sainz threw at him the veteran swatted away as he did earlier in the race when even Verstappen could not do much about his teammate.
It was a high-speed stalemate, the four front-runners in a league of their own, waiting for mistakes or a dose of bad luck; none doing anything, and that's how they crossed the finish line: PER-SAI-VER-LEC.
Delighted and emotional, Perez said in parc ferme: "It is a dream come true. As a driver, you dream of winning here. After your home race, there is no other more special weekend to win so to do it and the way we did it.
"We made it a bit harder for ourselves at the end today and we had to not make any mistakes and keep it home and keeping Carlos behind wasn't easy. It is a massive day for myself and for my country. I am just very, very happy," declared the popular winner, and it showed!
Verstappen also had no answer for Sainz ahead, while a frustrated Leclerc watched a win being denied him and a podium go begging. It was not a result the Monegasque wanted in his own neighbourhood.
The real Max did not show up in Monte Carlo this weekend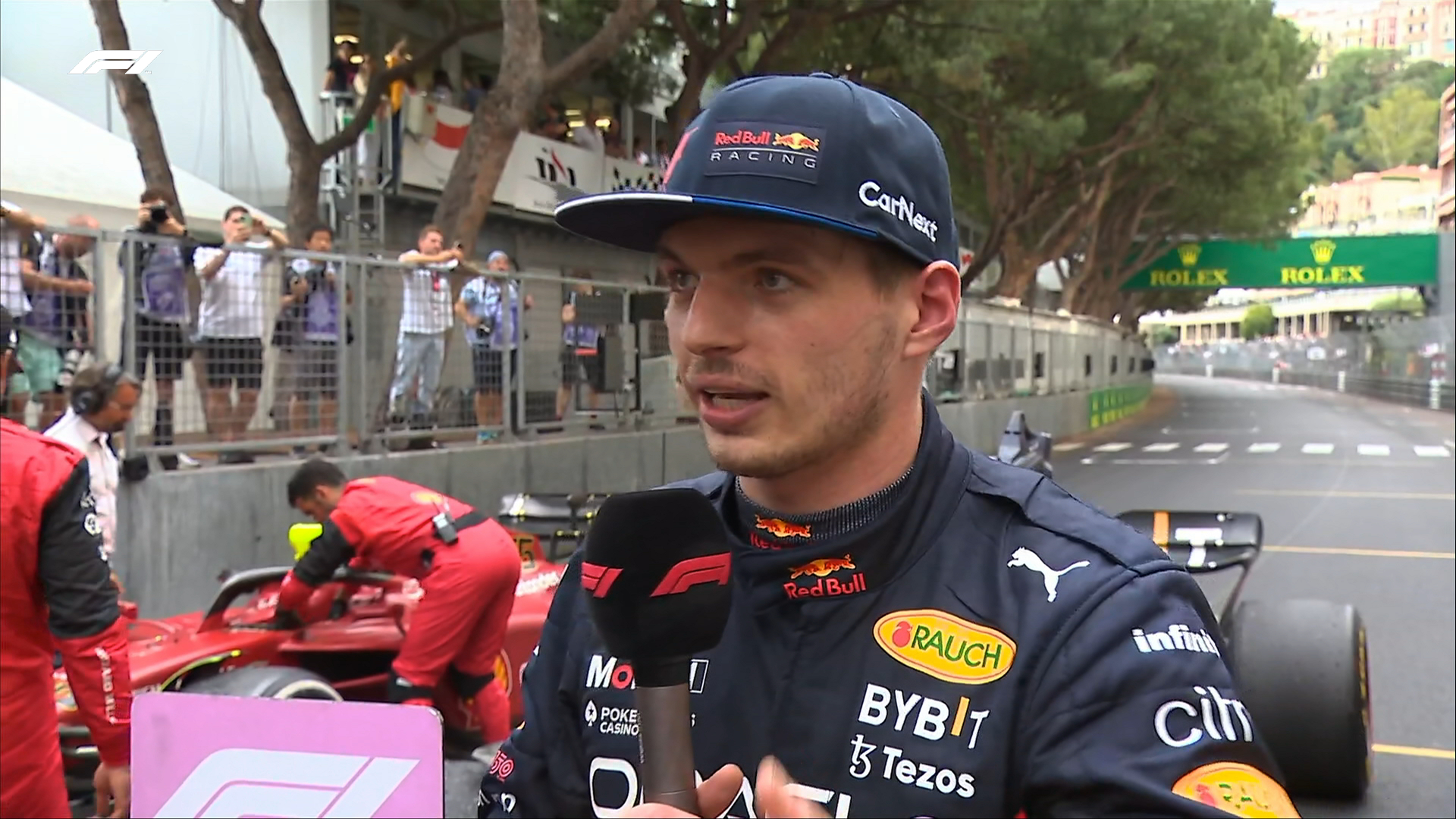 Verstappen never quite found the edge he enjoyed when he powered to a dominant victory here last year. One sensed an air of damage limitation at a race he perhaps felt he would not win this time out.
In the end, beating Leclerc was the difference that mattered between the two Title protagonists who may have to keep an eye on a rampant Perez in their mirrors.
Verstappen summed up his afternoon: "I did the best I could of course, after yesterday and once the course was blocked with the red flag. As a team we did a really good job with the strategy to get ahead of the Ferraris, as a whole team we can be very pleased with the Sunday. It was a very hectic one.
"Luckily nothing really crazy happened, apart from Mick of course, and I hear he's okay. An amazing result for Checo and I'm very happy for him," added the Dutch ace.
Sainz had one of his better days, itching to score that first win he remained sensible to hang on to second place where he started, although he did fancy a chance at the top step of the podium until the end, but Monaco is a no-can-pass track and second was his fate for today.
He reported in Parc Ferme: "I felt like we did everything that we had to do out there. We stayed patient on the wets, we got it right by going onto the slicks. Being stuck behind a lapped car cost me the race win today so you can understand the frustration because a clean out-lap would have got me the race win today but it is how this sport is sometimes.
"I had to do 12 corners behind the lapped car which cost me a couple of seconds and cost me the race but I am not going to complain too much. That is how this sport is sometimes and Checo was unlucky in Jeddah. In this sport, it will turn around one day or later," reasoned Sainz.
Rain turned the race start and grinding procedure into mayhem
The drama started shortly before the start of the 2022 Monaco Grand Prix as the skies over the Cote D'Azure decided to unload water over Monaco to spice up Sunday.
What ensued on the grid, was pure pandemonium as team members scuttled around in collective confusion trying to ascertain what tyres to bolt-on, extreme wets were supposedly the order of the day but no one was sure.
Nevertheless, FIA race control suspended the start with no real rain coming down at that point, 15 minutes later they decided to begin the race behind the safety car. After a couple of laps, the rain really came down making it undrivable. They peeled into the pits awaiting the weather to improve.
The race resumed at 16:05 local time, an hour and five minutes later than originally scheduled.
Leclerc took the immediate lead once the field was released by the safety car; Sainz chased with Perez and Verstappen in tow.  By lap 10 the gap between the Ferrari pair was four seconds.
Pierre Gasly was the first significant driver to pit for Intermediates, and by lap 15 the times were on par which triggered a flurry of pitstops with Perez going early on lap 16, it would prove to be decisive.
At one point there were drivers opting for safety with the Inters, others going straight to slicks and some staying out on full wets.
By the time the dust had settled after everyone realised slicks were the way to go, the order at the front had switched incredibly. Perez led, from Sainz in second, Verstappen third and the pole winner Leclerc fourth.
George Russell had soldiered hard behind Lando Norris, but strategy saw the Mercedes step up to fifth, Norris behind him in sixth due to the undercut.
Another massive crash for Schumacher triggered the Red flag
Then came Schumi's big prang. When it restarted, as mentioned above the top four were stalemate as they snaked around the Principality nose-to-tail. Ditto behind them.
George Russell was typically strong in the race, turning sixth on the grid after a race-long tussle with Lando Norris. Shrewd strategy by Mercedes made it advantage to their driver, with the McLaren driver again delivering a solid performance to take sixth.
Seventh place went to Alpine veteran Fernando Alonso who battled all race with Lewis Hamilton in his mirrors, but the Mercedes man could not find a way through as the Spaniard held station at a modest pace.
In the other Alpine, Esteban Ocon crossed the line in ninth but faced a post-race penalty for bumping Hamilton. Sebastian Vettel claimed the final point for Aston Martin, after being promoted into the top ten due to Ocon's penalty.
A final word for the hapless Nicholas Latifi in the Williams, the Canadian Rich Kid again proved why he has no place in F1 as he slid off under the safety car. Fortunately his shenanigans this time around (unlike Abu Dhabi last year) did not have wide repercussions, but he is now beyond an embarrassment.
As for Mick? Not sure he belongs in F1 at this stage of his career and, at this rate, he will be lucky to keep surviving and walking away from such big shunts, which are costing Haas a small fortune.
Final word to the Monaco winning Team Principal, Red Bull's Christian Horner: "We didn't want to be exposed at the restart but we managed it beautifully. A great result and so proud of Checo after yesterday.
"He has been on fire all weekend and I don't think we had the quickest car today but we got it right. The double pitstop and it was all about teamwork," added Horner.
Red Bull have now won four races in a row and lead the 2022 F1 Constructors' Championship with 235 points, 36 more than Ferrari in second.
After seven rounds, Verstappen tops the F1 Drivers' Standings on 125 points, nine up on Leclerc in second and 15 ahead of Perez in third.
2022 Monaco Grand Prix Result