Charles Leclerc delivered a wonder lap to survive an early spin in Q3 and take pole for the 2022 Spanish Grand Prix, as Max Verstappen fell prey to reliability.
Leclerc made his only lap count and delivered one of his wonder laps in Q3, after spinning on his first attempt at pole, as Max Verstappen had to settle for second after his RB18 lost DRS in his final Q3 run, having been on provisional pole earlier.
Local hero Carlos Sainz took third in the other Ferrari, as he still has no answer to his teammate's formidable form, as even his home crowd could not give him that extra oomph.
Sainz missed on the chance of receiving the Pole Position award from his father Carlos Sr. which would have been a special moment for the Spanish crowds. If only…
Rally legend @CSainz_oficial presents Charles Leclerc with his fourth @pirellisport Pole Position Award of the season 👏#SpanishGP #F1 pic.twitter.com/78FmaeXjVj

— Formula 1 (@F1) May 21, 2022
What the top three said
Leclerc said after qualifying: "I feel good. It was a very, very difficult session, especially in Q3 because I did a mistake in the opening and then obviously I only had one lap.
"But it went extremely well, I had a bit of moments on my lap but in the end I made it stick and very, very happy with pole position. It was an amazing lap and the car was amazing too so yeah very happy.
"I am in a strong position to start the race but we have been struggling with tyres compared to Red Bull and Max is just behind.
"If we don't manage those tyres well we will lose that win so we need to get on top of it and do a good job with time management.
"I hope we can do a 1-2 together with Carlos, it will be great for the team and I will give it my all," the Monegasque concluded.
Leclerc spins off at the end of his first flying lap

He's back in the pits and will get one more chance to nail a quick one #SpanishGP #F1 pic.twitter.com/1rrEWQLo4W

— Formula 1 (@F1) May 21, 2022
Verstappen added: "I couldn't do my final run. Either the DRS didn't open or I lost power, so it's a bit of a shame.
"But I think, overall, to be on the front row, looking at the whole weekend so far it was a good achievement. But, of course, I would have liked to go for that final run.
"The past few races we seem pretty decent on the tyres. Of course, tomorrow will be very hot, this track is quite tough to pass on, but let's see.
"Hopefully, our car will be a bit kinder on the tyres again but it's difficult to tell at the moment," the reigning World Champion concluded.
Quali result #SpanishGP 🏁🇪🇸 LEC P1, Max P2 💪, SAI, RUS, Checo P5, HAM, BOT, MAG, RIC, MSC. #F1 pic.twitter.com/3Rszy2gHdy

— Oracle Red Bull Racing (@redbullracing) May 21, 2022
Third-placed, Sainz said of his qualifying: "It has been a tough weekend so far. Conditions haven't been the easiest with the heat, with the wind, but today we managed to put in a decent lap which means we can fight tomorrow.
"I think the key will be the start, the tyre management, see if we can get a good start and go from there but it is a decent position to start.
"I think everything is possible tomorrow. We are definitely going to try our best to get ahead at the start and lead from there but it wasn't the ideal Qualifying because I couldn't set a good lap on the used tyre.
"Anything can happen and we will try our best," the Ferrari driver insisted.
Qualifying for the 2022 Formula 1 Spanish Grand Prix must have been one of the most anticipated qualifying sessions of this season, as for the first time, Mercedes have shown that they have closed the gap to Ferrari and Red Bull.
Mercedes have brought an upgraded W13 to Barcelona with the hope of curing their "porpoising" troubles, which seemed to have worked, and the Silver Arrows were third and fourth at the end of FP3, a couple of hours before the all important qualifying shoot out. George Russell was third, Lewis Hamilton fourth.
Mercedes may disturb the grid
Martin Brundle told Sky Sports F1 of Mercedes: "The car is much better – it's stopped the porpoising. They had a good filming day at Paul Ricard and they already noticed improvement.
"What's critical here is they can get amongst the championship contenders, and disturb the grid and the comfort zone of Ferrari and Red Bull, and how they might run their race tomorrow."
Ferrari also have an upgraded car for the Spanish weekend which seemed to be handy as Charles Leclerc topped all three practice sessions on Friday and Saturday, but Red Bull, not far off on one-lap-pace, seem to have a more handy car for Sunday.
Other than that, it was a controversy that stole the limelight in Barcelona, as Aston Martin revealed a revised AMR22, a spitting image of Red Bull's RB18, something the energy drinks outfit weren't thrilled about naturally, as they threatened to investigate how that happened in light of several of their employees moving to Aston Martin, and despite the FIA announcing there was not foul play by Lawrence Stroll's squad.
Barcelona Q3
Leclerc showed composure as he kept a cool head after fluffing his first lap in Q3, and went for it on one available lap and ended up securing his 13th career pole by over three tenths from Verstappen.
The pressure was on and @Charles_Leclerc delivered 💪#SpanishGP #F1 pic.twitter.com/FXPRHNE9J1

— Formula 1 (@F1) May 21, 2022
Verstappen's banker Q3 lap was a 1:19.073 and good enough to beat Sainz – in third – by a mere 0.093s. The Dutchman was lucky with that.
George Russell may not have been able to break into the top three in qualifying, but did well to qualify in fourth, ahead of the Red Bull of Sergio Perez who was fifth, and by just 0.027s.
Lewis Hamilton was outqualified again by his teammate and was sixth fastest over seventh tenths slower than pole, but has nevertheless validated that the upgraded Merc is now a serious Q3 contender in the grid.
Mercedes now have a solid base to build on for the rest of the season.
YESS!! Back in the mix 👏👏 P4 and P6 on the grid for the #SpanishGP 👊 pic.twitter.com/RRirR9zX33

— Mercedes-AMG PETRONAS F1 Team (@MercedesAMGF1) May 21, 2022
Valtteri Bottas made good use of a heavily upgraded Alfa Romeo and will line up seventh for Sunday's race right behind his former teammate. The Finn was 0.858s off the ultimate pace.
Haas delivered a great qualifying, both cars making it to Q3 keeping faith in their un-updated VF22, as Kevin Magnussen took eighth fastest with a 1:19.682, while Mick Schumacher ended his maiden Q3 appearance in 10th place 0.686s slower than his teammate.
Mick and @HaasF1Team are going from strength to strength 👏#SpanishGP #F1 pic.twitter.com/M9KPNnnrYG

— Formula 1 (@F1) May 21, 2022
Daniel Ricciardo split the Haas pair to take ninth place, after being in the shadow of Lando Norris for the whole weekend. The Australian's time of 1:20.297 was a whopping 1.547s off the pace.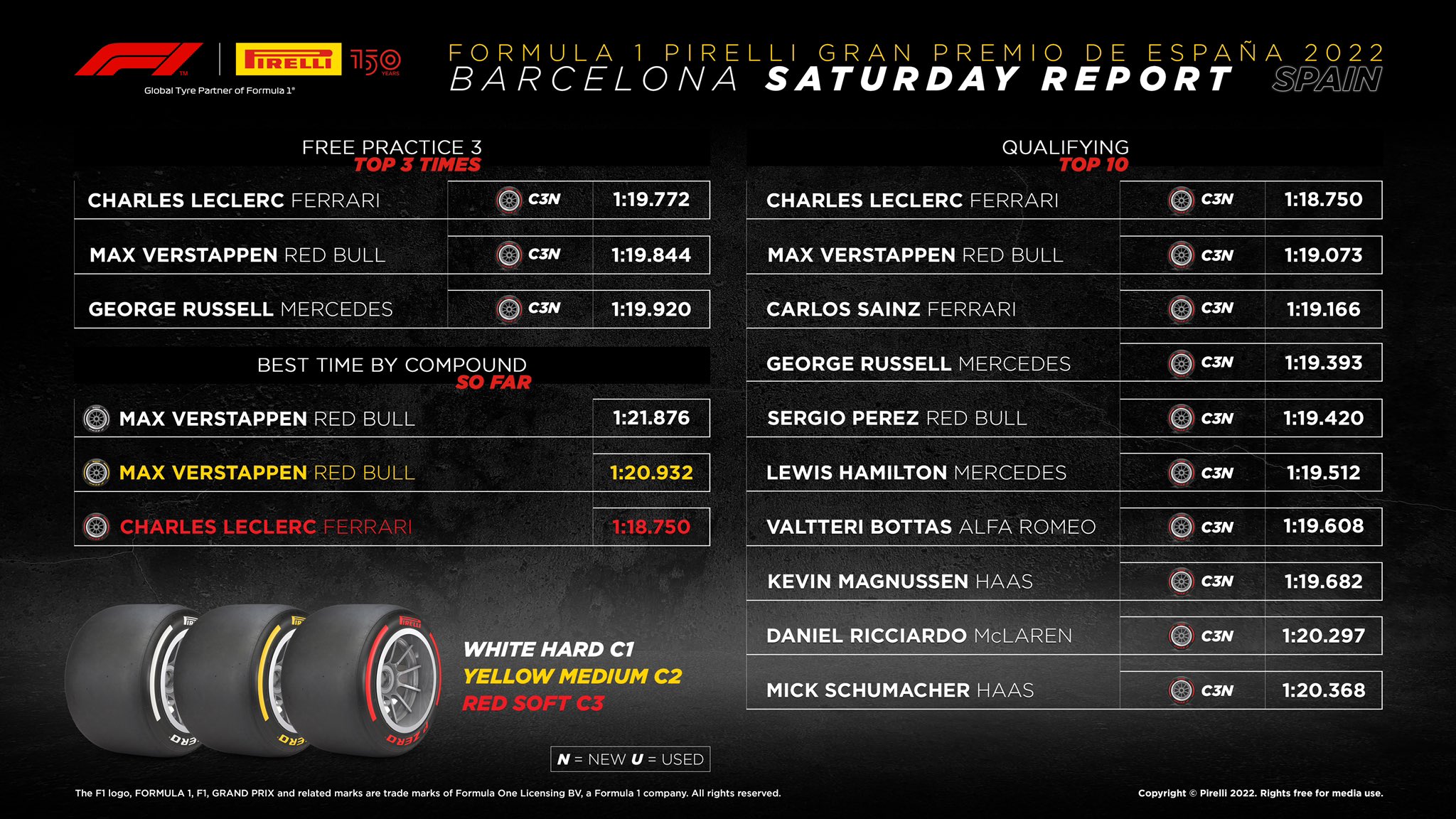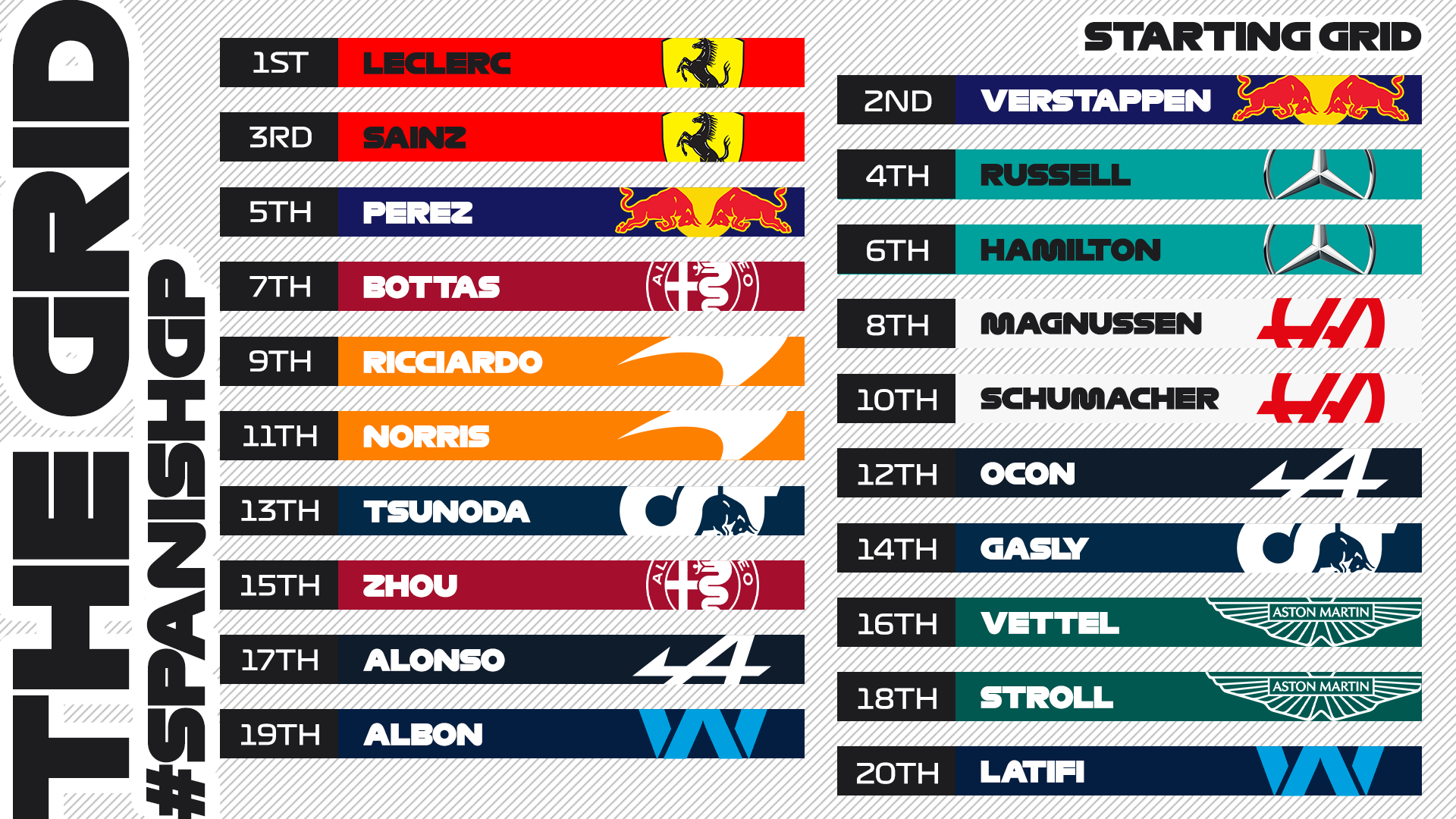 Barcelona Q2
Max Verstappen and the Ferrari duo ran their first flying lap in Q2 on used Soft tyres, keeping their new sets for a final hot run, while both Mercedes cars and Sergio Perez opted for new Softs.
Mercedes used up their rubber and didn't go out for another run in Q2, believing the times set on their first outing are enough. A glimpse of the eight-time World Champions' usual confidence, which paid off.
Leclerc followed suit as well, and did not run again, making it into Q3 with an extra set of new Soft tyres, as Max Verstappen ended Q2 fastest of all after running again with a new set of Soft tyres.
A great achievement by Haas who put two cars with no upgrades into Q3, Schumacher's first appearance in the third qualifying stage.
Lando Norris lost his timed lap for exceeding the track limits at Turn 12 so was the first of the eliminated drivers in Q2 in 11th missing out by 0.035s. His elimination is what elevated Schumacher.
Ocon was next in 12th, followed by AlphaTuari pair Yuki Tsunoda and Pierre Gasly respectively in 13th and 14th.
Alfa Romeo's Zhou Guanyu qualified in 15th place.
Barcelona Q1
Maybe Aston Martin didn't copy enough from Red Bull, as Sebastian Vettel lead the group of drivers to be eliminated in Q1, the German only good for 16th in his Green Bull with a 1:20.954.
"You must be kidding," was Vettel's reaction to his result over the team radio.
Fernando Alonso was 17th, as the Alpine driver failed to make it into the second stage of qualifying, being caught up in traffic. He was 0.089s behind Vettel and followed by Lance Stroll in 18th.
Two Aston Martins out from Q1. All that copying for nothing…
Alex Albon was 19th for Williams with Nicholas Latifi dead last in the sister car.
Notably, Eseteban Ocon barely made it into Q2 in 15th, as Alpine opted not to send him out again in what seemed to be a risky decision from the Enstone squad.
Also worth mentioning Kevin Magnussen who was fifth fastest in Q1, keeping in mind that the top six did not run again.