Max Verstappen edged Charles Leclerc in qualifying at Autodromo Internazionale Enzo & Dino Ferrari today, taking pole position for Saturday's 2022 Emilia Romagna Grand Prix Sprint Race after a red flag marred session.
Qualifying for the first Sprint Race was always going to be a tricky affair with the new breed of F1 cars, as the teams only had the one hour in FP1 to dial their machines in before things got serious, and the wet weather that blanketed the track since Friday morning added another challenging factor into the mix.
Qualifying began in drying conditions, with a clear racing line emerging on the damp tarmac, but the rain was soon back in Q2, ramping up the excitement and uncertainty of the session.
In the end, it was Verstappen who mastered the tricky conditions in the Red Flag-marred session (five in total), to put the Red Bull RB18 on pole for the start of the Sprint Race on Saturday from P1 and will go down in the record books as the polesitter for the 2022 Emilia Romania Grand Prix; in contrast, the biggest loser on the day being Carlos Sainz who crashed his Ferrari at the start of Q2.
Imola Qualifying Q3
Kevin Magnussen brought out the Red Flags at the start of Q3, as he went off at Acque Minerali, but was lucky not to hit the barriers, and was able to get running again.
And it's another Red Flag 🚩

Magnussen has gone off #ImolaGP #F1 pic.twitter.com/cZ5r2kuygG

— Formula 1 (@F1) April 22, 2022
The running did not last for long as Valtteri Bottas put his Alfa Romeo in the wall at Turn 16, bringing out Yellow flags, then Reds just as Max Verstappen was on a flying lap.
Verstappen's lap was validated by Race Control, as the Dutchman was deemed to have slowed down for the Yellow flags, but has enough speed to remain fastest, on provisional pole with three minutes of running remaining in Q3.
When the session resumed after Bottas' crash, none of the drivers had enough time to set another lap, as Lando Norris beached his McLaren at Acque Minerali, causing the fifth Red flag of the session after which it was not restarted.
Norris as a result kept his third place that he was able to reach from his Q3 banker lap, probably the biggest winner on Friday at Imola, as his last-minute crash arguably prevented others from improving.
But it was Verstappen who took the pole on the day as he edged Leclerc by 0.779s, the Monegasque clearly disappointed after the session as in normal conditions, he would have had a strong chance to take pole.
Not bad mate 👊 @Max33Verstappen will start the #F1Sprint on POLE POSITION 💪🇮🇹 pic.twitter.com/43ogLwZjCJ

— Oracle Red Bull Racing (@redbullracing) April 22, 2022
Verstappen said after Imola qualifying: "It was tricky out there with the rain, well, the dry and the rain. It was slippery and hard to get the tyre temps to work.
"It was hectic but I am very happy to be here, it is an amazing track and it also really punishes you if you make a mistake, you can go into the wall," he added.
"I am really pleased with pole position but I know tomorrow and Sunday will be a bit different in terms of weather conditions but this is a good start to the weekend.
"Our first three races didn't go to plan but we will try and have a good weekend here," the reigning F1 Champion concluded.
Second place holder Leclerc, was downbeat after qualifying and said: "It was very tricky, especially on the slicks there quite a lot of wet patches, so it was all about putting the laps in and waiting for Q3 to put everything together.
"This is why it's even more frustrating for me because when it counts in Q3 I did the wrong choice, but it's life. We'll learn from it and in the end P2 is not a disaster.
"Everything to play for tomorrow and after tomorrow and well give everything," the Ferrari ace concluded.
All to play for in tomorrow's #F1 Sprint 👊@Charles_Leclerc P2#essereFerrari 🔴 #ImolaGP pic.twitter.com/hVkjWbtf9f

— Scuderia Ferrari (@ScuderiaFerrari) April 22, 2022
Lando Norris who popped into third out of the blue added: "Of course I am very happy I am top three which is quite a surprise for us.
"There was a lot left in the lap and I was trying to get the tyres to temperature but I just pushed too hard on the outlap. It was a shame because there was a chance, at least, to maybe have a go at Charles.
"It is difficult to say because everyone can say they would improve but there was a possibility of us to go forwards even more because the car was feeling good and I was feeling confident so it is a shame it ended like that but a good position for tomorrow.
"These conditions made a big difference for us today because if it was completely dry, we wouldn't be in third place. We made the most of today, of course, and we have given ourselves the best opportunity to score some points which is the aim," the Briton concluded.
Norris goes off and the session ends! #ImolaGP #F1 pic.twitter.com/9UlTU9fGDs

— Formula 1 (@F1) April 22, 2022
Behind the top three, Kevin Magnussen took an excellent fourth for Haas with a 1:29.164, after it seemed all was lost for the Dane who spun early on in the session missing the wall.
Fernando Alonso salvaged fifth for Alpine and was 1.203s off the top time, followed by Daniel Ricciardo in the other McLaren in sixth, 0.540s adrift of the Spaniard.
Sergio Perez was far off Verstappen today at Imola, and was only good for seventh 1.809s off the pole time, with Valtteri Bottas ninth despite his Q3 crash.
Sebastian Vettel, who was lucky with the Red flag caused by Carlos Sainz in Q2, putting in a dry banker lap just before it, was not as lucky in Q3, and could not improve his 1:321.062 lap time and remained ninth fastest.
Not a bad result for the German after the nightmare weekend in Australia a fortnight ago.
Sainz's time from Q2 was good enough for him to secure tenth.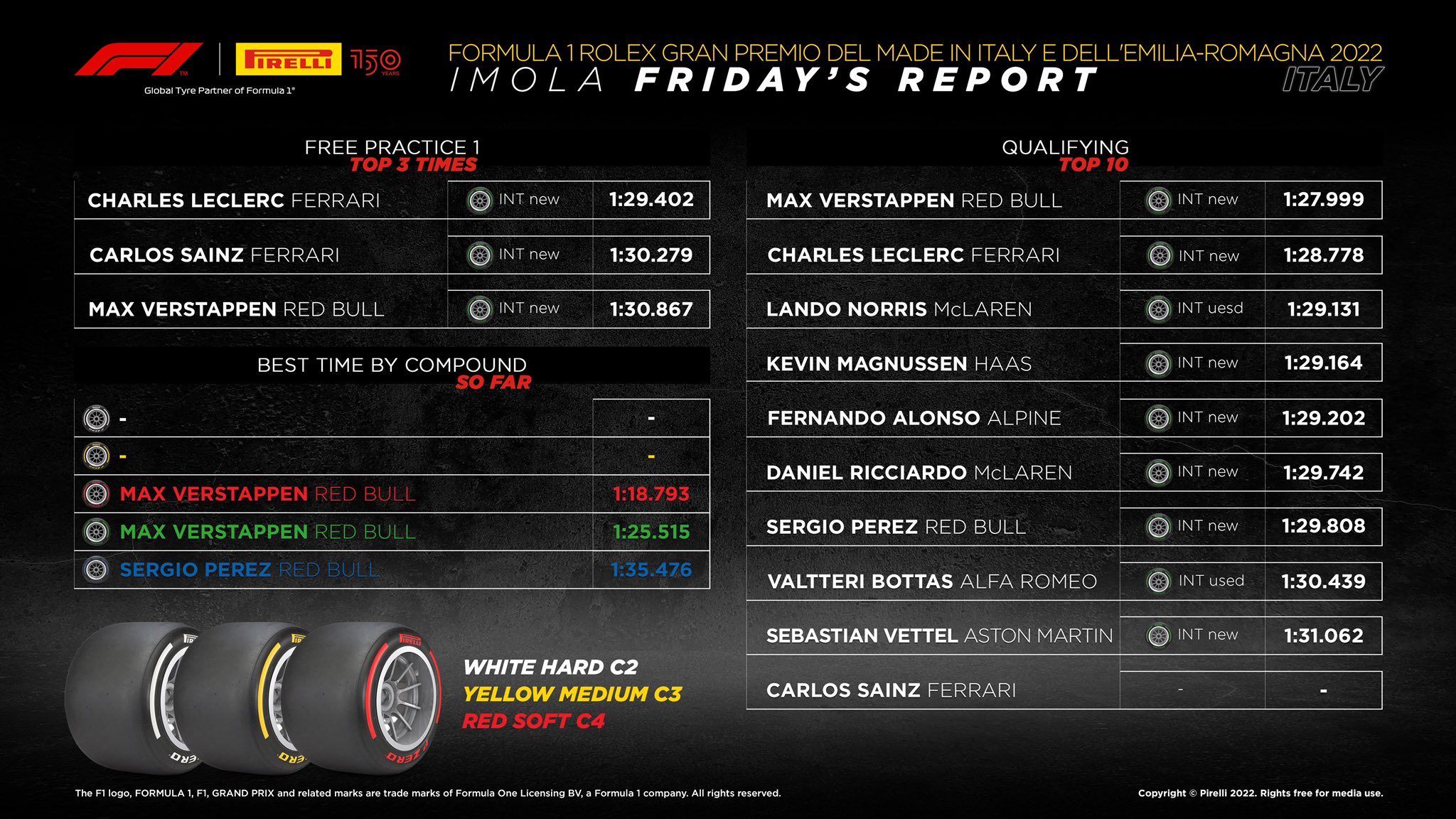 Imola Qualifying Q2
Sainz, who was confirmed by Ferrari for two more seasons, caused the second Red flag in qualifying five minutes into Q2, as he binned his F1-75 at the last corner, at end of his second flying lap.
The car was clearly damaged on the left side, the front suspension destroyed, with visible damage at the rear as well, which might put Sainz under the risk of requiring a new gearbox.
Not an ideal way for the Spaniard to start his renewed relationship with the Scuderia, but he will start the Sprint race from tenth.
🚩 RED FLAG 🚩

Sainz goes into the barriers and is out of qualifying

Carlos is out of the car and appears to be ok 👍#ImolaGP #F1 pic.twitter.com/UOcKHT5NvI

— Formula 1 (@F1) April 22, 2022
Q2 started in dry conditions at Imola, with rain being forecasted to return within the the 15 minutes of the second knock out session, but Sainz's Red flag-causing crash meant that when the session was resumed, the rain has arrived, clearly hurting all the drivers who could not put in a banker lap before the #55 car crashed.
Green light… and the rain has arrived 🌧

— Oracle Red Bull Racing (@redbullracing) April 22, 2022
The drivers took their time before taking to the track on intermediate tyres, to explore the track in preparation to Q3, as some drivers didn't even to bother run any further.
The biggest losers from Q2 where the Mercedes duo, with George Russell taking 11th and Lewis Hamilton down in 13th.
The Mercedes pair were split by the Haas of Mick Schumacher who took 12th as his teammate Magnussen made it into Q3. A disappointment as the VF22 seemed to be good for Q3 at Imola.
Alfa Romeo's Zhou Guanyu took 14th ahead of Lance Stroll in the Aston Martin, while Vettel also put in a banker lap in the dry that put him into Q3.
Imola Qualifying Q1
The session was Red flagged as Alex Albon's Williams caught fire five minutes into Q1, with flames visible at the rear-right brake ducts followed by a blowout, as the Thai driver reported that his brake pedal was gone, and was off to an early shower.
🚩 RED FLAG 🚩

Debris scatters across the track as Alex Albon's rear brakes overheat. He's limped back to the pits and the fire is out. #ImolaGP #F1 pic.twitter.com/WujhKc6pp9

— Formula 1 (@F1) April 22, 2022
Q1 was all about who kept his hot lap till the end, as the track kept evolving, and the lap times dropping with several drivers taking turn at the top spot.
At the end of Q1, AlphaTauri were the biggest losers, after being used to fighting for Q3 spots, as their drivers Yuki Tsunoda and Pierre Gasly were 16th and 17th respectively.
Nicholas Latifi took 18th in the remaining Williams car, after Alex Albon's early exit due to the rear-right brake duct issue.
Esteban Ocon was one of the surprise victims of Q1, as the Frenchman was a lowly 19th and was only able to set one timed lap as he hit trouble with his A522, that prevented him from any further running in the session.
The team is investigating the suspected gearbox issue which led to Esteban's early end to Q1.#ImolaGP

— BWT Alpine F1 Team (@AlpineF1Team) April 22, 2022
Alpine later announced that they were investigating a gearbox issue that might have been the problem behind Ocon's trouble. The Frenchman who has a new power unit fitted to his car this week was only better than Albon who did not even take part in qualifying.