The Bahrain Grand Prix was turned on its head when Pierre Gasly's AlphaTauri caught alight and stopped on track, triggering a Safety Car with ten laps to go.
This meant a restart, all drivers on fresh tyres with Charles Leclerc, who had controlled the race until then, leading from Formula 1 World Champion Max Verstappen who was complaining of a steering issue on his Red Bull and was told to get on with it, and Carlos Sainz in the other Ferrari suddenly back in the mix on the final seven-lap sprint that decided the race.
Again Leclerc outsmarted Verstappen at the restart, the Red Bull crowding the Ferrari into the final bend before watching it dart into the distance as the Monegasque stepped on the loud pedal to power to his third Grand Prix victory, his Driver of the Day deserving. Ferrari are back!
And it got better for the long-suffering Tifosi, but turned horrible for Max fans and the Bulls, as Verstappen hit problems, Sainz pounced to claim a historic one-two for the sport's greatest team. Their first win since Sebastian Vettel triumphed in Singapore back in 2019.
Leclerc: I'm so happy. The last two years have been extremely difficult for the team.
Passion overload from @ScuderiaFerrari 😍#BahrainGP #F1 pic.twitter.com/x17iZaCUfJ

— Formula 1 (@F1) March 20, 2022
The Ferrari driver added: "One-two today with Carlos, we couldn't hope for better. It's incredible to be back at the top."
It was heartache for Verstappen who gave it all he had before it went all wrong for Red Bull because, not long after the Dutchman retired, Sergio Perez too had trouble spinning out on the last lap as his car locked up as the power switched off. A podium going begging. No points for Red Bull! Who would have thought?
And Hamilton, who never gave up, getting third was major damage limitation with the favourites Red Bull not scoring and three of their engines expiring before they should've.
Earlier, before the safety car, Leclerc defied his doubters as he delivered arguably his greatest drive to take victory over a feisty Max Verstappen at the 2022 Formula 1 World Championship opener in Bahrain.
The Ferrari driver signalled his intent on Saturday with a scintillating pole-winning lap to deny pre-race weekend favourite Verstappen the top spot start.
Leclerc proceeded to out drag the Red Bull into Turn 1, and scurry into the lead with Verstappen in his mirrors. A stalemate evolved until the first stops when the Number One car tried the undercut, but the Ferrari emerged ahead.
What transpired was an astounding three laps as the pairs slugged it out karting style, different lines, late brakes, dive-bombs, you name it, Max being Max, all or nothing, but Leclerc kept his head, bobbed and weaved, jived and outsmarted him until his tyres were up to temp.
It was riveting stuff between two of the sport's Top Young Guns
These two put on one heck of a show!@Charles_Leclerc ⚔️ @Max33Verstappen #BahrainGP #F1 pic.twitter.com/Zl5Szg0qDv

— Formula 1 (@F1) March 20, 2022
But again a stalemate in the race. Until the next stops when Verstappen dipped into the pits for fresh mediums, almost a carbon copy of the first stop but this time Max was little further back to his disdain.
The Champ told his team on the radio: "OK, this is two times that I have taken it easy on the out lap when I could have easily been in front. I am never ever doing it again."
Leclerc meanwhile was in control at the front with Verstappen stalking, again stalemate. Until the safety car…
Credit to Ferrari they were at their slickest in the pit stops, Mattia Binotto and his men have raised their game to defy their critics and put the Reds where they belong finally in such emphatic style.
The Italian national anthem rung out over the desert night
The moment it became a 1-2 for Ferrari…

And it all slipped away for Red Bull 💔#BahrainGP #F1 pic.twitter.com/OmAj2c83Vu

— Formula 1 (@F1) March 20, 2022
Il Canto Degli Italiani – and it was glorious to have it back because it was sorely missed by not only Tifosi but all of F1.!
George Russell had a subdued first race as a full time Mercedes driver, shadowing Hamilton home to fourth place making it a good haul of points for the Silver Arrows. They were really nowhere for much of the race and were destined for a distant fifth and sixth until Lady Luck – who abandoned them last time out in Abu Dhabi – took a sudden dislike to Red Bull and clipped their wings.
The extent of Mercedes' problems were exposed by the fact that just before the safety car was deployed, Hamilton was 35 seconds or so adrift of leader Leclerc, with Russell a further 15 seconds behind. Namely, not in it to win it at this stage.
Kevin Magnussen must have been a close contender for Driver of the Day, instead, we will make him Driver of the Weekend. Fast-tracked into replacing Nikita Mazepin, the Dane delighted with his return to the cockpit and then went on to finish fifth – his best result since Austria 2018. Welcome back Kev!
"That was some ****** Viking comeback!" 💪

Fair to say @HaasF1Team boss Guenther Steiner was happy with @KevinMagnussen's result in Bahrain!#BahrainGP #F1 pic.twitter.com/U9FusIrH7n

— Formula 1 (@F1) March 20, 2022
Despite limited running in testing, Valtteri Bottas enjoyed a solid debut as an Alfa Romeo driver despite a very tardy start to the race when he was gobbled up at the start as both he and rookie Guanyu Zhou went backwards, but Bottas recovered well to finish sixth while the history-making Chinese driver scored a point for tenth in his F1 debut. Welcome to F1 Zhou!
Mercedes customers were AWOL in Bahrain, McLaren, Aston Martin and Williams cruelly exposed
Between the Alfas were Esteban Ocon in seventh, followed by Yuki Tsunoda in eighth and Fernando Alonso ninth making it a double points score for Alpine; the Japanese driver the only one of the Red Bull powered quartet not to suffer problems.
Mick Schumacher was 11th, the German proved no match for his more experienced teammate this weekend, but did make one of the best saves seen in a long time, making a 180-degree spin which probably cost him a point or two.
All three Mercedes powered teams – Williams, Aston Martin and McLaren were terrible. All out of the points and never looking like scoring ay on the night, even when the safety car tossed things around.
It was an embarrassingly evening for all three racing organisations of such huge pedigree and stature. All four Mercedes-powered teams, including the World Champions, have serious work to do as the new rules have shaken the order up quite substantially.
Round 2 is next weekend, the Saudi Arabian Grand Prix in Jeddah.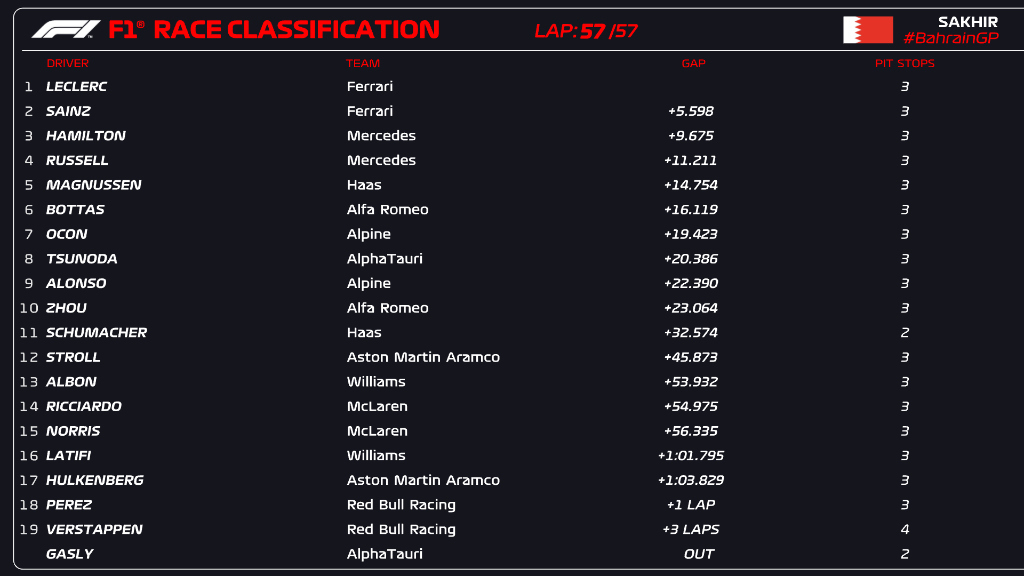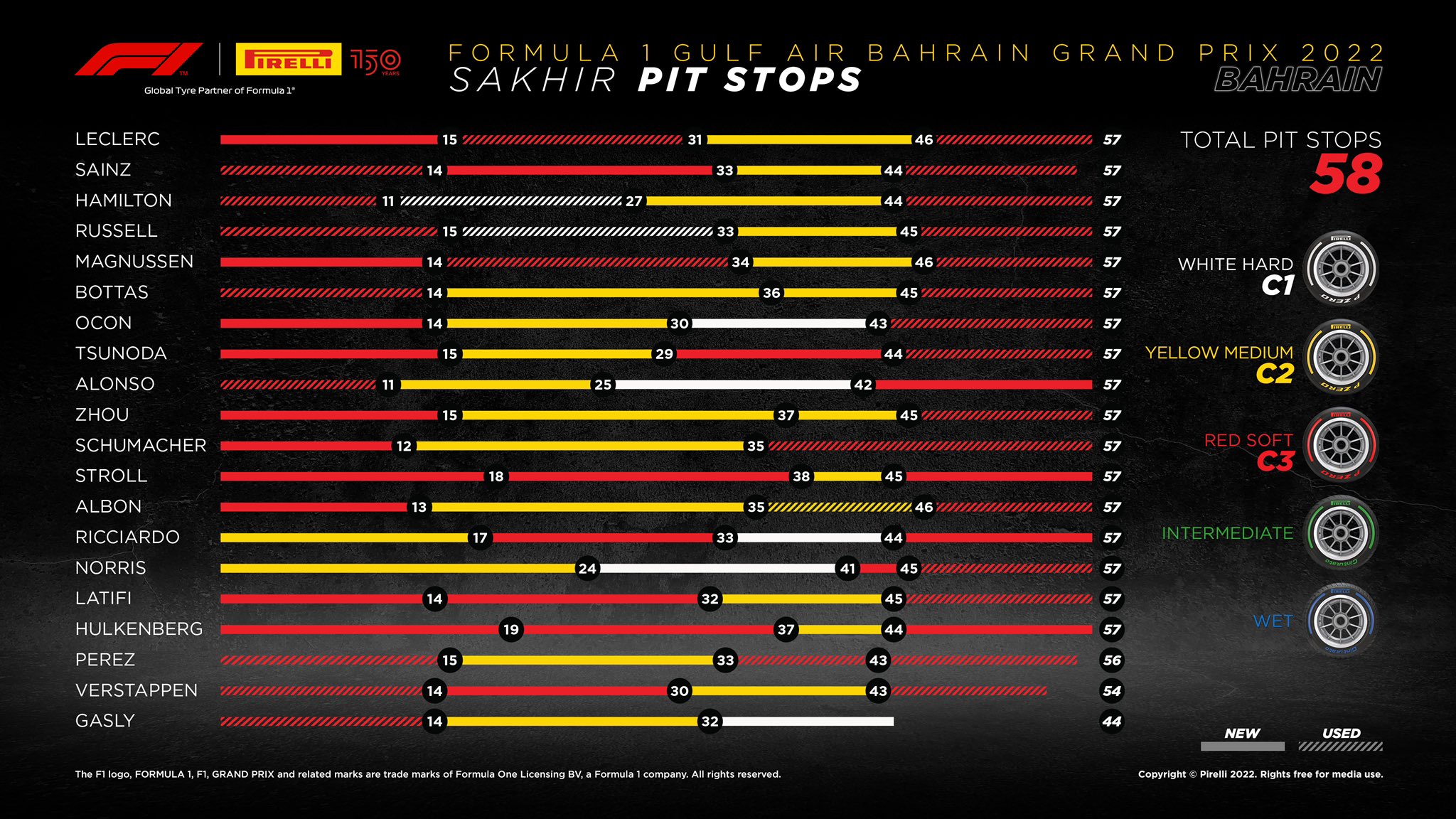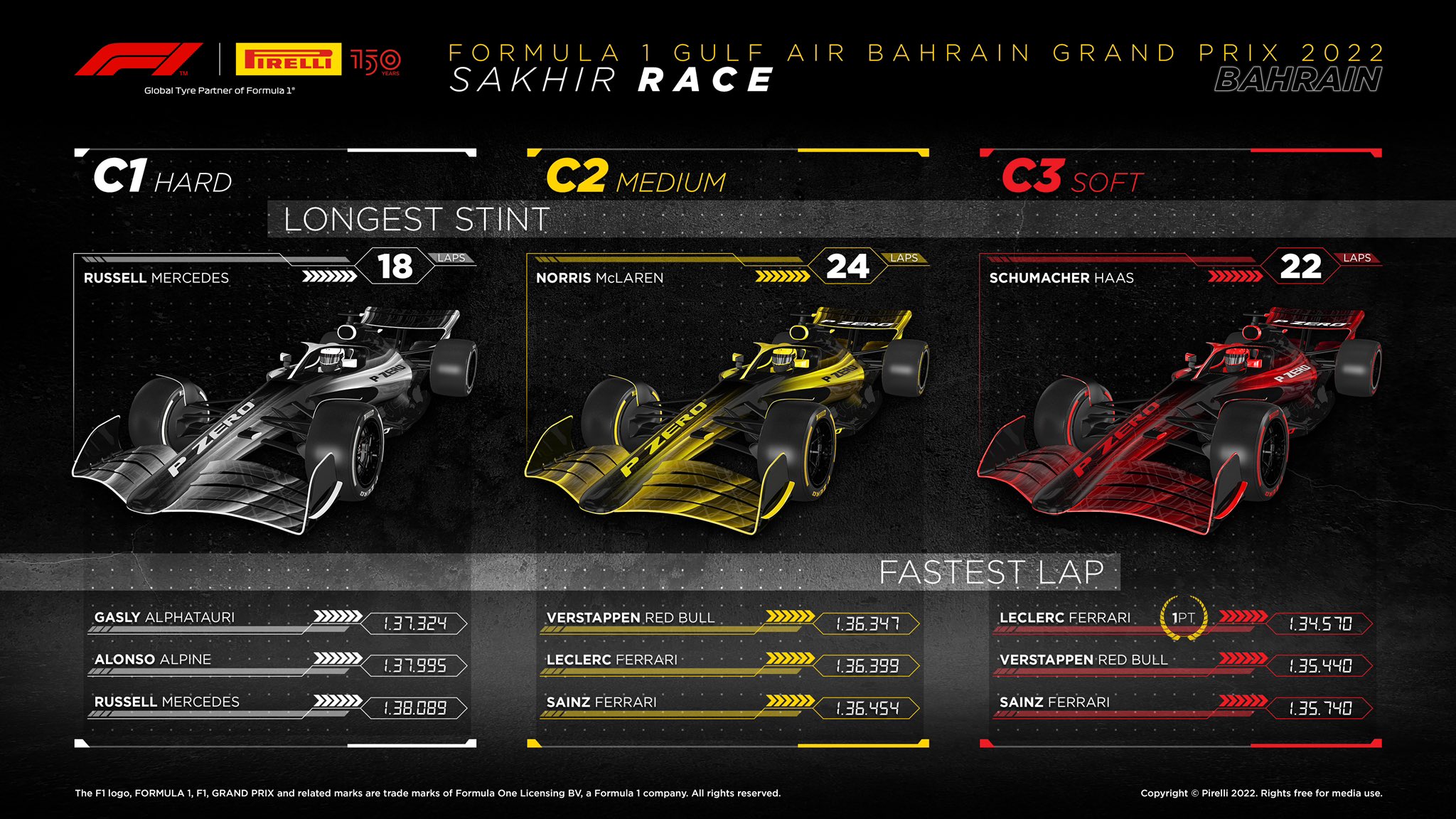 Points after 2022 Bahrain Grand Prix – Round 1