Be warned this is a long one… Even before Mohammed Ben Sulayem was elected FIA President by a resounding 62% I was being tapped up by people, including more than one from within the organization he now leads, who figured I knew him and sought information.
Actually the more I thought about it, and repeated myself to the various enquiries about the man, I realized I had some interesting professional experiences with Ben Sulayem.
The first time I met him was in mid-2004, my first year as Photo Director at Gulf News. The Sports Editor at the time and I went to interview him at his sumptuous home in Dubai; I to do the pictures having heard of his remarkable collection of cars and his rally accomplishments.
What followed were two great hours where Ben Sulayem, fully energized, showed us around his prized collection and discussed motorsport in general. Proper petrol-head stuff.
This was ahead of Dubai Autodrome's first race which was Stephane Ratel's FIA GT Championship, which Ben Sulayem had a role in making it happen at the brand new circuit in the middle of the desert.
After that, our worlds did not criss-cross much, but when in 2007 I took up the post as Dubai Autodrome Communications Manager, that would change. And I look back here on a decade in that position when my dealings with Ben Sulayem were common.
The ATCUAE headed by Ben Sulayem has been operated like a mini-FIA for two decades
Our role at Dubai Autodrome at the time, apart from running the track, was to help develop motorsport through rules, safety training, and setting the foundation for the sport under the auspices of Ben Sulayem and his ATCUAE organization (Automobile & Touring Club of the UAE) of which he was President.
Of that team, we had regular dealings with Ronan Morgan, Matthew Norman, Phiroze Jhaveri, John Spiller, and to a lesser extent Sean O'Connor; all experts in their field, who made part of the inner circle that penned or stamped the approval of every rule in UAE motorsport, from track racing through to off-road.
From scratch Ben Sulayem and his team developed karting from the grassroots level too. Within a decade, the UAE was hosting Rotax Max Challenge (RMC) world finals at Al Ain Raceway multiple times, hosting international events at the Kartdrome, while building a solid local base which allowed the UAE's karting scene to set the benchmark in the region.
Speaking about Ben Sulayem's contribution to karting, Al Ain Raceway management team headed by Antonio Kekati and Guy Sheffield are best positioned to judge the man and the ATCUAE (now EMSO) he leads,
They only have positive things to say about guidance and help received to start and establish the UAE Rotax MAX Challenge as the premier karting championship in the region.
"I could say a great deal about his contribution but it would take time. In a nutshell, motorsport in the UAE, even the Gulf region, would not be where it is today without Mohammed Ben Sulayem," explained Kekati.
"His rally victories putting the sport into the local mainstream and thereafter, through the ATCUAE. establishing the backbone of all racing in the country to the highest of international standards.
"What took most countries a century to establish in motorsport from racing to governance, the ATCUAE under Mohammed Ben Sulayem achieved in only a couple of decades," added Kekati.
Because of this, drivers bred through the UAE karting scene are starting to excel on the world stage in less than a decade, as Indycar driver Ed Jones is a Dubai bred racer springs to mind, an expat Briton who flies the UAE flag.
In 13-year-old Emirati prodigy Rashid Al Dhaheri, who Ben Sulayem rates very highly, the UAE have a rising youngster who is making waves in international karting, particularly Italy where he is the first Arab kid to be following the exact road to F1 that the likes of Michael Schumacher, Lewis Hamilton, and Max Verstappen (among many) have been on.
All this under the watch of Ben Sulayem and his tight-knit team dealing with motorsport.
Today, the ATCUAE governs approximately 140 competitive events forming the UAE motorsport calendar, and covering disciplines such as circuit racing, rallying, drag racing, and motocross.
Moreover, the ATCUAE deals with a myriad of other non-motorsport related matters, which make it a mini-FIA of sorts that Ben Sulayem has built, governing the automotive landscape in the UAE, a model copied by other automotive organizations in the region.
Apart from rulemaking, safety and marshal training are overseen by ATCUAE officials, and normally, the usual faces Matthew, Ronan, Phiroze or John attending; no doubt reporting back to the chief.
With motorsport virtually non-existent in the UAE at the turn of this century, since then and under Ben Sulayem's watch, the country has hosted road racing events like: FIA GT World Championship on multiple occasions, was the hub for GP2 Series Asia, A1 GP, the Dubai 24 Hours, Rotax Max World Finals, Abu Dhabi 12-Hours, Porsche Cup Middle East, Formula 4, and of course the Grand Prix.
Furthermore, on a national level, the country has a thriving Rotax Max Challenge series, tintop racing in the form of GTs and Touring Cars, motorcycle championship, drifting and drag racing championship.
And, by all accounts, the dirt side of the sport is also thriving with the Abu Dhabi Desert Challenge – conceptualized and organized by Ben Sulayem and his team – the cherry on a substantial cake which 20 years ago was still batter.
My dealings with Ben Sulayem ramped up during my days at Dubai Autodrome
On a professional level as comms man at the Autodrome, my dealings with Ben Sulayem were to ensure he was met upon arrival at the circuit for big events he would attend, brief him, and chaperone him around the paddock and pits, where he would chat to teams and drivers.
The first time we did it together he said to me: "Just give me names when we go to people and some info if I do not know them."
Which meant prep him. So when we bumped into someone for a chat Ben Sulayem knew the person's name and short history. And that's how we operated every time he came to one of our big events on an official basis, which was two or three times per year.
Recalling how he operated in those days still impresses me. Super confident and passionate about motorsport. The one time I thought to point at Tom Kristensen, Ben Sulayem said, "I know. Mr Le Mans…" and off he went for a chat. He knows his stuff. And he knows a lot of people.
Having Ben Sulayem at an event meant media magnet. Everyone came and the great Creventic crowd who have organized the Dubai Autodrome 24 Hours certainly appreciated him, treating him like royalty because they knew he was gold for the event.
He also embraced our suggestion that ATCUAE host the preseason press event each year for national-level racing. Adding his touch meant each discipline had a stand, with their vehicle, uniting off-road with track-racing figures.
All stakeholders were given speech time to punt their calendars and projects in an environment that attracted all the heavy hitters in the local media. At the time it was groundbreaking.
Need help in an emergency? Call Ben Sulayem
And behind the scenes, when snags arose, for instance, customs issues, who do you call? Ben Sulayem.
One year, when cops arrived at the Autodrome Race Control halfway through the Dubai 24 Hours, ordering the race to be stopped because neighbors across the road at the Arabian Ranches were complaining. Who did we call? Ben Sulayem. Result: smiling cop apologizes and departs.
And he knows drivers. Most of the guys on the grid over the years are his mates. He knows Lewis, he knows Fernando, he knows Kimi and many of the F1 boys past and present.
In fact, it was a classic afternoon when he rolled up in his Rolls Royce Phantom at Dubai Autodrome, with Kimi and some of his Viking-looking mates, with tats and all. Ben Sulayem regal in his kandora, and the Finnish lads in shorts and t-shirts for an afternoon of hooning with Dubai Autdrome's race school cars.
The stories Ben Sulayem told about Kimi's antics shall remain between us. Suffice to say, a week later in Brazil, The Iceman won the 2007 F1 Title with Ferrari.
After that Ben Sulayem and I joked that, if you want to be world champ come hang out with him in Dubai.
I venture a calculated guess to say he is proper mates with most of the F1 drivers past and present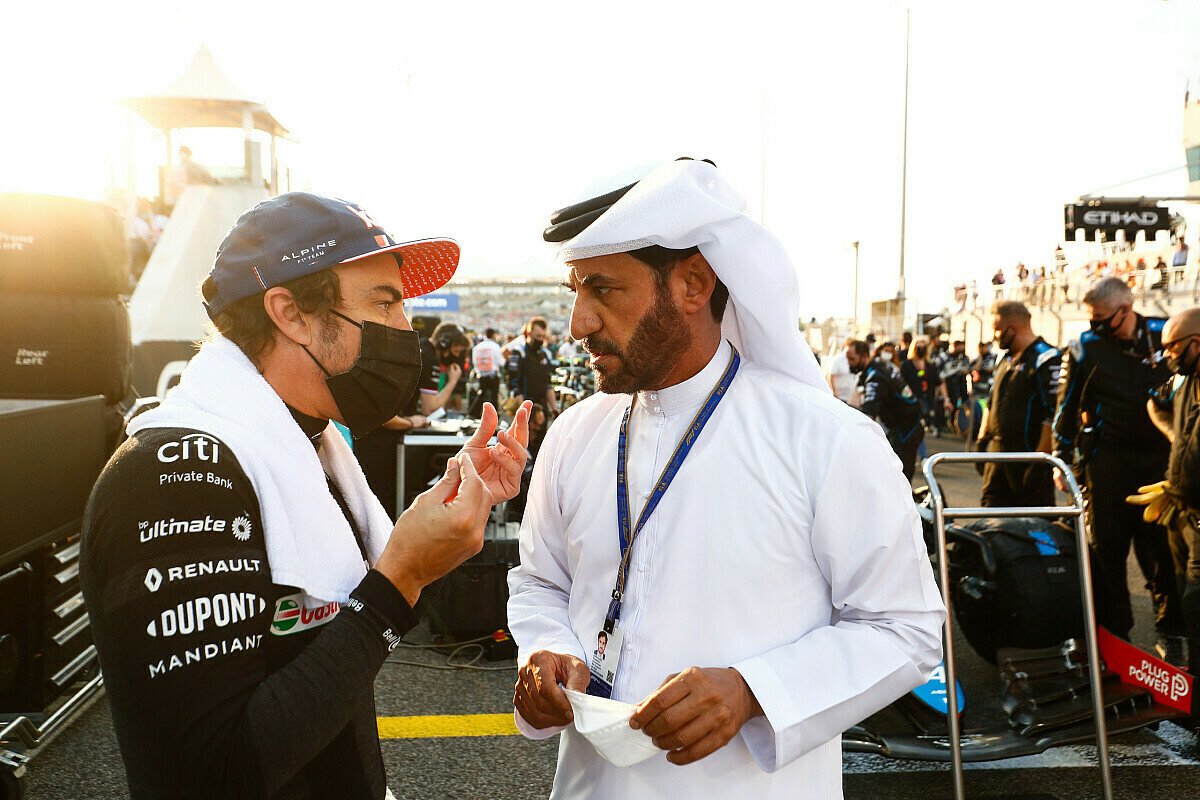 For this piece, in a quest to rekindle my dealings with Ben Sulayem and gather more info about him, I contacted my old friend Jean-Louis Hissette whose son, race driver Christophe, was killed in an accident during Radical practice at Dubai Autodrome in April 2010.
The Dubai bred and based driver was extremely popular and respected as one of the best karters of his generation. The crash really hurt the UAE motorsport community hard, as it was the first fatality at the venue.
I excused my impertinence and asked Jean-Louis about the manner in which Ben Sulayem reacted to the tragedy, he recalled: "Ben Sulayem was travelling at the time. He instructed Ronan Morgan to pass the statement of the accident by me before it went public which I appreciated.
"Furthermore, despite his absence from the funeral he arranged for high ranking UAE officials to be present, and of course, the ATCUAE were there as was most of the UAE motorsport community."
He went on: "But for me, I always remember many years ago we were having a kart race in Jebel Ali. Christophe was a young teenager and although it was club level racing we took it seriously.
"There were marshals, Clerk of the Course etc. This time, Mohammed popped in to watch the afternoon racing. He often did arrive out of the blue. Just before racing resumed after lunch he asked where the ambulance was, when told it was delayed and not present, he ordered the race not to start. No ambulance, no race.
"As a parent that was a very special moment and gesture. And typical Mohammed," added Jean-Louis.
Ben Sulayem built a big name for himself, inspiring young drivers with his rally successes
Christophe was part of a karting collective of expats and local drivers who began the sport in the UAE at the turn of this century, where he raced against and teamed up for endurance races with school friend David Bright.
Bright, now Kartdrome manager, recalled: "I remember watching Mohammed at a rally stage in front of my house in Jebel Ali village… He inspired me at a young age to be honest. I had posters on my wall of his Marlboro Toyota Celica…"
"He awarded me my 1996 UAE 100cc championship trophy. Nine years later, with the ATCUAE, we have run successful local and international races here and at the Autodrome across the road. The support is always there when needed.
"Even the early days, when we raced in makeshift parking lots or Jebel Ali, he would be there to flag off the race and later present trophies. He would arrive unannounced and always created a buzz. Without him and his team at the ATCUAE, I don't think karting would be where it is today in the UAE."
To give balance to this insight into Ben Sulayem, I really tried to dig out any unsavory or unprofessional moments in his presence, and honestly, I could not come with any.
Ben Sulayem and his detractors
He was FIA Middle East rally champion 14 times in the years 1986-1991, 1994, and 1996-2002, displaying the kind of dominance Mercedes enjoys in F1 these days and with it, the baggage of resentment and moaning triggered among losers lamenting relentless winning of others.
The 'moaners in chief' are his rally rivals who accuse him of always having the best team, the best sponsors, the best crew, the best car. Yes, the best of everything that gave the moaners no chance.
And of course, according to the moaners, there was cheating, namely rocks and rubble-strewn over stages to put off rivals. All stories I had heard before, in South Africa, about Sarel van der Merwe when he dominated rallying in that country. It's rally-speak.
That's the best the detractors can offer, conveniently forgetting that Ben Sulayem raised the bar of professionalism in Middle East rallying by having and being the best of the best.
After all, this legacy and higher benchmark spawned off-road maestro, Nasser Al-Attiyah, among a new generation of successful off-road and rally drivers in the region, including the UAE's Sheikh Khalid Bin Faisal Al Qassimi who admitted that, as a kid he was inspired by Ben Sulayem to pursue the sport.
What the moaners also forget to mention is, that with Ben Sulayem attracting Red Bull, among an impressive portfolio of partners and sponsors to rallying in the region, it was thrust into a spotlight of media attention not witnessed before and seldom since.
His historic victory in the 1991 Bosphorus Rally in Turkey was the first by an Arab driver in an international Rally outside the Middle East.
Having spoken directly to those who hold a grudge, honestly, they appear unfounded, sore losers type of thing. It's like saying Max Verstappen does not deserve to be F1 World Champion because his Red Bull team are, richer, faster, better than their rivals. Absurd.
Ben Sulayem and his management style
More digging and the word is Ben Sulayem is an autocratic taskmaster, has zero tolerance for failure and enjoys the spotlight.
Maybe I am old school, but for a President and leader, those very traits tick some very important boxes for me.
I tapped up karting and FIA GT World Champion David Terrien, who has been a witness to UAE motorsport for almost two decades.
Terrien was part of the initial team that set up the Dubai Autodrome, and his role as Kartdrome manager set the foundation for arguably one of the most successful arrive and drive leisure karting centers in the world.
As head of Project Solutions and Design, Terrien and his team design karting tracks, do motorsport consulting, and have actively been involved in team ownership, organizing and officiating races over the years that witnessed the growth of motorsport in the region first hand.
Terrien said of the new FIA President: "When I came to know the ATCUAE almost 20-years ago it was a very basic and small organization.
"Ben Sulayem managed to build a team of quality people to develop the national racing (on race tracks) from Karting to single-seaters while keeping developing the rally side of the sport. Rules, safety, marshals, medics, officials everything from scratch.
"He used his know-how of sport and mainly his fame in the region to bring more exposure to the developing motorsport in the region.
"The one thing I am not surprised with is that he is planning to put a CEO or a GM managing the daily operation of the FIA. He has this mentality that any organization (government or governing bodies such as federation) should be managed professionally and by professionals.
"This is what he did with the ATCUAE and the Emirates Motorsports Organization. I believe he positions himself as the leader giving the directions which are then implemented by his small team of hand-picked trusted professionals who are the type of characters who do not care for the limelight.
"While Ben Sulayem is perfect for that because he is very well connected, speaks well, understands the media and knows the political game, like this, he shields his people and allows them to focus on delivering results, which he then reports back publicly.
"This is what he did in the UAE and looks like he wants to apply the same at the FIA. I think we are in for some good surprises," added Dubai-based Frenchman Terrien.
Death-defying crash driving an F1 Renault at Dubai Autodrome
No extensive piece on Ben Sulayem can be written without the mention of his massive F1 crash at Dubai Autodrome, my turf on my watch.
Renault were in Dubai filming and invited Ben Sulayem to be part of a video project that included him driving an R28 on deserted roads in the morning, followed by a stint at Dubai Autodrome which created a huge buzz in the city at the time.
Ben Sulayem in an F1 car, it was a short-notice affair, but still, there was a big turnout to watch the ATCUAE chief do laps at our track.
After engaging media for an hour or so, Ben Sulayem lined up on the start grid to do a start, with Romain Grosjean driving an FIA Ford GT car for comparison.
Off the line, Ben Sulayem got the first phase of the start perfect but shifting up the gears the tail of the car flicked brutally, spearing the Renault F1 car into the barriers. It was a violent crash, a gasp of dismay burst out of the assembled crowd. The car ended ten meters from me and a photographer, and for an instant, I feared the worst.
But Ben Sulayem moved in the crumpled cockpit, as the Dubai Autodrome medical and safety team extricated him from the badly wrecked car. The angels smiled on him that day.
For us, at the Autodrome, this was high alert stuff, and I am glad to say the Autodrome crew ticked all the boxes on that day.
When Ben Sulayem emerged from the circuit medical center, despite being well shaken and bruised, the first thing he said to reporters on the scene was: "I want to thank the Autodrome safety crew and medical team who were excellent. As for the car, I will buy it."
Typical Ben Sulayem!
Sure as a racer he would have felt sheepish, and I was told to avoid writing about that unfortunate episode, but that would not be me as Editor of this site.
But now in retrospect, that unique experience singles him out among FIA Presidents, who knows what it feels like to be in a highspeed F1 crash. It's a feather in his cap as far as I am concerned, first for having the balls to even be in the driving seat and second, not flinching.
Ben Sulayem and Ronan Morgan had their own Romain Grosjean moment
And that was by no means the only Big One he had. Late in his prolific career, he and his co-driver Ronan survived a fiery crash when their Ford Focus WRC, was completely destroyed exploding in a ball of fire, aided by the intense heat during the 2001 Rally of Lebanon.
Both Ben Sulayem and Ronan suffered burns in what the press described as a death-defying crash.
Ben Sulayem said at the time: "We were driving along when suddenly we saw that the back of the car had caught fire. I screamed to Ronan to jump out which he did despite the flames. I managed to jump through the flames after two attempts.
"This is always going to be a part of what we do. We live life on the edge… accidents are a part of rallying," he added.
My last direct dealing with Ben Sulayem was in 2016, shortly before I departed Dubai.
When he arrived for a function early that year, he commented to me that the Autodrome was looking very shabby; indeed it was a permanent construction site as Union Properties, leaseholders of the property adjacent to Motor City, ran out of money to finish overly ambitious projects leaving near-finished projects unfinished, and decaying in the remorseless desert heat.
Although a glorious race track, admired by all who drive on the various configurations, the surroundings always looked dilapidated, a permanent construction site for ten years and more, abandoned skeletons that were meant to be hotels, decaying structures intended as motor malls, incomplete as Union Properties failed miserably during the crisis of over a decade ago, and never really recovered.
Failure was not the image Dubai wants to portray. At which point I quipped: "Why don't you take this place over. The guys running it are a waste of time. I have a plan to improve it."
That was that. He did his rounds and left.
That week, Ronan calls me: "Mohammed wants to talk."
That chat triggered several days and many hours of discussions and plotting a revolution for Autodrome, with Ben Sulayem as the boss, and a plan to take the project to the next level. This was intense stuff as we together built an action plan in his office that he was going to present, with a video of the grand plan to take to the very highest level, namely the ruler Mohammed bin Rashid Al Maktoum.
I recall vividly as we, with Ronan a constant presence, went through all the numbers and options, whenever he needed info on legal matters, for instance, he would call Sean who would take the floor and give the lowdown.
If it was about rules and regulations, in would come Matthew loaded with info and all the angles covered. There was an expert for each 'division' of the project.
At the time, it was a pure pleasure to watch the ATCUAE guys energized, working as a team in this manner. It was refreshing and even inspiring for me coming from a Dubai Autodrome environment with passionless, visionless and dull leadership.
Therein I witnessed the true difference, back-to-back, between a true leader of men and a journeyman.
I digress…
After an enlightening week at the ATCUAE in which I learnt a great deal among professionals passionate about the sport and loyal to their chief, I am not sure exactly why our project did not go further, suffice to say the contract between Union Properties/Motor City/Autodrome, and the Dubai government is a complex one which I believe was unbreakable until at least when it expires sometime this decade.
I guess, rightfully so, it's was a battle that Ben Sulayem shrewdly opted not to fight at the time. But don't be surprised if one day he has a bigger say at Autodrome. After all, Dubai is his town and its Autodrome would serve as a fitting place to honor his extraordinary car collection, which was part of our plan at the time…
What's in store for the FIA with the new President?
Heading the FIA, I will put money on Ben Sulayem getting rid of the dead-wood, streamline every department and put key professionals in positions to deliver on his mandate. But the FIA is a huge bureaucratic organization, bigger than many governments and will take time to change.
As for his style, we got the first glimpse of it when dealing with questions regarding Lewis Hamilton's absence from the FIA Awards Gala, an event that by the sport's rules requires the top three in the F1 Championship to attend.
Lewis failed to turn up in Paris after the Abu Dhabi showdown. Ben Sulayem was asked about it by reporters and his message was clear: no individual is bigger than the sport, if rules were broken then there will be no forgiveness.
I am pretty sure Ben Sulayem has Lewis' number on speed dial, as they have met so often in Dubai and Abu Dhabi but, if the seven-time F1 World Champion is found to have broken the rules, don't be surprised if he is handed FIA "community service" of the kind Max was forced to do when he was wayward.
I predict the message: Rules are Rules no matter who you are. How can that be bad?
Finally, much is being made of Ben Sulayem being the first Arab and non-European to run the FIA. So what. If you meet Ben Sulayem, even in the traditional dress that he wears in Dubai, you don't think of him as anything other than a racer through and through.
If anything he should unite us all who have Racing in our Blood, no matter what creed or color, he is head of our 'family' and I for one look forward to the ride. It won't be boring!
To the new President of the FIA, if he reads this I have a message: "Dear Mohammed, when we last met in your Dubai office (to test your reaction) I told you that you should run for FIA President to replace Jean Todt; to test your reaction. I recall you shrugged it off with a smile.
"Now half a dozen years later, I am glad you went for it and you now are the Big Boss. Welcome and Good Luck from our GRANDPRIX247 crew!"