Aside from Formula 1's superstars Max Verstappen and Lewis Hamilton bashing their way through the 2021 World Championship – Toto Wolff – has emerged as one of the main co-stars of this grand soap opera.
If F1 awarded Oscars, Toto would be the winner for his best-supporting role.
But this is not Hollywood, it's real life and the sport's 'Wolff of Wall Street'  let it all hang out on the night, partying like there was no tomorrow, with a 'bit' of booze involved, Jordan Belfort style, only hours after witnessing Lewis Hamilton lose the 2021 F1 World Title to Max Verstappen under desperately disappointing circumstances… for Mercedes.
Nevertheless, the great team, built under Wolff's watch is the mightiest in F1 history as their eighth (almost forgotten!) consecutive Constructors' Title testifies. Yes, amid the dust settling Merc are Champs again!
Who would not celebrate such an achievement?
One may not like Mr. Wolff but all have to respect and even admire what he has built and achieved since he became the team's boss in January 2013.
Since then he has gone on to become extremely powerful and high-profile, the sport's puppet master, not only running Mercedes' entire motorsport programme but also managing and/or mentoring some of the top drivers of this generation. Few in F1, if any have more power than Wolff.
Many times during this enthralling season Wolff's antics in the Mercedes pit garage, watching the TV feed, were the thing of memes and always went viral. His fury, his joy, his passion evident to all.
What transpired after the finale at Yas Marina Circuit, the protest and all the subsequent postering suggested Toto was a man on a mission to overturn the result long after the champagne was dry. Dragging the decision on until Thursday, D-Day to go to court or not, but after keeping all in suspense with an ominous silence for three days until they eventually waved the white flag.
Imagine Zak, Mattia and the other Big Boys slanging it out with the 'Wolff of Wall Street'
Thus the dust finally settled on this frantic and long season, with Mercedes accepting defeat although, that evening, Wolff boycotted the FIA Awards dinner (sending James Allison instead to pick up the constructors' trophy) out of respect to Hamilton setting the tone for next year's chapter of a spanking new F1 era.
Looking ahead we all hope, apart from a feisty Christian Horner as a sparring partner, we will see three or four Team Principals battling it out, trash-talking, kicking up controversy, racing hard and giving us what F1 is all about.
The thought of Zak, Mattia and the Big Boys slanging it out with the 'Wolff of Wall Street' makes me eager to witness the next episode of this Grand sport of ours.
Despite the controversy and bullshit, we have a sport packed with characters ready to light up the stage as Toto and Christian have done. And that's cool for the salubrious future awaiting our sport.
Party on Toto! It's deserved.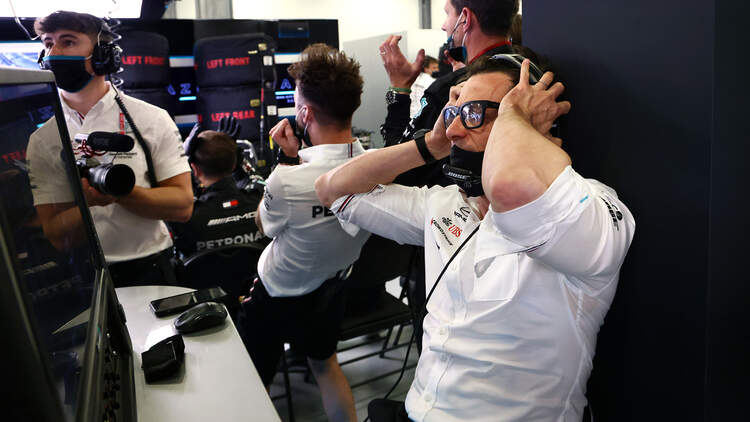 In closing some great Wolff-isms of the past to ponder at this time:
Humility is a super-important factor in all of our lives, and I try to remind myself every evening in front of the mirror, 'Just calm down.'
We are all racers at heart, and what we want to see is out and out racing, and may the quickest man win.
Sometimes you are lucky, sometimes you're unlucky. It all weighs out at the end. That is my experience at least.
Emotions run high when you have a bad day; you can't hide it.
By admitting a mistake, it is easier to get yourself out of a spiral.
Every team can have a shot at the title, and we're seeing all of them as a potential threat. There's absolutely no feeling of entitlement to be at the front.
We have a strict radio protocol and structure how our decisions are made. This is how we've won so many races.
We appreciate every rational and every true comment, and we take criticism very seriously.
The downfall of any leader in a sport's team is when he gets carried away with his own ego.
This is motor racing, and things can change pretty quickly.