As it stands, Max Verstappen is the 2021 Formula 1 World Champion, he claimed his first Formula 1 crown after defeating title rival Lewis Hamilton at the season final Abu Dhabi Grand Prix.
Mercedes protested the result, after the race but to no avail. Full report here>>>
Earlier, in what lived up to its billing as F1's Race of the Century, Hamilton and Verstappen went at it from lap one. The pair nearly collided as the Red Bull driver dive-bombed the Mercedes but kept it between the white lines, nevertheless forcing Hamilton off-track to avoid, the Briton rejoining up the road, in the lead.
Verstappen and his team felt aggrieved and aired their grievances to Michael Masi, who told them to basically shut it and that was Max being naughty. No investigation was necessary deemed the race stewards.
What transpired after that was a race of cat and mouse, as Verstappen on the red band Soft Pirellis paid the price for flat-spotting his Mediums on Saturday was first to pit. Mercedes followed suit, both contenders on the white band Hards.
When a VSC presented itself on lap 36 when Antonio Giovinazzi parked his Alfa Romeo for a last time. Red Bull instantly pitted Verstappen for fresher hard tyres, 23 laps fresher.
Hamilton stayed out opting to stay on the Hards. Verstappen was about 16 seconds behind at that point with several lapped drivers between him and Hamilton, the Dutchman tasked to catch and overtake his rival on track, a tall order with Mercedes' pace and Hamilton's tyre management.
The gap stayed pegged at that until the final ten laps when Verstappen started closing but then Nicholas Latifi crashed his Williams heavily fighting with Haas of Michael Schumacher, which brought out the safety car.
And F1's Greatest Race of the Century was decided on the final lap. Verstappen on fresh softs was just too potent and took the lead from Hamilton to claim his first F1 Title.
That extraordinary final lap of the 2021 title race in full 😮#AbuDhabiGP 🇦🇪 #F1 pic.twitter.com/kknTMDfpAF

— Formula 1 (@F1) December 12, 2021
Verstappen: This year has been incredible. Finally a bit of luck for me
But it was total chaos as Masi and his men did themselves no favours with a strange decision to allow some lapped runners through, and some not.
Whatever the case, and whatever transpires after this as there will be verbal barbs, the pendulum swung so often this year, that it swung Verstappen's way when it mattered.
In the cockpit and in parc ferme, after he alighted his Red Bull RB16B, Verstappen's bravado dissolved in tears as the enormity of the achievement dawned on the 24-year-old.
After sharing quiet words with his father Jos, Max composed himself to sum up his greatest day: "It's unbelievable. Throughout the whole race I kept fighting and to have an opportunity on the last lap, it's incredible. I'm having cramp. It's insane.
"I don't know what to say. My team and Honda, they deserve it. I love them so much and I really really enjoy working with them. This year has been incredible. Finally a bit of luck for me."
Verstappen: I also need to say a big thank you to Checo
A part in Verstappen's Title victory has to go to Sergio Perez who played the wingman to perfection on the night for his Red Bull teammate, while Valtteri Bottas, his Mercedes counterpart, went AWOL.
Verstappen tipped his hat to Perez: "I also need to say a big thank you to Checo. He was driving his heart out today, it was great teamwork and he's an amazing teammate.
"My team know I love them and I hope we can do this for 10-15 years together. There's no reason to change ever, I want to stay with them for the rest of my life. I hope they let me.
"Christian and Helmut trusted me to be in the team in 2016, our goal was to be world champion and now we've done that," added the 2021 F1 World Champion. Perez's car was retired from trhe race with a etchnical issue when third-place looked his.
WORLD CHAMPION! 🏆

And simply the greatest day so far in the racing life of @Max33Verstappen 👑 👀#AbuDhabiGP 🇦🇪 #F1 pic.twitter.com/o3SsSC5THG

— Formula 1 (@F1) December 12, 2021
Hamilton: We gave it absolutely everything and never gave up
Hamilton, whose incredibly reign cam to an end tonight, was gracious in defeat, congratulating Verstappen afterwards and said: "Firstly congratulations to Max and to his team. I think we did an amazing job this year.
"My team, everyone back at the factory, have worked so hard this whole year, it's been the most difficult of seasons. I'm so proud of them and I'm so grateful to be a part of the journey with them.
"This last part of the season we gave it absolutely everything and never gave up," added Hamilton.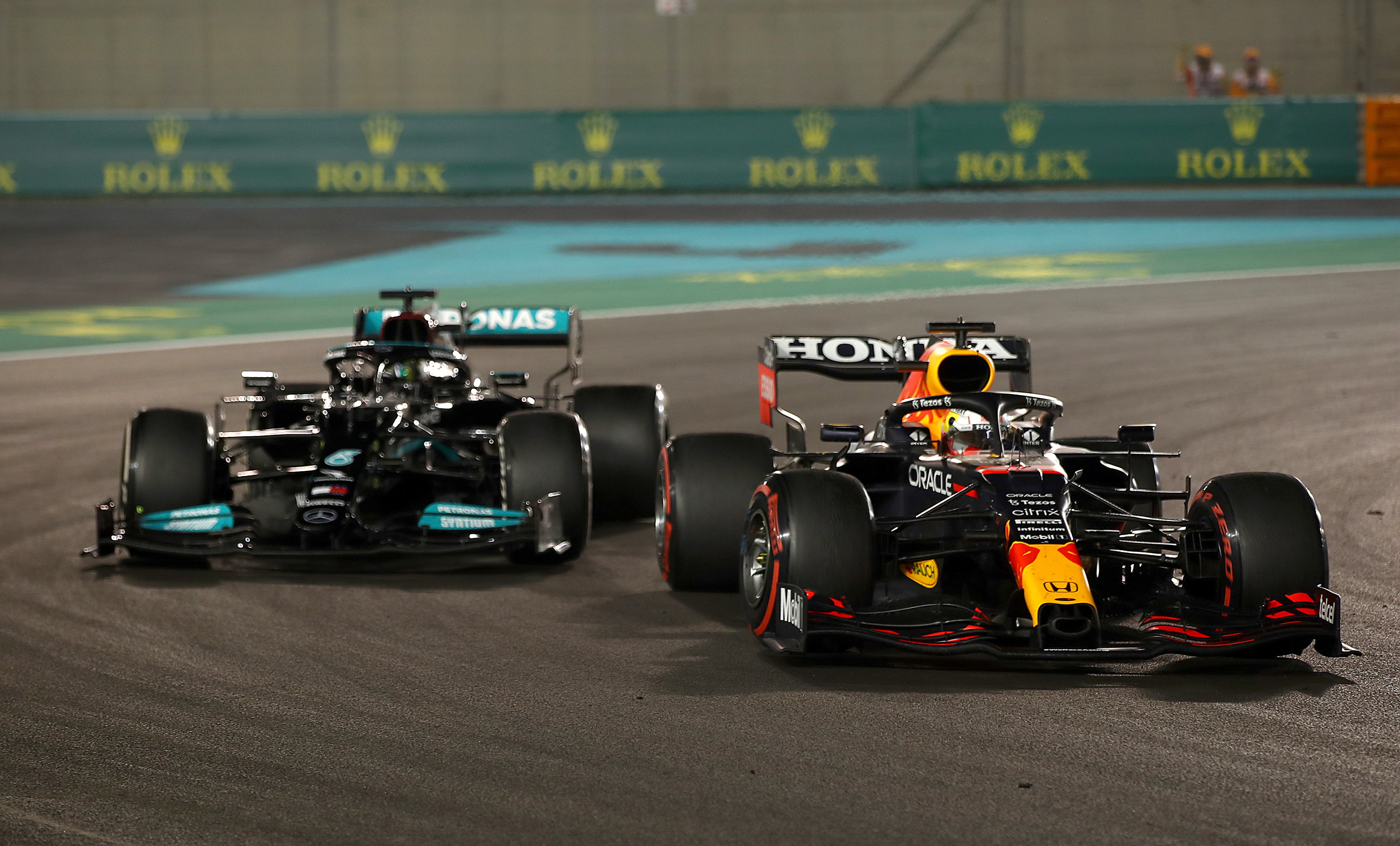 Yes there were other drivers in the Abu Dhabi Grand Prix!
Aside from the two most important drivers this evening, the first and second, third place went to Ferrari's Carlos Sainz, the Spaniard capitalizing on all the chaos.
As he did in his F1 debut in Bahrain several months ago, Yuki Tsunoda impressed to finish fourth, in what was his best weekend of the year beating teammate Pierre Gasly who was fiffth on a strong day for AlpHaTauri.
Also a strong end to Honda's spell in F1 as they withdraw from the sport again, signing off with three cars in the top five, and a first drivers world title since the late great Ayrton Senna won in 1991.
Bottas, as mentioned, was ineffective on a night he was really needed, finishing sixth and helping Mercedes to the 2021 F1 constructors' title as consolation.
Lando Norris had a good weekend for McLaren, overshadowing his teammate Daniel Ricciardo, the pair finishing seventh and 11th respectively.
Eighth went to a feisty Fernando Alonso, who led home an out of sorts Charles Leclerc ninth in the Ferrari followed by Sebastian Vettel who claimed the final point for Aston Martin.
Kimi Raikkonen's 359th and last Grand Prix came to an end after he crashed and broke the front wing on his Alfa Romeo, the team parked the car and the curtain came down on The Iceman's incredible adventure in F1.
He was voted Driver of the Day for the disappointment of ending his career in the barriers, which sums up his recent years in F1. The Abu Dhabi Grand Prix his final hurrah.
Abu Dhabi Grand Prix Results & Statistics