Lewis Hamilton will start the inaugural Saudi Arabian Grand Prix from pole position after Title contender Max Verstappen blew it on the final corner of his final attempt at taking top spot.
The pendulum swung both ways, Red Bull and Mercedes, during an engrossing qualifying session at the all-new floodlit Jeddah Corniche Circuit.
In Q3 it was a toss up who would be on pole, first Verstappen went quickest, then Hamilton, then with two purples under his belt, the Red Bull was on a mega-lap before it slapped the wall exiting the final turn, with the finish line in sight and that was it. Pole over.
Thus Hamilton and Valtteri Bottas were one-two for Mercedes, with Verstappen third but unsure where he will start, as the damage on his car needs to be assessed. An engine or gearbox change will be a big blow to the challengers.
While Mercedes strutted their stuff on Friday, Red Bull came back at them today in FP3 and in qualifying it was going to go either way. A mistake would make the difference and that's exactly what happened when Verstappen overdid it in the final sector after going purple in the first two.
Nevertheless, he was third but could drop down the order if major repairs are required to his wrecked car.
Max Verstappen hits the barriers 💥@LewisHamilton takes pole 🏆

An extraordinary finish to qualifying in Jeddah 😮#SaudiArabianGP 🇸🇦 #F1 pic.twitter.com/t1xZnz0Baf

— Formula 1 (@F1) December 4, 2021
Lewis: I'm really proud of Valtteri and everyone on the team
Hamilton was the first to set a marker with his best effort of 1:27.511 which Verstappen looked like bettering as he was two tenths up before his off. Maybe the pressure told on his younger rival who denies experience will factor in this title race.
After claiming his 103rd F1 pole start, Hamilton summed up: "We were quick through practice but for some reason P3 and particularly qualifying I was lacking pace and particularly struggling with the tyres," says Hamilton, who praises the Jeddah track.
"For us to get a one-two, I'm really proud of Valtteri and everyone on the team, this is a great result. Those guys [Red Bull] were just so fast. They've obviously fixed something from their setup and they were rapid," added the World Champion.
For Mercedes, having Bottas in the mix is vital for not only aiding Hamilton in the race but also for F1 constructors' championship points.
Verstappen was obviously miffed as this was the last thing he and his team needed at this critical stage of the campaign where they are defending the eight points they have of an advantage in the F1 drivers' championship lead and lagging behind Mercedes by a mere five points in the constructors' title race.
Quickest in the first two sectors of his final flying lap 🚀

And then Max Verstappen's hopes of pole are dashed on the last corner in Q3 #SaudiArabianGP 🇸🇦 #F1 pic.twitter.com/Y6HyMjT1Dy

— Formula 1 (@F1) December 4, 2021

Max: I don't really understand what happened but I locked up
Afterwards in parc ferme, the Verstappen told reporters: "It's of course terrible… In general, it was a good qualifying, I knew the pace was there and it showed at the end.
"I don't really understand what happened but I locked up, I still tried to keep the car on track and keep going but clipped the rear and had to stop.
"P3 is of course a bit disappointing knowing what lap I was on. But nevertheless, it shows the t the car is quick and let's see what we can do at the end of the race," added the World Championship leader.
Credit to him for giving it everything, all or nothing Max-style.
Of the top two team quartet of drivers, only Sergio Perez will start outside of the top four. The Mexican looked feisty early on in the session, even topping Q1 but, when it mattered, in Q3 he was only good for fifth, six tenths short of the top time and nowhere close to Verstappen.
Gasly in sixth on a solid night for AlphaTauri with rookie teammate Yuki Tsunoda doing a solid job with eighth place
Charles Leclerc was fourth quickest, the Ferrari driver showing strongly after his close encounter with the Jeddah wall on Friday while his teammate Carlos Sainz looked up for it in Q1 but then got it all wrong in Q2, spinning, clipping the wall with his wing and messing the setup of his car. He never made it to Q3.
A mere 0.002s off Perez was Pierre Gasly, the AlphaTauris handy around Jeddah and looking like top five material on the evidence of FP3 and even the earlier Q-sessions. The Frenchman was sixth, with rookie teammate Yuki Tsunoda doing a solid job with eighth place.
Splitting the Red Bull 'juniors' was Lando Norris in seventh, the Englishman getting the better of Daniel Ricciardo who was only good for 11th.
Esteban Ocon was the faster of the Alpine drivers in ninth, with Fernando Alonso not making it out of Q2 in 13th.
Rounding out the top ten was Alfa Romeo's Antonio Giovinazzi in his penultimate F1 qualifying, the Italian sullying his achievement with a hefty wall-slap during his Q3 run.
Needing mention is the woeful performance by Aston Martin on the night. Blame it on traffic or whatever but Lance Stroll and Sebastian Vettel have no place being eliminated in Q1. This is surely not what Lawrence Stroll signed on for.
In retrospect, F1 breathed a sigh of relief that this session went off without incident at a high-speed track that has 'big one' written all over it.
But drivers were generally very well behaved, a testament to the level they operate at.
A dramatic ending to qualifying in Jeddah!

Max Verstappen hits the barriers on his final flying lap 💥

Leaving him in P3 – with title rival Lewis Hamilton taking pole!#SaudiArabianGP 🇸🇦 #F1 pic.twitter.com/1yFZfDdBQS

— Formula 1 (@F1) December 4, 2021
Jeddah Qualifying Lap Times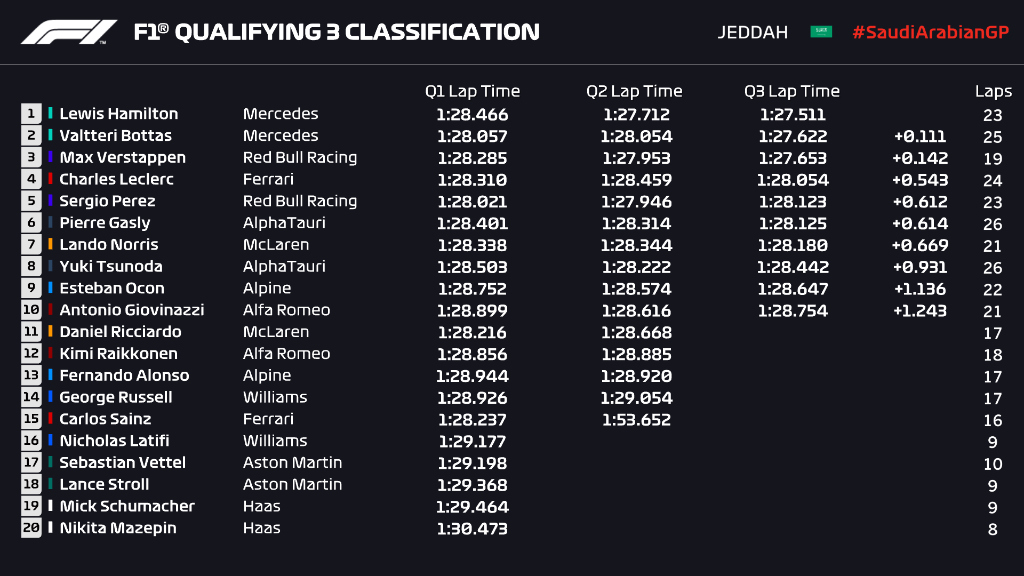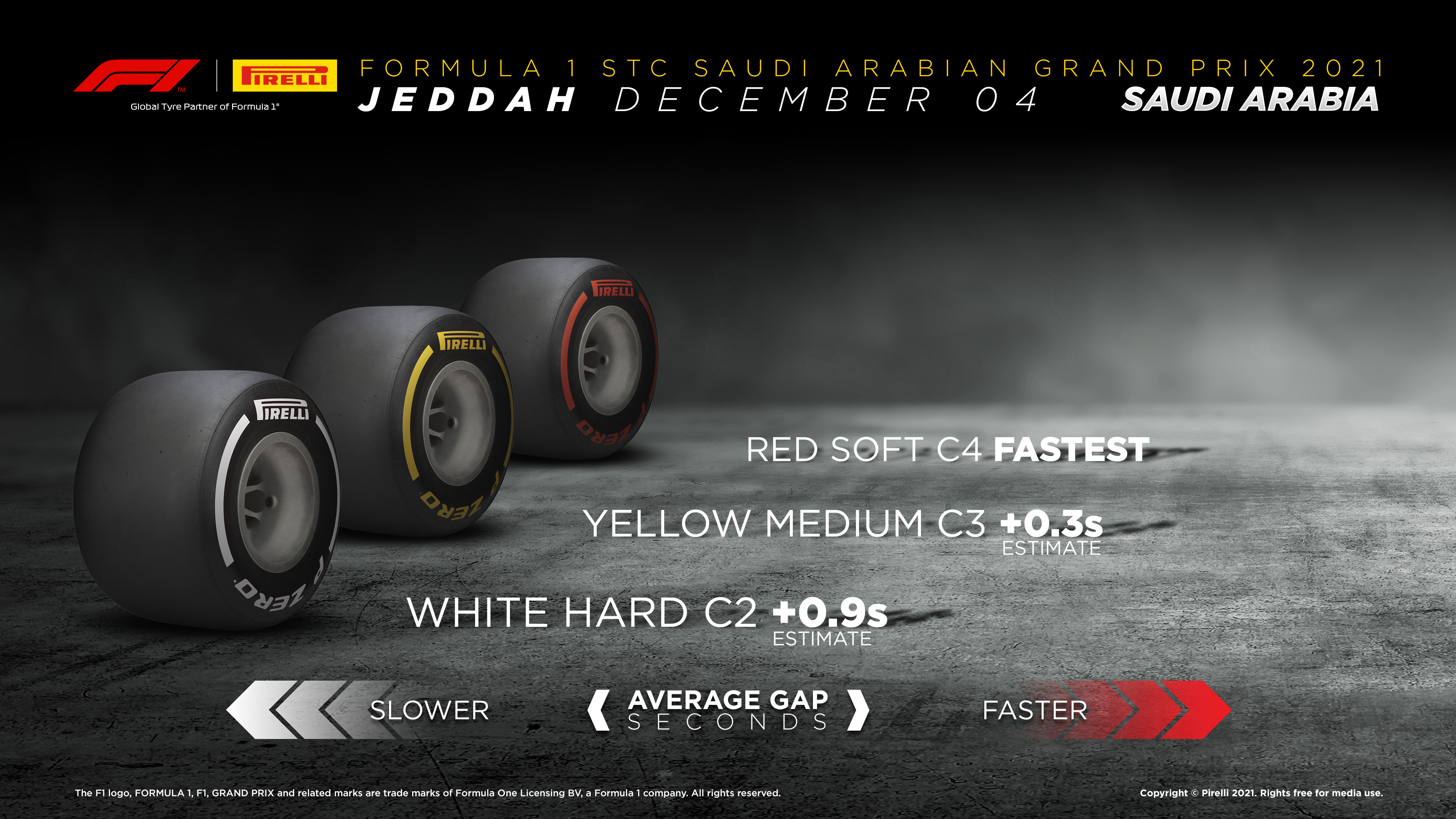 Q2 – Sainz and Alonso knocked out
Both Spaniards were out in Q2. Sainz was lucky to save his Ferrari from slamming the wall in what was an out of sorts session for him, he declared that the car was "undrivable" over the radio.
At the top Hamilton found the sweet-spot, edging Perez and Verstappen off the top of the timing screens. Bottas was fourth and order was restored at the top by Red Bull and Mercedes.
Best of the rest at this point were the AlphaTauri duo Tsunoda fifth and Gasly sixth.
Trouble for Carlos Sainz as he takes a spin in Q2

He's down in P15 with time running out in the session…#SaudiArabianGP 🇸🇦 #F1 pic.twitter.com/iC8JZvEmRa

— Formula 1 (@F1) December 4, 2021
Q1 – Misery for Aston Martin
Traffic was a major issue with all 20 cars angling for hotlaps. Both Aston Martin drivers Sebastian Vettel and Lance Stroll failed to make it into Q2, the biggest scalps to fall with the usual Haas suspects and Nicholas Latifi.
At the top Sergio Perez was fastest, the Mexican putting himself in the mix for pole after his customary slow start. Bittas was second, Verstappen was fifth with Hamilton ninth.
GREEN LIGHT: Q1 🟢

The first ever F1 qualifying session in Saudi Arabia is GO!#SaudiArabianGP 🇸🇦 #F1 pic.twitter.com/dMAuozMZ87

— Formula 1 (@F1) December 4, 2021