What a weekend Austin served! I say weekend because the dramatic buildup to the race warranted a mention. From Mercedes being dubbed the race favourites, to their early signs of dominance, only for the performance edge to fade away as Red Bull found their feet around the Circuit of the Americas, to Max Verstappen's tyre masterclass on Sunday.
Mercedes came to America confident of having a fast car, after their performance in Turkey, with discussions and analyses regarding some trick suspension they have devised to make their W12 faster down the straights.
Red Bull on the other hand, had put poor Adrian Newey, who has not yet fully recovered from his bicycle accident, in crisis management mode to try and find out how to make their RB16B faster. The guys at Milton Keynes were panicking.
FP1 did not give the energy drinks outfit any reason to relax, as the signs from the Mercedes camp were alarming, and everyone watching would be excused to feel that the reigning champions might have found some silver bullet and were now poised to run away with the title, thus ruining this fantastic season we are having.
Thankfully that was not the case, as Red Bull got their act together, while Mercedes somehow lost their early intimidating pace. There were several reasons behind that, which I won't delve into now, but they are detailed by my colleague Mark Kay here.
McLaren and Ferrari were having their own interesting fight, with the Scuderia apparently on their road to recovery after their latest power unit upgrade, while McLaren's form seems to have stalled.
Qualifying was classic, last-minute stuff, and set the stage for a highly anticipated Turn 1 action with Verstappen and Lewis Hamilton lining up one and two respectively on the starting grid.
Another crash on the cards? Well, it was almost the case, but both survived to have a race long fight, that will be etched in our memories for some time.
So our takeaways from the 2021 United States Grand Prix in Austin tell the following story.
Verstappen is primed for the title
Everyone talks about how complete a racing driver Hamilton is, and they are right, as the seven-time champ has got it all, talent, experience, race craft, tyre management… you name it. He is the full package.
But on race day in Austin, Verstappen proved that he was more than a match. Now we always knew that he was a force of nature from his first lap in an F1 car, but it was a long learning expedition for the Dutchman with mistakes aplenty as he became the Max of 2021.
First, the 24-year old kept his composure over the weekend as his team worked on sorting out his car's setup, never perturbed by Mercedes' early advantage.
In qualifying he was imperious, nailing the laps, while making it look so effortless especially if you watch the onboard footage of his pole lap.
His only mistake was his start, if you want to call it that, but the way he dealt with it, and the calm he portrayed during the race was Formula 1 World Champion stuff, no less.
The risky strategy that his team concocted was brilliant, and it is something we have come to expect from Red Bull, but what was more brilliant: Verstappen's execution.
The way he managed his tyres was masterful, and reminded us of one Lewis Hamilton, performing miracles against the odds on impossible strategies thrown at him by his team.
Such was the magnitude of Verstappen's achievement that even one of his biggest fans, his boss Christian Horner, told him he didn't believe the Dutch ace could do it.
Well he did, and it was a pleasure to watch, and no one can begrudge should Verstappen go on to win his first F1 title this year.
Sergio Perez finally delivers the perfect weekend
After the impressive job he did supporting his teammate in Turkey, Perez raised his level in Austin and finally qualified close enough to his teammate to make a difference during the race.
And he did make a difference, maybe not a blunt one, but imagine with how things went down at the start into Turn 1 had Valtteri Bottas been there in third instead of Perez, what would have become of Verstappen?
The Mexican protected his teammate's position when needed, and later kept in touch with the top two before the first round of stops, remaining in the window to undercut Hamilton, forcing Mercedes to bring the Briton in sooner than they may have liked. Had Hamilton run longer, Verstappen would have been under extreme pressure executing his team's bold strategy.
Given that the Mexican was making due without having a drink all race long in hot conditions, and considering the pounding COTA was giving him with its notorious bumps, the gap between him and the top two by the end of the race would be understandable, as he was visually destroyed in parc ferme after the race.
Hopefully, Perez has finally got his head around qualifying his ride high up the grid, as well as maintaining this level. He now has a confidence boost, so why not?
Ferrari are on the move, but…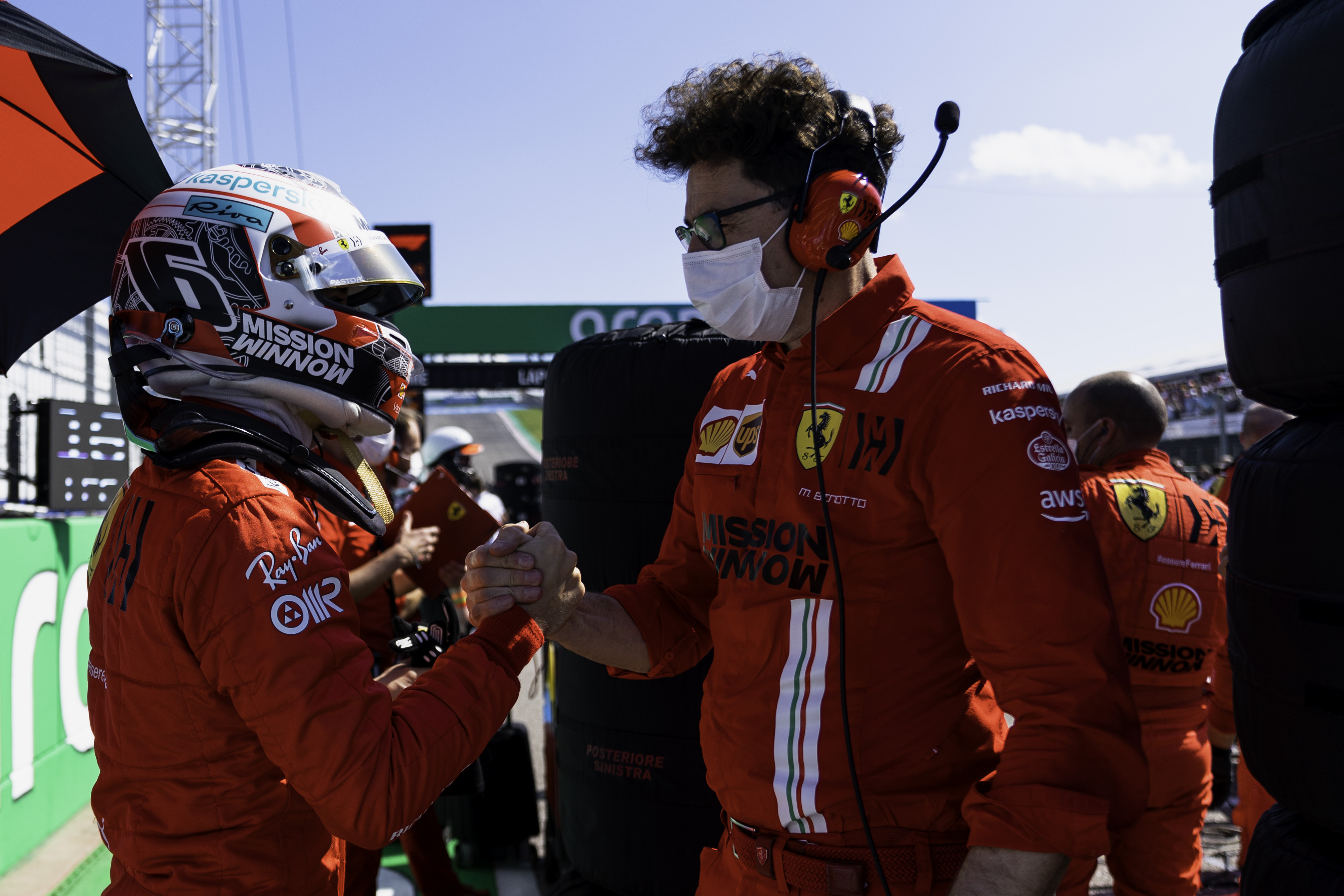 Since the Scuderia introduced its updated power unit in Sochi, the signs of recovery have been evident, and they have the points to support it as the gap to McLaren is just 3.5 points.
Charles Leclerc and Carlos Sainz are delivering the goods race in – race out, and in Austin they out qualified both McLarens on a circuit where their SF21 is expected to struggle, as per the team's claims.
But winning championships is not about having a rapid car and a powerful engine only. It is about being sharp in every aspect of the team's operation. And on that front, Ferrari is far from perfect.
If they hit the hammer on the head with the strategy, they then botch a pit stop, like what happened with Sainz during his second visit to the pits in Austin, and let's not forget Turkey. This time it cost him two positions and the points that come with them. When you are fighting for the championship, such mistakes cannot be afforded.
If Ferrari are targeting a title run in 2022 as they have repeatedly claimed, then they better sort out their operational problems sooner rather than later, because no matter how fast and reliable their highly anticipated 2022 charger turns out to be, it will not be enough to cover up for mid-race operational blunders.
Daniel Ricciardo, another false dawn?
Well hopefully not. We all want Daniel to do well, don't we now?
The Australian was in a really good place the whole weekend. Was it the Texas BBQ he never stopped talking about? Or was it the drive he got in his Dale Earnhardt Sr.'s 1984 Chevrolet Monte Carlo that did the trick? McLaren should at least keep the Brisket available in its hospitality area, just in case.
No seriously, Ricciardo's form in Austin was reminiscent of his Red Bull days. He out qualified an out-of-sorts Lando Norris, and beat him in the race too. He was also able to finish ahead of a Ferrari and a Mercedes. Now we know what happened to Sainz, and the Mercedes he beat was that of Bottas, who for some reason was not able to overtake other cars in a W12!
But nevertheless, an impressive showing by the Honey Badger, especially as he served us with some vintage Ricciardo material early in the race during his brawl with Sainz and Norris. Hair-raising stuff.
With the fight with Ferrari for third in the constructors becoming too close for comfort, McLaren would benefit from a Ricciardo at his best in the remaining five races.

Austin Quick Hits
A lively race from Fernando Alonso and the Alfa Romeo duo, Kimi Raikkonen and Antonio Giovinazzi, and some really interesting sound bites from the consequent radio exchange. Alonso wanting his toy back, and Giovinazzi refusing to give it back…
The poor stewards and race director Michael Masi had their work cut out trying to defuse that kindergarten fight.
Another solid race from Yuki Tsunoda, solid qualifying session, keeping it clean during the race .
Interesting to see the damage inflicted by the bumpy circuit on some cars, with Alonso suffering a broken rear wing, Esteban Ocon suffering a problem in the "rear of the car" as he said, not to forget the work Red Bull had to do to reinforce the rear wings on both its cars before qualifying.
A fine drive by Aston Martin's Sebastian Vettel with some nice moves on his way to tenth. The solitary point he got doesn't do justice to the effort he put in, but it was a good outcome for the German nonetheless after several futile races.
(Follow me on Twitter @MallakJad)
Turn right to go left! 🤘#USGP 🇺🇸 #F1 pic.twitter.com/08KFM5F7Dz

— Formula 1 (@F1) October 25, 2021