Lewis Hamilton won one of the most dramatic Russian Grand Prix races in memory as rain struck late in the race to deny Lando Norris his first victory.
The pair had slugged it out all race long at Sochi Autodrom, with Norris – who scored his first F1 pole in qualifying on Saturday – doing a sterling job to keep hard-charging Hamilton at bay. But when the rain came down, the pair stayed out as long as possible with the Mercedes pitting while the McLaren stayed out.
Game over.
Before that Norris had been stellar, losing the drag race to Sainz into Turn 1 he tucked in behind the Ferrari. On lap 13 the Englishman ambushed the Spaniard to take the lead, where he stayed. After the pit stops, he led Hamilton who was reeling him in but looked hard-pressed to challenge for an overtake.
Before it went wrong, Norris appeared to have all the answers, keeping the gap just over a second with the coolest head on those 21-year-old shoulders, but when the rain came it all changed. Even with Hamilton attacking, he had all the answers and as unflappable as a veteran.
A bad judgement call cost him not only a win but also a podium. In a few mad laps what looked like first place ended with disappointing seventh, spinning in the process, but once again Lando's shares continue on a steep upward trajectory as he keeps on getting better with every race.
He was voted Driver of the Day after showing all the class of a winner on the day until fate was unkind to him. But that first victory and many more will come, it's just a matter of time.
Class from Lando #RussianGP #F1 pic.twitter.com/5R8gpih9QZ

— Formula 1 (@F1) September 26, 2021
In contrast, Hamilton pitting a lap earlier than Norris for inters as the heavens really opened up, after chasing the McLaren hard in the dry. The 36-year-old Briton thus claimed his 100th F1 victory – an extraordinary piece of history written today,  at Sochi Autodrom venue where Mercedes have not lost since the first race here in 2014.
Hamilton summed up his 100th victory: ""Lando did such an amazing job, he had such incredible pace. He's doing such a great job for McLaren – this was bittersweet. It's nice to see my old team ahead."
"I want to start with thanking the fans – we have such a great crowd here. I know it's not been the best of weather but what a race it provided!
"It's taken a long time to get to 100 wins. I wasn't even sure it would come. The team made such a good call at the end. I didn't want to let Lando go. I'm incredibly grateful to all these men and women here and back in the factory. Wow, 100.
"Going to bed last night, with the job that I did yesterday, there were subtle little mistakes. I was so determined to do the best job I could. It was tough. Max must have done a good job to get up to second. The rain came and it was opportunistic and a great call by the team."
Fellow title contender Max Verstappen minimized the damage on the day after starting last on the grid, powering through the field in the dry and then making it count in the wet to take second place.
The Dutch ace, forced to the back of the grid due to engine penalties, could not have wished for a better outcome other than beating Hamilton. Second place was always going to be a long shot and indeed looked out of reach until it started to rain.
Verstappen said: "It was pretty tricky on the in lap to make the call to go inters. I think we made the right decision on when to pit. If we had come in one lap earlier we would have destroyed the inters in the last sector. But of course to come from last to second is very, very good.
"The race itself was not very easy, because it was very difficult to pass and when you get stuck it is easy to damage your tyres. Luckily the rain helped us to make that last jump. With the penalty we had to only lose one spot is definitely not too bad. When I woke up this morning I definitely didn't expect this result.
"From the back a lot of things happen in the first lap and even in the first stint with a lot of cars fighting each other. You just have to stay clean and I think we managed did that pretty well and then the crucial call to go to the inters worked out."
The result means Hamilton leads the 2021 F1 drivers' world championship standings by two points from Verstappen, while Mercedes are 33 points ahead of Red Bull in the constructors' title race.
Carlos Sainz ignored a silly and disheartening call by the Ferrari pitwall, midway through the race, that he would finish fifth after starting second and leading the first dozen laps, the Spaniard defied his team's pessimism to take the final podium spot.
A strong showing by the Ferrari man on a day his team was amateurish in the pitstops, doing their drivers no favours and costing Charles Leclerc hefty points. Before the rain he was in a strong point position, at the end of the race he was 15th.
Sainz summed up his 54th podium finish in F1: "First off all, I got a good launch. That was the priority. Unfortunately, graining came, and that's when our race started to go bad and we started to suffer a lot. We had to go early onto the hard, a lot of management.
"Then finally the rain came at the worst possible time because my hard tyres were going away. We did exactly the right call at the right time and managed to get back into P3 and a really strong race in general."
Fourth went to Daniel Ricciardo in the other McLaren, a pitstop fumble might have denied the Australian a podium finish and Mercedes driver Valtteri Bottas turned a below-par afternoon into a useful fifth place, when the weather turned abruptly at the end.
Fernando Alonso pulled a cheeky move at the start of the race, ignoring track limits to avoid the lap one traffic and ran strongly all afternoon in the Alpine, running a long first stint that saw him up to second at one point. He finished sixth.
Kimi Raikkonen's experience clearly served him well when mayhem descended with the rain on the Olympic venue, the Finn finishing eight after an insignificant dry spell where points were not on the radar.
Starting ninth, 11 places ahead of Red Bull teammate Verstappen, Sergio Perez was expected to fly the flag for the team but was only good for ninth, while George Russell, who started a remarkable third, went backwards to finish tenth.
Aston Martin will be disappointed to have both cars out of the top ten, after qualifying both in it, as Lance Stroll and Sebastian Vettel literally battled it out on track, crunching into each other late in the race to finish 11th and 12th respectively.
It would be fair to say there must have been a collective groan, as F1 fans realized Norris' gamble had not paid off but thankful, that another great Russian Grand Prix was witnessed in a season that just keeps on giving.
Final word to the young man: "I don't know where to start. I'm unhappy, devastated in a way. We made a call to stay out and we stand by that.
"It was the wrong one at the end of the day but I made the decision just as much as the team. It was more that they thought I should box and I decided to stay out. It was my decision, I thought it was the way to go," admitted Lando. Next time Big Guy!
Russian Grand Prix Result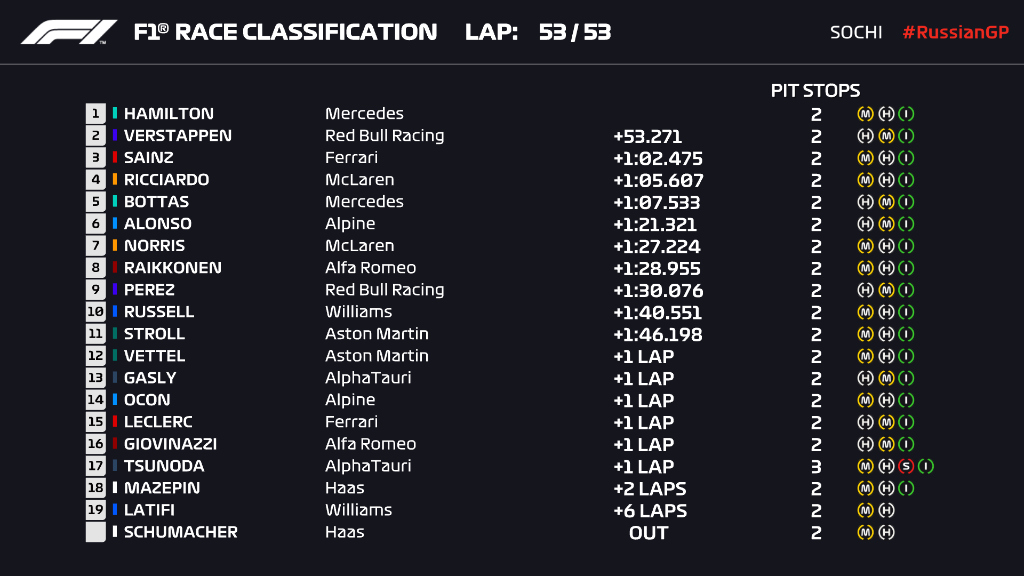 Russian Grand Prix Lap Chart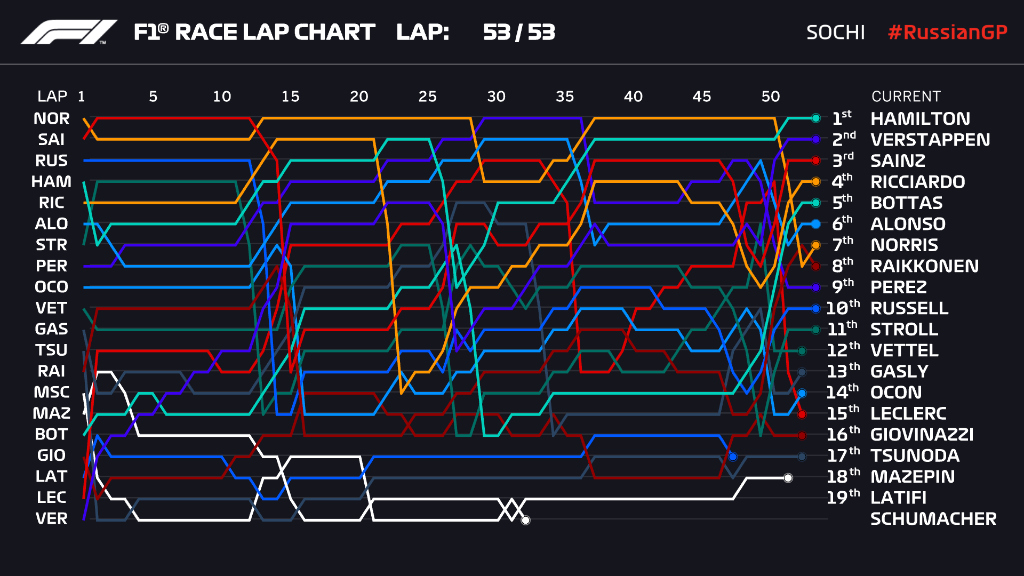 Russian Grand Prix Pirelli Stats