Max Verstappen won the 2021 Dutch Grand Prix, Round 13 of the 2021 Formula 1 World Championship at Zandvoort on Sunday sending the 70,000 Orange Army into a frenzy of well-deserved celebrations.
This will go down as one of his greatest victories, not only for him (and Red Bull) but for his country that embraced the 23-year-old with great passion since he burst onto the scene as a precocious teenager in 2015.
In retrospect, it is easy to say that this trophy had Max's name etched on it from the moment he put it on pole on Saturday. The tide has turned again, and it's Blue and of course Orange!
Beaming, Verstappen said in parc ferme: "As you can hear, it's incredible. Obviously, the expectations were high going into the weekend and it's never easy to fulfil that, but I'm just so happy to win here, to take the lead in the championship as well. It's just an amazing day. The whole crowd… it's incredible.
"Mercedes tried to make it difficult for us but we countered them all the time really well. We can be really pleased with the whole team performance today," added Max.
There were fears before the race that lap one would be tricky on the refurbished track that last hosted a Grand Prix back in 1985, and for sure it was frantic and frenzied, but no contact or bent metal as they snaked through the dunes.
In fact, the first yellow was waved on lap 37 when Sebastian Vettel lost the rear of his Aston Martin into the banked Turn 3. Good job by the boys.
The front stayed pretty much the same with the top positions unchanged, with Fernando Alonso star of the early show making some audacious moves that saw him make four positions in the opening laps.
At the front it was pretty much of a stalemate in terms of pace, Verstappen in control.
On lap 20, Hamilton pitted earlier than expected, with Red Bull covering by bringing in Verstappen but he emerged in a Mercedes sandwich as Bottas, on a one-stopper, led at this point and Hamilton chased his title rival.
On lap 31, down the main straight Max retook the lead and was met with a great roar from the crowd. Hamilton got past his teammate soon after, the gap at the front 1.6 seconds. Game still on!
Bottas pitted a lap later and peeled out in third. He was well used by Mercedes on the day; told to not go for the fastest lap late in the race too.
Hamilton hung on gamely, but Versttapen edged another second to around 2.5 seconds half a dozen laps later.
On lap 40, Mercedes played their last card and brought in Hamilton, bolted on scrubbed mediums. Red Bull again brought Max in to cover Merc's move. He emerged three seconds ahead on the hard compound as the stops were done.
Thereafter it was a game of cat and mouse, with Hamilton complaining about his tyres – doubting they would go the distance – while popping fastest laps and closing the gap to under two seconds by lap 50.
With a dozen laps remaining, Verstappen put his hammer down and started to eke ahead again.
At the same time, over the radio, Hamilton was again doubting his tyres would last. They did but had lost their edge, Verstappen's lead increased until he crossed the line on lap 72, winning comfortably as Hamilton ducked into the pits for the fastest lap point.
The World Champion was gracious in defeat: "What a race, what a crowd. Honestly, it's been an amazing weekend. Max did a great job, congratulations to him. I gave it absolutely everything today, flat-out. I pushed as hard as I could. But they were just too quick for us."
Behind second-placed Hamilton, Bottas was third despite being used as the Merc wingman. He said afterwards: "Unfortunately for me, it was pretty uneventful. Obviously, I kept pushing.
"We tried a one-stop and a long first stint and tried to survive with the tyres until the end, but in the end we had quite a big gap behind me, so we just made a stop for safety, basically. We tried, but we didn't quite have the pace today.
"I didn't go for the fastest lap today. Lewis got it, so as a team, we got the points. The crowd have been really supportive, so thank you," added Bottas.
Just off the podium was AlphaTauri's Pierre Gasly a distant fourth, but again delivering beyond his pay grade, followed all afternoon by the Ferrari duo of Charles Leclerc and Carlos Sainz looking set for fifth and sixth respectively, the top six finishing as they started on the grid…
But Alonso had other ideas nipping past Sainz late in the race to claim sixth, and relegate the Ferrari driver to seventh.
Red Bull's Sergio Perez got Driver of the Day for his race from the pitlane to eighth, proving that you can overtake at the new Zandy.
Esteban Ocon was ninth in the other Alpine followed by Lando Norris in tenth on a below-par weekend for McLaren in Holland. The orange was clearly not for them!
In the end, the day (make that weekend!) belonged to Verstappen and his fans. Perhaps not the greatest race as a contest, but nevertheless an iconic victory, a great moment in the sport's history, unforgettable.
A jubilant Red Bull team boss Christian Horner summed it up when he radioed Holland's favourite son: "Well done mate, that was epic. You've won your home race, you were brilliant today."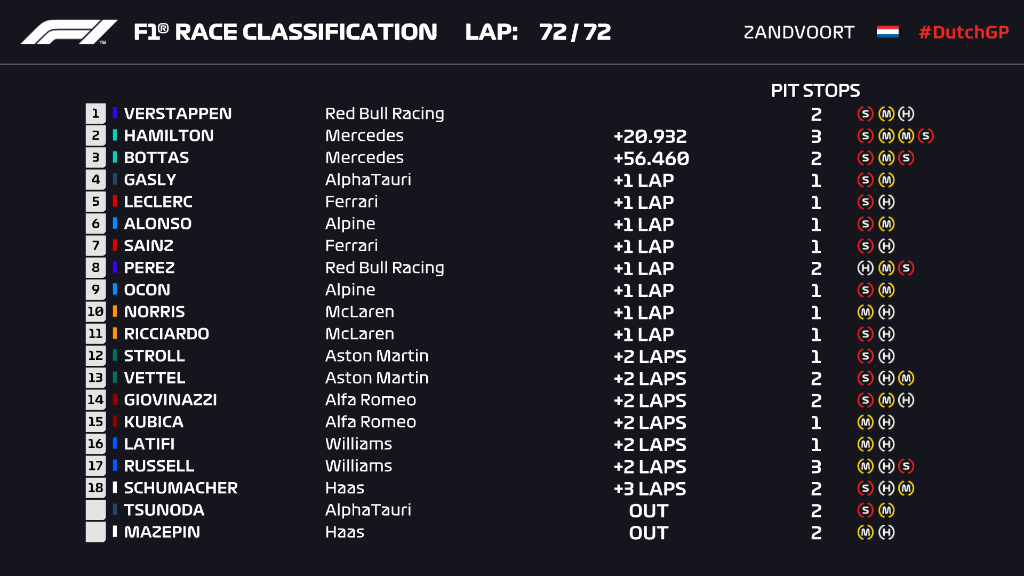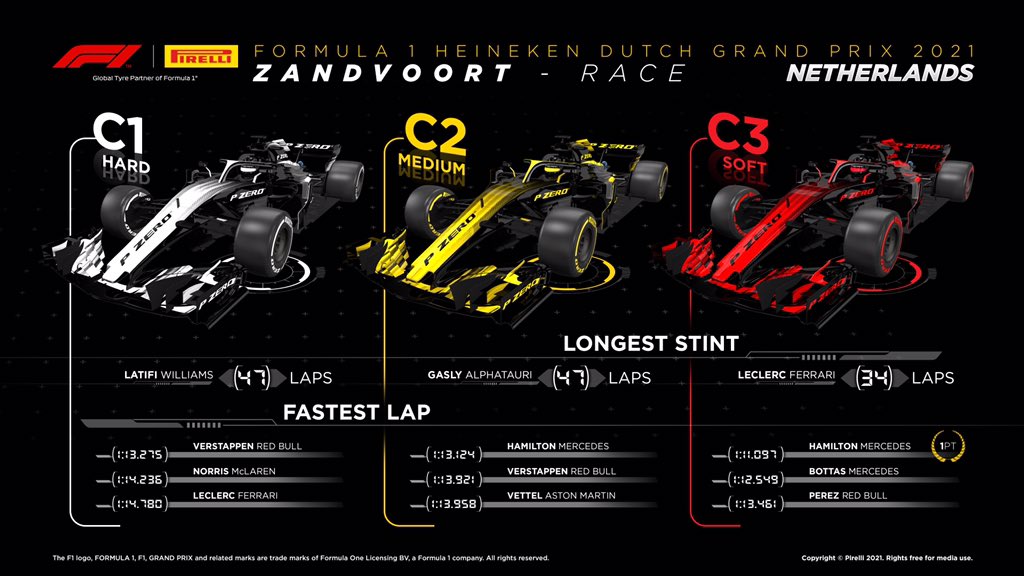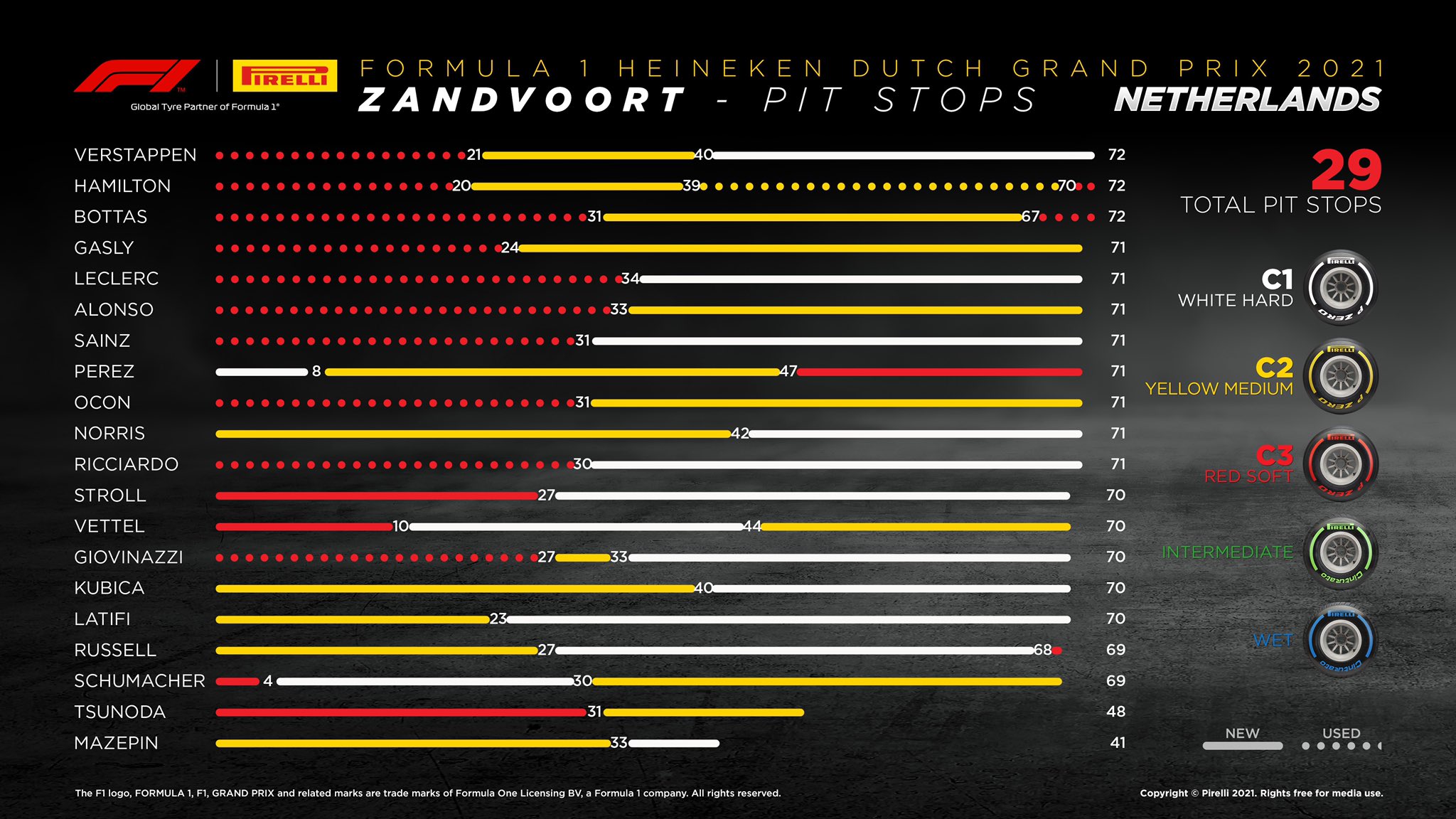 ---
Preview and Build-up Report
Formula 1 is set for an epic 2021 Dutch Grand Prix, with title contenders Lewis Hamilton and Max Verstappen starting from the front row at Zandvoort this afternoon.
The contest we have all been waiting for is happening, with Verstappen, the commander-in-chief of the Orange Army, 70,000 strong every day, chanting for his success in qualifying, baying for a victory today with Mercedes and Hamilton doing all they can to deny Holland one of their greatest sporting moments.
While the safe money may be on Verstappen bagging Round 13 of this championship race, expect Hamilton to find something extra, as he tends to do when the boo-brigade are out in force, and they sure are at the normally sleepy seaside village.
The Briton ran Verstappen close on Saturday in qualifying, but in the end, the all-important top spot start will be Blue, not Black, and for sure Red Bull's Plan-A is for Max to be Tarzan into Turn 1 and scurry off into the distance.
Hamilton's Plan-A will be to keep the Dutchman in his sights and react when, and if, the Blues slip up… whereby it's Hammertime! There will be zero margin for error between the pair, as always, but perhaps more so as this championship enters a crucial phase.
Add to that the fact they will be lapping backmarkers more often than normal this afternoon, it is a fair bet Bernd Maylander will be in action in the safety car at some point during the race.
Verstappen winning at home is proper fairytale stuff one would never dare script, but it is not a given as the real work starts when the lights go out to start the 31st edition of the Dutch Grand Prix, happening 26 years after the great Niki Lauda powered his McLaren through the same dunes to victory.
This will be a big character-building race for Max who transcends F1 in Holland where he experiences the kind of adulation from his homeland as Michael Schumacher conjured in Germany, or Ayrton Senna attracted in Brazil.
We are witnessing a special journey, a unique legacy being built by the 23-year-old godsend for fans of this sport so zombied-out by the monotony of Mercedes domination. This real fight is long overdue.
Hats off to this guy 😆

Those Dutch F1 fans have been next level all weekend 🙇🟠#DutchGP 🇳🇱 #F1 pic.twitter.com/Megl5Lguh4

— Formula 1 (@F1) September 5, 2021
Behind the two contenders, Valtteri Bottas is well-positioned to assist Hamilton and expect him to be sacrificed if need be by Mercedes this afternoon.
Verstappen has not the luxury of a wingman with Sergio Perez stranded in Q1 during qualifying, he will be making his way through the field at a track where overtaking is expected to be rare. Furthermore, the Mexican will be looking to make amends for his rookie-like shenanigans at Spa-Francorchamps last Sunday.
The next best Honda driver was sensational Pierre Gasly who popped the AlphaTauri fourth on the grid, and could tap into his Monza winning mojo and become a factor in today's race.
Good news for Tifosi is that Ferrari found the magic switch this weekend in the SF21, which has their drivers Charles Leclerc and Carlos Sainz sharing the third row, a podium not out of the question should they survive the afternoon.
Also worth keeping an eye on at the 2021 Dutch Grand Prix:
McLaren where art thou?
Aston Martin where art thou?
Robert Kubica filling in for COVID-19 struck Kimi Raikkonen
Nikita Mazepin being lapped…
Dutch Grand Prix Reuters Facts & Stats
Formula One statistics for Sunday's Dutch Grand Prix at Zandvoort, round 13 of the world championship:
The last F1 race at the circuit was in 1985.
Lap distance: 4.259km. Total distance: 306.648km (72 laps)
Start time: 1300 GMT/1500 local
DUTCH GRAND PRIX
The first Dutch Grand Prix was held in 1952, with Zandvoort opening as a circuit in 1948 in the coastal dunes of the beach resort, and ended in Ferrari sweeping the top three places.
The quick and undulating circuit, roughly a half-hour train journey from Amsterdam, has been upgraded but is still generally considered 'old school'.
The circuit has a mix of speeds with some banked corners, the last two with an angle steeper than the Indianapolis Motor Speedway. That will put quite a load on the tyres.
There are some notable corner names, the first being Tarzan and the last named after two-times Indianapolis 500 winner Arie Luyendyk.
RACE WINS
Hamilton has a record 99 career victories, of which 78 have been with Mercedes, from 278 starts. He has been on the podium 174 times.
Verstappen has won six races so far in 2021, to Hamilton's four and one each for Red Bull's Mexican Sergio Perez and Alpine's Esteban Ocon.
Ferrari have won 238 races since 1950, McLaren 182, Mercedes 119, Williams 114 and Red Bull 71. Former champions McLaren and Williams have not won since 2012.
POLE POSITION
Hamilton has a record 101 career poles and has won 59 times from pole. He has had three poles so far in 2021.
Verstappen has been on pole six times this year, while Ferrari's Charles Leclerc was fastest in Azerbaijan and Monaco qualifying. Bottas was on pole in Portugal.
CHAMPIONSHIP
Hamilton is three points ahead of Verstappen.
Mercedes lead Red Bull by seven.
SAFETY CAR
The safety car has been deployed in all but three races so far this year. There have been five red flags, more than in any season for 20 years.
MILESTONES
Last Sunday's Belgian Grand Prix was the shortest ever, the race stopped after a couple of laps behind the safety car.
Hamilton can become the first F1 driver to win 100 grand prix events.
Verstappen can become the first Dutch driver to win a grand prix on home soil.
(The 2021 Dutch Grand Prix report will replace this build-up preview as the day progresses. Please refresh your page for updates.)