Max Verstappen made no mistakes while all around him others did, to win a dramatic and at times chaotic two-part 2021 Emilia Romagna Grand Prix.
The Red Bull driver winning by over 20-seconds after starting third on the grid. It was a much-needed return to the top step of the Formula 1 podium which he lost at Bahrain to Hamilton; the Mercedes driver making a rare error on the day at Imola when he beached it before recovering to finish second, at the restart he was ninth. Damage limitation achieved.
But the day belonged to Verstappen who was faultless amid the chaos and attrition which caught out his experienced teammate Sergio Perez who was only good for 12th in conditions he normally shines in.
If the Dutchman had a moment it would have been at one point behind the safety car when warming his tyres he nearly lost it. But other than it was faultless and the kind of statement he needed to make after his qualifying error denied himself pole on Saturday.
Verstappen said of his 11th Grand Prix victory, this time at Emilia Romagna Grand Prix: "It was very challenging out there, especially in the beginning to stay on track to be honest, it was very slippery. I think we managed everything well.
"Then there was a little moment in my restart! Luckily we didn't spin. But everything else went really well today so very happy with that."
Class of the field 👏@Max33Verstappen blew away the competition for the 11th win of his career!#ImolaGP 🇮🇹 #F1 @redbullracing pic.twitter.com/Ic7iOc1VBa

— Formula 1 (@F1) April 18, 2021
Hamilton: Congratulations to Max, he did a fantastic job today
The Mercedes driver did his utmost to recover and apologised for his mistake but did enough with the fastest lap extra point to still lead the championship over Max, it being the only difference between the pair after two rounds.
The World Champion said in parc ferme: "Congratulations to Max, he did a fantastic job today – just solid work from him. And also to Lando, what an awesome job and it's so good to see McLaren back up there.
"On my side, it was not the greatest days, it's the first time I've made a mistake in a long time. But I'm grateful I was able to bring the car home today.
About that error: "There was only one dry line, and I guess I was in too much of a hurry to get by everyone. I came to the inside and I could see it was wet and I was trying to stop, but the thing wouldn't stop and it sent me off.
"A bit unfortunate but I'm really really grateful we were able to get going again, and to get some points for the team was really important today," added Hamilton.
"We live and we learn"#ImolaGP 🇮🇹 #F1 pic.twitter.com/w0USU4lwAc

— Formula 1 (@F1) April 18, 2021
Drive of the Day went to Lando Norris, and deservedly so for finising third after a gargantuan race for the always improving McLaren driver. He had strong pace all weekend, peaking in the race where he gave a feisty defence of second place but ran out of ammo when Hamilton was in DRS range.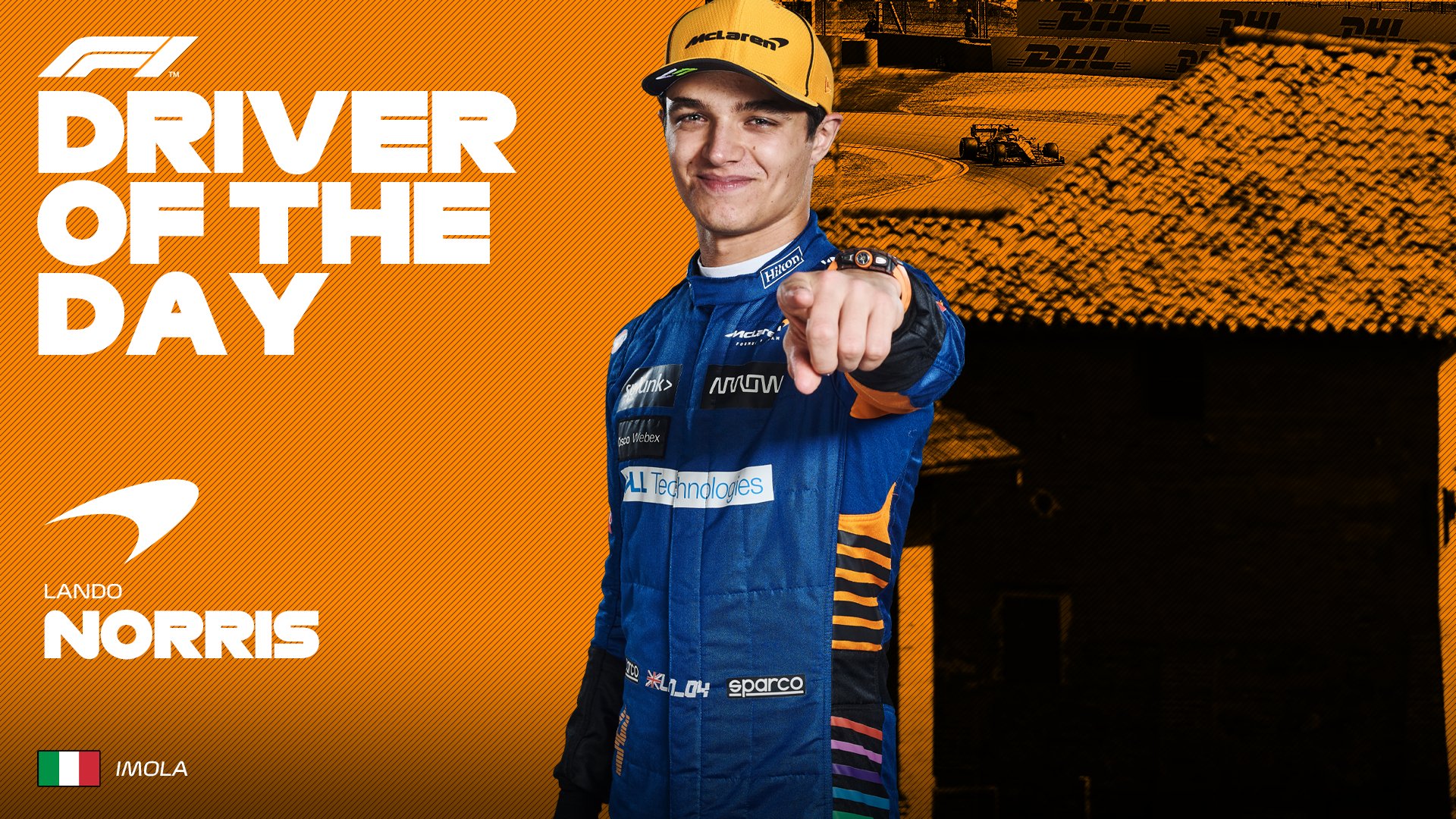 Ferrari never showed winning form all weekend at their home Emilia Romagna Grand Prix
Behind the McLaren, Ferrari enjoyed a strong showing on home soil with Charles Leclerc fourth and Carlos Sainz fifth. The Spaniard recovering well after an out of sorts start which had him questioning his own mistakes over the radio.
While they never showed winning form, it was a much-needed result for the Scuderia and a big statement from Sainz, while Leclerc delivered as expected.
Daniel Ricciardo was sixth in the other McLaren, the Aussie overshadowed by the younger man in the sister car. Nevertheless, two McLarens in the top six and one on the podium is good news for the Woking outfit.
Aston Martin's woes continued in the race, although Lance Stroll survived as he tends to do in this kind of race to take seventh place but they will wondering why the deficit to similarly Merc-powered McLaren.
It was another miserable day for Sebastian Vettel who started from the pits and then got a penalty for not having wheels on the car with five minutes to the start. He was 15th.
AlphaTauri's Pierre Gasly was eighth, only one of two drivers starting with full wets which was the wrong call, but the pitwall took forever to call the Frenchman in for a tyre changed. After that, it was always catch-up for him.
Kimi Raikkonen dug deep into his experience to survive the chaos and claim ninth place for Alfa Romeo. His teammate Antonio Giovinazzi was 14th.
The final point went to Alpine's Esteban Ocon in tenth.
How the Emilia Romagna Grand Prix Unfolded
It was an epic race that began earlier in the day when the skies opened up over Imola ahead of the 2021 Emilia Romagna Grand Prix setting the stage for a drama-packed race, which it was, with plenty of bent metal before it was stopped.
The race was red-flagged on lap 34 of 63 laps when Williams driver George Russell and Mercedes' Valtteri Bottas collided while battling for position while leaders Red Bull's Max Verstappen and Lewis Hamilton's Mercedes were lapping them.
Russell's car tagged Bottas' Mercedes, they collied the cars shedding bits and triggering the safety car to clear the debris. Upon which the Briton, earmarked for the Finn's seat, charged at the wrecked Mercedes to deliver what appeared to be a swipe and some choice words. It was unsavoury considering the circumstances.
But it also begged the question: What was Bottas in a race-winning Mercedes doing battling it out with Russell in the relatively woeful Williams?
At this point Max Verstappen was leading with Lewis Hamilton closing in fast, the safety car prompted Mercedes to pit Hamilton he emerged only to lose control at Tosa and end up in the kitty litter, clattered into the barrier before extracting the Merc. Advantage Max.
It was always going to be a race of high attrition
As rain fell over Imola ahead of the race, catching out Fernando Alonso (Alpine) who spun out on the way to the grid as did Charles Leclerc (Ferrari) in very tricky conditions that caught out just about every driver on the day.
Earlier Verstappen blitzed the start, taking command of the race with Hamilton, damaged his wing when flew over the kerbs in the Tamburello complex chasing and keeping the Blue car within five seconds, but with no real answer as the field strutted their stuff on Intermediates, with the exception of Pierre Gasly (AlphaTauri) and Esteban Ocon (Alpine) who paid the price for the gamble.
Leclerc made a great start, getting by Sergio Perez when the Red Bull went farming; a term we shall be using a great deal in this report. As this track, punished mistakes old school style.
So much so, even Hamilton's strong challenge ended when he made a mistake and slithered into the barriers, before making a hash of extracting his car. In effect, ending his race-winning ambitions.
Leaving Verstappen in charge, with Leclerc second and Lando Norris third on a very string day for the youngster and his team.
After the red flag Verstappen again blitzed off into the distance
At the stoppage, Perez was fourth, Sainz fifth and Ricciardo sixth followed by Stroll Raikkonen and Hamilton next and Yuki Tsunoda, who started his AlphaTauri from the back of the grid in tenth.
The restart was frenetic with Verstappen powering into the distance and never seen again until he took the chequered by over 20 seconds.
Behind him, though, it was all action as Hamilton stormed from ninth, hunted bother Ferrari's and Norris to take a hard-earned but unlikely second place considering how long he spent stationary staring at a wall. Fortune also favoured him on his way to second.
Sainz and Leclerc held station behind Norris, the trio crossing the line in that order.
In closing it is worth noting that, Verstappen's Emilia Romagna Grand Prix triumph on the day was the 79th win for a Honda-powered car in Formula 1 and the first at Imola since Ayrton Senna's victory in 1991.
(Additional reporting & quotes from Agnes Carlier)