Finally, the true pecking order revealed itself with Max Verstappen putting the Red Bull RB16B on pole position for the 2021 Formula 1 season-opening Bahrain Grand Prix with a sensational lap.
Verstappen has looked strong from the first day he stepped into the car in testing, the form carried through to this weekend as he powered around Sakhir in a best lap time of 1:28.997, a mammoth 0.388 of a second quicker than next best Lewis Hamilton in the Mercedes.
Verstappen set the bar with his first run, with Hamilton forced to dig deep to beat that first time. Which he did, briefly topping the timing screens until the Dutchman went purple on all three sectors of his final run to snatch pole back; he owned it since FP1!
With it, he also ended Merecdes' incredible streak of pole position starts that stretched back to the 2014 race at Bahrain International Circuit.
He's been unstoppable so far on our opening race weekend of 2021 👏

And @Max33Verstappen was too quick for the rest in Saturday's race for pole 🚀#BahrainGP 🇧🇭 #F1 pic.twitter.com/846mv6KBDQ

— Formula 1 (@F1) March 27, 2021
Verstappen reported afterwards: "Of course we already had a great test week. There are no guarantees coming to the first race weekend but the whole week so far the car has been working really well.
"It's just been really enjoyable to drive. It all worked out perfectly in qualifying so of course, I'm very happy with pole position."
Notably, Red Bull newcomer Sergio Perez got a taste of being Max's teammate by receiving a proper thumping on the day the younger driver was the quickest. The Mexican failed to make it out of Q2 and will start from 11th on the grid.
On the night, Mercedes turned it on and there was no hiccup from their 'suspect' package, simply put Honda and Red Bull had raised their own game and for a change have made it to the start line on time.
The Champs are challenged.
Hamilton gave it his best shot, he said as much over the radio, which in the end was short of the top time but a couple of tenths up on Valtteri Bottas, which is give or take the usual gap between the two. Meaning the Finn also had his A-game on show.
Neither of them had enough on the day, suggesting a proper battle this year: Mercedes versus Max!
LEWIS: "Congratulations to Max, so fast on that last lap!

"I absolutely gave it everything I had, but unfortunately it wasn't good enough. There's always more, but it was the best I could do, I got everything I could from the car."#BahrainGP 🇧🇭 #F1 pic.twitter.com/NWFlQT94Ip

— Formula 1 (@F1) March 27, 2021
"Congratulations to Max," said Lewis in parc ferme. "He did such a great job. He was so fast on that last lap. I absolutely gave it everything on that last lap but unfortunately, it wasn't good enough.
"Everyone at the factory really did such an incredible job for us to be closer to Red Bull. At testing we thought we'd be further behind."
Ferrari had been sandbagging up until qualifying because the Red cars 'suddenly'  found something extra that even saw new boy Carlos Sainz and Charles Leclerc topping the timing screens at the end of Q2. But when the big guns came out SF21 was still lacking.
But Leclerc pulled the proverbial rabbit out the hat to claim an impressive fourth place on the grid. Sainz had to settle for eighth, half a second short of his teammate when it mattered.
While the Alex Albon project failed miserably for Red Bull last year, the Perez experiment has not gotten off to a good start, however, in the sister team Pierre Gasly continues to shine. This time with a strong fifth place in the AlphaTauri.
The McLarens were solid but not the next best behind the top two teams as was expected, at least not in quali-mode. Nevertheless their newcomer Daniel Ricciardo got the better of Lando Norris by a tenth and a bit, the pair were sixth and seventh.
Fernando Alonso is back! And the veteran did not disappoint, demolishing young gun Esteban Ocon in their first real contest; the Frenchman 16th and out at the end of Q1 and short almost a second on the other Alpine.
For his 312th F1 start, Alonso will start from ninth thanks to his best qualy since Monaco 2018.
He said of his first qualy in two years: "The week has been difficult. I lack confidence in the rear of the car. You never know what to expect in the first session of the year but I am happy.
"I was hoping a lot for qualifying but I think the wind direction changed. I came with some confidence into qualifying and it was better than I expected. I need to get a good start tomorrow, to get away from problems. I'm looking forward to it.
"You have to pace yourself for the tyre management. The adrenaline and the fun to drive is amazing. 57 laps in a row – that will be the first time since testing. Top 10 and to score points is the target. If we do a good start and strategy, anything is possible."
Aston Martin were the most disappointing performers in the session as expectations were sky-high for the next chapter of Lawrence Stroll's dream team.
The hype did not translate to results with Lance Stroll fighting hard for tenth, while his new teammate Sebastian Vettel failed to make it beyond Q1 as yellow flags did him no favour. But there was also no indication the German was going to set the night alight.
Consider this was the team (albeit Pink) that won a race last year. They have hardly looked like front runners since testing began. An unhappy billionaire you don't want to mess with will be looking for answers ASAP.
ELIMINATED: Q1

16 OCO
17 LAT
18 VET 📸
19 MSC
20 MAZ#BahrainGP 🇧🇭 #F1 pic.twitter.com/BO0APoRb7e

— Formula 1 (@F1) March 27, 2021
Vettel said afterwards: "I did get caught out. I had a lot of margin after the first lap. I had a mistake in Turn 11 but the second lap had a few yellows. In the end, I think the trouble is we have to run so slow to get the tyres where we want them to be and with the number of cars on track, it's going to be a mess."
Alfa Romeo duo Antonio Giovinazzi and Kimi Raikkonen were firmly in the midfield, the veteran half a second down on the Italian, they will start 12th and 14th respectively.
Japanese rookie Yuki Tsunoda looked strong early on in his first qualy session in the top flight but, when the chips were down at the end of Q2, the AlphaTauri in his hands was only good for 13th, three-tenths shy of Gasly in the other white and blue car.
George Russell continued to upstage teammate Nicolas Latifi, this time the Englishman was 15th and into Q2, while the Canadian was shy six tenths on his teammate which put him 17th.
The battle of the Haas rookies (confined to Q3) was no contest as Mick Schumacher easily outqualified Nikita Mazepin, the son of Michael Schumacher ticking all the right boxes and getting the most he could out of the car which looks destined for back of the grid action.
The Russian spun early on and again later in the session, ending eight tenths down on his teammate.
Max was very happy about being on pole and everything

But it was all about giving @therealdcf1 a birthday 'treat' 🎂😂#BahrainGP 🇧🇭 #F1 pic.twitter.com/GWBxSpbFAE

— Formula 1 (@F1) March 27, 2021
Q3
Q2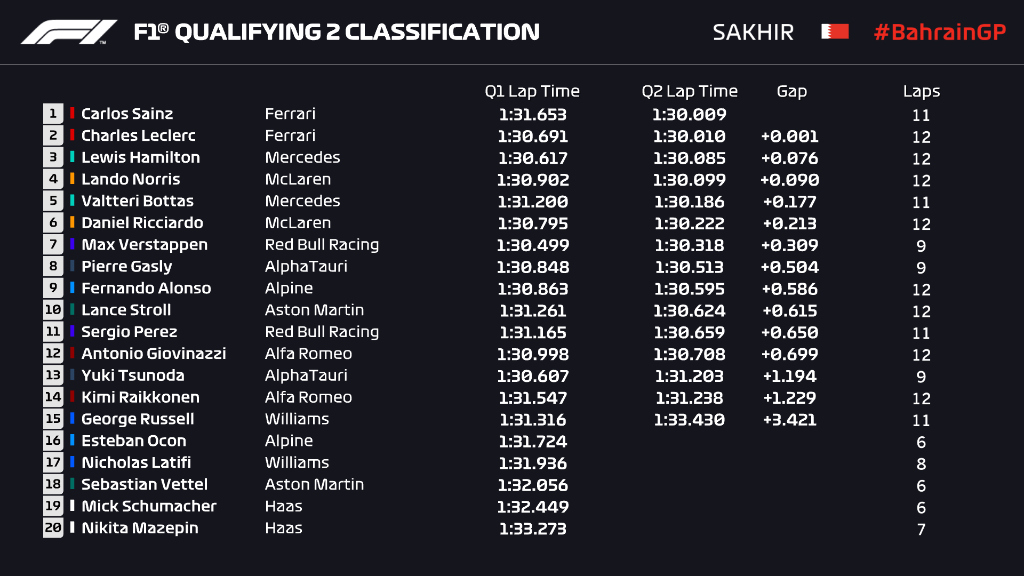 Q1