Nikita Mazepin's life changed forever the moment he posted on social media a lewd video of himself groping a female friend in a car.
It has triggered an immense backlash and intense scrutiny as the Russian driver was set to step up into Formula 1 next year with Haas.
Son of controversial Russian billionaire Dmitry Mazepin, Nikita has enjoyed the best of the best during his junior career, with a strong showing in the latter half of this 2020 Formula 2 season arguably justifying his candidacy for an F1 seat.
He has also been through a Lance Stroll style testing programme with Mercedes, at a cost of what some say is $40-million for the programme using a two year old title winning car.
Young Mazepin is very well prepped for the top flight.
Also, keep in mind that when given the opportunity to test for Mercedes at Barcelona, in May last year, the Moscow-born driver topped the timesheets at the end of the second in-season test day.
Now, at a reported $20-million per season (multi-year) from Daddy's billions, Nikita has been drafted into the Haas line-up for 2021 alongside fellow rookie Mick Schumacher, son of F1 legend Michael Schumacher.
Only days after the announcement was made, the offensive video was posted, and since then all hell has broken loose on social media and beyond, altering the money-entitled young man's life eternally.
Trending on Twitter #WeSayNoToMazepin (with the image shown above this post) has added further weight to his burden and also that of the FIA, as well as the Haas F1 Team, who are being lobbied to stop the 21-year-old from living his dream of becoming an F1 driver.
At this point, Nikita and his pals are only guilty of sheer stupidity for posting their shenanigans online, while, allegedly, the female in the video posted on her Instagram: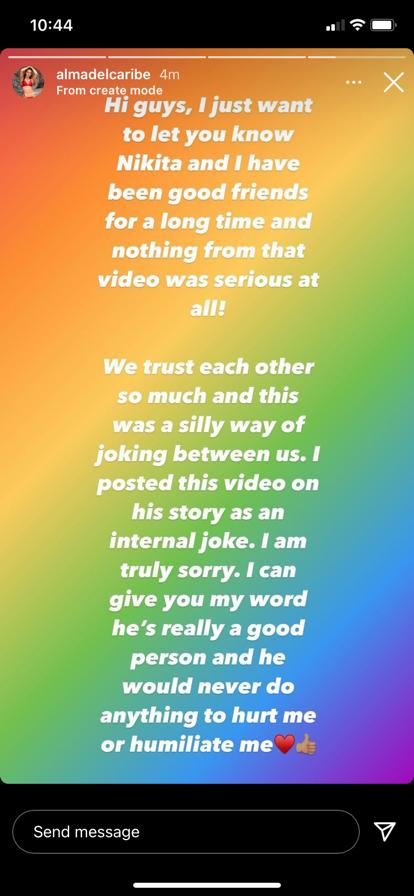 Nevertheless, the anger runs deep during the #MeToo era:
@FormulaHun: "Let's get sharing this image! Let's show everyone we do NOT accept his actions! He should NOT be getting away with this! #WeSayNoToMazepin"
Kanika: "Hey @F1 'we race as one. pretty much doesn't apply to Nikita
@SEWIIIS: "A man like nikita mazepin should not be allowed to stand next to men like lewis hamilton and sebastian vettel. #WeSayNoToMazepin"
@tiberseptim13: "His apology makes it quite clear that he's not sorry because of what he did was wrong, but because there might be consequences for his shit this time. #WeSayNoToMazepin"
@BiancaMees: "Hi @FIA, how are you today? Just wondering if you're gonna do something about this so-called driver Mazepin… #WeSayNoToMazepin"
@Moersel: Guys a fucking creep and I dont want to see him in F1 next year but calling him a sexual predator is just wrong. Also see update from the girl
@formulaAMELIA: "SENIOR JOURNALISTS. Please don't just write about his apology. Tell people why what he did was wrong. Tell people his previous offenses. Tell your non-F1 colleagues to talk about this. Tell people why he needs to be fired. #WeSayNoToMazepin"
For now, Nikita is suffering for a brainless boast but if, as suggested, there is more to the man than some lewd fun in a car and indeed he has a history of unsavoury behaviour, then this will add fuel to a fire which might not be extinguished with "fuck-you money" as Jan Lammers so candidly stated.
Already the scandal may have cost Nikita track time in F1 as he was penciled in to test for Mercedes at the recent young driver in Abu Dhabi, but never happened. Of course, after the fact, the World Champs deny he was even considered.
Meanwhile, the only support Nikita has had comes from Igor Ermilin, a former presidential advisor to Russia's motorsport federation who said in his defence, "Today, Formula 1 drivers are emasculated, because of their communication with the media, with corporations, with sponsors. There are very few individuals left now.
"Social media is an evil that unfortunately gives everyone the opportunity to interfere with others' privacy. A Formula 1 driver is a normal person who faces consequences for every sneeze. Everyone knows that similar things happen in the personal lives of everyone else. We must give those involved with sport the opportunity to remain human," Ermilin added.
Oksana Kosachenko, Vitaly Petrov's former manager, had similar thoughts, "Everything that had to be done, Nikita did. He apologised and I think that's enough. Because of a second and a half of footage, it became the biggest nightmare story of all time and everything must be taken away from him now?
"His words made absolutely clear that he has drawn all the conclusions, namely, that as a Formula 1 driver you are under closer scrutiny by both the media and enemies in the paddock. He has the brains, the competent management and parents who will tell him how to behave in this situation," predicted Oksana.
Nikita Mazepin – Formula 1 Driver – may not happen because of a foolish moment of madness on what was probably a 'normal' party night for the spoilt rich kid and hangers-on went a step to far.
Now the Mazepin's are facing the consequences, and we will watch to see if money does talk, even in the wake of Nikita's indiscretions. Will the 'cover-up funds' (part and parcel of a filthy rich expense account) be enough to make this one go away.
And, perhaps most importantly how the FIA President Jean Todt deals with this matter, which ensures he and his team have some important decision to make over Christmas in Paris.
The Tweeted apology from Nikita Mazepin:
— Nikita Mazepin (@nikita_mazepin) December 9, 2020