Backing up his remarkable performance yesterday in qualifying, Lewis Hamilton put in a dominant display to win the Styrian Grand Prix on Sunday, and gave a clenched-fist salute on the podium to mark the occasion of his 85th Formula 1 victory.
A complete reversal of the Briton's fortunes in last week's 2020 season-opener at the Red Bull Ring, Hamilton was never troubled on his way to opening his account for 2020, finishing 13.719 seconds ahead of Mercedes teammate Valtteri Bottas.
Hamilton said afterwards, "Firstly I have to say a big thank you to my team and everyone back at the factory. What a weird year it is, but it's great to be back up here, to be driving and to be driving with this kind of performance.
"The team did a fantastic job with the strategy and it was just up to me to keep it together, stay off the kerbs, and bring it home. I'm so grateful to be back in first place. It feels like a long time coming since the last race last year and to come back in after a difficult weekend last week is a great, great step forwards," he added.
And while Bottas was never a threat, his charge to get past Red Bull's Max Verstappen gave the 'Black Arrows' their first 1-2 in Austria since the 2015 season, suggesting that their standing at the top of the F1 field is as solid as ever.
Second-placed Bottas said, "From my side, starting fourth, today was damage limitation. I still got good points, still leading [the championship] so it's not too bad. Yesterday wasn't ideal."
Verstappen went toe-to-toe with the Finn as they grappled for second place over a couple of laps, late in the race.
The Dutchman remarked, "I tried, but we are just a bit too slow. I pushed as hard as I could. When Valtteri was trying to pass me I tried to make it a bit difficult, I knew he was anyway going to get by one lap later, but it was at least fun because the rest of the race was pretty boring. So a podium is good, but still a lot of work to do."
Indeed, while Mercedes had hinted at a need to nurse the car coming into the race, the eventual margin over third-placed Verstappen and his teammate Alexander Albon in fourth, told a very different story.
In stark contrast, 2019 season rivals Ferrari saw their horror start to 2020 devolve even further, with Charles Leclerc attempting a clumsy first-lap move on Sebastian Vettel at turn three that launched his Ferrari onto the back of his teammate's and caused both cars to retire.
For his part, Leclerc has already accepted blame for the incident, but it is unlikely to do much to assuage the tifosi's concerns that the Scuderia is fracturing under team principal Mattia Binotto's guidance.
Outside Ferrari's early drama, McLaren's Lando Norris provided the other major dose of excitement – as he did seven days ago – in chasing down both Racing Points on the final lap for fifth, with Sergio Perez and Lance Stroll relegated to sixth and seventh respectively in a photo finish.
Renault's Daniel Ricciardo saw a promising first-half of the race give way to a disappointing end, as his gamble to start on medium tyres failed to pay off with a complete lack of pace on soft tyres in his second stint, getting the worst of a battle with the Racing Points to finish eighth.
Third on the grid, Carlos Sainz spent the afternoon going struggling to keep up with the front-runners before a slow pit stop doomed him to lap down in ninth place.
Daniil Kvyat rounded out the top ten, the only driver to opt for the hard tyre and finish in the points.
Alfa Romeo's Kimi Raikkonen, forced to retire with a loose wheel a week ago, had a less eventful race this time around in finishing P11, albeit with the two Haas' of Kevin Magnussen and Romain Grosjean just 0.271s and 0.816s behind respectively.
Antonio Giovinazzi was 14th in the other Alfa, ahead of Pierre Gasly who, unlike his AlphaTauri teammate Kvyat, could not make the hard tyres work.
George Russell undid his impressive effort in qualifying with an early spin, although he eventually recovered to beat his Williams teammate Nicholas Latifi, who was the last of the finishers.
Aside from the Ferraris, Esteban Ocon was also forced into retirement with a cooling issue, which was the same fate teammate Ricciardo suffered in the race last week.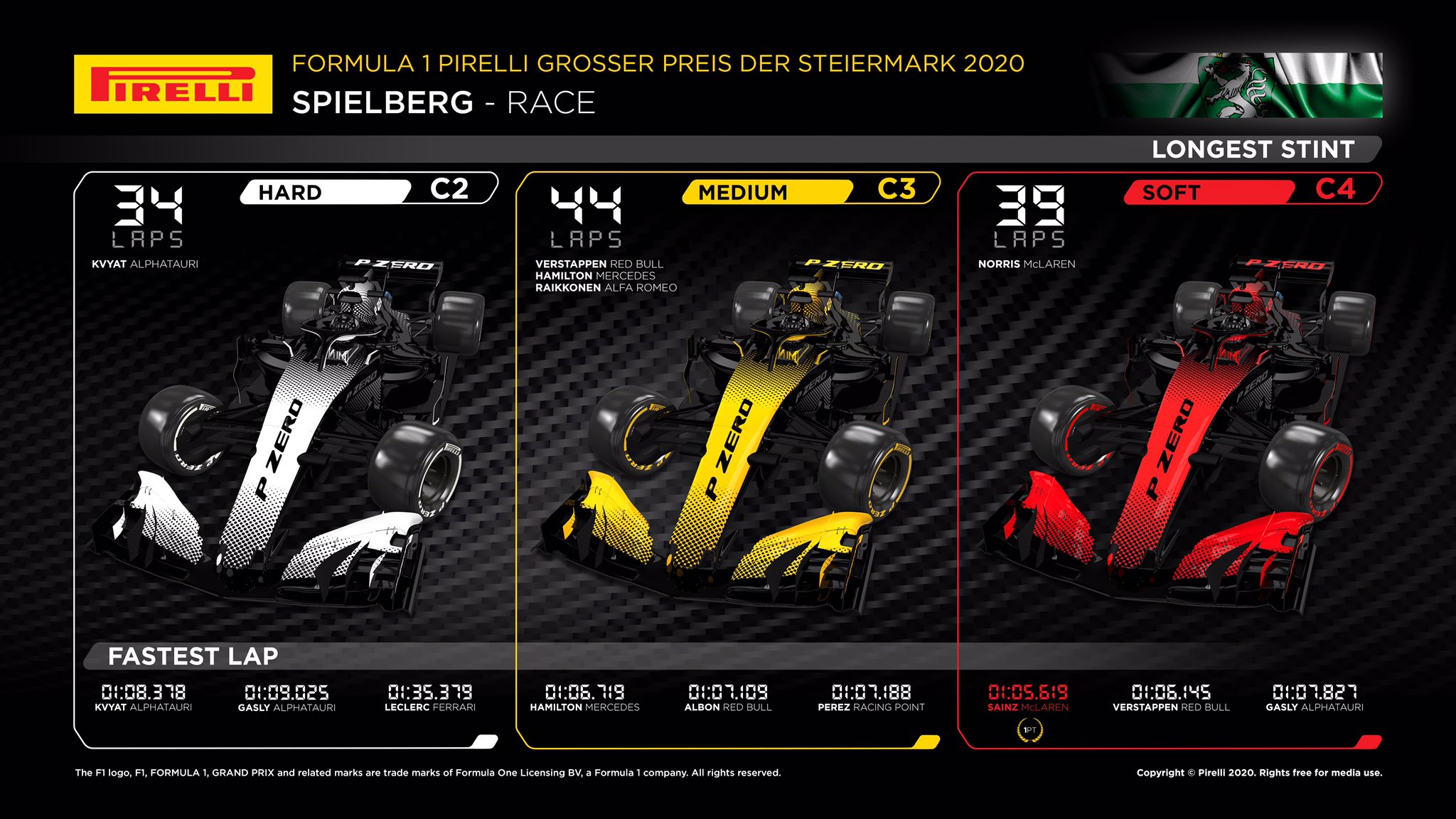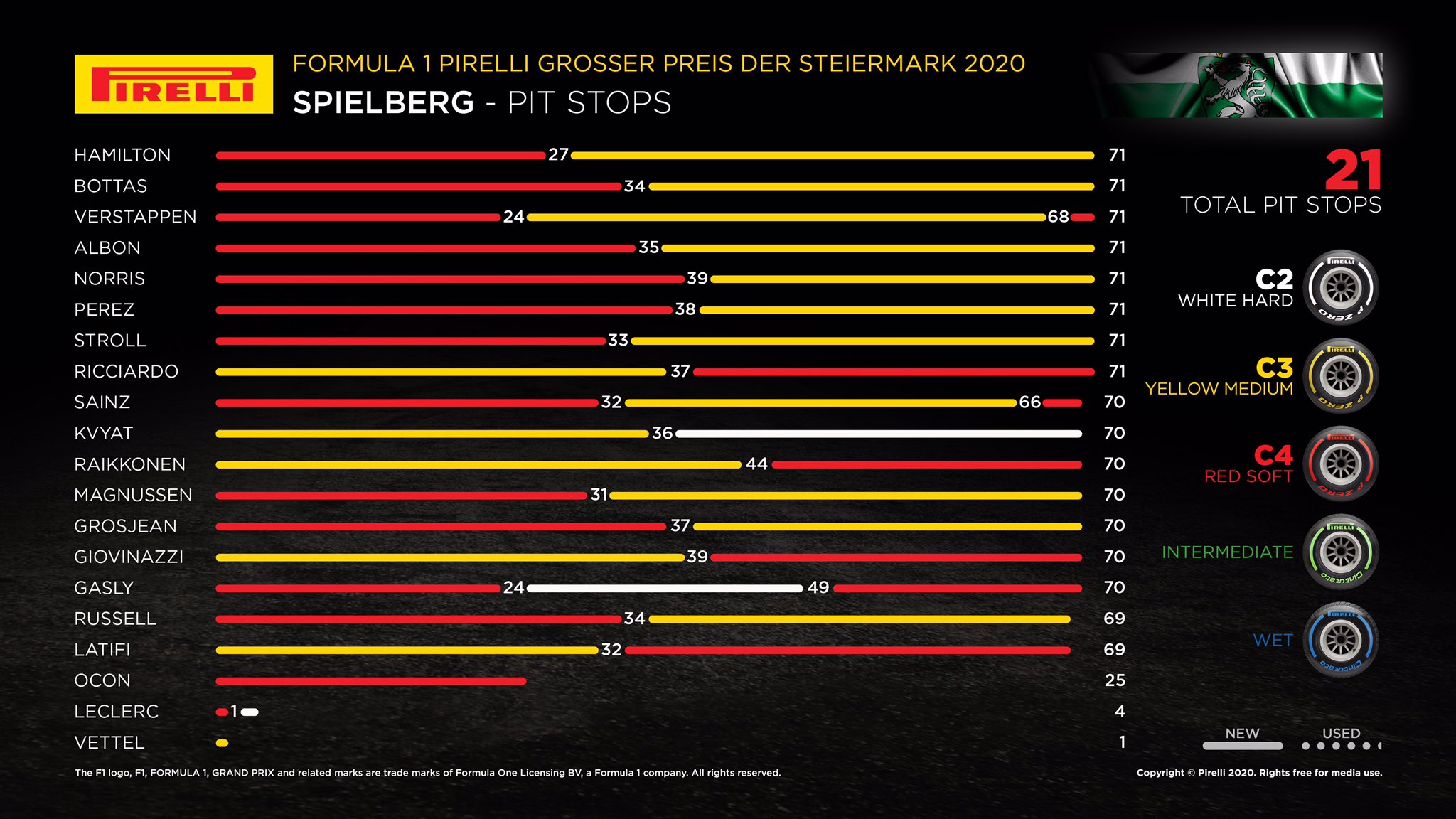 #F1 – Full results of the #StyrianGP 🇦🇹⬇ pic.twitter.com/obYokn4E4h

— FIA (@fia) July 12, 2020