Charles Leclerc and Carlos Sainz locked out the front row for the starting grid of  2023 Mexico City Grand Prix, keeping their best for last and stunning Max Verstappen.
The reigning Formula 1 Champion was looking good to take his 31st career pole position, but Leclerc and Sainz came out of nowhere in Q3 and snatched the lead, the Dutchman having to settle for third.
To make things worse, Verstappen is under investigation for impeding other drivers at the exit of the pitlane in Q1.
It was a strange Q3, as Ferrari, Sainz in particular did not seem to be in the position to fight for the front row, but somehow found pace in Q3 going fastest for a bit before Leclerc overhauled him.
The second run saw both Ferrari drivers going slower, but Verstappen couldn't improve either and the result was set: Leclerc – Sainz – Verstappen.
But the two Red Cars will have a challenge to keep a pissed off Verstappen at bay come the race on Sunday, their chronic tyre struggles in races definitely and extra limiting factor they would have to deal with.
What the top three said after qualifying
Leclerc said after taking his "unexpected" 22nd F1 career pole: "Two weekends in a row where we did not expect that. I did not expect to be on pole today. We thought we were lacking quite a bit after FP3.
"But for some reason once we put everything together it went well and on the new tyres we gained a lot," he added.
"I'm already focusing on tomorrow's race because we have had many pole positions but we need to convert it into pole position and it's going to be very difficult.
"We will just focus on ourselves. We had a pretty good pace all weekend. I'm not sure if it's enough to challenge for the win but we will try everything in our hands to get it," the Monegasque concluded.
Teammate Sainz was bewildered after taking second, he admitted: "Honestly, it was a very strange one.
"I've struggled all weekend to put a lap together and the first one I put a lap together [for] it was P1 at the time and then Charles beat me by half a tenth, one tenth.
"I just struggle to understand where suddenly we can find half a second and then go half a second slower in the next lap.
"It's very tricky with the tyres, the feeling with the car is very strange around this circuit. But we managed to put a good lap when it counted and it puts us in a good position for tomorrow," he maintained.
"Clearly we are not as strong in high fuel as we are in low fuel," Sainz responded when asked if Verstappen can be kept behind in the race.
"I think our car benefits a lot from that new tyre, soft tyre feel at the rear and we are going to see how we are going to do tomorrow to keep those tyres alive to keep that Red Bull behind.
"Having two cars in front is a good advantage, so we are going to try our best," the Spaniard concluded.
A not-so-chipper Verstappen commented: "It's very low grip around here, so when you try to push a little bit more it tries to go away from you and that happened a little bit in Q3 where we just couldn't put it together, especially the last sector we struggled more than I would have liked.
"Nevertheless, it was still close and it's a long race. A lot of laps to be raced and that's where you score the points.
"I am confident for tomorrow. Of course I would like to start first but we will have a good slipstream down to Turn 1!" the triple F1 Champion concluded.
Q3: Ferrari spring the surprise
Q3 was off to a fiery start, Sergio Perez leading first, then bumped by Verstappen, only for him to be dropped by Sainz, who in turn lost the top spot for Leclerc.
Verstappen took too much kerb at Turn 8 and lost time. He asked his team to check the front of the floor before his final run.
After the first runs of Q3, it was: Leclerc – Sainz – Verstappen – Daniel Ricciardo – George Russell – Lewis Hamilton – Perez – Oscar Piastri – Zhou Guanyu – Valtteri Bottas.
The second runs did not yield any improvement for the Ferraris, and that was the case for Verstappen as well, Leclerc claiming pole.
Leclerc clocked a 1:17.166 to take his fourth pole in the 2023 F1 season and was 0.067s faster than Sainz in second, and 0.097s faster the Verstappen in third.
An excellent session from Ricciardo, who benefitted from slipstream being given to him by teammate Yuki Tsunoda, who was going to drop down the grid anyway for new power unit and other components.
But in Q3, he was all on his own, and stuck his AlphaTauri in fourth, 0.216s off pole and beating a Red Bull and two Mercedes.
Speaking of Red Bull, Perez left his home fans disappointed, and was fifth fastest in the #11 RB19, 0.257s off the pace and 0.032s faster than Hamilton who was sixth.
Piastri put his McLaren in seventh on Sunday's race grid, 0.457s slower than the best time, but outqualifying teammate Lando Norris who didn't make it out of Q1.
While Russell was showing better pace than Hamilton at the start, the latter turned the table from Q2 onwards, as his younger teammate could only muster eighth in the end. Both are under investigation though.
Bottas and Zhou delivered and excellent session for Alfa Romeo, ninth and tenth respectively.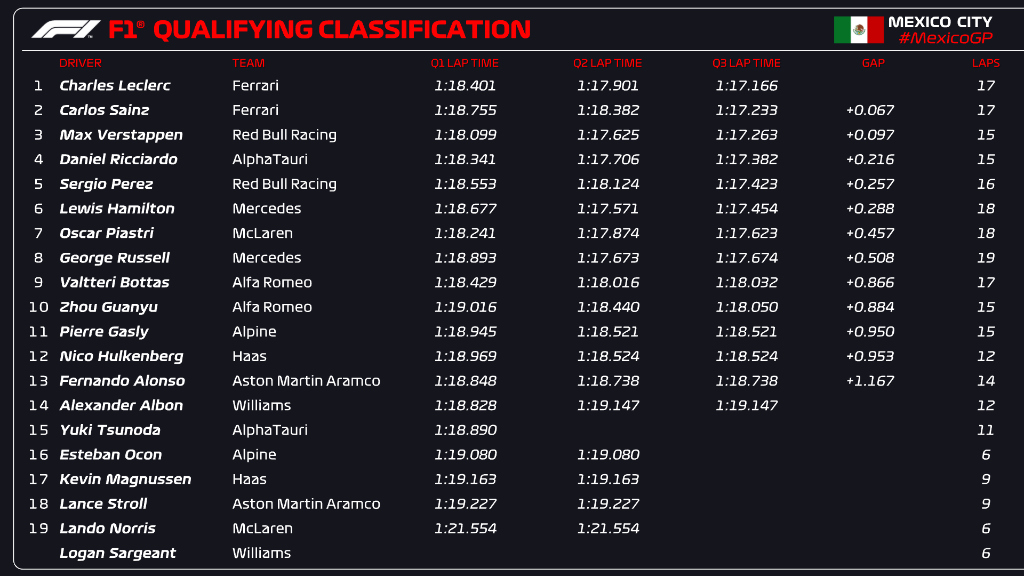 Q2: Alonso and Albon missing from Q3
The Red Bull duo were the first to set times in Q2, Perez going fastest but then eclipsed by Verstappen who went half a second faster from his first attempt, being the first driver dipping into the 1:17's.
AlphaTauri were playing the team game, as Tsunoda (who is starting from the back of the grid) was giving Ricciardo a slip stream, which meant the Australian was third fastest on his first attempt.
With the first runs complete, the order was: Verstappen – Piastri – Ricciardo – Perez – Bottas – Russell – Hamilton – Sainz -Leclerc – Zhou.
Albon's strong pace from practice was nowhere to be seen, as his first attempt in Q2 was only good for 11th, and suspected damage on his car.
"There's no way [all is ok]. There must be damage or something," he said over the team radio.
The second round of laps started with less than four minutes remaining on the clock, with everyone heading out on track, except for Verstappen of course.
But Hamilton managed to beat Verstappen's time by 0.054s with a 1:17.571, and lead the way into Q3 ahead of his rival with Russell in third place, 0.102s slower than his teammate.
The first driver to drop out was Pierre Gasly who who missed out to Zhou by 0.081s and was 11th fastest in the Alpine.
Nico Hulkenberg was 12th fastest in the Haas, 0.003s slower than Gasly and 0.214s faster than Fernando Alonso in the Aston Martin.
Alex Albon was 14th fastest after posting a time good for ninth and that was deleted as he was deemed to have exceeded the track limits at Turn 2.
Tsunoda was 15th fastest, but that doesn't matter as he will drop down due to the grid penalty for new power unit components and after doing a great job slip-streaming his teammate into Q3.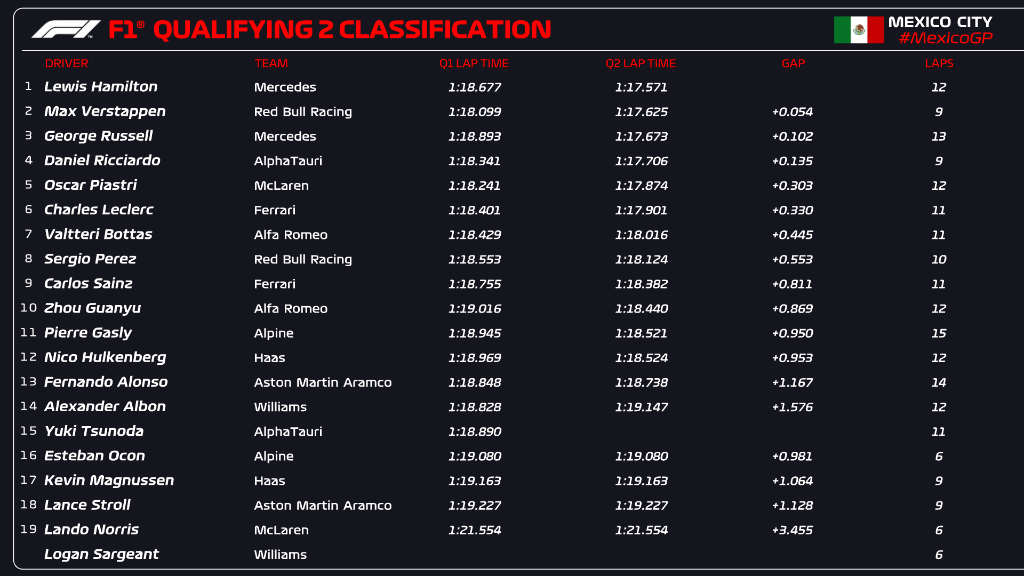 Q1: Norris out, and takes the blame
Clear conditions carried on from FP3 into qualifying, but ambient temperatures rose from 21 to 26 degrees Celsius and track temperatures rose from 42 to 46 degrees Celsius, as drivers got ready to kick off Q1.
Kevin Magnussen, Lance Stroll, Alonso, and Gasly were the first drivers to hit the track in Q1, the Dane being the first to record a time in the session.
Perez, soon joined them on track and was followed by the rest of the field, the fans roaring in cheers for their national hero.
The home favourite sets his early lap time, spurred on all the way by the crowd 😍🙌#MexicoGP #F1 pic.twitter.com/5kT3gACcnv

— Formula 1 (@F1) October 28, 2023
Both Mercedes and McLaren sent their drivers out on the Medium tyres, but while Hamilton, Russell and Piastri posted times, Lando Norris did not and returned to the pits. Ferrari also followed suit and sent Sainz and Leclerc out on the Medium compound.
Verstappen jumped to the top of the timing screens from his first timed lap, but times soon started to fall as the track evolved and the grip increased.
With six minutes remaining, Norris had not yet put in a banker lap, and set out on the track with the Soft tyres, as replay showed that Sargeant exceeded the track limits at Turn 12 and got his time deleted.
Hamilton who was sixth at that point was concerned about traffic, and asked his team whether his time was enough to make it into Q2. The answer was affirmative.
Norris' first lap was a right-off as he lost his car over the kerbs at Turn 10 and had to abort the lap. While stewards announced that Verstappen will be investigated after the session for impeding at the pitlane exit. The same applied for Russell and Alonso.
Hamilton was noted for not slowing under Yellow flags, which Sargeant also failed to do.
The Yellow flag was raised in the dying moments of Q1, due to Alonso losing his AMR23 and spinning at Turn 3.
In the end, Verstappen was unchallenged into Q2, fastest of all and 0.142s ahead of Piastri who was second and 0.242s ahead of an impressive Ricciardo in third.
But the shock was the exit of Norris, who missed out on Q2, and was the first big name to be knocked out of qualifying, and was not even at the top of the drivers not making the cut.
It was Esteban Ocon that lost out and was 16th fastest, missing out to Zhou by 0.064s and was 0.083s faster than Magnussen who was 17th fastest.
Stroll was 18th fastest in the Aston Martin and ahead of Norris who was 19th.
Norris commented: "I got told to box for some reason [on the medium tyres]. The pace was good.
"I don't know, I got told to box. So something obviously wasn't right. But that wasn't a problem, I just made some mistakes on the one lap that I had and obviously there was a yellow in the end from Fernando.
"So that one opportunity, that one lap that I was given, I didn't put it together," he lamented. "I had one lap and I didn't do it, so it's on me."
Sargeant who had his time deleted was 20th and was also under investigation for overtaking under the Yellow flag, double trouble for the American.