Max Verstappen was again in a league of his own as he powered to victory at the Mexico City Grand Prix, Round 19 of the 2023 Formula 1 World Championship winning with ease on a bittersweet afternoon for Red Bull.
Verstappen's victory broke his own record of 15 wins he scored last year. It was his 16th GP victory this season, on the same day his RBR teammate, the local hero adored by the 400k passionate F1 fans in attendance, Sergio Perez crashed out on the opening lap of his home race.
Both Red Bulls made good starts and edged ahead in a three-wide drag race into Turn 1 with Verstappen on the inside, pole starter Charles Leclerc in the middle and Perez on the outside – a Ferrari in an RBR sandwich, until the #11 car turned in and tagged the front of the Ferrari.
Perez's car bounced off the Ferrari. Although the Red Bull trundled to the pits. It was game over to a huge groan of disappointment from the Checo supporters, aka everyone at Autodromo Hermanos Rodriguez.
In stark contrast, Verstappen celebrated his 61st victory on the day. Another flawless and commanding performance that put paid to any hopes Ferrari, Mercedes or McLaren were a tad closer to the Bulls.
It turned into a two-part race. At the end of the first stanza, Verstappen was on top by 16 seconds when Kevin Magnussen crashed heavily at the halfway mark of the Grand Prix.
The Haas a smouldering wreck after the left rear on the Haas appeared to fail entering the final turn, which speared the car into the TecPro. It was a big one that required a Red Flag to clear the wreck, repair the barriers and clear the debris.
A Grand Prix race of two halves
Part 2 got underway with another standing start. This time Verstappen on pole with Leclerc behind him, Lewis Hamilton in P3 and Carlos Sainz next to him on the second row. Another drag race to Turn 1 ensued, which Verstappen simply blitzed off the line. Easy lead into Turn 1 and thereafter he disappeared up the road.
Despite a gritty chase by Hamilton, Verstappen was untouchable all day, 'winning' Race 1 by 16 seconds, and then hammering home the advantage to 13 seconds when the chequered flag wave to end the race on lap 71.
Superlatives have run out to describe the World Champ's achievements, thus best for him to describe his sunny afternoon in Mexico, where he turned P3 to P1: "It's been incredible. Of course, Checo retired on Lap 1 but the crowd stayed and they have been amazing. We are experiencing an incredible season.
"Today, we started P3 but the pace of the car was very, very good. We tried to do a different strategy to everyone else but unfortunately, with the red flag we couldn't show it, but nevertheless, with the hard tyres we were very strong," added Max.
Verstappen might've won an uninterrupted by half a minute or more
Such was his pace, Verstappen might've won an interrupted race today, by half a minute or more. Yet another dominant masterclass by the Dutchman, in this most incredible F1 season for him.
Next best was Hamilton, who was typically clinical from P6 on the grid, he stayed out of trouble. Found handy pace after the Red Flag to take second place, his 197th GP podium.
In Parc Ferme to the loudest cheers from a crowd robbed of their local hero on lap one, Hamilton was delighted with the reaction he got and of course the result.
Speaking to his former teammate and F1 World Champion turned MC on the day, Jenson Button, Hamilton said: "I feel fresh, we weren't having to push crazy hard out there. But this is a great result considering we started sixth. Really proud of the team.
"This is a really difficult couple of weeks and to bounce back after a difficult weekend last weekend with the end result, this is really well done," added the seven-time F1 World Champion, who claimed the point for fastest lap of the GP today.
As for his concerns during the race about his tyres, Hamilton told Button: "I wasn't thinking they were going to last. I did some sweet finesse, I was trying to drive like you!"
Ferrari's surprise front row lockout gave them the plaudits on Saturday, but today the SF-23 simply did not have the race pace to fend off the winning Red Bull and second-placed Mercedes today, let alone challenge for the win.
Leclerc: A lot of booing… Guys I had nowhere to go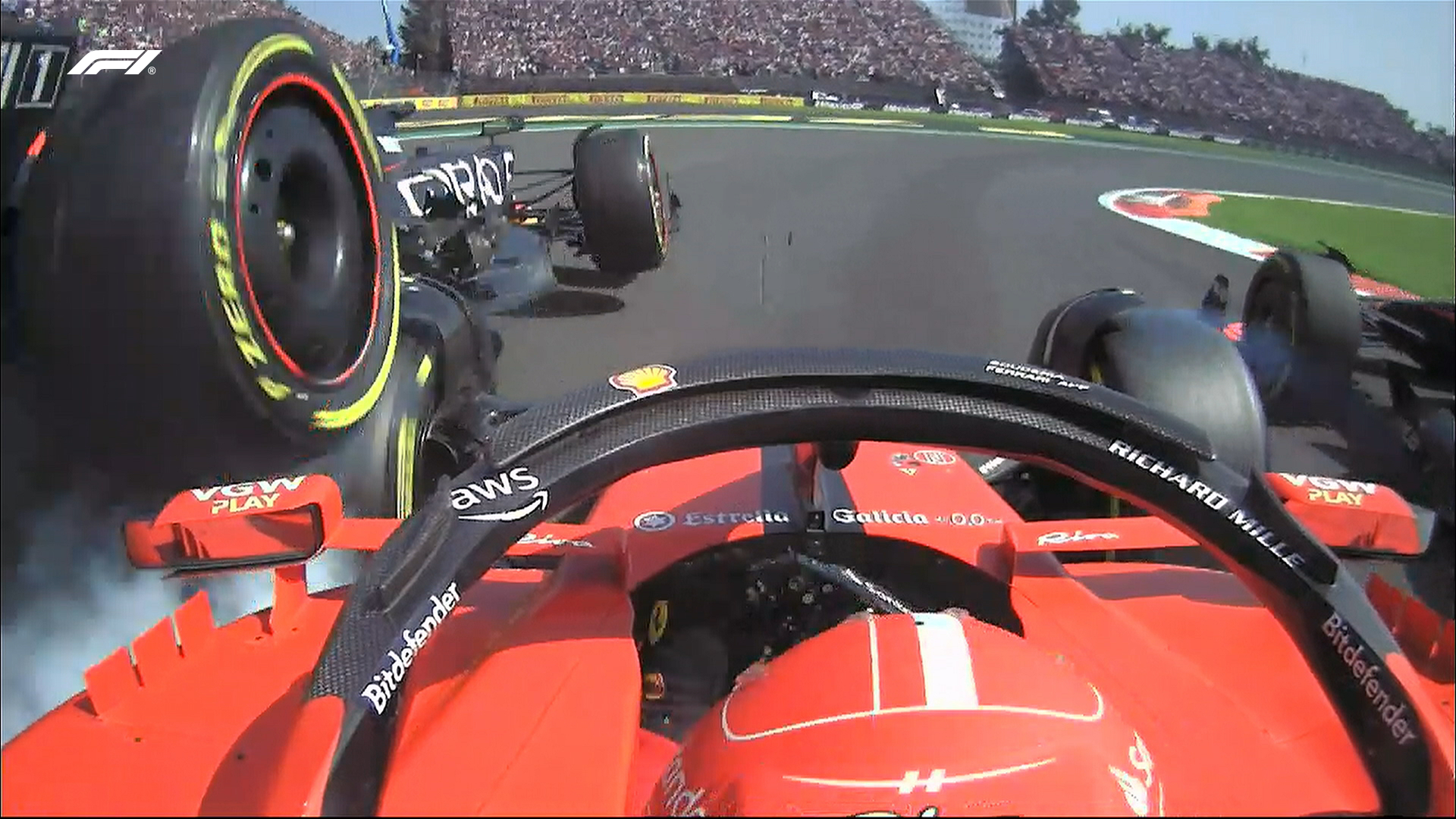 Despite damage after the punt on Perez, for which Leclerc was blameless. Nevertheless, he copped loud chorus of boos when it was his turn to address the crowd. Unpleasant it was and seemed to rattle the apologetic Ferrari driver.
Leclerc addressed the dissenting crowd: "A lot of booing… Guys I had nowhere to go. I was a bit in between the Red Bulls and unfortunately, I touched Checo. It's life. I damaged my car and unfortunately, it ended the race of Checo.
"On our end, we maximised our race. Of course, I'm disappointed to end the race of Checo like that but I really didn't do it on purpose and had nowhere to go. We struggled a bit with the hard after the restart. Lewis was really quick on the medium and they managed to have really good degradation," added Leclerc.
Carlos Sainz was fourth, after a pretty anonymous race in which he shadowed his teammate for most of the race, to bag a healthy haul of points for the Reds.
Driver of the Day had to go to Lando Norris, who turned P18 on the grid to P5 at the end of it all. A bad second start dropped Norris fown the order and triggered one of the most stirring drives of the day as he scythed his way through the field in the second half of the race, making up 12 positions in the process.
Ricciardo finally delivered the kind of performance expected of him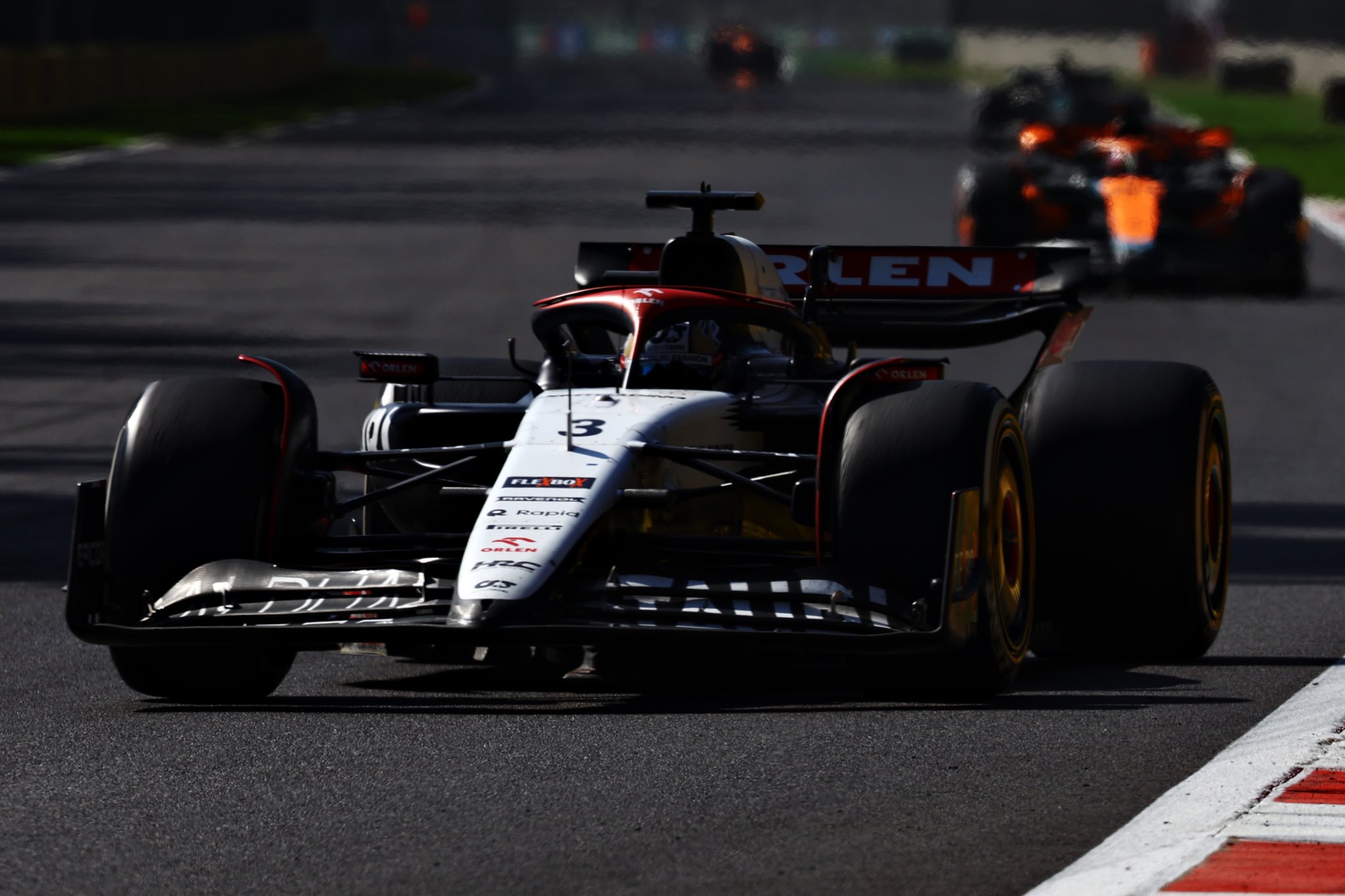 In the second Mercedes, George Russell could not match the pace of his teammate and ran out of ammo to defend against Norris late in the race. The Mercedes driver had to settle for sixth.
Daniel Ricciardo finally delivered the kind of performance expected of him with a well-fought-for and deserved seventh place for AlphaTauri which will be a boost for his comeback, which had not quite fired until today.
Oscar Piastri survived a big moment with an errant Yuki Tsunoda, the AlphaTauri clipping the McLaren as it tried to get by before spinning out when a healthy haul of points was possible for the Japanese driver on the day.
Oscar survived and stayed on track, while Yuki did too but had to settle for 12th after his mistake led to the time-consuming pirouette on Lap 40.
Ninth place went to Alex Albon after another 'share-enhancing' GP weekend for the Williams driver who started from P14 on the grid and fended off the attentions of both Alpine drivers for most of the latter half of the race.
Tsunoda's spin promoted Esteban Ocon to tenth and the final point. Alpine teammate Pierre Gasly was 11th.
Biggest disappointment of the weekend: Aston Martin
The Greens again looked like a struggling team, backmarkers all weekend. Fernando Alonso retired the car on lap 47, and Lance Stroll again did himself no favours. His race ended after a collision with the Alfa Romwo of Valtteri Bottas.
A double DNF for Lawrence Stroll's team is hardly going to make for a pleasant Mexico City GP debrief with the big boss, if he is indeed present during the post-mortem of their most forgettable weekend of a season that began so well for them, or Alonso at least.
In the aftermath of a proper three-day fiesta at Autodrome Hermanos Rodriguez, the Red Bull radio comms at the end of the race summed up the 2023 Mexico City Grand Prix aptly:
Gianpiero Lambiase (Verstappen's engineer): "Another day, another win and another record mate. Well done."
Christian Horner: "Well done Max. That was a brilliant, brilliant drive and good use of that hard tyre in the second half there. Well done mate."
Max Verstappen: "Thank you guys. That was a very strong race. Great job. I think we did the right thing. Bit unlucky with that red flag but even after that we were flying, so really really good."
Another standing ovation for the undisputed F1 Champions of the World in the wake of another show of dominance, this time at the Mexico City Grand Prix.
Perez: We just went for it
And finally, a word from the dejected local hero Perez: "I had a tremendous start, the gap was there. "To be honest since I was starting the race, I'd be really disappointed to be on the podium knowing that I had a chance to go for the lead and I didn't take it. I just went for it.
"I wasn't expecting Charles, he was in the middle, and he had less room to manoeuvre and to brake as late as I or Max did. I think simply there was no room for three cars.
"It was a total racing incident. In hindsight, I should have…I don't know…I shouldn't say that but in hindsight, I should back out and go home. I just wanted to give it all, and went totally for it. I'm very sad for the end result, to end the race on the first lap at your home Grand Prix is definitely really sad.
"On the other hand, I'm extremely proud of myself because I gave it my all. We left it all [on the table] the whole weekend. We had probably the best start of the year. We just went for it," explained the Mexican.
2023 Mexico City Grand Prix Result
How the 24th running of the Grand Prix in Mexico City unfolded: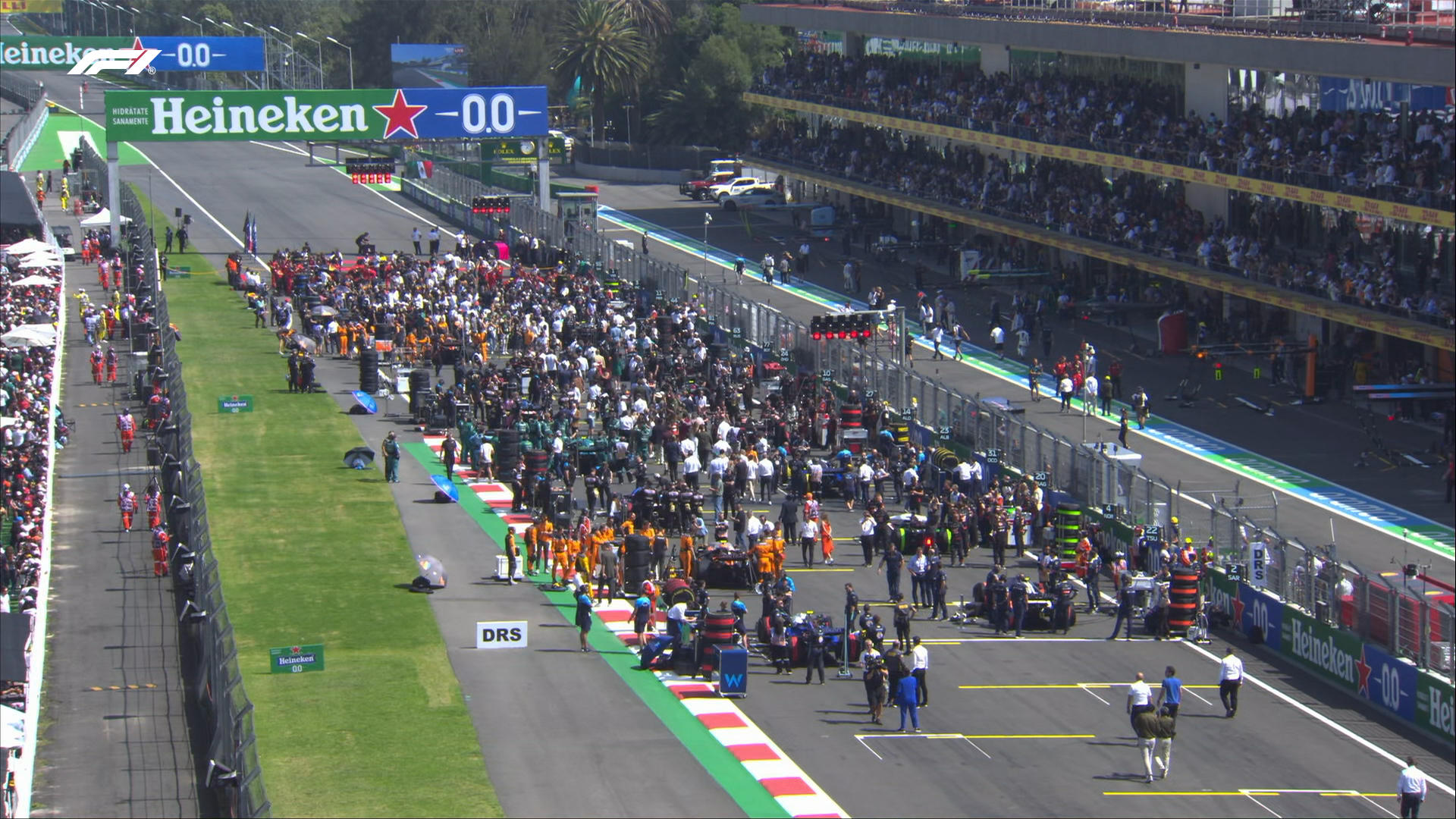 Before the Mexico City Grand Prix started, birthday boy Stroll lined up to start on the pits. Sargeant who did not set a qualy lap on Saturday was allowed to line up 19th on the grid.
Under bright blue skies, in front of record 400,639 F1 fans heaving with passion and revved up at Autodromo Hermanos Rodriguez, before the field were let loose roaring into Turn 1 the top ten lined up on the grid in this order: LEC-SAI-VER-RIC-PER-HAM-PIA-RUS-BOT-ZHO.
Top 13 all on yellow band Pirelli Mediums. Albon on Hards.
Dramatic opening lap, with Verstappen on the inside, on the outside Perez edged ahead on the brakes, but turned into Leclerc's line and bounced off the Ferrari as they ran three abreast into Turn 1 onto the grass. The local heroes recovered to the pits, but they retired it to a collective groan from the stands around the stadium. Verstappen led, from the two Ferraris.
Slipstreaming down the never-ending main straight into Turn 1, followed by the chaos they emerged at the end of lap one in this order: VER-LEC-SAI-RIC-HAM-PIA-RUS-HUL-GAS-ZHO. The highest climber on lap one was Hulkenberg, on the occasion of his 200th GP start, who was up four places to P8.
By lap five, Verstappen led by 2.0s over Leclerc, whose car suffered some damage but seemed unaffected. A VRC was deployed briefly to remove debris at Turn 1. Sainz was P3, 3.4s behind his teammate. Ricciardo and Hamilton, the #44 Merc setting purple fastest laps, battling for fourth, with Piastri watching not far behind in P6.
On Lap 10 Verstappen sets a purple lap, the lead over Leclerc at 2.5s but growing. On lap 11 Hamilton outbrakes Ricciardo to take fourth place. Piastri and Russell were at it now, battling for sixth. Norris, first to stop for Hards, from P14.
Lap 15 top ten order: VER-LEC-SAI-HAM-RIC-PIA-RUS-HUL-GAS-ZHO.
Verstappen pits on lap 20, first of the top ten, from a lead of just over four seconds when he dived into the pits. Leclerc inherits the lead. Max emerges P7 on Hards, 16.0s adrift of the leader and behind Russell, who he got past easily a lap later.
On lap 22 Hamilton starts harassing Sainz for P3. Leclerc in P1 led his teammate by 7.0s on lap 23. But Verstappen was a second quicker per lap at this point, soon past Ricciardo into third, now 12 seconds down on Leclerc who had yet to pit, the same story for Sainz in second.
The first of a flurry of purples to Verstappen start on lap 26. Russell pits a lap later from P5.
Lap 30 top ten order: LEC-VER-SAI-HAM-RIC-PIA-RUS-ALB-NOR-BOT.
Verstappen takes P2 with ease from Sainz who had yet to stop, Leclerc now 7.5s ahead of the #1 Red Bull but also yet to stop. Moving into the points after starting P18, was Norris stalking Albon who had worked his way from P14 to P8 at this point.
Sainz pits on Lap 31. Norris gets by Albon to take P8, with Russell 4.7s up the road. A lap later Verstappen was back in P1, with Leclerc diving into the pits. Top eight had all pitted at this stage.
Magnussen crashes heavily on Lap 33, prompting a Safety Car when the wrecked Haas caught alight. The Danish veteran sprung out of the car shaken but unhurt.
Verstappen was leading by 16.0 when the crash. That came to nought as a Red Flag neutralised the race to remove the extensively damaged Haas, clear the debris and repair the broken Tecpro. It was a big one.
The top ten order on lap 35 and for the standing restart was: VER-LEC-HAM-SAI-RIC-PIA-RUS-TSU-HUL-NOR.
"Standing start on the hard is going to be a huge mess," predicted Leclerc. It wasn't.
Part 2 of the race, began with another drag race to Turn 1 with Verstappen starting on pole this time, with Leclerc beside him, Hamilton and Sainz on row two.
Verstappen blitzed off the line in what was an orderly and clean start this time, the Red Bull ahead again with Leclerc and Hamilton chasing.
The top ten order a lap later: VER-LEC-HAM-SAI-RUS-RIC-PIA-TSU-ALB-HUL.
Verstappen goes purple a lap later, pulling a lead of a second per lap to cement his lead again. Hamilton harassing Leclerc for P2. Tsunoda doing the same to Piastri for P7.
Hamilton into second place and 2.5s behind leader Verstappen on lap 40, who ramped up his pace to claim another purple. Russell was also large in Sainz's mirrors at around the same time.
Lap 45 top ten order: VER-HAM-LEC-SAI-RUS-RIC-PIA-TSU-ALB-HUL.
At this point, Verstappen led by 5.0s, with Hamilton P2 and nearly 4.4s ahead of Leclerc with Sainz a further 2.3s back in fourth, with Russell in his DRS and attacking. Also flying, was Norris who muscled his way into tenth. Piastri and Tsunoda goinf toe-yo-toe for P7.
Alonso DNF-ed on lap 49 to bring an end to in a forgettable weekend for the veteran and his Aston Martin team.
Tsunoda got impatient on lap 40 when he clattered into Piastri, chopping across the McLaren and bouncing off the track. A costly blunder when a double-point score beckoned for AlphaTauri.
After that dogged defence, Piastri remained in P7, with Norris now in P8 and catching his teammate. Decision time for the McLaren pit wall, who gave their rookie the hurry up, as Ricciardo was their target. On lap 56, Norris was given a free pass by Piastri for P7 and chased the AlphaTauri 3.4s up the road and closing ultra-fast.
On Lap 50 Verstappen led Hamilton by 9.0s, extending at almost a second per lap. Position-wise, the top ten in a stalemate. Apart from Hulkenberg's P10 under attack from Ocon and Gasly behind.
Lap 60 top ten order: VER-HAM-LEC-SAI-RUS-RIC-NOR-PIA-ALB-HUL.
Verstappen led Hamilton by 11.0s, with Leclerc 5.0s adrift in third, and Sainz four seconds behind his teammate. Norris with DRS of Ricciardo, the closest battle in the points at this stage. Ocon and Gasly remained stuck behind Hulkenberg, in the battle for a single point.
Norris got by former teammate Ricciardo to slot into P6, the McLaren is now set on chasing Russell a couple of seconds up the road.
Verstappen setting purples continued to extend the lead with every lap. Hamilton had no answer, but the Merc man had the Ferrari duo in check. Top four stalemate.
Norris was onto Russell on lap 68 to claim P5 and got through in Turn 13 with a sweet move which the Mercedes had no answer to. And that's how it would remain until the end.
Verstappen won by 15 seconds, which coupled to the 16-second gap he had when the Red Flag turned it into a two-part race. He might've won an interrupted race today, by half a minute at least. Totally dominant.
The End.
---
Mexico City Grand Prix Preview: Ferrari's victory to lose
In Qualifying on Saturday, Ferrari surprised all, themselves, their drivers and rivals when they ambushed the front row for today's Mexico City Grand Prix, Round 19 of the 2023 Formula 1 World Championship.
The Reds owning Row 1 at Hermanos Rodriguez was a bolt out of the blue. Even our in-house die-hard Tifoso – Editor Jad Mallak – during Qualy on Saturday, prepping the main image for the report of the pole winner, to cover the bases, he sourced a photo of Max Verstappen of course, then a couple of McLaren lads and ditto the Mercedes duo for safety. Not thinking of searching for Ferrari photos!
They surprised us all and themselves on Saturday, now the question is: Can Ferrari repeat the feat on Sunday?
It's a big ask for any team/driver to beat the Verstappen/RBR combo right now but he is starting third, and Ferrari showed they have the pace but it remains to be seen if they can be consistently quick in the SF23 for the 71 laps, which is traditionally not kind to its tyres, relative to the Red Bull RB19 for instance.
Nevertheless, from P1 and P2, Charles Leclerc and Carlos Sainz will fancy a shot at the top step of the podium. But, and a big BUT it is, will the Ferrari crew oblige, and not forget tyres, or mess up strategy aka drop the ball as they have tended to do even in positions of strength?
Thus it really is theirs to lose. Although the heart may want another Ferrari victory to break the monotony of RBR dominance, and always a win for the Scuderia is always good for F1.
But the head sends different signals: Max gets by at Turn 1 or on the opening lap or two. And disappears into the distance, leaving the rest to scrap for the two lower steps of the podium. He wins by 30 seconds to shut everybody up (who thinks RBR are on the down after Saturday afternoon) and will again have 'the chasers' scratching their heads as they jostle for the best of the rest.
An angry Max is a dangerous Max
Yesterday after qualifying in Parc Ferme when he removed his helmet, Verstappen appeared bewildered as if processing the fact that he had just been beaten by the two Ferrari boys.
Where did that come from? Was etched in his demeanour. And revenge has surely been plotted. And the way Max likes to do his talking, on track, beat them emphatically will be his game plan.
Also in the mix, incredibly if you think about it, is Verstappen's former RBR teammate – now driving for the RBR 'Little Brother' team- AlphaTauri's Daniel Ricciardo, who out-qualified Sergio Perez. And it's no secret the Australian covets the Mexican's seat.
Local hero Checo has the whole of Mexico urging him on, much like the Dutch get behind Verstappen when he 'plays' at home. And Perez knows he has to score a good result today, and every race Sunday thereafter to cement his ride with RBR not only beyond contract expiration at the end of 2024, but before then should his form not improve.
Checo's most important race
In his own words: "This is my most important race." Apart from the Ricciardo threat, next to the #11 Red Bull lines up Lewis Hamilton in the #44 Mercedes. The two are embroiled in the 'no-one-really-cares' battle for P2 in the 2023 F1 standings.
Perez has the incentive to finish runner-up in the Championship, as it would be his best result and it would be the first time Red Bull have had their drivers finish 1-2 in the final points standings. A feat they never achieved even during the team's Sebastian Vettel and Mark Webber era.
Unless there's a wipe-out that sidelines the front runners on lap one, the winner is likely to start the Mexico City Grand Prix somewhere from the first three rows of the grid, probably row two.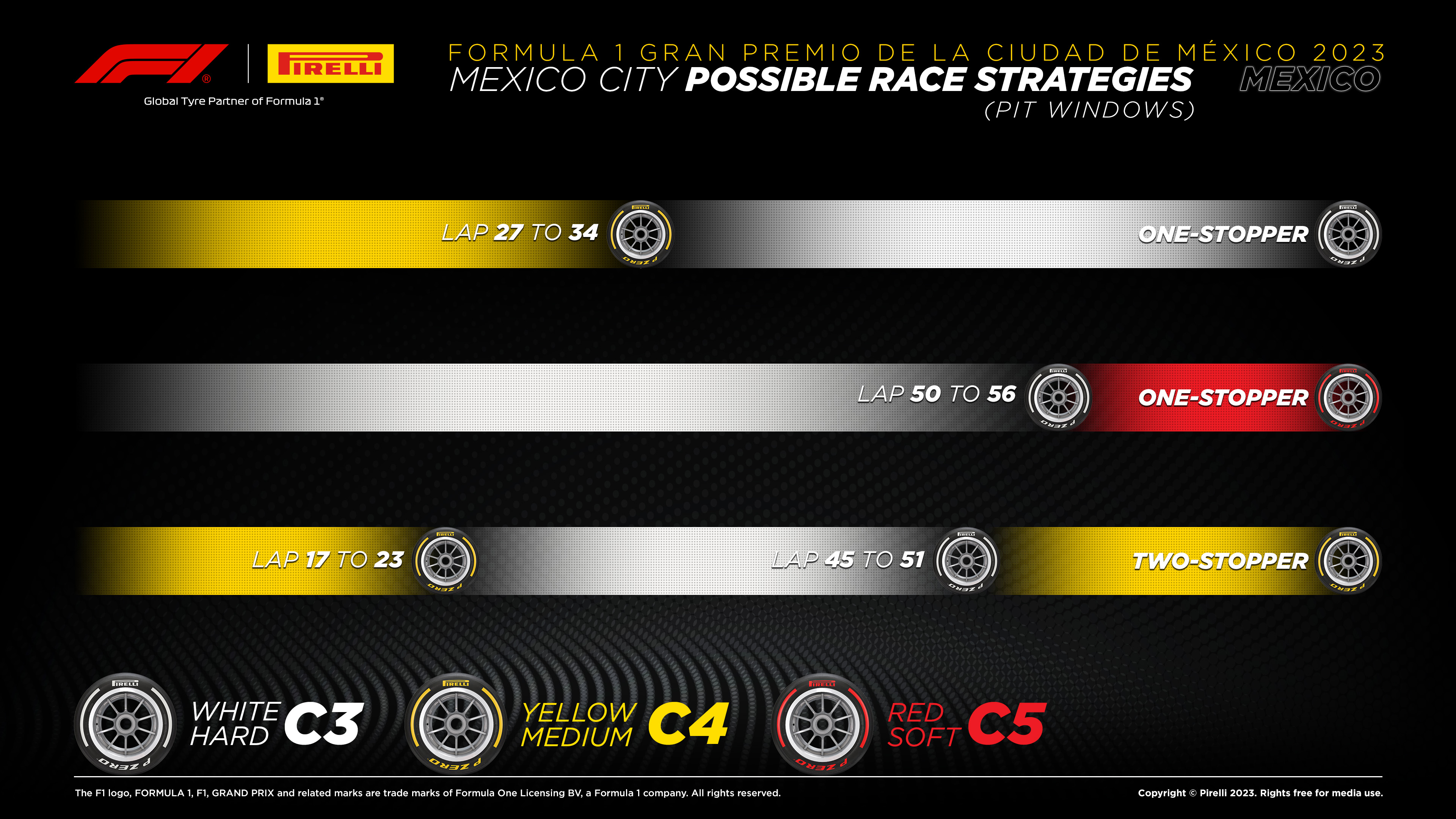 Other talking points to watch out for in Mexico today:
What happened to McLaren? What can Oscar do from P7 and Lando from P18?
George versus Lewis, the next round. Do Mercedes have a better race car than they had for qualy on Saturday?
Keep an eye on Alex… that Williams is a rocket when they get it in the right window;
How fast will the Alfa Romeo duo slide out of the points?
Has anyone seen the Aston Martins or the Alpines this weekend? Neither have we!
You probably won't see them in the race either unless they are spinning, shunting, stopping etc;
After all the upgrade talk and wait – Haas – one word: facepalm;
Which brings us to: Who bins it first?  Logan, Lance, Esteban, Pierre, George, Lewis or the two Ferraris?
Mexico City Grand Prix Statistics & Information by Reuters
Mexico City Grand Prix at Autodromo Hermanos Rodriguez
Round 19 of the 22-race 2023 FIA F1 World Championship.
Lap distance: 4.304km. Total distance: 305.354km (71 laps)
2022 race winner: Max Verstappen (Netherlands) Red Bull
2022 pole position: Verstappen, one minute 17.775 seconds
Race lap record: 1:17.774, Bottas, Mercedes 2021.
Start time: 2000GMT/1400 local
Red Bull's Sergio Perez is the only Mexican driver on the starting grid and would be the first to win a home championship race.
Lewis Hamilton (2016, 2019) and Verstappen (2017, 2018, 2021 and 2022) are the only active drivers to have won in Mexico.
The race returned in 2015, when now-retired Nico Rosberg won for Mercedes, for the first time since 1992.
There was no race in 2020 due to the COVID-19 pandemic.
The race was won from pole position in 2015, 2016 and 2022. Hamilton, third on the grid in 2019, is the only driver to have won and not started on the front row since the race returned.
Sunday will be the 23rd time Mexico has held a championship grand prix.
The circuit is the highest of any on the calendar at 2,285m above sea level.
Victories, Pole Position, Podiums & Fastest Laps
Verstappen has won 15 of 18 races, his record run of 10 wins in a row ending in Singapore last month.
The Dutch driver has 50 wins from 181 starts and is fifth on the all-time list. Alain Prost, with 51, is fourth.
Red Bull have won 17 of 18 races, with Ferrari's Carlos Sainz winning in Singapore. Red Bull have also had a team record six one-two finishes in 2023.
Hamilton has a record 103 victories from 328 starts but has not won since Saudi Arabia in December 2021.
Aston Martin's Fernando Alonso has 32 wins, the last in Spain in 2013 with Ferrari, from a record 373 starts.
amilton has a record 104 poles.
Red Bull have been on pole 12 times this season. Ferrari's Charles Leclerc took the top slot in Azerbaijan, Belgium and Austin, Hamilton in Hungary and Sainz in Italy and Singapore.
Verstappen has 10 poles for 2023.
Six teams and 11 drivers have made a podium appearance this season: Red Bull, Alpine, Aston Martin, McLaren, Mercedes and Ferrari.
Verstappen has been off the podium only once since Brazil last November.
Verstappen holds the record for most podiums in a season — 18 in 2021 — and has had 17 so far in 2023.
Michael Schumacher is the only driver to have finished on the podium in every race of a season, in 2002 (17 races).
Eight different drivers have taken fastest laps this season – Alonso, Alfa Romeo's Guanyu Zhou, Verstappen (8), Perez (2), Hamilton (3), Mercedes's George Russell, McLaren's Oscar Piastri and AlphaTauri's Yuki Tsunoda.
Tsunoda's fastest lap in Austin was only the third by a Japanese driver in F1, after Satoru Nakajima in 1989 (Australia) and Kamui Kobayashi in 2012 (China).
Milestones 
Verstappen took his 50th career win last weekend and will join Alain Prost at equal fourth on the all-time lists if he wins in Mexico.
He can set a record for most wins in a season, having equalled his 2022 haul of 15. He can also equal his record for most podiums in a season (18)
McLaren's Lando Norris is one podium away from equalling retired German Nick Heidfeld's unwanted record of 13 top-three finishes without a win.
2023 FIA Formula 1 World Championship before the Mexico City Grand Prix
Red Bull and Verstappen have won both championships already, Verstappen his third and Red Bull their sixth.
Verstappen leads RBR teammate Perez by 226 points and is set to end the season with a record margin.